Purist Audio Design Aquila Digital AC Power 1.5m with Furutech C7 Luminist Revision, reduced
Listing ID: lis83j1e
Classified
Listed
·
1060 Views
---
| | |
| --- | --- |
| Condition | |
| Payment methods | |
| | Contact seller after sale to pay via VISA/Mastercard, Certified check, Personal check, COD or Wire Transfer |
| Ships from | Albuquerque, NM, 87110 |
| Ships to | United States |
| Package dimensions | 14.0" × 14.0" × 3.0" (3.0 lbs.) |
| Shipping carrier | FedEx |
| Shipping cost | Free |
| Original accessories | Box, Manual |
| Average | Research Pricing |
Dealer demo.  Excellent condition Purist Audio Design Aquila Digital AC Power Cord Luminist Revision, 1.5m length.  A full 1.0 dB quieter noise floor than previous power cords.  This one is finished with the awesome Wattgate silver (Ag) wall plug (330i Ag) and the Furutech gold C7 IEC.  I ship the same day payment is received and have over a decade of positive feedback.  Price includes shipping, insurance, AudioGon express checkout and/or PayPal fees...everything to your door.
Luminist Revision Highlights
Reengineered core wire to allow a more flexible design
Improved the metallurgy of the wire across all lines
Enhanced build quality and design for all cables
Enhanced Ferox and Contego Processing
Improved Triple Cryomag process
New ultra-high end plugs on our top of the line AC Power cables
Built by-hand, by skilled artisans
Engineered and built in the U.S.A
Luminist represents quality engineering from the ground up. Our new Ferox process became Ferox 13, named because we polish it 13 times. Each polish pulls the silicon molecules closer together. It is a more efficient, spender design and requires less space to work.
Luminist cables possess superior RMF, EMF, EMI noise reduction, and reduce vibration even better. It's quality you can hear.
   
  <below from Purist Audio Design website>   

Aquila with the C7 
Even more evident than with analog, the slightest variation can cause phenomenal differences to the trained ear. Purist Audio reached this conclusion through months of in-house testing, by sampling different cables, different builds, and different audio setups. When entering the realm of digital, one must design specifically for digital, and to exacting detail.
Through our research, we've uncovered that certain forms of shielding and materials are needed to achieve that perfect quality in the digital audio arena. While our high-end cables achieve this effect, they are out of the range of most consumers. So this year, we've begun to approach digital from the ground-up, with an aim in design for today's more cost-conscious consumer.
The Aquila Digital AC is a product of our over 25 years' experience and our ground-upwards approach. It is made for the digital format with precise attention to shielding and careful use of ferrite materials. The Aquila Digital AC's construction prevents the transmission of Electromagnetic Interference (EMI) signals from other digital devices to the power supply. EMI is an undesirable side effect which can seep into an analog front end from the AC line.
We offer the Aquila with an optional Furutech C7 plug, which allows it to work with devices such as the Mac Mini. We also invite you to try out our Aquila Digital AC through any of our dealers and distributors. Your ears will hear the difference that made-for-digital will make!
The Aquila Digital Power Cord is terminated with the Wattgate Silver US plug or Euro plug and the Wattgate Silver 15 amp IECC or C7. Other plugs can be used upon request to fit the needs of your system.
All Aquila Digital cables come packaged in a handsome soft case.
Aquila Digital Power Cord Technical Specifications:   Conductors OFC Metals Cu Shielding 100% Dielectric Material P.V.C. Gauge (effective) 12 AWG Dampening Material N/A Current Capacity DC (cable only) 41 A Current Capacity (overall product) 15 A with 15 amp IECC / 20 A with 20 amp IECC Resistance 0.00521 Ω/m Estimated Break-In Time 250 Hours Cable Diameter 5/8 Inch Connector Type 330i Ag or 390iAg & 350iAg or Furutech C7 Material Treatment Triple (3x) Cryomag©
What They're Saying
PFO's Brutus Award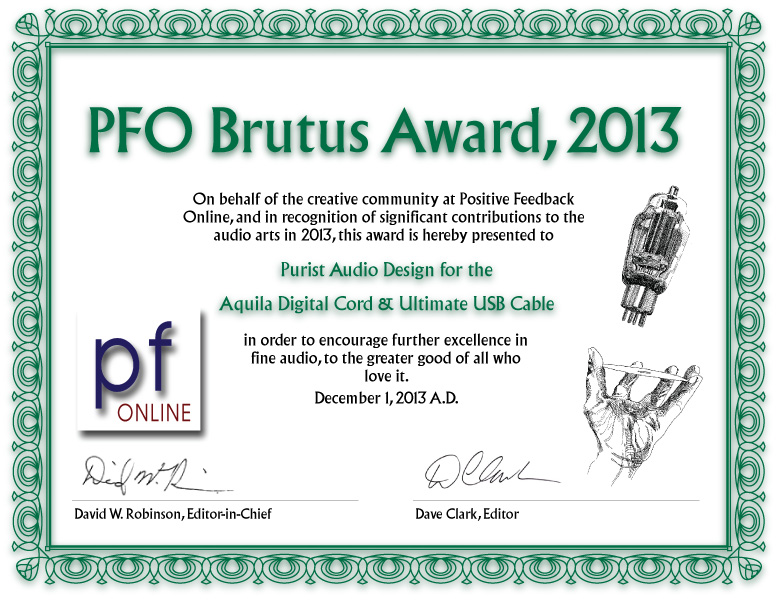 No questions have been asked about this item.
Return Policy
Return Window
Item can be returned within 7 days of receipt.
If you pay using Audiogon Express Checkout (credit card through our marketplace) you will have 7 days from the date of delivery to request a refund, regardless of the seller's return window.
General Terms
Items must be returned in their original condition, with all included packing materials and no signs of use. Buyer assumes responsibility for all shipping return costs unless the item was not received as described.
Refunds
Buyer will receive a full refund in the original payment method less any shipping charges.
Seller Information
herndonb
Herndon Audio Verified Dealer
| | | |
| --- | --- | --- |
| Last 12 months | 168 | 100.0% |
| All-time | 318 | 100.0% |
Member since June 2006
Items from this seller
Herndon Audio E-STORE
View All Products For Sale