Sorry, this listing has ended.
You may like one of these similar items:
---
Grado Statement Series 2 FACTORY NEW and $1,000 OFF [Expired]
---
---
Factory new $3,500 Grado Statement Series 2 Phono Cartridge = ONLY $2,500
Here is Grado's top level Statement 2 Series phono cart that is factory new and marked $1,000 OFF.
Factory new...  Here's why:
I loved the sound of this cart so much on my reference system, I got a second one for our turntable at the cabin, but haven't gotten around to getting it up there and installed yet. I now have my eye on the new BelCanto digital machine (Black EX DAC / Preamp), and have decided to sell the Grado to help fund the purchase. 
Here is why this is such a great cart:
Grado implemented a Boron cantilever, which combined with their Moving Iron generator sport one of the lowest moving mass of any phono cart made. Reviews have it comparing to $10,000 competitors. Learn more HERE and HERE.
Additional photos provided on request.
Willing to travel to and install on local system for audition.
I think you will really enjoy it.
PUBLISHED SPECIFICATIONS
OUTPUT: 1mV @ 5 CMV 
CONTROLLED FREQUENCY RESPONSE: 8-70 KHZ 
CHANNEL SEPARATION: AVERAGE 45 DB - 10-30 KHZ 
LOAD: 47,000 OHMS 
INDUCTANCE: 30 mh 
RESISTANCE: 72 OHMS 
NON SENSITIVE TO CAPACITIVE LOAD 
CHASSIS MASS: 10 GRAMS 
TRACKING FORCE: 1.5 - 1.9 GRAMS
___________________________________________________________
Grado Statement Series 2 Phono Cartridge:  World Premier Review
09-17-2016 | By 
Robert H. Levi
 | Issue 87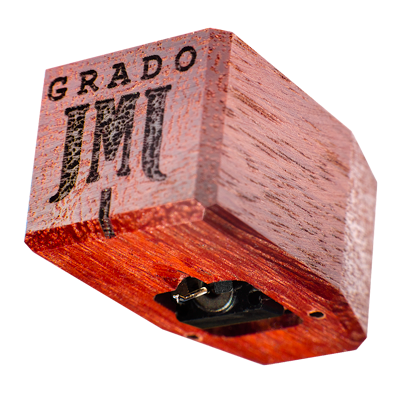 Out of production for two years, the Statement Series top of the range of Grado Cartridges is back and remarkably improved. Sporting a newly designed shape of all imported Jarrah wood from Australia, the lowest mass coils ever used, more precise construction, and double the output, we have a stunning contender for ideal reference cartridge. 
The new Statement is a dream to use. Built with all right angles and a long elegant cantilever, tweaking azimuth is easy. I found best performance was a tiny bit lower in the back from level and a tracking force of 1.8 grams. I dialed in about one gram of anti-skate. By the way, the Statement uses a unique diamond shape produced only for the Series 2.
Statement Series 2 Specifications
Output: 1mV @ 5 CMV
Controlled Frequency Response: 8-70 kHz
Channel Separation: Average 45 dB – 10-30 kHz
Load: 47,000 ohms
Inductance: 30 mH
Resistance: 72 ohms
Non-Sensitive to Capacitive Load
Chassis Mass: 10 grams
Tracking Force: 1.5 – 1.9 grams
My analog system consisted of the E.A.R. Disc Master Turntable, two Helius Omega Tonearms, a single-ended Kubala-Sosna Elation interconnect from tonearm to phono stage, E.A.R. 88PB Tube Phono Stage, and balanced Kubala-Sosna Elation interconnect from phono stage to E.A.R. 912 Professional Tube Preamplifier. I experimented with all MM circuit, with and without MC transformer assist, and found I did not have quite enough gain for MM. With 1mv of output, you will achieve big dynamics, ultra-low noise, and plenty of flexibility finding that sweet spot on the volume control with MC transformer boost engaged.
After 50 hours of playing time, the Statement came to life and I began serious listening. Moving iron cartridges sound pretty much like moving magnet designs in my experience, until now. I guess a company that has been innovating since 1953 is bound to develop a break-through design now and then. The Statement Series 2 is one of them. 
If you are auditioning or plan to audition as much as a $10,000 cartridge for your ultimate phono system, audition the Grado Statement Series 2 for a welcome surprise. I have never experienced anything like it in 55 years of playing LPs! Spend the extra money on expensive re-issues.
The Statement 2 does many things well, and some things no other cartridge I know of can do. I will try to explain.
Neutrality: Every LP I played was more authentic and unique with the Statement than my previous cartridge experiences. I had blamed my various phono stages for romantic or sweetened definition. I was wrong. It was my cartridges. 
Definition: Produces top notch textural nuance as superb as any moving coil. Best violins, vocals, and piano I have experienced. In-the-room sound.
Reality: Yields a sense of "you are there" definition I have never heard before. Alive.
Clarity:  The Statement has the lowest distortion and least smear from phase distortion of any cartridge I know of.
Dynamics: Almost as dynamic as the London Decca cartridges. Equals the best of the best MC's.
Width/Depth/Height: Absolutely excellent. Produces trendsetting definition in all dimensions. 
Highs: Clear, open, and extended. Lowest distortion. 
Mids: More real, alive, and dynamic than I have ever heard before.
Bass: Deep, tight, fast, and huge. Matches all other ranges without bloat. Extraordinary definition.
Tracking: Perfect.
Price: At $3500, a tremendous bargain.
LP Analysis
Alexander Nevsky, Reiner, Chicago Symphony, RCA LSC-2395, reissued by QRP. Prokofieff's film score masterpiece reissued here for the first time. I tried this LP on all three of my reference carts, and only the Statement made it sound like "war." The others made Nevsky sound like a tone poem or opera. The big battle passages were grand, but gently smeared with my references. I only know this from playing the Statement 2 last. The chorus was better defined and more delineated and realistic. This disk was shockingly superior with the Statement 2! No joke.
Scheherazade, Reiner, Chicago Symphony, RCA LSC-2446, reissued by QRP. With a remarkable infusion of elegance, smoothness, and romanticism, the Statement 2 brought out all the goodness of my references only more so. Bass was notably deeper and more detailed. Instruments were clearer and snappier. I heard more nuances and textures with the Statement 2 that brought me closer to a live event. Remarkable!
Just the Two of Us, Cyrille Aimee, Diego Figueiredo, Venus Records, VHJD-97. Aimee's vocals popped into my system with a truthfulness and snap I had never heard before. The Statement 2 eliminates a whole layer of haze and vocals benefit big time. The guitar was relaxed, realistic, and in the room alive. What a superb reference disk from Venus. The Statement 2 is the cart to bring it to life.
The Legendary Joe McQueen Quartet, Recorded at Man vs. Music Studios in 2014, Ray Kimber Executive Producer. Now this is a reference disk for all audiophiles and LP lovers. The instruments are alive and delineated to perfection. No distortion or phase problems here. It is tape like to the max particularly with the Statement 2. McQueen sounds young again and the organ and guitar are superb. I will try not to wear it out as I play it often. The Statement 2 gave me the thrill of reality with this LP, one I rarely hear in any convincing manner even with the mega-buck carts. You hear the blood in the instruments. What a thrill!
Bennett/Brubeck, The White House Sessions, Live 1962, Impex, IMP-624. This two LP set is great fun and great music, too. Recorded in open air, it was nowhere near as dry as I thought it might be. Closely mic'ed and recorded with tube gear, you still get plenty of the palpable reality of vocals and instruments in your room. The Statement 2 was just right in the way this LP came to life. You can actually hear the night air behind the instruments. I enjoyed both disks, but the side where Bennett is accompanied by Brubeck is tops! Well done Impex!
Beethoven, Symphony 5, Weiner Philharmonic, Carlos Kleiber, DG 479-3188, DG Reissue. DG is in the reissue game big time, and I have all of them. These are very good LP's, and I love the way they sound with the Statement 2. Yes, the orchestra is a bit distant as ever, but I hear more going on with the Grado. I can feel the intuitive conducting by the famous Kleiber and the sweet strings of the Wiener.  The Statement 2 breathes new life into these renowned classics and enhances their enjoyment.
Rachmaninov, Symphony 1, Andre Previn, LSO, EMI ASD 3137. An original EMI, this early symphony by Rachmaninov is rarely recorded. It is a snooze, except for the final movement which is thrilling and almost Brahms-like. Yes, it is a bit bright, as EMI tends to be, but the power of the orchestra and the wall-to-wall sound is outstanding, particularly with the Statement 2. Only the Statement 2, in my experience, gets this right. I was overwhelmed by the mellifluous strings and the power of the bass. As familiar as I am with this LP, I was blown away by the Statement 2.  Grado has made the most musically perfect, versatile, and top tracking transducer yet known to me.
Summary
The brand new revised and perfected Grado Statement Series 2 cartridge dramatically redefines the cost-versus-value/performance ratio for a phono cartridge. At half to a third of the price of an Anna, Goldfinger, Etna, XV1-T, or a host of other top MC models, the new Statement 2 offers performance equaling or eclipsing most of their virtues. The Statement 2 offers a sense of clarity and realism that is ground-breaking. I have already stepped way out on the analog limb here, so I will leave some oxygen for others to comment – and they surely will.
Meanwhile, the new Grado Statement Series 2 will become my top phono reference in my main reference system. John Grado should be proud of the birth of a legend.
__________________________________________
MARCH 15, 2017
KARL SIGMAN
Most audiophiles have a similar story to tell as the one I hereby offer as the lead to this review: One day some months ago, a friend came by excited to play on my turntable what he said was a very fine LP. When the tone arm dropped, all we heard was a loud screeching sound, no music. Close inspection revealed that 'someone' had meddled with the diamond tipped needle, and like an acrobat it was now in a most contorted configuration, bent 180 degrees with some cute wiggles too. The needle cracked off shortly after.
Although my 3-year old daughter admitted that she was to blame, she had such a logical and endearing explanation for her action that of course I could not take her to task except to make her promise never again to 'mess around with Papa's stereo system'. [I introduce to you, fellow audiophiles, Karl Sigman, the most patient man on the planet - Ed]

My audiophile friends commiserated with me, but they also argued that I take it in stride on a positive note–I now had a reason (excuse?) to upgrade my cartridge. I became a believer in no time. And so began my careful consideration of what such an upgrade might be. This lead me to the subject of this review: Grado Labs Statement v2 Cartridge. It is their top-of-the-line at $3,500; the jewel of their Statement Series 2 cartridges. (Others in the Statement Series 2 line: Reference2 ($1500), Master2 ($1000), Sonata2 ($600), and Platinum2 ($350).) I am most grateful to John Chen, Director of Sales for Grado Labs, for loaning me the cartridge and handing it over personally to VPI Industries (who I am also very grateful to) whose Director of Electrical Engineering, Michael Bettinger, expertly mounted it for me on a turntable (VPI Prime, to be reviewed soon) and gave me some advice/tips for its proper use.

The Statement v2 is unusual in looks, construction and specifications. Hand-crafted at Grado Labs in Brooklyn, New York, USA, it is a wooden-body cartridge of a fixed coil design, but using a small bit of iron (instead of a magnet) in between the coils, a design referred to as moving iron (MI) as opposed to moving magnet (MM), and different from moving coil (MC) in which the coils are on the stylus cantilever and doing the moving. The iron bit is lighter in weight than when a magnet is used in the MM case, thus lowering tracking force even further and increasing the tracking accuracy. Because it has a relatively low output of 1.0 mv as compared to MM, the Statement v2 needs a minimum of 56 db of gain, thus requiring the MC mode of a phono stage, but the Statement v2 also requires a high resistive loading of 10k ohms–47k ohms, as opposed to the much smaller (say) 100 ohms of MC. So this indeed is an unusual cartridge somewhere between MM and MC in its requirements for use, and also different from standard MI types (my description above is a very basic one of what MI is; the Statement v2 is much more sophisticated in its use of MI). The use of wood in their cartridge started in 1996 with their 'Reference Series'; its purpose is to control resonance.

The earlier version of this cartridge was the Grado Statement Series v1, and according to Mr Chen, the new and improved v2 has a chassis of higher mass, which due to a hefty investment in state-of-the-art coil winding machines by Grado Labs allows much more effective distribution of the mass within the chassis. And all internal components have been improved, especially the precision of the parts. According to their website 'It utilizes four reconfigured coils, a precision machined ultra-low mass generating system (lower than any moving coil cartridge), a boron cantilever and a diamond cut to Grado's strict specifications. All this is hand assembled and housed in an Australian Jarrah wood enclosure'.

When new, the Statement Series 2 cartridge is displayed in the center of a green velvet back- ground within a wooden jewelry-like box that is very reminiscent of a small-sized old style Cuban cigar box. On the box top sketched in the wood is 'Grado and 'Brooklyn, New York'. I should add: once the cartridge had been mounted, I put that box in a safe place, with a plan–in case I ultimately decided to acquire this cart–to put a special piece of jewelry in it for my wife for some future celebratory occasion.
The history of Grado Labs is itself very interesting. Joe Grado founded Grado Labs in 1953 in Brooklyn and is the originator of the stereo moving coil (MC) cartridge, and although he held the patent for it, he eventually concluded that moving iron was a better way to go for sound quality; he died recently, in 2015. Since 1990, the company has been run by his nephew John Grado (President and CEO), and recently (2013) John's son Jonathan became Vice President of Marketing. Since the 1990s, exceptional headphones have become a highly regarded addition to the Grado products line, which today is probably what they are mostly known for; recent headphone models use wood too. The company is still located in Brooklyn, NY. And if you are wondering: The 'JMJ' on the front of the wooden case of the Statement cartridge? John (J), Matthew (M), Jonathon (J); John the nephew of Joe Grado, and Matthew and Jonathan the sons of John. A real family run business.

Specifications

Price: $3,500
OUTPUT: 1mV @ 5 CMV
CONTROLLED FREQUENCY RESPONSE: 8-70 KHZ
CHANNEL SEPARATION: AVERAGE 45 DB - 10-30 KHZ
LOAD: 47,000 OHMS
INDUCTANCE: 30 mh
RESISTANCE: 72 OHMS
NON SENSITIVE TO CAPACITIVE LOAD
CHASSIS MASS: 10 GRAMS
TRACKING FORCE: 1.5 - 1.9 GRAMS

Choosing an appropriate phono stage

Because of its unusual design and specifications, one must be careful to choose an appropriate phono stage for the Statement v2. Many very high-end phono stages, some with prices even exceeding $10,000, focus only on MC cartridges and hence do not offer the high impedance loads (47k Ohms for example) that are necessary. On the other hand, the few phono stages that I came across offering moving iron options only offered a gain at most in the 40dB range, not high enough for optimal use of the Statement v2. Appropriate matching of the required high gain (at least 56dB) with the also required high impedance load is important and one should experiment to optimize the sound for their system.
Fortunately/luckily, my own phono stage, the PS Audio NuWave Phono Converter is one such appropriate phono stage: It offers a variety of gain settings including 57dB, 60dB, 63dB, 66dB, 69dB, 72dB, 75dB, and 78dB. And it has a 47k Ohm impedance load setting. By experimenting, I found that I preferred (after hours of break in of the cartridge) the 63dB gain setting. I sent the analog out to my preamp (PS Audio BHK Signature) using balanced (XLR) cables. I thus had a pure all-analog route. (I could also go digital by having the NuWave convert on-the-fly to 24/96 PCM or DSD 64 and then go directly into my DAC; but I will not be discussing that fascinating route in this review.) Sadly, the NuWave is no longer manufactured, so I will try to offer the reader here some other options. (Keep in mind that unlike the NuWave, most phono stages use RCA out to a preamp, not XLR).
The Schiit Audio Mani at $129 is an absolute steal. Included in its various settings is a 59dB gain setting as well as a 47k Ohm impedance load setting. Voila! I was able to acquire one in time for this review. It weighs only 1 pound and is 5" x 3.5" x 1.25"; it fits in your hand. Not in the same league as the NuWave, of course, but it certainly worked, and surprisingly well. It is not a toy, trust me. I plan to keep it as a very useful experimental/testing tool at the very least. As another example: At $750 there is the Musical Surroundings Phonomena II+ Phono Preamp.

I also lucked out on trying out a vacuum tube based phono stage: The classic Ear 834P. (Many thanks to friend and neighbor Jim Austin (Stereophile) for lending me this on such short notice.) I was able to use it in the MM mode (which has a 49dB gain, and impedance load of about 49kOhms) by increasing the volume level on my preamp (from (say) 40/100 up to 55/100). It sounded very nice and warm with the Statement v2 but a dash of distortion came in at higher volumes as expected because of the lower than optimal gain.

Final word: If Schiit Audio can produce a $129 phono stage that does the trick, I can only assume that other companies with higher-end models can easily modify their phono stages to accommodate the needs of MI; I hope they do.

Initial reaction to the sound quality

Grado Labs advised at least 50 hours (playing time) of burn in for the Statement v2. But right from the start I noticed some significant positive sound qualities:

        • a dead quiet/black background

        • a surprising lack of surface noise (including even pops and clicks and such) that was remarkable

        • an authentic/natural sound for acoustic music with lovely harmonics and rich with tex- tures

Very impressive.

What was missing were (a) more body as a whole to back all this up, (b) a larger more 3-D sound stage, and (c) more minute details in the high end and low end frequencies which seemed distant. I thus patiently made a habit of playing 5-6 records per day (some I played 2-3 times each) over the next weeks for burn in to kick in. Unlike using digital, this required a lot more focus and paying attention. But it also offered me a serious chance to search in my closet hunting for LPs that have been buried there for decades. I found some gems.

Listening after sufficient burn in

After about 40hrs of burn in I was rewarded by a noticeable increase in the overall body of the sound, and an enlarged soundstage. Along with that came deep bass, ample air and articulate high ends–the midrange was no longer alone. I became increasingly enamored with classical music with this cart, because of its so true expression of timbre and textures. In fact (truth be told), I spent almost all of my listening with the Statement v2 in this review on classical music–it impressed me in that genre so much. I found myself increasingly bringing out into the living room–and letting remain there–various LPs from my past that before had been kept in the closet.

Here was one of my very favorites using the Statement v2 cartridge: a 3-LP box set from 1975; Handel, Complete Organ Concertos Op. 4 and Op. 7, with the Concentus Musicus Wien music ensemble using original instruments, with Herbert Tachezi on organ, and conducted by Nikolaus Harnoncourt (Telefunken, Das Alte Werk). The richness and natural sound won me over, and made me appreciate the organ and Handel's passion for its use in music; some of the pieces were very uplifting as well. The 3 LPs were in pristine shape after more than 40 years in my possession (I bought that set as an undergraduate student in about 1976). I was saddened to learn that Tachezi passed away only months ago in December 2016. Why did I wait so long to enjoy this LP?

And then there was this more recently acquired 45RPM Supercut symphony: Joseph Haydn, Symphony No. 101 in D major, Robin Ticciati, Scottish Camber Orchestra, Linn Records (2015) which is one of my prized reference LPs. The Statement v2 brought out considerably more depth and nuance in the stringed instruments, better dynamics, and such quiets. I had better take really fine care of this LP. Ditto for Stravinsky: The Firebird, Antal Dorati (Conductor), London Symphony Orchestra (Mercury Living Presence) (Recorded in 1959). It sounded spectacular with Statement v2, and what a soundstage. The tympani alone were coming from back to front and shook my apartment-but with such delicacy (if that makes any sense).

Overall, in cooking terms the Statement v2 brought out deep, rich, natural, tasty flavors just as a savory sauce does, or some simple herbs or salt, pepper and butter do when used on fresh basic main ingredients. Take, for example, fresh wild Porcini mushrooms. Grill them, but instead of just plain, use a dash of olive oil, thyme, garlic, salt and pepper before grilling them: A poor man's steak becomes fit for a king.

Recently I visited the home of Harry Weisfeld of VPI Industries, at an event, and coincidently noted that he had the same cartridge on a VPI Titan turntable (and I got to hear it; it sounded outstanding). He was still experimenting with appropriate settings. Now (2 weeks later) as I was ending the writing of this review, I called him and asked him what he now thought of the Statement v2. He was still using it, and this is what he said:

It is beyond belief that this cartridge at only $3, 500 can compete with and even best cartridges that cost $10, 000 − $12, 000.

Now, I have heard some expensive cartridges on others' audio systems and atAudio Shows, including the Lyra Atlas, Ortofon MC Anna, among others. I do believe the Statement v2 is competitive with cartridges well above its $3, 500 price.

Summary

The Grado Labs Statement v2 is a highly unusual cartridge that displays remarkably low surface noise and distortion, addictive natural sound for acoustical instruments, including lovely harmonics, a fine sound stage and wide dynamic range. At $3, 500 it favorably competes with carts well above its price point. If you are careful in choosing an appropriate phono stage to run it, you will be richly rewarded. And one need not spend a fortune on a phono stage that will work well with it.

Suffice to say that I have already placed something inside that wooden jewelry-like box that the cart came in when new, and no, it is not the cartridge. As I write, I am listening to Bartok (EMI, 1979 2-LP set from France), 'pour les enfants', Michel Beroff on piano, using the Statement v2 while sitting on the couch with my young daughter, the same one who is perhaps responsible for this review and she is as enamored with the live and natural sound of the piano as I am. Is the Statement v2 fit for a King? I think so.
paulspeltz member since July 2002
Anti Cables
Verified Dealer
| | | |
| --- | --- | --- |
| Last 12 months | 24 | 100.0% |
| All-time | 1677 | 100.0% |
Items from this seller