Sorry, this listing has ended.
You may like one of these similar items:
---
Astell & Kern AK jr Portable High Resolution Music Player [Template]
---
---
Message from Seller: This powerful little music player cost $500 new. It has approximately 15 hours of playtime on it. Though I've classified it as used it is in pristine condition and I will leave all the music I've put on it and let you decide if you want to keep it. All music high resolution as well as DSD.  I can't justify keeping it because I am not able to use it very much anymore. I've recently purchased and enjoying a high end full music system for my home. Which is what I listen to when I retreat to my music room. 
I have owned and listened to many portable Player/DAC systems and this is by far the best I've ever heard for the money in its category. I've priced it to sell at less than half of what I paid.  Please no low ball offers. If you want to pay by credit card please contact me. Thank you have a great day!


The AK Jr Portable High Definition Music Player and Dac                           
                                      from
                               Astell & Kern
The AK Jr Portable High Definition Music Player and DAC from Astell & Kern is a pocket-sized audio system capable of studio Mastering Quality Sound (MQS) support and playback. MQS is a high definition digital music format operating at 24 bits and sample rates from 96 to 192 kHz, which translates to distortion-free sound without data loss. MQS sources are commonly saved as a lossless 24-bit WAV or FLAC files during record production at the time of the mastering source. The AK Jr also supports 2.8 MHz DSD64 playback by converting to PCM.
High-resolution audio to go

It's small enough to slip into your shirt pocket — yet it delivers all the detail and depth of your high-resolution digital audio files. That's the Astell & Kern AK Jr. You'll want to use this tiny-but-capable AK Jr with a great set of headphones to fully appreciate the quality of the sound. And the AK Jr can also serve as a stand-alone digital-to-analog converter (DAC) for high-resolution sound from files stored on a computer, played back through its USB digital input.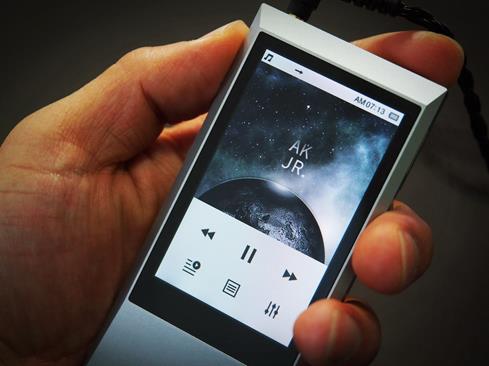 The 3.1" touchscreen features simple, intuitive controls.
Uncompromising sound quality
The AK Jr uses a high-quality Wolfson digital-to-analog converter (DAC) capable of decoding sampling rates up to 24-bit/192kHz. You can play high-resolution downloads from sites like HDtracks[ on the AK Jr without any additional equipment or file conversion. Even with lossless files or compressed formats like MP3, the AK Jr can help your music sound its best. Its high signal-to-noise ratio and low distortion lets the subtle details of your music come through. Its high-fidelity, low-impedance output gives your headphones more power than most portable music players, for optimal performance.
Touchscreen and push-button controls
The player's 3.1-inch color touchscreen is simple to navigate. And it displays artist and title info as well as album artwork. And because this is a high-resolution audio player, the AK Jr features an analog volume knob, so you can make small, nuanced adjustments.
Expandable memory
To add music to the AK Jr, connect the player to your computer with the included USB cable. Then just drag and drop your selections to the AK Jr while its built-in battery charges. The player comes with 64GB of internal memory and a microSD cardslot lets you expand the storage up to 128GB. And of course you can have more tunes on extra cards and bring them along for easy swapping.
Product Highlights:
digital music player — plays MP3, FLAC, WAV, ALAC, Ogg Vorbis, AAC, AIFF

plays Direct Stream Digital (DSD) files (.dff and .dsf formats up to 2.8MHz resolution)
DSD files are converted to PCM for playback

Wolfson WM8740 24-bit/192kHz DAC for bit-perfect playback of high-resolution audio files
USB input allows for use as an external digital-to-analog converter (DAC) with a computer
64GB internal flash memory
microSD card slot for cards up to 64GB (up to 128GB total memory)
3.1" color touchscreen
analog volume wheel provides fine level adjustments
Bluetooth 4.0-compatible
built-in rechargeable battery provides up to 8 hours of playback
high-speed USB interface (cable included) for drag-and-drop file transfer and battery charging
brushed aluminum casing
output impedance: 2 ohms
total harmonic distortion: 0.005% (1kHz)
signal-to-noise ratio: 112 dB
2-1/16"W x 4-5/8"H x 3/8"D
weight: 3.28 oz.
Seller Information
| | | |
| --- | --- | --- |
| Last 12 months | 0 | 0.0% |
| All-time | 279 | 100.0% |
Member since February 2009
Items from this seller