Sorry, this listing has ended.
You may like one of these similar items:
---
Definitive Technology BP-9080X CS9080 Integra DRX-R1 GUARANTEED LOWEST Installed Price! [Expired]
---
---
EMAIL if you would like to take advantage of our Holiday SALE & place an order

ENTIRE DEFINITIVE TECHNOLOGY line on SALE Now until Christmas Dec 27, 2017!!!
local purchase w/delivery & Installation (extra charge)
 Not sure if we deliver/install in your area - Email to confirm!
paypal add 3%

Welcome to our HUGE BLACK FRIDAY SALES EVENT Email or Call 4 Lowest delivered price on models Not listed!
     

                              

GUARANTEED Lowest price ALL INTEGRA & DEFINITIVE TECHNOLOGY models!!!
Prefer local sale w/professional installation will consider shipping within the area - Email if interested in ANY component of this system
or if you are in our installations network
ALL Brand NEW equipment covered by Full manufacture warranty...and as always We Guarantee the lowest price!
Raise the roof with Definitive Technology BP-9080X

Deep, heart-pounding bass. Immersive, atmospheric sound. Soaring overhead special effects. It's hard to imagine you could experience all that with just a single pair of speakers — unless, of course, it's a pair of Definitive Technology's BP-9080X towers. Definitive packs a lot into this sleek, modern-looking speaker. First, you get a built-in powered subwoofer for stunning low-end impact. Plus, bipolar front- and rear-firing speaker arrays deliver spacious, room-filling sound and precise imaging. Finally, an upward-firing driver array built into the top of the enclosure creates a thrilling "height" layer above your listening area when you feed it Dolby Atmos surround sound. 
Bipolar speaker technology immerses you in detailed sound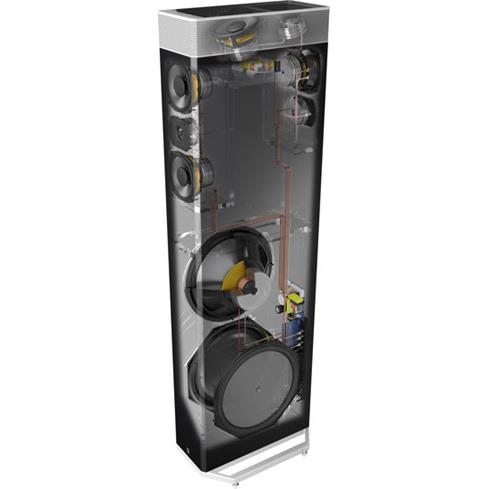 Front, rear, and top-firing speaker arrays work together to create totally immersive sound.
Here's how Definitive's bipolar system works: direct sound from the front two midrange drivers and tweeter arrives at your ears first, to provide clear, focused imaging. That's followed by sound from the rear mid driver and tweeter to enhance spaciousness. The combination creates a lush, seamless soundstage that's more like the way we hear sounds in real life. And thanks to Definitive's Balanced Double Surround System (BDSS) drivers, your music and surround effects will sound clear and accurate, allowing you to pinpoint the soloist in a band or the direction of a jaguar's call in the jungle.
Powerful bass built right in
At the base of the speaker is a 12" side-firing subwoofer coupled to two 12" passive radiators. This trio creates the total radiating surface of a much larger woofer, but with better bass control, speed, and detail than a single huge driver. A built-in 455-watt amplifier powers the subwoofer, delivering deep bass that eliminates the need for an external sub. And because a subwoofer is built into the cabinet, bass output is already perfectly blended with the mids and the highs. All you have to do is set the bass volume to match your room and taste, then sit back and enjoy your music and movie soundtracks.
Dolby Atmos speakers on board
If you're looking for an easy way to seamlessly integrate Dolby Atmos surround sound into your home theater, the BP-9080X makes a great choice. This tower's built-in, top-firing midrange and tweeter speaker array is made for delivering Atmos height channels.
The Atmos speaker array has its own exclusive pair of binding post terminals at the base of the tower for connection to your Dolby Atmos compatible receiver's "Height" or "Top" outputs.
Definitive Technology CS-9080
Center channel speaker with built-in powered subwoofer
INTEGRA DRX-R1 FLAGSHP audiophile/videophile receiver

Feel the power
Intense, high-powered bass from a center channel speaker? Preposterous! Unless, of course, it's Definitive Technology's mighty CS-9080. Unlike conventional center channel speakers, the CS-9080 boasts an 8" subwoofer coupled to a 10" passive radiator and driven by a built-in 300-watt amplifier. It clearly renders all the dialogue and vocal nuances of your favorite actors while ensuring that any special effects anchored to your screen are delivered with full bass impact. Get ready for dynamic performance and a riveting home theater thrill ride.
High-tech drivers for exceptionally detailed sound
The CS-9080 has two 5-1/4" midrange drivers flanking a 1" dome tweeter, for perfectly blended highs and mids. The aluminum dome tweeter is heat-treated to relax the crystal structure of the metal, then attached to a silk surround to help produce crisp, sparkling highs without a trace of harshness. And thanks to Definitive's Balanced Double Surround System (BDSS) driver design, which places a surround on both the outer and inner edge of the speaker cone to help it remain more stable as it moves, movie dialogue and special effects will sound clear, never muddy
Advanced Hybrid Digital Amplifier Design
Modern Design Meets Legendary Performance. Integra amplifier designs have always been known for delivering voluminous loads of current via massive, oversized power supply sections -providing precise speaker control and dynamics. The DRX-R1 combines this legendary performance with today's ultra-efficient digital output stages, proprietary filtering technologies, and oversized low pass filter coils- resulting in stunning audio clarity, accuracy and musicality- across the entire audio output range.
THX-Certified
The DRX-R1 is certified Select2 Plus by THX. In order to satisfy THX parameters, 40-60 hours of testing over 2000 data points ensure that the DRX-R1 is capable of meeting rigorous audio and video performance standards, resulting in reference level, distortion free playback. This goes on to include THX Loudness Plus technology, to bring out intricate details at lower listening levels.
Hi-Resolution Audio Powerhouse
Hear your music library as never before. High-Resolution means studio quality sound recording to extract additional elements, nuances and details far beyond the capabilities of standard CD to virtually put you in the room with your favorite musician. Integra makes it incredibly easy to access and enjoy audio files mastered in high-resolution (up to 192kHz/24-bit) stored on a computer, media server, network-attached storage (NAS) or USB thumb drive with zero loss in audio quality. Virtually every hi-resolution and lossless format is supported- 2.8 or 5.6 MHz DSD, Dolby® TrueHD as well as gapless playback of FLAC, WAV, ALAC and WMA files. Dual 32-bit DSP Engines and premium quality Texas Instruments digital to analog converters ensure effortless high-quality playback and excellent sound quality.


Smooth Analog Signal
Vector Linear Shaping Circuitry (VLSC) – you can definitely hear the difference. In today's digital audio world- the process of converting digital to analog inevitably introduces pulse noise- distorting the original audio image. and then amplifying it together with the original signal, compromising sound quality. Integra's exclusive VLSC technology compares the input signal to the outgoing signal and filters out pulse noise. Thus allowing original signal to be regenerated so that the audio signal is the same as what was captured on the recording- faithfully and accurately. This results in the DRX-R1 producing a virtually noiseless audio signal across all channels.
Flexible Zone 2 & 3
The DRX-R1 features Powered Zone 2 and 3 to bring audio to speakers connected to the receiver into a second room and third room. Zone 2 and Zone 3 Pre/Line Out are also included for use with an outboard amp. The DRX-R1 also includes a Zone 2 DAC for HDMI Inputs 1 through 5, Coax and Optical Inputs (2-CH PCM), Network (including Pandora and Spotify), and USB audio sources. There are also maximum power and power on volume settings for the Main Zone, Zone 2 and Zone 3 to further customize your listening experience and help get the best performance out of your speakers. The DRX-R1 also includes a Whole House Audio Mode- which allows you to turn on and synchronize all audio zones with a single button push of a single button- Now that's convenience!
HDBaseT Port for Multimedia Distribution
HDBaseT transmitts audio and video signals clearly up to 328 feet utilizing cat5e/cat6 cable to any certified third party HDBaseT receiver or device that has its own power supply. This makes long distance runs to projectors or a second zone easy and reliable.
Object-Based Sound Up to 7.2.4 Channels
With 11.2 channels of instantaneous power, the DRX-R1 enables the current maximum Dolby Atmos® and DTS:X™ home-theater layout of 7.2.4 channels in a self-contained component for the ultimate in multidimensional object-based surround sound.

 


DTS Play-Fi®* Multi-room Audio
The DRX-R1 includes DTS Play-Fi technology. DTS Play-Fi is the most widely adopted Whole Home Audio Technology in the marketplace- it puts you in complete control of your Music and allows you to effortlessly stream from your smartphone, tablet, or PC to DTS Play-Fi speakers and devices throughout the home. Stream a Music playlist throughout the entire house while entertaining or simply enjoy your favorite artist or album in a single room- DTS Play-Fi offers better sound quality, greater range and a wider variety of compatible devices than other wireless Whole Home music technologies. Easy to set-up, easy to expand, and easy to enjoy- DTS Play-Fi and Integra- a smart solution.

* Available via firmware update.

Learn More About DTS Play-Fi

                                                                 DOWNLOAD THE DTS PLAY-FI APP

UltraHD / HDR Connectivity
HDMI specifications and HDCP 2.2 compatibility for the DRX-R1, support the latest formats being released in the industry. The latest HDMI specs offer a significant increase in bandwidth (up to 18Gbps) to for full UltraHD support of features such as 4:4:4 color space and [email protected]/60 (2160p), which results in 4 times the clarity of 1080p/60 video resolution. The DRX-R1 enables transmission of Dolby Vision*, High Dynamic Range (HDR) formats, with BT.2020 support, and provides enhanced picture quality by simultaneously enabling greater detail for both the dark and bright parts of an image.

Not to mention, how effortlessly the DRX-R1 upscales 1080p video to stunning 4k UltraHD.

*Dolby Vision is supported through inputs 1-5 and is expected via future firmware update in late December.
Stream It Easy
At Integra music is our passion. In keeping with todays world of musical convenience- the DRX-R1 includes Chromecast built-in, Apple AirPlay and a plethora of music streaming services such as Spotify Connect, Pandora, Deezer and TuneIn Radio. Allowing you to stream virtually any audio signal from a smartphone, tablet or PC to your home theater or living room for powerful sound with ease. Whether its hi-resolution audio files via network or USB, Internet streaming services or listening to music already stored on your smartphone or tablet- the free Integra Control Pro app puts a range of streaming options conveniently at your fingertips- allowing you to easily browse, select, and play from around the home.


App Control
The Integra Control Pro app for iPod touch®/iPhone,® Android, and Kindle devices is a convenient way to control your home entertainment from anywhere within wireless range. The app has a clear graphical interface to control playback, adjust settings and handle content across multiple zones. The app serves hi-res, lossless, and compressed audio files (including 192 kHz/24-bit FLAC, DSD, Apple Lossless, Dolby® TrueHD and more) to the DRX-R1 from your mobile devices, and gives it stunning sound.


The Best Build and Flexibility
Integra components are not just built- they are substantially and purposely overbuilt. Exceptional design and rigid construction techniques are used throughout- high-quality anti-resonant aluminum faceplate, gold plated RCA terminals, oversized detachable AC cord, reinforced steel chassis, massive feet, and single-piece extruded aluminum heat sinks- just to name a few.

High Performance Processing
The DRX-R1 employs premium ultramodern digital to analog converters and digital signal processing engines. Three Analog Devices SHRC 32-bit SHARC 32-bit digital signal processors can each handle over 6 billion operations per minute to fully handle the latest in object based surround processing, advanced AccuEQ with AccuReflex room correction and more. Multiple studio reference grade AKM DAC's (including 768 kHz/32-bit) allow the Reference Series products to fully handle the latest in lossless Hi-Resolution audio formats.
Integra's Original Approach to Room Correction
AccuEQ conducts two measurements- one to set the level, distance and crossover for ALL speakers, including the subwoofer. Choose to include or bypass EQ measurement for front left and right speakers, and choose to automatically or manually set the EQ. Further, you can save your own manual EQ settings into three available presets.

The new AccuReflex technology aligns the phase of upfiring "height" speakers with the sound coming directly from your other speakers. Any delay is resolved so that everything arrives at your ears at the same time. The result is cohesive reproduction of object-based soundtracks.



Perfect for Custom Installation
Integra products are designed and engineered to meet the demands of custom audio/video systems installers. Besides Dealer Settings Memory Store and Recall with Lock / Unlock and PC Software Support, the DRX-R1 includes system integration connectivity such as RS232 and IP control with support for 2-way communication with 3rd party home automation systems. A pair of infrared (IR) inputs and an IR output make for a clean, reliable installation and allow pass-through of IR signals to control other devices connected to the DRX-R1, such as a TV or Blu-ray player. Three fully programmable 12 volt triggers can be used to raise/lower a projection screen, power on/off an external amplifier and open/close the drapes all with the touch of a button. Optional rack mount kits for all models provide a clean, finished look when installed in racks and cabinets, especially with the unit's aluminum faceplate. Integra works closely with control systems partners such as Savant, Crestron, URC, RTI, and Ihiji and supports Control4 Simple Device Discovery Protocol (SDDP) and AMX Device Discovery for simplified system integration.

GUARANTEED Lowest installed price on systems!
With near 40 years experience we will  professionally guide you thru your options.
Adcom - Arcam  - Astell & Kern  - Audeze  -  Audio Control  -  Barco Residential 

Definitive Technology  -  Denon  -  Dynamic Design AV  -  Elite Prime Vision®   

Focal(in/on-wall/in-ceiling speakers,headphone)  -  Hifiman  -  Induction Dynamics  -  Integra
  Jolida  -  JVC Pro  -  Kaleidescape 4K Ultra HD  -  KRELL  -   LG QLED 4K -   Martin Logan  -

MyTek Digital  - Origin  -  Panamorph  - Phase Technology   -  POLK Audio  -  PS AUDIO  - 

REFERENCE 3A   -  SAE   -   Samsung Super 4K  -   Severtson Screens  -  Sonore Computer Audio

   SonicTransporter AP 8TB (Roon Server)      -    SonicTransporter i5 microRendu iFi bundle    

StraightWire   -   UPTONE Audio   -   VuTec  SilverStar Stiletto screens   -   Wyred4Sound     

htd1 member since May 2011
htd1
Verified Dealer
| | | |
| --- | --- | --- |
| Last 12 months | 45 | 100.0% |
| All-time | 102 | 100.0% |
Items from this seller