Sorry, this listing has ended.
You may like one of these similar items:
---
Definitive Technology Mythos ST systems - ALL MYTHOS on SALE! [Expired]
---
---
SAVE BIG with Super Bowl SALE..Complete surround systems, towers, soundbars, sub woofers or individual speaker pairs...YOU NAME IT SERIOUS Buyers ready to purchase please email for GUARANTEED Lowest price!

 Want to SAVE EVEN MORE?   

 Add an Audio Control, Arcam, Denon, Integra, Onkyo, NAD or Pioneer Elite receiver and SAVE EVEN MORE  

PayPal add 3%
Home Theater Design has nearly FORTY years experience Designing & Installing quality HT systems
This listing for
 2
MYTHOS STS Super tower
floor-standing front speakers with built-in subwoofers
 2
MYTHOS GEM compact surround speakers
 1
MYTHOS NINE center
channel speaker
MYTHOS STS Super Tower
front speakers (each):
sensitivity 93 dB
handles up to 250 watts
one 1" ceramic-coated, pure aluminum dome tweeter
two 4-1/2" BDSS midrange drivers
one 5" x 10" long-throw racetrack subwoofer coupled to two 5" x 10" racetrack radiators
built-in 300-watt amplifier for subwoofer
subwoofer auto on/off
LFE input (optional connection for use with receivers with LFE output)
10-foot AC power cord for built-in subwoofer
includes granite base
10-3/8"W x 46-15/16"H x 14"D
MYTHOS NINE
center channel speaker:
sensitivity 90 dB
handles up to 250 watts
one 1" pure aluminum dome tweeter
two 4-1/2" BDSS bass/midrange drivers pressure-coupled to two 4-1/2" x 8" bass radiators
includes wall-mounting bracket and leveler foot
28-1/16" W x 5-7/16"H x 4-15/16"D
  MYTHOS GEM
surround speakers (each):
sensitivity 91 dB
handles up to 200 watts
one 1" pure aluminum dome tweeter
two 3-1/2" BDSS bass/midrange drivers
keyhole slots and wall-mounting brackets included
4-1/8"W x 10-1/4"H x 4-1/4"D
warranty: 5 years speakers, 3 years subwoofer amplifiers
Award-winning sound with a sleek look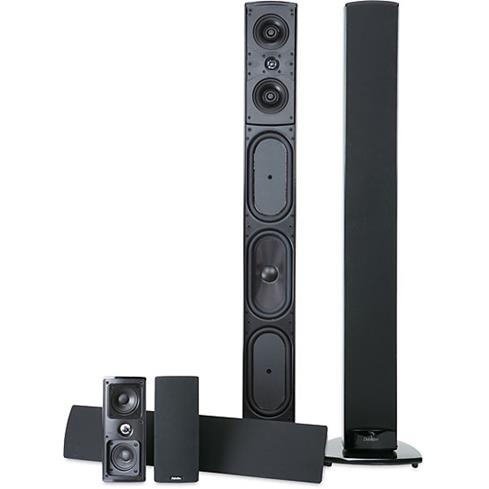 Save floor space by having your subwoofers built directly into the tower speakers.
The stunning STS SuperTower speakers from Definitive Technology offer performance so impressive that Sound & Vision Magazine gave them, along with the Mythos Nine center channel and Mythos Gem surrounds, the 2008 Audio Product of the Year Award. We've taken that same award-winning combination and conveniently packaged it into a complete Mythos home theater system for you.
High-tech towers with built-in subwoofers
At the top of each Mythos STS speaker are two 4-1/2" midranges flanking a 1" dome tweeter in an acoustically isolated enclosure. Each midrange features Definitive's Balanced Dual Surround System (BDSS) technology. This design places a rubber surround on both the outer and inner edges of the speaker cone, which gives the woofer greater and more precise movement for exceptional clarity. The pure aluminum dome tweeter has a special ceramic coating, so you'll hear loads of sonic detail without the edginess of lesser tweeters.
At the base of each STS sits a 5" x 10" racetrack-shaped woofer coupled with two bass radiators. This combination creates a total surface area that's greater than that of a traditional 12" woofer, but has better low-frequency control, speed, and detail. A built-in 300-watt amplifier powers the subwoofer, delivering massive bass that eliminates the need for an external sub and saves you the floor-space.
Exceptionally clear dialogue...
The Mythos Nine serves as a perfect center channel complement, delivering the same defined mids and sparkling highs in a slim, elegant design. It produces clear dialogue using a 1" aluminum dome tweeter, plus two 4-1/2" BDSS midranges pressure-coupled to two bass radiators.
...paired with life-like surround effects
Each compact Mythos Gem surround speaker contains a 1" aluminum dome tweeter, along with two 3-1/2" midranges angled away from each other to create a broad rear soundstage. Die-cast aluminum baskets, resonance-free PolyStone baffles, and proprietary damping technologies built into both the center and surrounds ensure clear sound.
Gorgeous aircraft-grade aluminum cabinets
All of the enclosures are made of black hand-polished aluminum for a sleek look that'll go well with most modern décors. The stylishly slim, curved STS speakers also come with polished granite bases for better stability and a refined look. The Mythos Nine center channel comes with a wall-mount bracket, and the Gem surrounds have keyhole slots on the back for easy mounting.
All of the speakers in this system are also sold separately. For more information or to add more speakers, check out the
Mythos STS SuperTower
,
Mythos Nine
, and
Mythos Gem
.
htd1 member since May 2011
htd1
Verified Dealer
| | | |
| --- | --- | --- |
| Last 12 months | 33 | 100.0% |
| All-time | 87 | 100.0% |
Items from this seller