Sorry, this listing has ended.
You may like one of these similar items:
---
TAD Evolution One Beautiful Condition Must See [Expired]
---
---
TAD Evolution One floorstanding loudspeakers designed and voiced by the legendary Andrew Jones.  Rarely seen for sale.  Simply beautiful voicing, warm, airy yet resolving with plenty of low end extension and finesses.  A music connoisseurs loudspeaker with world class fit and finish with commensurate build quality.  Actual condition physically rates 9/10 and functionality 10/10, never over-driven and kept in a non-smoking, dedicated, climate controlled environment.  Factory packing and paperwork included, roughly 1.2 years old.  Worldwide shipping available, as well as local pick up.  Please call or email me directly for more information.  Serious inquires only.  No Trades.  $33,000 List / Respectively asking $18,590 or best offer and lowballers need not bother to contact me but serious offers will be considered.   
Sincerely,
Christopher Thornton
Artisan Fidelity
219.933.8115
info@artisanfidelity.com
www.artisanfidelity.com
The Stereophile Review
I had been anticipating getting to audition a pair of TAD loudspeakers in my system since the introduction of the original TAD Model-1, in 2003. It was designed by Andrew Jones, who had recently assumed the mantle of chief designer at Technical Audio Devices Laboratories (TAD), at that time a subsidiary of Pioneer. Although TAD dates back to the mid-1970s, its research and development efforts had been focused on the professional sound market, something that continues. Jones came from a long line of speaker innovators at KEF and was assigned the goal of developing state-of-the-art speakers for the domestic market. The Model-1 was innovative with respect to both its drive-units and its enclosure construction—it used 52 layers of ¾" plywood. More important, it sounded spectacularly natural and vivid. It was large, it was expensive ($45,000/pair in 2003), and it made a statement: Pioneer, long a maker of loudspeakers, was once again at the fore of the industry (footnote 1).In view of the rising costs of materials and labor, as well as continuing advances in materials and production, Jones redesigned the Model-1. The result was the slightly smaller, still expensive ($78,000/pair), but equally impressive Reference One, which has been a great success since its debut at the 2006 Consumer Electronics Show. However, even at the time of the Reference One's launch, Jones was planning to design significantly less expensive speakers based on the same technology. He's since taken this in two directions. One is the Compact Reference CR1 ($37,000/pair), a stand-mounted three-way reviewed by John Atkinson in January 2012, and which he resoundingly approved. The other direction was the production of EX series, into which Jones trickled down most of the principles used in the Model-1 and Reference One to a price range within reach of many audiophiles. When I reviewed the top of the EX line, the S-1EX, in March 2007, I felt it was an outstanding speaker: well made, fully satisfying as a reproducer of music, and competitive with speakers costing twice its price of $9000/pair. But there was a catch: The S-1EX wasn't called a TAD.
I recall seeing an advertisement in the New York Times Book Review in the early 1970s that read, in banner print, "Anyone who says that you can't tell a book by its cover has never tried to sell one." The EX line bore the Pioneer badge, not TAD's. Despite the EX models' competitive excellence, it seems that putting a mass-market name on what were clearly high-end speakers discouraged buyers, and the entire EX line seems to be quietly disappearing.
When I saw the Evolution One ($29,800/pair) at the 2012 Consumer Electronics Show, I knew it was the real thing: a low(er)-priced TAD model wearing the proper badge. And in view of my experience with the S-1EX and the many excellent and entertaining show demos of the Reference One that I heard, I bet on the TAD DNA (and Andrew Jones) and jumped at the opportunity to review the E1.
Description
The Evolution One is a slimmed-down version of the Reference One, with which it shares not only its curved side and rear panels, which greatly enhance the cabinet's rigidity and reduce its resonances, but also its use of a very thick front baffle. This extends above the top panel to form a framing arch for the coaxial tweeter-midrange drive-unit, and stops a few inches above the base, thereby creating a wide port to load the woofers. The base contains the complex crossover, isolated from the main structure by compliant mounting. I was surprised to see that the removable underside of the crossover cavity is covered by a heavy, impregnated felt panel. Felt seemed an unusual choice of material, but it effectively damps any resonances. Four substantial, upright, multiway binding posts, suitable for single- or biwiring, rise from the rear skirt of the base.
The drive-units are arrayed vertically, with TAD's signature Coherent Source Transducer (CST) coaxial driver at the top: a 5½" magnesium midrange cone surrounding a 13/8" beryllium-dome tweeter. Magnesium and beryllium are extremely light and stiff; together, these two drivers provide a single-point source for all frequencies from 250Hz to 100kHz, per TAD. Below this driver are two 7" woofers with layered Aramid diaphragms. The coaxial driver is protected from curious fingers by a fixed scrim of what appears to be a fine, open weave of synthetic fiber. The woofers have removable covers.
All of these features are reminiscent of the Reference One and the S-1EX. The tweeter elements are the same in all, but the diaphragm material of the midrange driver is magnesium in the TAD-E1, beryllium in the Reference models. The midrange is also smaller. "Since magnesium is not as stiff and light as beryllium," said Jones, "the cone resonance would be at a lower frequency. By going to a smaller cone, we manage to put the cone breakup frequency back up higher, though not as high as the CR1 and R1 beryllium cone." That said, the Evolution One exudes the same quality of design and construction as its Reference brothers.
Setup
An hour after the Evolution Ones were delivered, Andrew Jones arrived to set them up. He first put them precisely where my main reference speakers sit. Then he hooked up his laptop to the Mytek Stereo192-DSD DAC via an AudioQuest Carbon USB cable. The Mytek's XLR outputs were routed to a Parasound Halo JC 2 BP preamplifier and, in turn, to a Halo A 31 three-channel power amp, bypassing my usual Meridian 861 digital processor. Then came the fun. As we tweaked the positions and toe-in angles of the TAD-E1s, Jones played lots of tracks, many of which would be familiar to those who've attended his entertaining show demos. Finally, as his favorite Boz Scaggs cut, "My Funny Valentine," played over and over, he finished. I hope he was happy with the final setup. I was.
Listening
After Jones's departure, I began my casual cohabitation with the Evolution Ones—I prefer to let a speaker begin the conversation before I move on to a more rigorous interrogation. The sound was warm and rich, with extended bass and, at first, a reticent treble, with little airiness. The reticence diminished as I turned up the volume and found myself focusing on the copious detail and depth I was hearing throughout the audioband. The soundstage was seamless and very wide; sounds variously emerged from points just inside, at, or outside the positions of the speakers, as well as from all points between them. Even when I stared directly at one of the TADs, I could never force myself to perceive what I was hearing as coming directly from the speaker. If that isn't an example of a "disappearing" loudspeaker, I don't know what would be.
The TAD-E1's bottom end was very full and tight at all volume levels. Indeed, I could listen at very low levels without the bass ever drying up; the overall sound thus retained a sense of presence and fullness. For example, with "No Sanctuary Here," from Chris Jones'sRoadhouses & Automobiles (CD, Stockfisch SFR 357.6027.2), I could not only follow individual voices in the refrain, I could distinguish them spatially, and separately from the bass drone, and at all reasonable volume levels. I evaluated the TAD's low-end extension by listening to the pedalwork of organist Bram Beekman on his Toccata (SACD/CD, Pentatone PTC 5186 003); the speaker's bass wallop by paying particular attention to the timpani and bass drum in Britten's Four Sea Interludes, with Carlos Kalmar and the Oregon Symphony (SACD/CD, Pentatone PTC 5186 471). Both were quite remarkable for a speaker of this size. Heck, for music, I wouldn't have much use for a subwoofer with the Evolution Ones.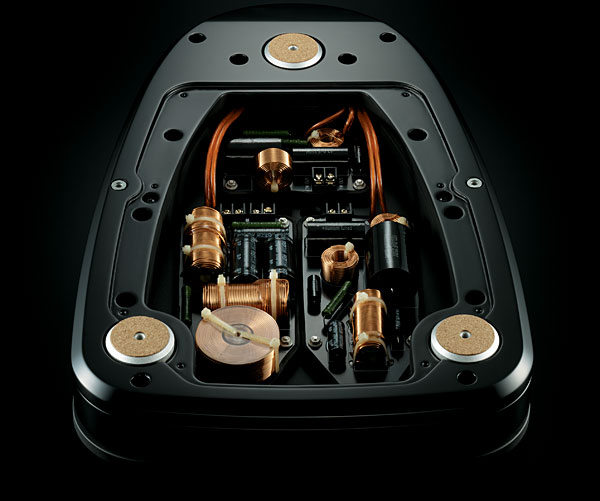 The TAD-E1's midrange continued to impress me, particularly with its ability to present convincingly natural reproductions of voices in a recording's acoustical context and perceptually distinct from the speaker positions. I have two favorite reference recordings for testing this. Every audiophile knows the Philips recording of Ariel Ramirez's Misa Criolla, conducted by José Luis Ocejo and with tenor José Carreras, particularly in its XRCD reissue (CD, First Impression LIM K2HD 40). Through the Evolution Ones, I felt that Carreras was not only singing from just right of center and a few feet back, but that his voice had a fullness and presence often heard only with mono-miked or front-and-center voices. My other example is a lovely solo by mezzo-soprano Marianne Beate Kielland: "Come Away, Death," in a 24-bit/176.4kHz PCM recording downloaded from 2L (SACD/CD, 2L-064-SACD). A clean and firm piano (played by Sergei Osadchuk), quite up front, introduces Kielland, whose voice, with a very pure and naked tone, emanated from dead center and a bit above the TADs, and seemed to just float there—a compelling presence.
Big stuff didn't faze the Evolution Ones at all. Played at respectable levels, everything from Pink Floyd's "Another Brick in the Wall," from Burmester's Art for the Ear (CD 2), to Gustav Holst's Planets with Sir Andrew Davis conducting the BBC Philharmonic (Chandos CHSA 5086) had presence, weight, and size, but there was also remarkable inner detail that was not obscured by the ongoing tumult. Only Big speakers—that is, only good big speakers—can do this. What distinguished the TAD-E1 from many other big speakers was that it could successfully scale all of this to lower listening levels without loss of impact, and to even higher levels without loss of clarity. In other words, it didn't "come alive" only at certain volume levels, but satisfied me at any reasonable level suitable to the occasion or my disposition.
Indeed, from top to bottom of the audioband, and from whisper to shout, the Evolution One always sounded balanced. At first I thought it sounded a little dark and closed-in, but that seems to have been a misleading result of its not favoring any particular region of the audioband. A more significant concomitant was that, when present, the TAD's lovely treble and spaciousness emerged naturally. That doesn't mean that the speaker wasn't absolutely brilliant with delectable treble as it delivered violinist Isabelle Faust's sweet, gutsy tones with the requisite amounts of string, air, and space, that space shared with the Orchestra Mozart, led by Claudio Abbado, in Beethoven's Violin Concerto (CD, Harmonia Mundi 902105)—or shared more intimately with Alexander Melnikov's piano in the Violin Sonata 9, Op.47, "Kreutzer" (CD, Harmonia Mundi HMC 901944). And with recordings known for their generous ambience, from the intimate tangos of Será Una Noche (CD, M•A Recordings M052A) to Roberto Gerhard's terrifying The Plague, with Antal Doráti and the National Symphony Orchestra and Chorus (CD, Decca/Explore EXP0005), the Evolution Ones were nothing short of thrilling.
Context
This was true with either of my three-channel power amps: Parasound's Halo A31 orMcIntosh's MC303. The latter actually brightened the balance a bit, but overall, I preferred the Halo as being more consistent with the TAD's smooth and self-effacing delivery. With either amp, the Evolution Ones were more open in the treble and produced a wider soundstage than the similarly sized and priced Sony SS-AR1 ($27,000/pair), which I reviewed in the July 2011 issue, though the Sony's bass was even more impressive in size and power. Compared to my resident B&W 800 Diamond speakers ($24,000/pair), which I reviewed in May 2011, the TAD-E1s were a bit more reticent in the treble, and comparable in soundstage width and depth. The B&W's bass, in my room, was as extended as the E1's, but quite a bit less prominent. In general, the differences among the three speakers were immediately audible but not big, and in regard to soundstaging and bass, greatly influenced by my room and setup.
The Bottom Line
The TAD Evolution Ones played everything from audiophile recordings to low-bit-rate Internet radio with aplomb and authority. Teamed up with neutral electronics and a room not excessively damped, they should provide the buyer with richly musical enjoyment for years to come. It's easy for me to say that the Evolution One is a marvelous speaker—I found no fault with it.
Sidebar 1: Specifications
Description: Three-way, reflex-loaded, floorstanding loudspeaker. Drive-units: coaxial driver comprising 13/8" (35mm) beryllium-dome ribbon tweeter and 5½" (140mm) magnesium-cone midrange; two 7" (180mm) laminated-diaphragm woofers. Crossover frequencies: 250Hz, 2kHz. Frequency range: 28Hz–100kHz. Nominal impedance: 4 ohms. Sensitivity: 88dB/2.83V/m (anechoic). Recommended amplification: 50–250W.
Dimensions: 45.5" (1166mm) H by 13" (334mm) W by 20" (512mm) D. Weight: 118.8 lbs (54kg).
Finishes: Wood, Piano Black.
Serial numbers of units reviewed: TP-001SA, TP-006SA.
Price: $33,000/pair. Approximate number of dealers: 12.
Manufacturer: Technical Audio Devices Laboratories, Inc., 4-15-3 Nishi-Shinjuku, Shinjuku-ku, Tokyo 160-0023, Japan. US office: Technical Audio Devices Laboratories, Inc., 1925 E. Dominguez Street, Long Beach, CA 90810. Tel: (800) 745-3271, (213) 268-2748. Web:www.tad-labs.com.
Seller Information
chris74
chris74 Verified Dealer
| | | |
| --- | --- | --- |
| Last 12 months | 12 | 100.0% |
| All-time | 318 | 100.0% |
Member since January 2003