Sorry, this listing has ended.
You may like one of these similar items:
---
Tidal Audio Sunray Top Ref WorldClass Spks [Expired]
---
---
Tidal Audio Sunray Top Reference World Class & Cost No Object Loudspeakers ! ! !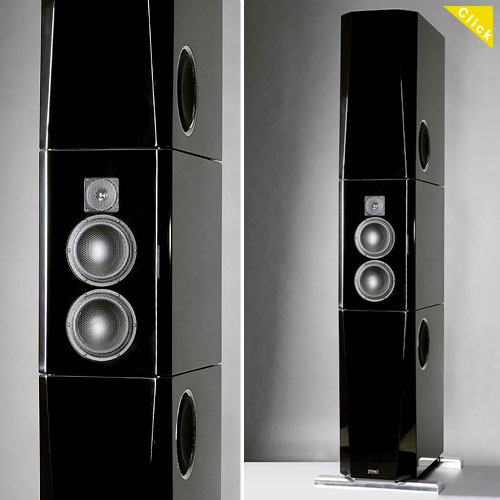 http://www.theaudiobeat.com/equipment/tidal_sunray.htm

Price $154,990 per pair in gloss black finish. Optional veneers are available at extra cost.
Warranty: Five years parts and labor.
Tidal Audio GmbH
Immendorfer Strasse 1
50354 Hürth, Germany
+49 (22 33) 966 92 25
www.tidal-audio.com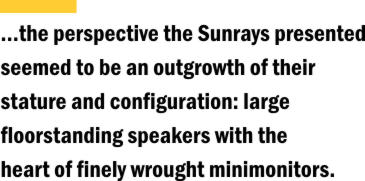 Customer moving to a smaller home creates this Rare Opportunity, for one of the finest full range speakers ever made and a superb deal and seriously one of the finest pairs of cost no object speakers made, superior sound quality, visually impressive and from a design standpoint still as good as it gets !

As new (no issues & in superb condition) Black Piano Black in six individual wooden factory crates overall weight over 1,000 pounds.
These have the larger Black Diamond Tweeters and are a late generation 1.

The selling price was  $132,000 when imported by: Half Note Audio.

Has the Larger Black Diamond tweeters ( most people in the know prefer the Diamond tweeters over all other designs) and these drivers and the cost no object design and wonderful execution make these a true "one of the best speakers made" !

See Tidal Audio's web site @: https://www.audiogon.com/listings/new?no_transaction_fee=true&type=classified
TIDAL Sunray (2003 - 2013). The first generation Sunray was and still is - very literally - a Statement, beyond the alleged top league and must allow only one comparison: a very good seat in a live concert. Many reference reviews and official 'Best Sound of Show' from the most important magazines worldwide were the result and lead to an actually incredible number of sales given the exclusivity of this speaker.
                  (: ======================================== :)
Weinhart Design has lots of other items new and used and if you're in Los Angeles or visiting please accept my invitation to experience our World Class Audio Showroom and
please visit our "ALL NEW " web site @ www.weinhartdesign.com

We are always interested in purchasing quality Audio and Video items, CD & LP collections and most quality trades are welcomed.

If you�re in Los Angeles or visiting please make it a point to visit our new world class Los Angeles showroom and experience what is possible.

VISA, MC and Paypal: are only accepted in the United States and Canada for transactions using VISA, MC and Paypal we add 3% to cover the costs.

All sales out of California are State Sales Tax exempt.

California State Sales Tax of 9% only is collected for items received in California.

We only accept bank wire transfers on all sales ourt of the USA & Canada and for those people wanting to ship to an adress other than the billing address.

Please call me directly, in my world class showroom in Los Angeles
weekdays: 11-4PM @ 310-472-8880 or any reasonable time on my cell including
weekends in Los Angeles from 10AM - 10PM @ 310-927-2260 and I can answer your questions and help you with all of your new and pre owned needs.



Making Better Audio Systems better

one system at a time,


  David Weinhart
Weinhart Design, Inc.
 President & CEO

e: david@weinhartdesign.com
The Audio and Video Expert
2337 Roscomare Road, Studio #1
Los Angeles, California 90077

Showroom Weekdays 11-4PM @ 310-472-8880
Cell Los Angeles Text or Call Time ONLY 10-10PM @ 310-927-2260
Seller Information
davidamb
Weinhart Design Verified Dealer
| | | |
| --- | --- | --- |
| Last 12 months | 237 | 100.0% |
| All-time | 2091 | 99.3% |
Member since February 2006