Sorry, this listing has ended.
You may like one of these similar items:
---
Running Springs Audio Elgar Power Conditioner [Expired]
---
---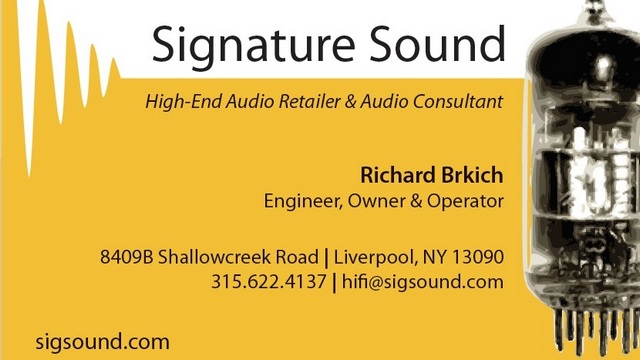 RUNNING SPRINGS AUDIO ELGAR POWER CONDITIONER  WITH USED CARDAS 1.5m/5ft POWER CORD - USED - $550 plus shipping

For about 10 years, Signature Sound was a authorized Running Springs Audio dealer. This Haley served as one of our demo units for 7 years. The Elgar was Running Springs Audio's entry level power conditioner. Retailing for $1,100 it does not have as sophisticated filtering as the more expensive 6 outlet Haley (made in the same chassis and with the same quality outlets as the Haley, this Elgar is about 8 lbs pounds lighter) nor does it come with the nicer carbon fiber footers, BUT this is a very good basic conditioner sharing the same strengths/character as other Running Springs units - The Elgar is terrific for a smaller modest system. This demo unit worked great in out 2nd demo room powering things like Rega Brio/Apollo type systems with good results. 
The Elgar  works perfectly, and because we have pretty good power around here (i.e. steady power, rare to loose power, no voltage surges, and knock wood - never have had a lighting strike here), it has not had do much protection, just clean up the power and deliver good sound.
Unit is complete with  factory box, manual, and footers (as shown in pics). Cosmetic condition is very good to excellent - I have rated it 8/10 more just due to age than anything.

Signature Sound is a small Hi-End HiFi shop located near Syracuse New York. We have been in business since 1990. Feel free to check out our website www.sigsound.com or call us at 315-622-4137 with any questions. We accept all major credit cards and PayPal. A note to my fellow New Yorkers.... New York state residents (i.e sales billed/shipped to a New York State address) will be charged applicable local New York state sales tax on the total sale amount.

Signature Sound is a authorized dealer for: Audience Cables, Atma-Sphere, Clearaudio, Cardas Cables, Benz Micro Cartridges, Fried Audio Speakers, DH Labs, Dynavector, EAR USA, Grado Labs, JPS Labs, Joule-Electra, iFi Audio, Merlin Music Systems, Musical Surroundings NOVA phono preamps, Power Modules (Belles), Rega Research, Rogue Audio (NEW!), Running Springs Audio, Spendor Audio, Sonos, and Wavelength Audio.

Follow us on Facebook to see our latest news, info, and sales/demo/used items for sale!

signaturesound
Verified Dealer
| | | |
| --- | --- | --- |
| Last 12 months | 54 | 100.0% |
| All-time | 697 | 99.6% |
Items from this seller