Sorry, this listing has ended.
You may like one of these similar items:
---
Atma-Sphere Novacron monoblocks [Expired]
---
---
Atma-Sphere Novacron OTL Monoblocks
Up for sale is a pair of Atma-Sphere Novacron OTL Monoblocks that were built, by permission of Ralph Karsten of Atma-Sphere, by Paul Speltz of ANTICABLES

This pair is fitted with top notch 6SN7 input tubes (Round Plate a Black Plate "Chrome Domes), and US Military 6336A/B output tubes which Ralph highly recommended as an excellent tube for OTL use. Ralph does not use the 6336A/B tube in his regular production models, only because the tube is out of production, so it does not fit his strict availability requirements. The 6336A/B output tubes provide 80 watts of power per channel.

Buyer will have the option of buying (now and in the future), as many NOS matched sets of 8 (enough to re-tube both monoblocks), for only $400. That is only $50/tube. With well over 150 tested & matched (at operating conditions) 6336A/B tubes on hand(as shown below), future tube availability is a non-issue for the buyer.  The 6336A/B tube features thick solid graphite plates and very very long life.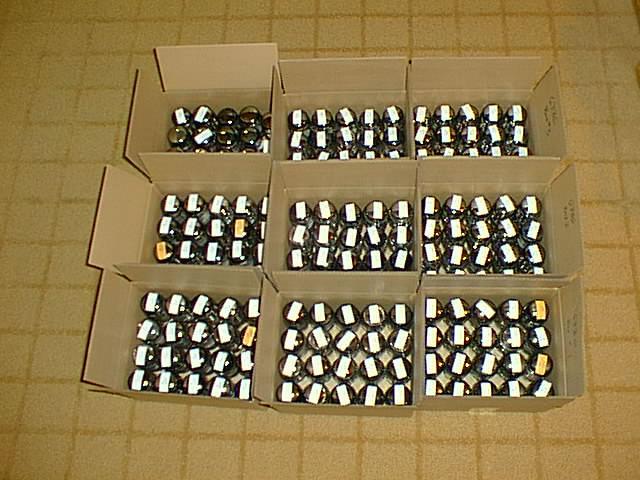 -
FYI: The Novacron amps typically run the Russian 6C33C output tube because of its availability, but the Novacron has a history running different tube complements.
300B - Ralph Karsten fitted this Novacron with 300B tubes (as shown below), as a proof of concept years ago for the late Harvey "Gizmo" Rosenberg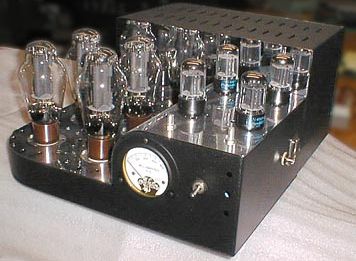 7241 - The 7241 is simply a big brother to the 6336A and 6336B tubes. Where as the 6336A/B tubes run two solid graphite plates, the 7241 runs three of the same solid graphite plates per bottle for additional power. It has been common to see Ralph showing at trade shows with Novacrons outfitted with 7241 tubes (as shown below), so you know the sound of the 7241 and 6336A/B tubes are of high quality.
6AS7 - The 6AS7 tube is used in all other Atma-Sphere OTL amps from the S-30 to the monstrous MA-3. Since the 6336A/B tube shares the same octal pinout as the 6AS7, I have been known to run the lower power 6AS7 tube occasionally in these amps (as shown below). All you need to do is drop in the 6AS7 tubes and re-bias the amps for 300mA and adjust balance.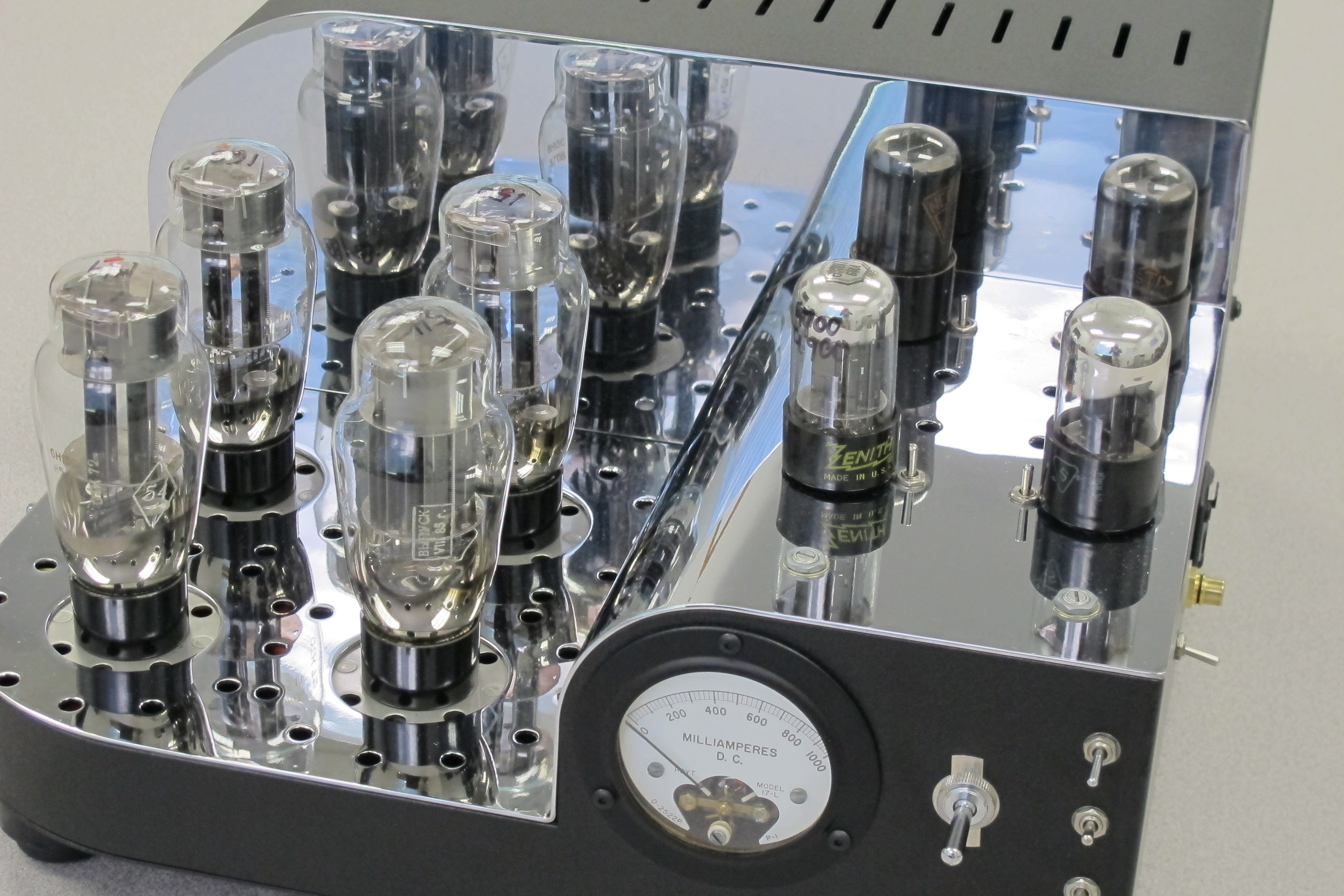 -
Novacron Features include:
$1,900 Caddock® Resistor upgrade option
Cardas Output Binding Posts
Octal 6SN7 input and driver tubes
Easy Bias & Balance adjustment using built-in meter
100k -or- 600 ohm input load switch
Inputs: RCA -or- use XLR for fully balanced operation
Stunningly gorgeous design
Chrome visually double the number of tubes seen
Mirror image pair
Beautiful sound!
Additional Features Include:
Powerful NOS 6336A/B output tubes (80 watts per channel)
6336A/B tubes "life time supply" available for only $400/ matched set of 8
NOS Round Plate 6SN7 in gain stage
Chrome Dome 6SN7 in CCS and Driver stage
6V -or- 12V switch for each input and driver tube
Can run 12v variants (ie. 12SN7 and 12SX7)
Class A -or- AB mode switch
Meter bypass switch
ANTICABLES #12 copper wire for output
ANTICABLES ACElectrum™ Silver/Gold alloy wire used for signal wiring
Warm orange colored glowing power lamps on from panes (which actually light much softer then shown in photos, as the photo was taken in very low light level to show off the tube glow)
Includes full documentation
Will these drive my speakers?
Most likely "yes", but if you have an exceptionally difficult to drive pair of speakers (like I am currently running), a pair of our ZERO-Autoformers can be use to double, triple, or quadruple the impedance of the speaker, making it a dream load for any OTL amp.

I use these Novacron amps to power my difficult to drive Alta Audio Hestia Titanium speakers that have a very low 1.75 ohm load dip (as you can see HERE). Using the ZERO's 4x setting to tame the speakers, makes this highly unlikely speaker / amp pairing work very very well together. If the buyer finds their speakers are not OTL friendly, I will sell a new pair of our ZERO-Autoformers or beautiful ZERO-Boxes for half price to accommodate the sale.
Please contact me directly to discuss compatibility with your specific speakers. Owning many different Atma-Sphere OTL amps over the past 20 years, being a former Atma-Sphere dealer, and selling the ZERO's for over 17 years, I have extensive experience answering this specific question.
Dial: 651-341-1780 (ask for Paul)


Why are these wonderful amps up for sale?

After reading all this, you may be wondering why in the heck am I selling these. As the owner of ANTICABLES I have accumulated a number of amplifiers for use in my reference and other systems. This past Spring I took count of 7 stereo amps and 4 pairs of monoblocks. Since two of the monoblock pairs are Atma-Sphere OTL's, I decided I would be OK to let one pair go. The Novacron's being the most beautiful and sought after , I decided they will be one ones to find a lucky new owner.

FYI: New Atma-Sphere Novacron cost $22,00/pr (w/ $1,900 Caddock® resistor option)  TOTAL = $23,900.

I took these Novacron amps to AXPONA back in April and had them "show priced" at $12,000/pr (essentially half the price of a new pair), but didn't come across a buyer. Brought them back into my reference system and have been enjoying them ever since.

Being the middle of summer is probably the worst time to sell them (bad for me), so I have them priced at a very low $9,500 (good for you).

I marked the condition as an "8", as one of the small toggle switches' bat handle is a bit bent. See if you can even notice it in the photos....   : )

Buyer pays actual shipping cost (to be determined).

Please don't hesitate to contact me with any questions.

Dial: 651-341-1780

Paul Speltz
President, ANTICABLES





paulspeltz member since July 2002
Anti Cables
Verified Dealer
| | | |
| --- | --- | --- |
| Last 12 months | 24 | 100.0% |
| All-time | 1677 | 100.0% |
Items from this seller