Sorry, this listing has ended.
You may like one of these similar items:
---
Revelation Audio Labs CryoSilver™ Reference CAT8+/RJ-45 i2s Ethernet digital link cable, latest design revision [Expired]
---
---
1.25-meter (~4 ft.) length Revelation Audio Labs 'Prophecy' CryoSilver™ Reference CAT8+/RJ-45 Ethernet i2s Digital Link cable (other lengths available - contact us for pricing).  




NEWS ALERT


Revelation Audio Labs has been chosen the last three times in a row by Stereophile magazine for their 2018, 2019 and Fall 2019 Recommended Components, published here:  




Revelation Audio Labs was also chosen by The Absolute Sound magazine for the 2018 Golden Ear Award, published in their September issue (#286) - one of only three cable brands to be awarded the 2018 Golden Ear, the only digital cable chosen, and the only cable under the four thousand dollar ($4,000.00) price point.  Note: since NO CABLE was chosen for the 2019 Golden Ear Award, we currently remain as one of the last few cables to receive a Golden Ear Award.
There is a review of this cable in Stereo Times:
"The RAL is an excellent cable.  I really like the lower noise floor, higher resolution, bloom, and reduced grain.  Compared to my long time reference Ethernet cable within the same price range it's the clear winner.  The unique design characteristics as implemented in the RAL cable resulted in a more musical digital interface."
- Michael Girardi, Reviewer and Senior Editor for Stereotimes.com

(Mr. Girardi subsequently sold his previous reference cable and purchased our cable)  



A few recent testimonials (with more testimonials further below):   


"Just wanted to send you a brief update on your Revelation Audio Labs CryoSilver™ Reference CAT8+/RJ-45 i2s Ethernet cable. I am totally blown away with the build quality and craftsmanship of the cable, it exudes top-of-the-line construction in every aspect. The most amazing part is the improvement in sound in my new digital system. The cable moves the digital realm a lot closer to the analog sound we all strive for and appreciate. With the addition of your cable, streaming music just became my digital choice over SACD. I would highly recommend anyone adding a digital system to their existing setup to IMMEDIATELY contact you and order one of the Reference ethernet cables. They will not be disappointed and will be thrilled with the addition. All the best to a great company that offers superior products and personal customer service to match."   



"Upon unpacking the RAL Ethernet cable I have to say this it looked really nice and extremely well built in every way.  The Ethernet cable has now been settling in for 6 days in my system between an APL HiFi  transport and DAC. These components have been powered up 24/7, but not playing the whole time (I have let the transport rest from time to time). 

It has been pretty clear from the start that your RAL Ethernet cable is much better than my previous high quality reference cable, so I haven't swapped cables at all during these 6 days. Some of the improvement that I have noticed during my listening are (in bullet form):



A more analogue, less digital, sound with a more natural tonality on instruments and voices
A more open and well-defined soundstage with a more quiet and blacker background
A more clear and less distorted sound with higher/greater resolution

I think these improvements all go in the same direction of increasing my musical enjoyment, which is all what I'm striving for.

As you can understand from my listening impressions, I'm very happy with my new Ethernet cable from Revelation Audio Labs. 
UPDATE: I have had my Ethernet cable for more than 1.5 months now so I guess it's more or less fully broken in by now. My impressions of the cable is the same as what I wrote after one weeks of use, only much more of all its great characteristics that I described earlier. The sound I get now playing digital CD/SACD discs is ooh so natural and coherent from top to bottom. I hear a black background producing a large, detailed and open soundstage. I hear nothing of that digital distortion you can hear from lesser cables. Overall, I'm getting a more 'analogue' free flowing sound if I may say so.  I recommend your cables to my audio friends in need for new cables.

Best regards,
S.T., Sweden"



"Greetings from Germany! We found your information on the 'Prophecy' CryoSilver™ Reference CAT8+/RJ-45 i2s Ethernet Digital Link Cable on the Internet and we became very interested in such a cable (one for my system, and one for my friend's system). We are both using the the Northstar Design CD Transport and the Supremo DAC.  I just did the testing of your cable and I'm surprised about the unexpected result on my system. First the brutal resolution of the 'Prophecy' cable in the very beginning disappeared, it sounds now harmonic. So the break-in is really necessary. The surprising result for me is the direct comparison to my old high priced cable. First there is only a little difference. Then the resolution seems to be higher and the mid-range is more present. Your cable seems to sound somehow more 'adult'. Update: I just came back from a second testing at my friend's place. There your cable is very convincing as the resolution is more correct than with the old cable. You can better distinguish the details and the timing is improved. Thank you for the very nice cable! We are keeping them!" - Martin F.  

1.25-meter length Revelation Audio Labs Prophecy CryoSilver™ Reference CAT8+/RJ-45 i2s Ethernet Digital Link cable (longer lengths available - contact us). 

Crafted by hand with heart in the United States of America aside Florida's Space Coast.

Designed for use as the i2s cable for North Star Design, MSB, for Accuphase HS-Link™, etc., etc.  Quite naturally it serves as the supreme Ethernet or LAN cable for the front end of your high end digital music system.  Its uses in your digital system are only limited by your imagination.  There is no other RJ-45 type cable built like it, nor is there a better RJ-45 type cable.  Period.  THE WORLD'S BEST.  WITHOUT EXCEPTION.  Our design has even been commissioned by NASA for the reliable and lossless transmission of in-flight digital data!
Risk-Free 30 Day Audition Guarantee - try the cable in your system for a full 30 days - if you are not pleased, you may return the cable for a refund.  You may proceed with the confidence in knowing that no one who has tried the cable has returned it!


Of course the cable you are using now, even if you paid a lot for it, is likely mediocre at best, and may actually be the weakest link in your fine music system.  Our cable finally enables the full sonic potential of the connected equipment that you paid for.

Completely new, updated design.

Although our previous design is still widely considered the gold standard, this completely new re-designed version takes audio performance to a entirely new level. We call it "CAT8+" ("CATEGORY EIGHT PLUS") because our design actually dramatically exceeds the requirements of the current latest Category 7 specification, and even far exceeds the requirements of the proposed Category 8 specification.  Quite simply that's why we call it CAT8+.  Of course it supersedes yet is compatible with all legacy CAT5, CAT6 and CAT7 cable applications.  Deep cryogenic treated 5N pure solid core CryoSilver™ conductors, Air Tunnel™ dielectrics, Mil. Spec. shielding (layered solid and braided OFC shielding methodologies), and more.

To achieve this, we have to do what absolutely no one else in the world is doing.  As with all our cables, everything is done manually, completely by hand, involving numerous man hours of labor.  To start, within the oversized American-made PTFE Teflon tube that forms each discreet air dielectric, each hand polished conductor is carefully slid within the interior by hand.  Each of these tubes is then separately wrapped by hand with the shielding materials.  These form the sub-assemblies that are then fabricated into the eight-pole next-level assembly.  This is then installed into what will become the top-level Ceramic MicroSphere™ conduit, then next installed within the CCIC™ (Conductive Carbon Infused Composite) outer jacket.  This process is the opposite of all other Ethernet cable wire assemblies we are aware of.  They are all mass produced, machine made by the mile.   
  
Finest ultra high quality premium German-made heavy cast solid metal shell connector. The connector is extremely effective at providing superior conductivity, outstanding shielding characteristics, while its high mass reduces the unwanted affects of vibration.  It is extremely robust, rugged and well made for many years of trouble-free service, compared to the frail and delicate nature of typical RJ-45 connectors. The interior cavity of the heavy solid cast metal shell is potted by our injection process with an aerospace dielectric compound, augmenting the high mass, further reducing vibration and resonance, and increasing reliability through providing mechanical stress relief. The internal solderless terminations are treated with Furutech NANO Liquid™ GOLD / SILVER / C30H50™ contact enhancer during cable fabrication. Ceramic MicroSphere™ conduit for dissipation of vibration and resonance. Anthony Perrotta of Perrotta Consulting, North American distributor for North Star Design, says our RJ-45 i2s Ethernet cable aptly outperforms the >$2K White Gold i2s cable commissioned by North Star Design.  




Please visit our web site for a full thesis on our design technologies, but as a brief synopsis, this cable features:     
• We start with bare single crystal five-nines (5N) ultra-pure solid core CryoSilver™ conductors – deep cryogenically treated in our exclusive vacuum cryogenic process. Silver is the most electrically conductive of all the elements, and our silver is not your father's silver.  The raw, uninsulated wire used is made by a U.S. company that specializes in precision silver wiring technology primarily for advanced aerospace and medical imaging industries. Not at all what you find in other audio cables. No bulk cable is employed in any of our designs. That is simply because there is no bulk cable in existence that does what we need it to do.
• Air Tunnel™ dielectrics - no other RJ-45 cable in the world we are aware of employs air dielectrics.  Our unique, cutting edge technology makes it possible.  Each individual conductor pole is hermitically sealed to provide a consistent air dielectric impervious to ambient atmospheric and environmental conditions and contaminants.  Most common audio wire has extruded insulation, where the insulation material is in intimate and immediate contact with the conductor along its entire length. This forms the dielectric of the wire, which has a tendency to absorb and release energy to and from the conductor, and is a function of the capacitance of the cable. The occurrence of this phenomenon produces negative sonic affects. Dielectric constant measurements are used to determine the ability of an insulator to store electrical energy. Common insulator materials and their dielectric constants are Teflon (2.1), polyethylene (2.25) and polyvinyl chloride (3.18). The best practical dielectric is air, which has the near-perfect lowest dielectric constant (1.00059) next to a vacuum (which has a perfect dielectric constant of 1). However, there is one major disadvantage of an air dielectric in other audio cables. Although silver does not react with oxygen at normal temperatures, small amounts of sulfide, occurring naturally in the atmosphere, tarnish silver by the formation of silver sulfide on the surface of the metal. The dilemma of metal exposed to air is far more severe in the case of copper, which readily reacts to oxygen, resulting in copper oxide, that is not electrically conductive, on the surface of the copper metal. Most cable manufacturers that employ an air dielectric do not address the issue of their conductors being exposed to ambient air. Some designs actually employ a "porous insulation," which seems acceptable in theory, until one considers the aforementioned affects on the metal surface. 
On the other hand, each discrete ultra-pure silver wire conductor, used in all Revelation Audio Labs cables, is hermetically sealed within its own oversized 100% pure virgin Teflon (PTFE) hollow sleeving tube, air being the best practical dielectric, and Teflon being the insulation material with the lowest dielectric constant (2.1). The interior cross section area of the tube is by design many times greater than the diameter of the wire, which minimizes the area of contact of the wire to the insulator. This system provides a huge air dielectric that is unaffected by ambient atmospheric conditions. The resulting characteristically low dielectric constant and extremely low capacitance is responsible for the high propagation speed of our cables.
•Progressive Hand Wrap™ discreet shields for each critical conductor pole, isolating each conductor/dielectric sub-assembly from all others within each array - eliminates EM effects, cross talk, and eddy currents      
•Triple-layer solid and helically-woven stranded outer shielding 
•All shieldings drained to the source end only - to carry absorbed internal and external EMI/RFI noise harmlessly away from THE MUSIC.  This meets requirements for applications where so recommended (such as with certain MSB units requiring the cable to be ungrounded - this technique avoids grounding the two connected units through the digital cable shields).
•Ceramic MicroSphere™ conduit - another proprietary design feature - absorbs 
and dissipates both internal and external air borne vibrations, resonances and microphonics.  Ordinary high-end cables are a major path for mechanical vibration to enter sensitive audio equipment.  In addition, the effects resonance has on the performance of audio cables themselves is well documented. Audio frequency vibrations induced into the cable may create a state of microphony and transduce physical resonance into electrical resonance, polluting the audio stream.  However the most harmful mechanical energy is actually generated internally by the electrical components comprising the audio equipment circuitry, consequently occurring precisely where the delicate music signal resides. These vibrations produce phasing errors that slur and garble the music, diminishing resolution and coloring harmonic equilibrium. To combat this phenomenon, the conduit of this cable is filled by a special process with proprietary Ceramic MicroSpheres™ (patent applied for, Revelation Audio Labs, Inc.), developed through and supported by a number of relevant NASA White Papers dealing with crystal lattices, expressly to defeat this menace to faithful music reproduction. This results in a cable that is virtually immune to the propagation of micro-vibration, and minimizes parasitic vibration of the equipment power supply and audio circuitry.  This could be one of your most valuable weapons in your isolation arsenal.  
•Conductive Carbon Infused Composite (CCIC)™ outer jacket - this advanced technology material augments the EMI/RFI/EMF shielding of the cable.  The negative affects that static electrical fields and charges have on audio cables is well documented.  In addition to augmented shielding, crucially the Conductive Carbon jacket provides ESD (Electro Static Discharge) protection as it dissipates static fields and charges, also eliminating static electrical charges from accumulating in the first place, as their presence robs audio performance as it does with standard cable insulation.  There are a number of products on the market, accessories if you will, that address static electrical fields on audio cables.  Our unique design feature attacks the issue at the source through the proactive, preventative approach.  We have been performing tests and trials at length for some time, with phenomenal results, employing Conductive Carbon Infused Composite as the outer jacket material.  This material enhances EMI and RFI protection, but what this material provides above and beyond the protection of traditional shielding materials and methodologies is it provides Static Protection, guarding against the phenomenon of ESD (Electro Static Discharge).  The material absorbs and dissipates static electricity charge build-ups, which occur naturally on common non-conductive materials (i.e. cable insulation).  It is typical for these charge levels to be in the thousands of volts.  All areas of audio performance are enhanced by removing static electrical fields and charges from the surfaces of cables. This feature also improves performance by removing from your system surfaces that build and hold static electric fields.  Why do other so-called "cost-no-object" cable makers not use such a jacket material?  You tell me.   
•Finest ultra high quality premium German-made heavy cast solid metal shell connectors. With unique, patented termination system, for superior connection.  This robust, radically groundbreaking connector is extremely effective at providing outstanding shielding characteristics, while its high mass reduces the unwanted affects of vibration.  The interior cavity is potted by our injection process with an aerospace dielectric compound, further reducing vibration and resonance, and increasing reliability through providing mechanical stress relief. During assembly, internal solderless conductor-to-connector terminations are treated with Furutech NANO Liquid™ GOLD / SILVER / C30H50 at that crucial stage of cable fabrication.  This connector is extremely rugged and well made for many years of trouble-free service - as opposed to the frail and delicate nature of typical low-cost RJ-45 connectors, especially the locking release lever, which is relatively weak and therefore prone to break very easily, and once it does, the connector must be replaced.  Not an attractive proposition on an expensive high end cable.  The locking release system of this connector is a completely new and unique design, vastly superior to those on any other RJ-45 connector.  The fit and feel is solid, heavy and strong.   
•Aside from the German-made connectors, all other raw materials and components of all our cables are manufactured entirely right here in the United States of America - not imported.
•Prior to shipment the cable is fully conditioned on our audiodharma Cable Cooker, and connector contacts are treated with Furutech NANO Liquid™ GOLD / SILVER / C30H50     
•1.25-meter length (other lengths available)     
•Packed for protection in our beautiful custom handmade heavy double-wall Blackberry Velour pouch with metallic embroidered company logo and Velcro closures
TERMS:  
We pay the cost of shipping worldwide. 
We prefer PayPal, but will only accept a check or postal money order from U.S. buyer, or only a postal money order from a Canadian buyer.  Buyer outside U.S. or Canada must use PayPal only.  
Since February, 2000, Revelation Audio Labs is now in our nineteenth year of listing our cables on AudiogoN!!! View our hundreds of great buyer feedbacks. What other cable maker listing on AudiogoN can stake that claim? Our business on AudiogoN has always meant a great deal to us – especially for the many music lovers and friends it has connected us with. We thank you for your support. We owe all our success to YOU - it is all because of YOU that we do what we do. Thank  YOU!   
Another very special distinction that merits your trust. Name just one high end audio equipment maker who, as a result of their solid work and integrity in the high end, has been contracted by NASA multiple times to provide various in-flight hardware? None other than Revelation Audio Labs. AMAZING!!!   Tell me if you know another. 
To save you money, we sell directly to the end user, skipping the inevitable levels of price mark-ups (distributors, dealers) inherent to that economy, but our cables are also proudly carried at the insistence of these fine high end audio dealers: 
High End Cable: http://www.highendcable.co.uk/
True Audiophile: http://www.trueaudiophile.com/
Affordable Audio: http://www.affordableaudio.biz/
Audio Extreme: http://www.audioextreme.hk
Igal Sabo High End: www.sabo-highend.co.il
NEW DEALER ENQUIRIES INVITED
It is truly an honor to serve you. We sincerely look forward to hearing from you. Thank you again.   
Another recent testimonial:
Day 1 - I received the cable yesterday and initially replaced the Audioquest 'Cinnamon' cable from my computer to my router. That change was not helpful. I put the 'Cinnamon' back in and replaced the Audioquest 'Vodka' from my modem to router and that was definitely a BIG improvement. I then put the 'Vodka' in place of the 'Cinnamon' and, again, everything improved. This combination is great. Hopefully...as the next few days....weeks...go by it will improve even more…
Day 2 - Listening tonight to my system with your cable in it and then going back to my previous setup....tonight I like my previous presentation much better.  I am going to give it through the weekend... By Sunday evening there will be between 130-140 hrs. on it and I should have a pretty good idea if it will improve enough to be a keeper. I have a superb system...one of the best ....and sometimes it's hard to improve on it.  I will certainly give it the best chance…
Day 3 – ...I am aware of cable settling / burning in issues.  I have had many of the best cables in my system. I will give the cable a sufficient amount of time to come to a conclusion. Thanks…
Day 4 (A.M.) - …the cable sounded better last night. I WILL give it the full time… No problem.
Day 4 (P.M.) - ...even better tonight...
Day 5 - ...at the 5th day of use it is apparent that I am hearing a better delineation of the individual instruments in orchestral pieces as well as rock groups, i.e. Zeppelin, for instance.  The background is also darker, which surprises me as it was already very black.  Transients have a quicker start/stop sequence.  Instrumental tonality is also improved.  So far, very impressive.
Day 17 - ...update...the cable has settled in nicely.  A friend is bringing his WireWorld 'Platinum' cable over next week to compare with the Revelation Audio Labs.  Should be interesting.  I will let you know how that turns out and whether the cable is a keeper.  I do like what I hear and it is a big improvement over the AQ 'Vodka'. I tried another friends AQ 'Diamond' and your cable won. Much better all around.
Day 23 - I will be keeping the cable. Have compared it against 2 other cables in the same price range (including the award-winning Synergistic Research Ethernet Active SE) and it held its own very well. Your cable is my new reference.  You should be proud. Thanks again for a great cable. Good luck with your business." – D.S.
'Prophecy' Digital Link cables Reviews and Testimonials:Mr. Michael Murray-Robertson, an English classical music reviewer and symphonic 'cellist, apparently has a renown state-of-the-art listening enviroment, employing the dCS Scarlatti four-piece stack with this exact digital cable set (two Firewire cables, one AES/EBU cable, three BNC clocking cables) with Nagra tube amplification and Quad ESL speakers...here is quoting his e-mail to dCS that he cc'd me:
Dear David, Dear Rav, 
As usual, it was good speaking with you on the telephone but I do look forward to your visit in person when this finally works out! Let's hope my proposed dates prove convenient for you; Rav. My offer of a night here still stands!
As promised, I can confirm that the six digital cables for quadruple dCS Scarlatti from Revelation Audio Labs are outstanding. We made extensive comparisons cable by cable on original recordings at which I was present including Telarc: the results were obviously superior. 
Speaking as a classical music string player with forty years' experience of live and reproduced music, I really felt that more of the spectrum was reproduced via these digital interconnects, the "grain" of upper harmonics revealed the individual colours of each instrument positioned precisely in an allotted space and given acoustics. Increased presence; dynamics were noticeable albeit without any aggressive or "shouty" aspect. 
The soundstage also widened; deepened. 
I identified the violin of Christian Ferras in the sixties and then again, played four decades later by Corey Cerovsèk in a different hall! Not the sound of any violin, rather that violin! From the "fluffy, horsehair on gut" sound of pianissimo strings to the liquid sound of a Cavaillé-Coll pipe organ, the endless nuances of the timbres made me simply want to just sit back and enjoy a moment in time with the performers.
In all honesty, I must warn that these cables are stiff; that undue bending for demos around the world might cause problems. Perhaps Rav could leave them in their pre-formed shape & pack them in foam for travel? And as I said, they do need time to 'burn in' despite the generous time given for this at Revelation. I was unable to resist trying their balanced analogue and loudspeaker cables; the latter especially need time. 
The French say: 'you have to suffer to be beautiful', and the English: 'patience is a virtue!' 
I'm impatient but will not need to suffer again as I have found what I wanted...an 'even closer approach to the original sound'.
I look forward to your news as promised. Bravo and best wishes, to all at Swavesey.
Michael"
"Revelation Audio Labs cables have helped us reach an exceptional degree of untarnished communication of music, so I keenly recommended them here." - M.M.R.
Subsequent to employing our digital cable set, Mr. Murray-Robertson's system is now fully wired exclusively with Revelation Audio Labs cables - from wall to speaker - all power cables, digital cables, analogue interconnects and loudspeaker cables.
Keep in mind that Mr. Murray-Robertson is not a high end equipment reviewer but a classical music reviewer, and as such does not technically write reviews for equipment.  Message me if you want his contact information as a reference.  He has not been compensated by us in any way.
I've had a chance to let my new Revelation Audio Labs 'Prophecy' CryoSilver Reference DualConduit USB 2.0 Digital Link Cable break in for 250 hours, and my music playback has been completely transformed and considerably better sounding than it did when the cable was new, and amazingly better than using a standard upgrade USB cable! When I broke in the RAL 'Prophecy' i2s Bus cable in on my Audio Alchemy digital front end back in 2004, it brought a substantial improvement in sound quality, but the sonic improvements that your RAL 'Prophecy' Dual Conduit USB Cable has manifest brings a much deeper level detail, a more accurate tonal correctness and authentic imaging than I have ever heard before in over 30 years of seeking improved sound quality from my audio system.
Thank you so much for creating this amazing USB cable which has brought my music playback alive in a way that I could only dream of before!
I would be honored if you would like to use any of my comments about the amazing Revelation Audio Labs 'Prophecy' CryoSilver Reference DualConduit USB 2.0 Digital Link Cable, because you have created the one and only USB cable that makes a wonderful improvement in sound quality where everyone said it could not be done, which to me qualifies it as a sonic miracle! I came across the $3,500 Locus SinoSure v2 single conduit USB cable the other day and I noticed that they had filled this huge cable with very complicated wire geometry in an effort to do what you have so simply and much more effectively done with your innovative Dual Conduit design.    —Stephen W. (Sept. 2011)
REVIEW: 13W3 i2S connector for Muse Transport & DAC 
I bought the Muse Model 8 Transport and Muse 296 DAC over 5 years ago and have enjoyed its analogue-like performance afforded by the i2S cable. I always felt that the 'weak link' in this system was the stock Belden 13W3 cable provided by Muse- I thought the performance would be further improved with a higher quality i2S cable. After trying several times to locate a replacement, in July of '04 I was referred to Brad Vojtech of Revelation Audio Labs thru Audio Asylum ';@ }. Brad told me he could build me this cable, but as it would be his first of this type using 13W3 connectors, it could take a while to find suitable quality connectors that he would be happy with.
Brad told me the wait would be well worth my patience. He was right.
Revelation Audio Labs describes the cable as 'featuring state-of-the-art mil-spec CONEC connectors, cryogenically treated ultra-pure (5-N's) solid silver conductors, air dielectrics, Teflon insulators, multi-layer/multi-material EMI/RFI shielding and proprietary Ceramic Micro-Bead Conduit. Meticulously artisan-built, hand-crafted in the USA, designed to be the most robust, advanced, exotic, and musical i2S audio cable in the world. The materials and construction techniques are world-class, aerospace quality.'
They aren't kidding...
I received the completed cable in November of '04. I was very impressed by the quality of construction and materials used, clearly superior in solidity and appearance to the stock cable. But the proof is ultimately in the performance, so out went the stock cable, and in went the Prophecy...
Fresh out of the box this cable is truly a Revelation. While Brad recommends a 100 hour burn-in time, the sound was improved across the board. The bass was the most noticeable- bass seemed to gain at least a 1/2 octave deeper, with much improved "push"/extension, detail speed and more 'bounce' — there was more energy driving the music, equivalent to a major component upgrade. The soundstage was deeper and wider, with a clearer, more stable presentation and imaging of instruments, evolving in free space, and a better separation between individual instruments. Midrange and highs improved with a more individual 'ease' to the music. Voices were even more lifelike sounding like complete bodies with chests, not just mouths singing. Sounds I never heard before on very familiar albums were heard for the first time, which added to my overall involvement and enjoyment. Over time, the sound became even smoother, with a more natural ease and musical flow. Bass tightened up more. Where I previously thought I needed to improve the bass response, which was the weakest part of my system, I no longer feel the need to do so.
This cable has made a wholesale improvement to the enjoyment and overall musicality of my system. If you own a Muse transport/DAC combo with 13W3 i2S cable, this is a no-brainer — RUN, don't walk, call Brad Vojtech at Revelation Audio Labs, and order this cable today. Your ears will thank you.
Regards, Gary H.
(By the way, this 13W3 cable can also be used with Sonic Frontiers digital gear.)"
"The cables (Prophecy i2s and Parable power cords) arrived today. I hooked them up and there was an immediate sense of more information and fine detail of greater image specificity within a space. This is an across-the-board system improvement that would have required thousands of dollars of investment in new components. I will now try to resist the temptation to listen while they cook for the recommended burn-in period."     Thanks, A.J.
"Talk about 'Bang for the Buck.' This has got to be the best (money) I've ever spent. I could go on and on about just how great the cable is, because it truly is amazing, but I'll make it short by saying that I agree with everything that you — and the reviewers mentioned in your product description — had to say about the cable. Far superior to the Audio Magic cable, no comparison, not even close. IT'S AS IF I WENT OUT AND SPEND $THOUSANDS$ ON A BRAND NEW SYSTEM. Incredibly musical. Anybody that's using the Perpetual Technologies P1A/P3A combo will never know just how good the combo can sound unless they're using your cable. Thanks for making available such a great product for all of us to enjoy. God Bless You."
"As far as reviews, I'm not into the jargon of reviewers and don't want to use terms I feel are vague (what is 'grain?' is yours the same as mine?). I HAVE heard a good deal of live music over the years, in venues ranging from my living room, to small clubs, to theaters to stadiums. I try to compare what I hear from my stereo system to that collective musical memory. By that standard, adding the Revelation in place of the Audio Magic Mystic clearly resulted in more musicality from my system — most obvious to my ears. My system: Musical Design T1 CD transport; Perpetual Technologies 1A and 3A processor and DAC; Sound Valves VTP-101i preamp; Blue Circle BC-28 power amp; Tyler Acoustics Linbrook Reference System speakers."
"I'm quite satisfied with your (Prophecy i2s and Parable power cord) cables. Burned them in for 106 hours, then put on discs to which I'd recently listened, and was amazed by the improvements. I first noticed improved bass: more defined, cleaner, and tighter. It's as if the cables shaped a diffuse beam into a tight signal. (Note: my speaker cables and interconnects are no slouches.) Next, I sensed a wider and deeper soundstage. One of the strengths of my system (and most satisfying to me), I believe, is its ability to portray a three-dimensional soundstage. With your cables, the soundstage expanded, especially in its depth. This expansion, by the way, is by no means overwrought — on the contrary, it's in the realm of bigger is better. Live recordings particularly benefited from the introduction of your cables into the system. I clearly detect a better portrayal of the stage, whether it's in a smoke-filled club or a huge stadium. In fact, REO's 'You Get What You Play For,' my ultimate system-testing CD and my favorite live album, never sounded better. 'Golden Country' filled the room wall-to-wall. I momentarily thought I was listening to a multi-channel system. This pleases to no end. Layering of instruments and vocals is much improved. I can now clearly make out background vocals, for example. This was startling on Alice Peacock's excellent self-titled CD. Before your cables arrived, background vocals were muddled a tad in the mix — I had to strain to make out the words. Now I can make out the words sans strain. Plus, on many live recordings, individual voices in the crowd, singers bumping microphones, guitarists unplugging from amps, drummers busting sticks, are all rendered more vivid, making the recordings more lifelike, and listening to them way more enjoyable. Finally, I like the fit and finish. And I was right: my eight-year-old son likes the color. I do, too. I wish to emphasize that I am pleased with the improvements your cables bring. I wish you continued success."    — M.B. 
"Revelation cables are in the house...thanks in large part to the rave reviews of a few of the guys on (the Perpetual Technologies/AV123) forum (you know who you are) I picked up the i2s and power cables used. Already having a $150 Camelot i2s cable (which came with my PT gear when I bought it used), I was pretty reluctant to buy these... seemed like a lot of cash to drop for what was likely (I thought) to be a minimal upgrade. Well, I was wrong. I don't know how they do it, but these cables make an enormous difference. There was distortion before that's just plain gone now, and the impact of that on the sound of the system (particularly when it comes to 'micro-detail') just can't be overstated. Maybe it was interference on the power lines running from the Monolith? I have no clue, but I do know that these things should be required equipment if you have the PT gear. So now I have the absolute Cadillac of Perpetual Technologies hardware (Modwright Monolith PS, P1-A, all three Revelation cables, and a Modwright Level II P3-A) and I'm wondering, how much better could Redbook playback possibly get?"
"After allowing sufficient time for burn-in, I have done a lot of serious listening to the Revelation Audio Labs i2s in both i2s direct and indirect mode and have concluded overall that the Revelation Audio Labs is indeed an excellent interconnect. To date the only head to head listening tests I've done is with the Audio Magic Mystic Reference i2s, and although I have not yet broken out the results, it is obvious that the Revelation i2s is the clear winner."    — P.W.
"The cable had about 24 hours on it when I sat down to listen last night. It gets better and better...and I loved it out of the box. In my system, there is no doubt about it's superiority to the Audio Magic. It takes the upper midrange/treble glare out, is smooth, non fatiguing, revealing, detailed, and balanced. Problems I had attributed to other aspects of my system, were in fact, the Audio Magic. I eagerly await its full burn-in. This cable is a WINNER. It brought that 'I want to hear this, now I need to hear this, etc.' I would like to contact Perpetual Technologies to let them know they need to include or offer this with their products — as one hasn't heard what they are capable of until this i2S is part of the package."    — R.T.
"This thing is incredible. Separation of the frequencies becomes better. Imaging becomes more solid and precise. Detail increases and everything just sounds more crisp and real. Bass becomes more solid. I now understand why people have raved about it. For the price it is a no-brainer IMO."
"I now have about 48hrs on the cable and it gets better and better. It is the most significant improvement in my system in as long as I can remember."
"How do they sound? 'WOW' is all I can come up with. Huge improvement in soundstage and it definitely took the digital edge off."
"The performance of your Prophecy i2s cable was HEAD, SHOULDERS and TORSO above the other two i2s cables that I auditioned (0.5-meter Audio Magic Mystic Reference, $149, and 1-meter LAT International, $99). It allows the highly detailed and refined digital signal, transmitted through the Siltec Golden Ridge digital cable and Perpetual Technologies P-1A 24-bit interpolation engine in my system, to come through completely unscathed. The musicality is unprecedented in my experience; I now no longer listen to the sound, but can get totally into the music. REMARKABLE!"    — J. 
"I'm smiling right now listening to (a favorite recording). SOUNDS FANTASTIC!!!. Absolutely a night and day difference...What!? They will sound better when they break in — can't wait! Your cables have definitely increased my listening pleasure."     — B.K.
"I like your Prophecy i2s and you will NOT be getting it back! It has a body and a clarity that my Mystic Reference cannot match, which surprised me because I had always considered the MR to be a solid performer. By comparison the Other Cable sounds uncultured. But there's worse! I also run an Mystic R i2s from my Audio Alchemy DDS Pro to the PT P-1A and when I put your Prophecy between the P-1A and P-3A, the transport to P-1A cable (Mystic) was exposed as being very harsh (you following me?!). Why this should be, I don't know, but I had to put a AES/EBU after the transport to eliminate the digital nasties. This is good news for you, because I now have to audition a 1-meter Prophecy! I would also like to hear your Power supply to P-1A and P-3A cables also... this is a place that I've always thought of as a potential source of electrical interference. Thanks for a great product."    — B.G. 
"I believe you have the best i2S cable out there."
"Hello Brad, I would like to thank you for your S/PDIF digital cable and how it has transformed my system. The cable took a few days to settle in, sounding a bit thin and analytical at first. After the burn in period the sound was transformed and I could hear the true potential of my Perpetual Technologies P-1A/P-3A DAC combo for the first time. I think that anybody who has the RAL 'Prophecy' i2S cable should seriously consider using the RAL S/ PDIF from their transport to the P-1A. I am not exaggerating it was like upgrading a piece of equipment it was that good from high frequencies to bottom all seamlessly integrated and sounding neutral, true to the timbre of the individual instruments. The speed of the cable is also amazing so that micro details in the recordings that I didn't even know were there now add to the sense of immediacy and realism, of musicians playing real instruments. You have to hear this for yourself as I was a little skeptical at first thinking merely that the cable would change the color of the sound rather than transform the whole musical experience of the system as it did. Given that Brad offers a no quibble 30 day return policy, as you Americans say, trying this cable in your own system is a no brainer. "    —Alex, UK
"I received the cables today. They are OUTSTANDING!! You should advertise the power cables more. The I2S is much better than the original. You have a great product and you should be very proud."
"Music flowed, far more musical than the Mystic i2s. God bless you and yours. With such a great product and customer service, your business should prosper. I surely hope it does."
"Your cable has arrived, and is, indeed, already a noticeable improvement over the Mystic Reference...I'll review it when the burn-in seems to have completed."
"Just gave the cable its first listen. It is FAR more musical than the Audio Magic."
"I think the cables are a wonderful improvement. Right out of the box it gave me incredible holographic imaging and wider soundstage."
"I finished burning in my Prophecy i2S digital link cable, and then sat down to do a serious A/B comparison with a cable I made myself from some VH audio cotton insulated silver wire. I thought sure my homemade cable would be just as good if not better, since it was utterly minimalist in design. 
I have an associate's degree in electronic systems technology, and have been an electronics technician in the U.S. Air Force for almost 18 years — all my training and experience tells me a digital cable should have no effect on audio whatsoever. I should be able to stick almost any conductor in the circuit and it do just as well as the most expensive digital cable, but that's not what I heard.
Realizing that human nature would not allow me to be objective, I asked my wife to listen with me. She didn't know which cable was which, yet our observations were identical.
My cable had a slightly grainy quality which I would have never noticed if I hadn't had yours to compare it against; yours simply sounded smoother, but paradoxically, there was more detail. And more presence. It sounded like I was a little closer to the musicians and singers.
So now I'm mad. I was all proud of myself for designing this cable that would be just as good as your expensive snake-oil cable, and then I could send your cable back for a refund and laugh at you all the way to the bank. Instead I'm keeping it and crawling off to lick my wounds. And try and figure out why mine didn't sound as good."    —C.M.

   more reviews: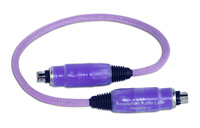 member since February 2000
| | | |
| --- | --- | --- |
| Last 12 months | 6 | 100.0% |
| All-time | 1468 | 99.4% |
Items from this seller