Sorry, this listing has ended.
You may like one of these similar items:
---
Einstein The Pickup Cartridge Positive Feedback A+++ [Expired]
---
---
Einstein The Pickup Cartridge ‼️
REDUCED to crazy Great deal so please no low offers.
Local Clients can buy it and get 3 days to return it.
As reviewed by Danny Kaey See below:

Positive Feedback ISSUE 75
September/October 2014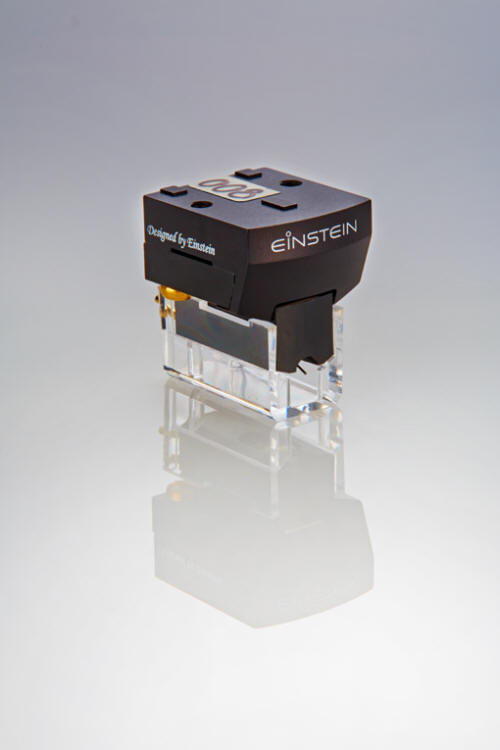 As NEW ultra low hours (Just Re Built by SoundSmith with Boron Cantilever &  Nude "Contact Line" Diamond low mass stylus.

Superior sound based on a top Ortofon cartridge nicely enhanced making this "A BEST, Top Cartridge".
The STORY: The Diamond tip got damaged and he traded it back to Weinhart Design. Please note new Boron cantilever & Diamond needle is a fresh rebuild from Soundsmith (their highest Level Re Build).

                                   Check out what Danny Kaey said:

It seems only yesterday that my infection of the vinyl-phile bug took effect: 'twas the year 2001 when I first ventured out to Fingerprints, a local Long Beach ol' school record shop, to get my first batch of black fury. Count forward the years and what a ride it's been—my vinyl collection has now grown to some 2500 records, some classical, some jazz, some rock, some pop and some in-between. Naturally, a few record play-ahz have come and gone, though now seem to have settled to a Brinkmann Balance and two Thorens 124 restorations, the Oswald Mills Audio 124 and Tonmechanik Berlin's 124 (formerly Norma-Hylee-Tech from Germany). 
Whereas I use both Thorens decks for quasi vintage playback, the OMA 124 running a Schick arm and—ironically—the Brinkmann EMT-ti, the Tonmechanik Berlin running its own 12" arm with an Ortofon SPU A, the Brinkmann comes through when it comes to ultimate fidelity, ultimate stability, image density, granularity, resolution, i.e. a modern sound (though not to get too far off the beaten path, the OMA 124 in particular, doesn't seem that far off the pace, though more on that with a separate review / discourse). My current reference Brinkmann setup is Brinkmann's own 12" arm running the venerable Dynavector XV-1, and on the second pod, Kuzma's 4Point running either an Ortofon A90 or Zu Audio's latest generation Zu-103 (a Denon DL-103 modified pickup). 
When, during this year's CES spectacle, Volker Bohlmeier, proprietor of EINSTEIN audio components, pinged me to write about his newest kid, The Pickup, I obliged in kind and without any hesitation. Not because I needed to hear yet another cartridge; rather, to hear one that broke my semi-self imposed cartridge price point of around $5000. Somehow or another, that 5k limit seems to be somewhat of a constant: many a times have I been approached to discuss pricier cartridges, yet always seemed to shy away from taking the leap. Being intimately familiar with Volker's lineup—my main listening room electronics consist of EINSTEIN's The Preamp, The Poweramp and The Turntable's Choice—I felt somewhat called to act.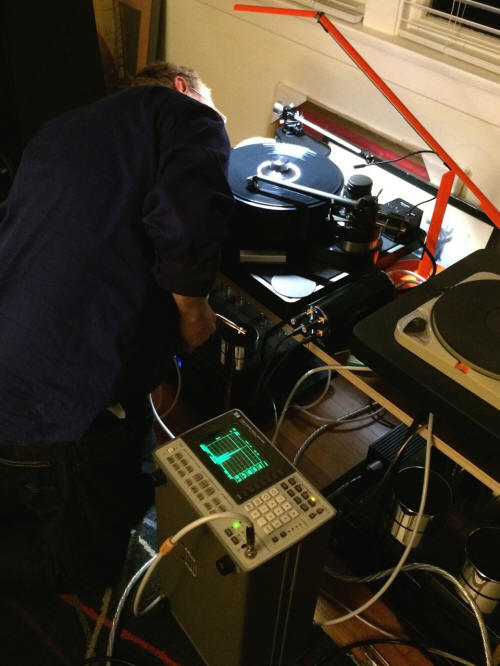 The Pickup then, arrives as a made to order design under the guiding and watchful, partnering eyes of Ortofon's Leif Johannson, who for years has been helming Ortofon's ideas and cartridges. Having worked on The Pickup for some time, certain design considerations and results were must-have items: in typical EINSTEIN fashion, these were explosive dynamics, black backgrounds (I despise that wording, no seriously), orderly resolution and the EINSTEIN typical finesse and easy sound. Long a hallmark of all other EINSTEIN products, these attributes speak directly to Volker's vision of what playback is all about: real, dynamic sound, or, as real as possible, in your own four walls.
An aluminum body was chosen over more costlier and fancier titanium; pure copper windings instead of more expensive gold/silver; a boron cantilever mounted diamond with the famous "Shibata" cut completes The Pickup. Running as a defacto medium output MC, no real-world phono stage should have any issues amplifying the tiny signals being picked up from your groves. Expertly setup by non other than the only man I trust to setup my decks, Arian Jansen (of Sonorus Audio), off to the races we went. Sidebar: look for an in-depth look at Arian's cartridge setup system in a future issue of PFO—hint: it's quite ingenious and results in really the optimal mathematic and geometrically correct cartridge alignment. First up was Beacon's The Ways We Separate album, released in 2013. One of my favorite electronic additions, it's a soulful, bass busting, soundstage shattering reference disc, I generally fire up right away to check my bearings.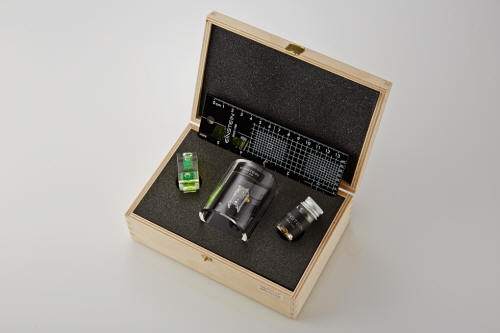 The Pickup delivers this record in spades and then some. Seriously deep bass as evidenced by Wilson Audio's Alexia and YG's Hailey (in conjunction with another Arian Jansen—Sonorus—fabrication, the aptly named "Proximity Subwoofer System", review forthcoming) was shaking up my listening room. But it wasn't merely the tightly defined, thunderous bass; it was the sheer openness of the soundstage and dramatic expansion of detail that struck me as indeed special and unique. On Feeling's Gone, the song starts out with a pulsating bass line that picks up tempo into about a minute and half; the pace at which the bass lines move is dramatically resolved, tight and in extreme focus: the digital hi-res file in comparison misses the beat—no pun intended—all together and by a long shot. 
Next up, I played Heart's Little Queen, which I recently came across at a local record shop—Bagatelle, on Atlantic Ave. in Long Beach. A catchy bass and drum line followed by Nancy Wilson's guitar riffs, gives this song tremendous energy and punch. Played back on The Pickup, the shear size of the instruments, focused on the percussion lines especially, is simply amazing and falls squarely in line with how this song should sound. Cueing up the same track on the Brinkmann / Dynavector combo yields a similar, if slightly less pronounced image size and specificity, whilst retaining the bass lines—nothing to sneeze at mind you, nor anything you would really miss unless you had heard it via the 4Point / The Pickup in direct comparison.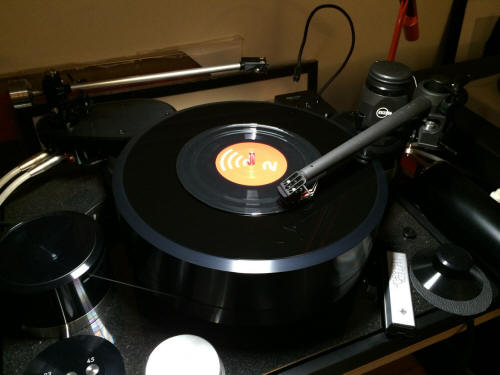 Chad Kassem's recent reissue of Zubin Mehta's Mahler's 3rd, is stupendously good, no, make that great. As in, go out and get it. Even if Mahler's arrangements are rather heavy hearted at times, the sonics captured here are truly first rate... in the classical sense of the great Decca and RCA titles of the golden age of stereo. Capturing the acoustic space that it was recorded in, Royce Hall (1978), the LA Philharmonic is perhaps at their prime. Maureen Forrester's contralto is ultimately powerful, yet so incredible delicate in her reading that hearing it played back with The Pickup gives you shivers. James Lock and Simon Eadon—Decca's recording genius' behind this capture—are in their prime force: minimal recording, maximum sound. QRP's pressing is equally incredible; there are no pops, ticks or any other blemishes; backgrounds are dead quiet (and pitch black for all your 'philes)—music and movements simply flow like magic. Even if Mahler isn't your first stop, you owe it to yourself to get this copy, if for not other reason than to test your cartridge setup and revel in the shear explosiveness of this most amazing recording. 
What The Pickup perhaps does best is revel in the detail of a particular record without sounding bright, shrill or spot lit on top: simply put, you get the detail without the usually defined brightness. Midrange frequencies are evenly played, tracks from the likes of Dean Martin, Hank Williams, Kris Kristofferson, carry just the right amount of weight, speed and vocal impact. Likewise, female vocalists are equally as impressive to hear. Case in point, a recently scored Nina Simone copy of Little Girl Blue (a mint original Bethlehem) produced a stunning moody atmosphere with such incredible vocal rightness that I couldn't help but feel completely mesmerized by her voice.
Unlike the A90 for example (which as everyone recalls, was the defining "audiophile" cartridge for a few years and is of course long out of production), The Pickup doesn't seem to attract that level of surgical cleanliness at times, which while sounding incredibly detailed on some recordings, is a sometime distraction on many other recordings, all other things being equal. Truth is, sometimes I just want to sit and listen to music, not details contained within a particular recording.
EINSTEIN makes some very fine products that sound every bit as much as the way they look, with great dynamics, fine resolution, superior soundstage recovery and just plain old jamming sound. You want to search your library to play more and more music. Inherent to our hobby then, The Pickup does this with finesse and amazing resolve. Dynamics are explosive—given the right recording—bass is deep, tight and well defined with just the appropriate amount of slam and punch. No surprises then, The Pickup fits right within EINSTEIN's range and mission statement. In the end, it's all about the music. Highly recommended, A+++.
PS: Arian Jansen's personal, in home cartridge optimization setup is available to anyone—well, technically anyone, alas, perhaps better defined as within the greater LA area, though I have heard of Arian being given plane tickets to fly to more remote places, so in demand is his routine—and really, I haven't found a better way to optimize and setup your cartridges. Various jigs and all are great starting points; seeing Arian at work with his scope and analyzer however shows just how critical proper alignment is. Most highly recommended!

Danny Kaey
The Pickup
Retail: $8500
Distributer
On A Higher Note, Philip O'Hanlon
949-612-0201
[email protected]
www.einstein-audio.de
POSITIVE FEEDBACK ONLINE © 2014 - HOME
                         < ===================================== >
Weinhart Design has lots of other items new and used and if you're in Los Angeles or
visiting please accept my invitation to experience our World Class Audio Showroom and please visit our "ALL NEW" web site www.weinhartdesign.com
We are always interested in purchasing quality Audio and Video items,
LP collections, specialists buying Audio Estates and most quality trades
are welcomed.
All sales out of California are State Sales Tax exempt. California State Sales Tax of 9.5% applies for items picked up or shipped to a California address.
Weinhart Design accepts payments by Bank Wire Transfers without fees and is the only
form of payment on all sales out of the U.S. and Canada. We prefer this method of payment and also makes shipping to addresses other than billing OK but you can call to discuss payments.

VISA, MC and Papal are gladly accepted within the U.S. and Canada as long as the charge is approved and were shipping to the BILLING ADDRESS and shipping to the billing address on record and adds a 3% fee to cover costs.
Please call me directly in my world class showroom in Los Angeles weekdays
from 11-4PM @ 310-472-8880 or on my cell including weekends from 10-10PM
310-927-2260 and I can answer your questions and help you with all of your new and pre owned needs.


              Making better Sound
           One system at at a time,
  David
Weinhart
        Weinhart Design, Inc.
           President & CEO

 The Audio and Video Expert
e: [email protected]
   www.weinhartdesign.com
2337 Roscomare Road, Studio #1
  Los Angeles, California 90077
    Showroom) 310-472-8880
         Cell) 310-927-2260
davidamb member since February 2006
Weinhart Design
Verified Dealer
| | | |
| --- | --- | --- |
| Last 12 months | 147 | 100.0% |
| All-time | 2238 | 99.3% |
Items from this seller