Sorry, this listing has ended.
You may like one of these similar items:
---
Audio-Technica AT-LP1240-USB Direct Drive Turntable [Expired]
---
---
Audio-Technica AT-LP1240-USB Direct Drive Turntable
new in box --full warranty



Features:
- Direct drive turntable with manual operation and USB output
- Two large Start/Stop buttons 
- Toggle between 33 1/3, 45, and 72 RPM
- Start Control Knob and Break Control Knob allow user to adjust start and break speed between 0.2 and 6 seconds (time elapsed between button press and reaching full RPM or full stop)
- +/- pitch slider with +/-10%, +/-20%, or Quartz (locked at 0%) buttons for specifying pitch range available to the slider
- Reverse button for playing records in reverse 
- Includes USB output for direct digital connection to your computer
- Includes Mac- and PC-compatible Audacity recording software for digitizing LPs
- Switchable pre-amp for line-level or phono output 
- Cast-aluminum platter with stroboscopic speed markings
- S-shaped, grounded tone-arm assembly with adjustable tone-arm height, tone-arm rest with lock, and hydraulic tone-arm lift lever
- Adjustable counterweight and anti-skate for tone-arm assembly
- Removable stylus target light
- Height-adjustable feet for easy leveling
- Equipped with direct-drive 16-pole, 3-phase, brushless DC motor
- 16-bit A/D and D/A converters
- Selectable sampling rate of 44.1 or 48 kHz
- Stereo RCA (female) to 3.5 mm (1/8 in) mini-plug (male) adapter, stereo RCA (female) to 3.5 mm (1/8 in) mini-plug (female) adapter, USB cable, Audacity recording software installation CD, 45 RPM record adapter, slip mat, and removable dust cover all included
- Unit runs on approximately 13 watts of power while in use
- Note: stylus and cartridge sold separately
A Pro-Grade Turntable With USB Connectivity!
The Audio-Technica AT-LP1240-USB Direct Drive Turntable is the ideal instrument for the budding turntablist looking for a professional-grade turntable that won't break the bank. It offers fully manual operation and features all the controls a vinyl enthusiast needs to spin a killer set -- like playback speed and reverse controls, adjustable Start and Break speeds, and more. The AT-LP1240-USB also offers USB connectivity so you can rip your vinyl collection to MP3. With all these features and more, the AT-LP1240-USB is the perfect instrument for any looking for a budget-friendly turntable or any home audio enthusiast looking for a professional-grade turntable with USB connectivity for listening to or making a digital backup of LPs at home.
An Affordable Turntable For The Pro Turntablist
For decades, turntablism has been inaccessible to most artists due to the prohibitively high cost of acquiring two professional-grade DJ turntables and a mixer. But times are changing and the start-up cost for old-school DJ gear is now more affordable than ever. The AT-LP1240-USB offers everything a DJ would expect in a pro-grade turntable, like a cast-aluminum platter with stroboscopic speed markings and illuminated playback speed and pitch adjustment controls. There's a removable stylus target light to make seeking tracks easy even in dim environments. And the unit features an S-shaped tone-arm assembly (for better tracking while scratching) with adjustable counterweight and anti-skate controls. It's even got a locking tone-arm rest for keeping your favorite cartridge safe from harm while the unit is being transported. 
USB Output for Capturing LPs to Your Computer
Any record you play on the AT-LP1240-USB can also be recorded via USB, to the included Audacity recording software. You can archive your LPs to WAV files at 44.1 or 44.8 kHz and 16-bit resolution, and convert WAVs to MP3s, so you can carry your vinyl collection wherever you go on your favorite MP3 player.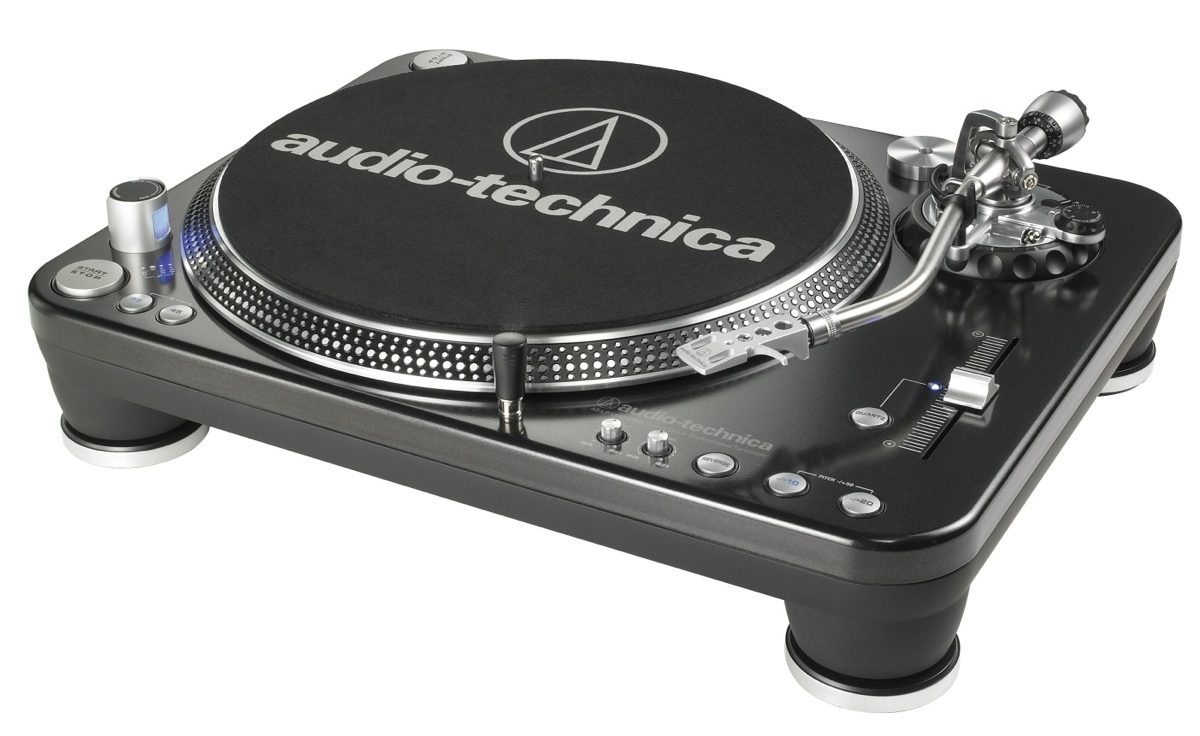 available from :
Quest For Sound
2307-R Bristol Pike
Bensalem Pa 19020
215-953-9099
www.questforsound.com
[email protected]
Quest For Sound
Verified Dealer
| | | |
| --- | --- | --- |
| Last 12 months | 18 | 100.0% |
| All-time | 2990 | 99.5% |
Items from this seller