Sorry, this listing has ended.
You may like one of these similar items:
---
Jeff Rowland 12 Ti, 4 Chasis Mono Blocks) ! [Expired]
---
---
Jeff Rowland Model 12 Ti Handsome Four Chassis Beautiful Mono Blocks (see pictures):
Upgraded to the Model 12 SMPS Power Supply upgrade (client spent $1,300 to have them factory upgraded).

Rated 7/10 but is likely a 8/10 they have slight wear on the protective clear coating near the power buttons. Very hard to see (see the pictures).

One owner, purchased new from Ambrosia Audio & Video (my previous Audio & Video Company). 

Comes in 4 factory boxes and highly recommended.
Serial # K0101 power supply & # F0049 mono block
Serial # KO100 power supply & FOO50 mono block

From HFA on line:
Model 12
The model 12 is a dual mono version of the Model 10. Inside are no differences that I am aware of except that all circuitry is doubled up and divided over 4 chassis instead of 2. The model 10, 12 and 112 were the first amps in which the new LM3886 IC's were used in place of bipolar transistors. These IC's not only carry out the amplification but also allow extremely accurate bias and temperature control and also occupy very little circuit "real estate," dramatically reducing capacitive and dielectric storage effects, as well as simplifying the overall signal path.
Also novel is the application of a so-called Power Buss in which positive and negative DC current is transferred to each output device by dual polarity. Within these buss bars, opposite phases are carried side by side, the two signal halves separated by a tiny 9 mil insulator. These bars can be easily identified as the bright red/orange metal bars running across the inside of the amp. One common question is whether the output section of the amplifier is biased into Class-A operation. Technically, the answer is "yes," as the exceptional linearity of the output section design achieves the advantages of pure Class-A operation. Using the "Intelligent Power Transistor with Gain" system keeps the output section properly biased at all times to eliminate crossover distortion caused by the output transistors during turn-on and turn-off.
Sound
I have only heard the Model 12 on one occasion, in a setup that was not familiar to me, so I cannot say much about the sound other than that the 12's sounded very good in this setup. Given that they are to the 10 what the Model 6 is to the Model 2, I expect no differently.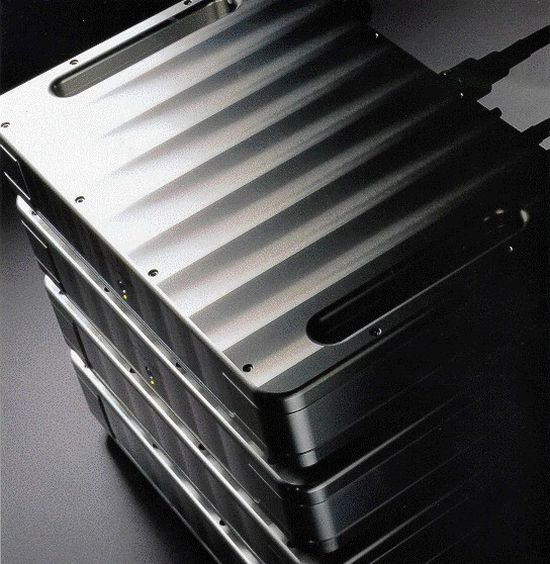 Above The two model 12 power supplies without hoods. Note that the main switching units have apparently been removed.
Feel free to call with questions, I can be reached in my Los Angeles Audio & Video showroom weekdays (11-4PM) 310-472-8880 or after hours and weekends (10-10) on my cell 310-927-2260 or e-mail me directly at: [email protected]

Contact:  David Weinhart best to CALL with questions in Los Angeles Showroom from 11-4PM @ 310-472-8880 or my cell after hours and weekends from 10-10PM @ 310-927-2260 or e-mail me directly at [email protected]     

For more information, visit my NEW & IMPROVED web site @ www.weinhartdesign.com for great deals!

Weinhart Design has lots of other items new and used and if you're in Los Angeles or visiting please accept my invitation to experience our World Class Audio Showroom (BY APPOINTMENT).

We are always interested in purchasing quality Audio and Video items, ESTATES & LP collections and most quality trades are welcome. 

All sales out of California are California State Sales Tax exempt. California 9.5% State Sales Tax applies only for items picked up or shipped to a California address. 

We accept payments by Bank Wire Transfers without fees and is the only form of payment on all sales out of the U.S. and Canada. We prefer this method of payment, which also makes shipping to addresses other than billing agreeable. VISA, MasterCard and Paypal are gladly accepted within the U.S. and Canada as long as the charge is approved and shipping to the billing address on record and adds 3% to cover costs. 

Please call me directly in my world class showroom in Los Angeles weekdays 11-4PM @ 310-472-8880 or on my cell including weekends from 10-10PM @ 310-927-2260 and I can answer your questions and help you with all of your new and pre owned needs. 


     Making Audio Systems better 

            one system at a time,

David Weinhart 
    Weinhart Design, Inc. 
       President & CEO 

e: [email protected] 
   www.weinhartdesign.com 

 The Audio and Video Expert 
2337 Roscomare Road, Studio #1 
  Los Angeles, California 90077 

    Showroom) 310-472-8880 
         Cell) 310-927-2260
davidamb member since February 2006
Weinhart Design
Verified Dealer
| | | |
| --- | --- | --- |
| Last 12 months | 147 | 100.0% |
| All-time | 2286 | 99.3% |
Items from this seller