Listing ID: lis9a0b1
Classified
Listed
·
836 Views
Time Left: 8 Days
Ending:
Asking Price: $1,499.99
New Retail Price: $3,000.00
Buy It Now
| | |
| --- | --- |
| Condition | |
| Payment methods | |
| Ships from | Mesa, AZ, 85213 |
| Ships to | United States |
| Package dimensions | unspecified |
| Shipping carriers | USPS or FedEx |
| Shipping cost | $160.00 |
| Average | Research Pricing |
Sonist Concerto 2 Loudspeakers.


 Finish: "Mahogany Red" 

Frequency Response: 40Hz - 40Khz
Sensitivity: 95db
Impedance: 8 ohms, min 6 ohms
Dimensions: 18.5"H x 12"W x 15"D
Weight: 40 lbs each
These R Collectables.
With their 95 dB sensitivity and stunning good looks, the Concerto 2 monitors are a perfect match for SET amplifiers-even those with 2A3 output tubes. The Sonists provided a very romantic sound (they were voiced with SETs in mind), and they can convey a big presentation with extremely smooth high frequencies as well. While not detailed, these speakers are nevertheless very musical.
September 1, 2007
Sonist Concerto 2 Loudspeakers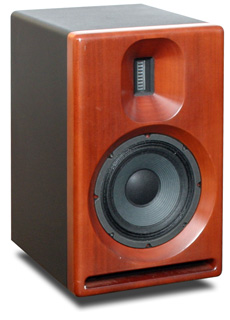 Going to an audio show can be something like visiting a museum with a splendid collection of paintings, each with its attractions and emphases for the eye's pleasure and stimulation. Occasionally, wandering the galleries, you come upon something that changes your way of seeing -- it expands an aspect of perception in a way you hadn't before thought possible. Picasso's paintings had this effect when they were first unveiled -- a cartoon eye weeping bullets of tears out of a caricature of a Spanish woman's long profile, hair like a black waterfall, a sausage nose, mouth like the keys of a toy piano. Or maybe a luminous landscape catches your eye -- the peculiarly angled way an intensely yellow wash of sunlight strikes a humble row of haystacks in a newly mown field. You look and you look and you look. Somehow life has been rearranged. Grief has a face. And joy its portrait. At T.H.E. Show in Las Vegas this past January, I came upon speakers that affected me that way. I listened and I listened.
The Sonist is a new speaker designed by longtime audio distributor Randy Bankert, of O.S. Services in Southern California. After years of acting as distributor for several European speaker lines, Bankert decided to make his own, using characteristics and specs he'd long been suggesting to manufacturers. "They were kind but ignored me," he said when we talked by phone recently. "I took the best from what I heard -- the emotion of the Reynaud, the transient response and dynamics of the Loth-X, and the creamy tonality of the Zengali -- and tried to combine them."
I first heard the Sonists in a room at the St. Tropez in Las Vegas. Their sound was a rare blend of sweet and articulate extension into the extremes, but with a warm midrange. Both pairs of beautifully crafted speakers -- the floorstanding Concerto 3s and the stand-mounted Concerto 2s -- threw off huge soundstages and rendered the difficult choral music I asked to be played (a CD of Mozart's Mass in C Minor) with finesse, detail, and unusually good dynamic range. When editor Marc Mickelson assigned the Concerto 2 to be the subject of my first review for Ultra Audio, I was enthusiastic.
The Concerto 2 is huge for a minimonitor -- about the size of two car batteries strapped together. It measures 18.5"H x 11.5"W x 14.75"D and weighs about 38 pounds. Bankert built it large because, he said, "The bigger the cabinet, the deeper the bass." Indeed, the Concerto 2's rated frequency response of 40Hz-40kHz, ±3dB, is quite extended for a minimonitor, and its claimed sensitivity of 95dB and impedance of 7 ohms is in the territory of single-ended-triode (SET) tube amplifiers. The drivers are a Fountek JP3.0 ribbon tweeter and an 8" Credence treated-paper cone woofer. Interestingly, the Concerto 2's recommended power range is continuous from 3 to 100W; Bankert says he's built the speaker so that it can be driven by direct-heated SET, push-pull, or solid-state amplifiers (he prefers SETs). The Concerto 2 sells for $2495 USD per pair through a dealer network.
Besides the Concerto 2's size, what immediately struck me was its lavish craftsmanship -- a gorgeously beveled piece of 2"-thick poplar facing (made from a single billet) stained a cherry color, and fitted and glued via tongue and groove to a black cabinet of 0.75"-thick MDF on all other surfaces. The tweeter and woofer are recessed behind precisely shaped Constant Directivity waveguides cut into the wood -- the tweeter sits in a 2"-deep trapezoidal funnel near the top of the speaker, and under it the woofer in a 1"-deep ring. "I'd worked with horns before and especially liked the sound of horn tweeters," Bankert said. 
Constant Directivity in the tweeter means that the front baffle presumably reduces horizontal and vertical early reflections and room effects. For the woofer, the claim is that the waveguide design narrows the midrange wavefront between 1000 and 1400Hz, making room placement easier by reducing sidewall and floor-bounce early reflections. The smooth woodwork of the baffle also incorporates a 10"-long bass-reflex port about a half-inch from the baffle's beveled bottom edge. "This also makes it easier to place the speakers as opposed to having a rear port," Bankert said. He chose poplar because of its extremely low Q -- which means it doesn't ring much, but when it does, it's within a wide frequency band rather than any specific frequency. The result is a much less colored sound. But the wood's finish and color are gorgeous -- hand-sanded corners and bevels, a sealer coat, two coats of stain, and a topcoat of clear semigloss lacquer. The speaker looks as if it could sit comfortably in a museum of American woodcraft.
Each speaker has a 360-degree H-brace dadoed inside. The H-brace has cutouts instead of solid board, these openings permitting the easier passage of air. Bankert uses ten glue-blocks to hold the corners together and stiffen the box. The crossovers are first-order on the woofer, second-order on the tweeter, handmade and hardwired (there are no printed circuit boards) with lead-free, silver-content solder and Audience Auric 18AWG hookup wire. They're isolation-mounted with rubber grommets and silicon gasket material. Other parts are also of top quality: Audience Auricaps on the tweeters, Mills resistors in the tweeter and woofer circuits, Goertz Alpha-Core copper-foil inductors in the woofer circuit, Audience hookup wire throughout, and fine damping material from Black Hole inside the cabinet.
The terminal box is flush-mounted to the rear panel; its two sets of beefy spade-lug binding posts permit not only biwiring but biamping as well. "The tweeter and the woofer circuits are completely separate," Bankert said. The caps on the posts are banana connectors, so you can use any kind of termination you want: spades, bare wire, or bananas. My review samples came furnished with Bennic bracket jumpers, which I used only briefly before discarding them in favor of a set of Audience Au24 jumpers. Bankert told me he plans to ship new orders with in-house jumpers made from Audience 18AWG hookup wire, and that he'll issue these as a free upgrade to anyone who's already bought a pair of his speakers. He also plans to provide grilles that attach to the metal woofer frame with four small disc magnets -- no pegs or holes required!
Review systems and setup
My listening room is squarish -- 12' x 14' x 8.5' -- and doubles as my study. I tried the Concerto 2s in two basic positions: along the short wall, 6' apart, and then on the long wall, about 8' apart. They are straightforward to set up and accommodate several options: single-wired with jumpers, biwired, and biamped. There are also multiple amplifier possibilities: SET, push-pull, SS, and any combination for biamping. I tried all but biwiring. No setup (and teardown) took me more than 30 minutes to accomplish, and most took only 20.
At first, I placed the Concerto 2s about a foot from the short front wall (a bookshelf), firing straight ahead and set on 19" unspiked Gunsdorf stands of MDF. I drove them with a VAIC 300B SET integrated amp using Ayon 32b direct-heated output tubes, which produce a bit more filament current (2.0A) and a few more watts (23W) than the standard 300B. To my ears, the VAIC is extremely linear and produces a fine clarity and extension in the treble range while maintaining the midrange warmth SET amps are famous for. It also generally produces good bass. My source was a Marantz SA-11S1 SACD player, my rack a solid three-shelf model of Indonesian mahogany. Cables were all Audience -- Au24 interconnects and power cords directly into the wall.
After a few sessions with the Bennic brackets, the hash in the upper midrange of Luciano Pavarotti's Gala Concert at the Royal Albert Hall [CD, London 430-716-2] convinced me to break out the Au24 jumpers I had on loan from Audience. This cleared things up immediately and produced a lush upper midrange and sweet, liquid trebles. I'd attached my speaker wires to the tweeter posts, and then the jumpers from the tweeter to the woofer posts. At first, I thought this produced the best sound and the biggest soundstage -- much as I'd heard at T.H.E. Show. Then, after two weeks of listening this way, and more out of curiosity than policy, I tried going to the woofer terminals first, then running the Audience jumpers to the tweeter terminals. This produced the most consistently balanced sound, with the treble maintaining clarity and extension, a fulsome midrange, and big gains in bass punch and extension. This sound was richer, clearer in the midrange, more harmonically saturated, and still had all the resolution in the treble that I'd come to expect from the ribbon tweeters. For optimal results, I suggest trying your speaker wires a number of different ways: single wire to tweeter with jumpers to woofers, single-wire to woofers with jumpers to tweeters, and biwired.
Rich and relaxing as the sound of this simple system was, it wasn't long before I wanted to try the Sonists in my reference rig. The attraction was my analog setup with a Nottingham Spacedeck turntable, Spacearm tonearm, Shelter 501.2 cartridge, and John Thomas custom terminal box for changing resistors on the phono cable. My preamp is a Thor TA-1000 Mk.2, the phono amplifier an EAR 834P with NOS Amperex tubes, and my usual power amp, an Air Tight ATM-2 with RAM-tested Gold Lion KT88 output tubes -- all in a five-shelf Finite Elemente Signature Pagode rack. For this session, I moved the VAIC amp onto an FIM amp stand in front of the reference rack, bypassed its preamp section, and went into the Thor direct. Wires were again mainly Audience Au24 interconnects, jumpers, and speaker wires. I used an array of power cords: Harmonix Studio Master, Audience PowerChord, Verbatim Type 2, and Thor Red. From the EAR phono to the preamp, I used Cardas Golden Reference interconnects. Amps were always plugged directly into the wall, with the turntable motor, preamp, and phono all going into a Balanced Power Technologies Clean Power Center passive line conditioner with multiple Oyaide SWO-XX duplexes. The line conditioner itself was plugged into the wall through an Electraglide Epiphany X.2 PC. I have two 15A dedicated lines and minimal room treatments -- just three Acoustic Sciences Corporation panels, one hung behind each speaker, and one centered on the wall opposite them, about an inch below the ceiling.
I moved aside my reference speakers, a pair of Sonus Faber Grand Piano Home floorstanders, and placed the VAIC on the FIM stand (no easy task -- the VAIC weighs a tippy 68 pounds). I set up the Sonist Concerto 2s on a pair of 26"-tall, single-column Aliante stands that Randy Bankert had sent along, as I'd requested taller ones than the initial pair of Gunsdorfs. For resonance control, a final tweak was to place the base of each stand on the tips of three VTI black speaker cones, which sat flat-side down on travertine tiles on my rug. The extra height helped place the ribbon tweeters at the proper listening level for how I usually sit: on an Aeron chair pushed against my sofa. With the Gunsdorf stands (only 19" high), I'd found I had to sit on the floor in order to hear the Concerto 2's full frequency range. Likely, for most, an optimal stand might be one 22-24" tall with multiple fillable posts. Bankert told me he plans to offer his own stands soon, to be made of Medite and poplar and finished just like his cabinets.
I tried the Concerto 2s in various positions, eventually placing them almost exactly as I'd placed the Sonus Faber floorstanders -- about 8' apart along the room's longer dimension, 18" from the front wall, 3' from the sidewalls, but toed in about 20 degrees, so that the tweeter axes crossed about 3' behind my head (and 2.5' from the rear wall). I sat close to on axis with my ears just a little more than 9' from each speaker, and a little less than 8' from their front plane.
Sound
As indicated above, when I listened to the Sonist Concerto 2s in my simplest system (short-wall, Marantz SACD player), they sounded very good out of the box. Randy Bankert had already broken them in at the factory for 100 hours, and no further burn-in seemed necessary, especially for the ribbon tweeters. I played blues, chamber music, and recital CDs to begin with -- Albert King, Beethoven quartets, Pavarotti's Gala Concert -- but things were so dynamic, smooth, detailed, and clear that I quickly wanted to move on to my analog system. Once I'd got everything moved around and settled in, a final maneuver involved using gobs of Stick-Tac to secure each Concerto 2 to the top plate of its Aliante stand. I powered on and began spinning vinyl.
I've always loved Charles Mingus, his compositions, and his ensembles. He blends Ellington-like lushness with field hollers, political sloganeering, and the rhythmic cacophonies of Dada and free jazz. But he never forgets the beat, never fails to reach for the gorgeous in harmonies, the sublime in melodic line. Changes One [Atlantic SD 1677] has been one of my favorites ever since I heard Mingus and the band he always called The Jazz Workshop play tunes from it at The Bank, a short-lived but essential underground dive in Seattle's Pioneer Square district, early in the spring of 1978. On three successive nights, his sextet knocked the bricks from out the inside of those basement walls. I've owned the LP, the CD, and often run an imaginary DVD of those performances in my mind. It's music I've relived time and again, taking images from those three nights and relishing the blend of jazz sonic theatrics (such as Carla Bley's A Genuine Tong Funeral), George Adams preaching and begging and striking sonic poses on his tenor like a kabuki actor struttin' down a runway through the audience. On the LP, the band is a quintet, and the tunes run juxtaposed into each other -- beautifully romantic melodies, such as "Sue's Changes" and "Duke Ellington's Sound of Love," alternating with "Remember Attica Rockefeller" (a reference to the deadly quelling of the prison riot there in 1971) and the rawboned "Devil's Blues." With Mingus's bass thumping and humming along the bottom of every run and solo, it's music that is at once gorgeous and savage, like the novels of Herman Melville or Tuscan cuisine -- jellied marrow served in a crystal flute alongside a beefsteak bathed in a platter full of its own warm juices.
The Sonist Concerto 2s played "Duke Ellington's Sound of Love" as if the All-American ghosts of jazz were having their musical reunion inside the walls of my study -- Mingus pegging his bass through my indigo Chinese rug and into the floorboards below, Danny Richmond setting up his kit in the corner by my art books and photographs of me with friends at summer writers' conferences in Vermont, Don Pullen comping and filling in front of the bookcases crammed with poetry. And the best -- George Adams on tenor and Jack Walrath on trumpet harmonizing the theme written in a style borrowed from Ellington, the two horns coming from center stage over my desk, the long line of the tune billowing out like a sail of solitude from between the speakers to my heart hungry for the soul of this song. When the entire quintet kicked back in, Mingus plucking out the slow waltz of the tune like a nightingale on bass, the horns drew a lazy river of trailing harmonies across the music's melodic surface. Did I think of the ribbon tweeters? The big Cyclopean eyes of the paper-cone woofers? The cherry finish on the poplar baffle? Do I think of vocabulary and symbolism when tattooed Queequeg hoists a harpoon and sights on the arching back of a breeching sperm whale as I turn the pages of Melville's Moby-Dick? As we say in Hawai'i when things are particularly beautiful . . . and spooky -- I get chikin skin, Braddah! -- and a bit of momentary rapture to boot.
Next, I tried Back in the High Life [LP, Island 25448-1], by Stevie Winwood -- that high-heeled, English boy rocker from the Spencer Davis Group, Traffic, and the one-album supergroup Blind Faith. At 16, Winwood's voice on "Gimme Some Lovin'," a 45rpm single on an obscure label released without press kit or payola, was mistaken by DJs worldwide for a veteran black soul man's -- high and screechy as a preacher's, rhythmic and piercing enough to cut through Davis's R&B hash of fuzz-box guitar, Fender bass, honky-tonk piano, and Hammond organ. Winwood himself became a great rock composer, blending tunes based on old Scottish marches and reels, straight blues, drinking songs, and disco to make up this innovative album.
When I dropped the Shelter's stylus into the title groove, the traps intro was rhythmic, suspenseful, clear, and danceable. The timing of the synth bass, programmed drum tracks, and rhythm guitar all had superfast transients and that chopping, disco bite that made this recording beloved of old-school rock fans. And though there was real thunder in the combo of synth bass and kick drum, their clarity was such that I could tell the drum was being punched with a foot mallet that was padded -- for more of a thump! than a thwock!Throughout the tune there was a fabulously tactile rhythmic tapestry that combined with all of the articulation and good separation in the trebles, particularly between Winwood's overdubbed backing vocal and the chiming of the Wave Term synthesizer and bursts of fanfares from the synth horns. The dance beat swept me along, and when I could pick out that it was none other than the indomitable Chaka Khan singing the final choruses of the backing vocal, I was sold. That glorious ribbon tweeter! Winwood's normally plaintive, even reedy voice had soft edges here, sweeter body, more deft leading and fading transients. Winwood's mandolin, too, whether strummed or plucked, blended nicely with the synthesizer's strings and snare drums, each part still maintaining its distinct timbre. The soundstage was generous, with good depth, and all instruments, synth or real, cleanly spaced across the horizontal plane. Finally, I could tell that Chaka Khan wasn't singing choruses of "Bring me a higher love." She was singing "Brang me a higher love." I could never hear that before. And that made all the difference.
Perhaps the most difficult test of any speaker, let alone a stand-mounted design, is how it reproduces music made by a large orchestra. Georg Solti's version of Beethoven's Symphony No.2 [LP, London CS 6927] is a favorite of mine for its impact and dynamics, as well as its sweetness. Solti was known for sometimes conducting breakneck interpretations of standards, racing like a NASCAR driver through the score -- but here, leading the Chicago Symphony Orchestra, his even baton provides a more moderately paced performance. The first movement, Allegro con brio, opens with timpani strokes and brass fanfares, then quickly shifts to the sweetening airs of woodwinds and lush strings playing introductory pieces of the theme. The Concerto 2 reached pretty far down, with some impact and good bass extension, and though somewhat recessive -- as might be expected with a minimonitor -- the bass viols were nonetheless a warmly constant if not always obvious presence. The trebles were extended and somewhat forward, which accentuated the woodwinds and violins -- my listening thus gravitated more toward the splendors of the violin, viola, and woodwinds than to the bass and timpani. The Concerto 2 could detail the subtlest nuances of playing, particularly with violins, and much better than any other speaker I've heard. Where they fell a little short was in the impact of basses and drums, yet there was no lack of warmth from the middle strings or cellos. In general, the Concerto 2s presented a coherent orchestra, with wonderful string and woodwind timbres and good soundstaging, but the overall dynamic thrum of a full orchestra -- the full Monty of Beethoven -- was somewhat lacking. Through the Sonists, this symphony sounded more sprightly and Mozartean than fully thrilling, without that critical bit of dread that makes LvB so sublime.
By far the most interesting and articulate sound the Sonists made was with solo female voices. I played numerous operatic recital LPs by a half-dozen superb lyric sopranos, among them Kathleen Battle, Kiri Te Kanawa, and Monserrat Caballé. But I had the most fun listening to a jazz artist with a bit lower range and more interpretive brio -- the inimitable Sarah Vaughan. Produced by the legendary Norman Granz and issued in the early 1980s, when Vaughan was in her 50s, Crazy and Mixed Up [Pablo Today 2312-137] features a champion lineup of sidemen -- Joe Pass on guitar, Roland Hanna on piano, Andy Simpkins on bass, and Harold Jones on drums -- and a playlist of great jazz standards. Listening was pure pleasure all the way through. Hanna's piano sound was deep and vibrant, and the entire rhythm section came in on time all the time -- the piano runs and Vaughan's silky glissandos always felt rhythmically integrated with the band. All the bounce and sass of Vaughan's improvisations came through. On "Autumn Leaves," particularly, I could feel the vibrancy of this remarkable studio date as she accelerates and expands the dynamic range of her scatting, then gives it over to Joe Pass, who launches into a buttery smooth, rhythmically deft guitar solo.
Vaughan's unusually pliant voice covered the range from tenor to soprano, and the Concerto 2 was completely up to all of it, rendering her dark, chocolaty low notes with robust warmth, her sailing soprano highs with great air and smoothness. Without sounding even the slightest bit analytic, the Concerto 2 had a lively, liquid extension in the treble range and an almost crystalline clarity. Hanna's piano positively tinkled. The detail in the system was nothing short of crazy -- transients not only opening the dimension of the music to fine attacks and decays from each performer, but also rendering the exquisite pianissimo dynamics of these sonic ephemera. The interpretive acuities of the performances were so clear that the musical thinking and instincts of each player were revealed, making for a thrilling listening experience. To quote a favorite lyric, my listening ended "all too soon."
Comparison
Like the Concerto 2, my reference loudspeaker, the Sonus Faber Grand Piano Home, is essentially a two-way (some say two-and-a-half way), but with two 6" woofers and a 1" silk-dome tweeter behind a spider cage. The Grand Piano Home is known for its warmth, its smoothness, and a soft, refined (some say rolled-off) treble. When new, its cost was $3495/pair -- exactly $1000 more than the Sonist Concerto 2. There are some other differences: the Italian speaker has only a single set of binding posts, so there's no need for jumpers; and, as its sensitivity is only 90dB (impedance is 6 ohms), I drove the pair of them with my reference Air Tight ATM-2's 80 pentode watts rather than with the VAIC SET amp.
The differences in sonic performance boiled down to two areas: bass dynamics and treble extension/sophistication. The Sonus Faber produced better push in the bass, and handled the midrange of Beethoven's Symphony No.2 more successfully than the Sonists, with which I missed the fast, resonant impacts of the timpani coupled with rapid bowing across the big strings of the bass viols. And the symphonic complement of instruments presented some challenge to the stand-mounts (as they would to any speaker). But the Sonist Concerto 2 excelled with rock and jazz, where the speed and clarity of its ribbon tweeter could be stunning, and its large, single midrange driver was more up to the reproduction of fewer instruments. Not only that, the Sonists' soundstage included more depth and image definition than that of the Sonus Fabers.
I wouldn't say that either speaker was made to be a blaster, but the Sonists outperformed my reference speakers in speed, detail, imaging, bass clarity, impact dynamics, and PRAT (pace, rhythm, and timing). Both performed well with jazz, but the Concerto 2 was crazy good -- much more immediate and live, rich in the midrange, with fine attack and decay transients, and highly articulate and sustained treble notes. It had verve. I'd guess the Concerto 3 -- the floorstanding version of the Concerto 2 -- would give the Sonus Faber a pretty good run in the symphonic world, but that's for another reviewer to find out.
Conclusion
There are usually two kinds of "good" listening, frequently opposed and rarely combined. One allows you to become more attentive, alert to subtleties and the interpretive choices of a performer, engaged in an excited but intellectual manner. Another is said to be more "involving," more emotionally engaged with the music, less judgmental, able to sweep you along in the ebbs and swells of the music's fundamental swirls.
The Sonist Concerto 2 allowed me to do both. It provided all the detail and nuance of a recording, as well as the music's primary, visceral character. As with a fine live performance, I could choose how to be thrilled: whether by an education in the subtleties of a passage, or by being mesmerized by a new way of engaging the senses -- as in gazing at Van Gogh's painting of a starry night, or his landscape row of sun-drenched haystacks.
There are many good speakers in this price range, but if you want something that can work well with a variety of amps, I can't think of many that will give you a sound both as rich and as articulate as the Sonist Concerto 2, and few that will look as good and as well-crafted while doing it.
Shipping w/b Fed Ex Ground Home Delivery.  1-5 Business Days. 2 Boxes. Fully Insured.
Important,, up to 5 days handling as disclosed. 
Thank U
No questions have been asked about this item.
Return Policy
Return Window
Item can be returned within 7 days of receipt.
General Terms
Items must be returned in their original condition, with all included packing materials and no signs of use. Buyer assumes responsibility for all shipping return costs unless the item was not received as described.
Refunds
Buyer will receive a full refund in the original payment method less any shipping charges.
somewhat99 member since August 2018
| | | |
| --- | --- | --- |
| Last 12 months | 21 | 100.0% |
| All-time | 21 | 100.0% |
Items from this seller