Sorry, this listing has ended.
You may like one of these similar items:
---
Granite Audio 860.7 Kt-88 tube mono blocks [Expired]
---
---
Granite Audio 860.7 Kt-88 tube mono blocks
these are new in box full factory warranty
upgraded from 860 version to new 860.7 version by factory

"I was drawn to their (Granite Audio) room by the stunningly
realistic sound of Eric Clapton's voice." Larry Greenhill .

You will finally hear all the dynamics and feel all the emotions of the original live performance. Your soundstage will be more 3-dimensional, adding to the illusion of a live performance in your living room. These are the great sounding tube amps that fooled Larry Greenhill, Senior Contributing Editor at Stereophile Magazine, into thinking Eric Clapton was singing "Layla" live in Granite Audio's HI-FI'98 Exhibit Suite at the Westin in L.A.

These beautiful highly polished acrylic-granite amplifiers are constructed rock-solid and sound great. The zero-feedback circuit design is so dynamic and live sounding! They have a very live sounding midrange, smooth highs, and plenty of solid low bass.

New-in-box, factory direct. These fine handcrafted amplifiers will be shipped to the buyer in Opal granite . Full factory warranty included.


This amp can run without a preamp!


Simply plug your CD player directly into it.  The 860 has a 100K ohm constant impedance Alps input volume control for just such a simple system!  The CD player "sees" a constant high impedance load at all frequencies.

The 860 has zero feedback, and there is an RCA jack on the top of the chassis that accepts factory supplied plugins for user adjustable contours.  When the contour plugs are not used, there is nothing extra in the circuit.  The contour loop has no switches or connections in the signal path when not in use.  The zero feedback design is much more challenging for the designer, but equally more enjoyable for the listener because of the increased dynamic range and excitement of live present-sounding vocals, as experienced by Larry Greenhill of Stereophile Magazine at HI-FI '98.  "I was drawn to their room by the stunningly realistic sound of Eric Clapton's voice."

Why tubes?  A tube is a true valve.  A transistor is a switch.  Tubes let the music flow, while transistors are incessantly turning your music on and off by their very nature.  Ever notice how the water flows smooth from conventional shower heads while it pulsates from massage heads?  The on-off pulses feel good on your back, but they're harsh on your music and add to listening fatigue the same way your back gets numb to the water pulses after a while.

The tube filaments are run on AC voltage which is lifted from ground by 40 volts DC, and wired with shielded twisted pair wires for maximum current handling, minimum noise, and a smooth voltage rail.  Switches and contacts are either gold or silver.  Tube biasing is user adjustable with factory supplied tool and Vishay trimmers, all easily accessed from the rear of the chassis.  

The amp is easily switchable from pentode to triode with an 18 amp solid silver contact toggle switch located between the KT88's.  The amp develops a minimum of 60 watts in pentode and 30 watts in triode.  If the user has efficient speakers, the triode mode offers some excellent dynamic sound. The RCA inputs and speaker outputs are hard gold plate over silver over copper for the best in long-life wear and maximum transfer of a clean unaltered signal.  Then the Model 860 amp must pass 100 hours of tests.

SO, HOW DOES THE ZERO FEEDBACK 860 SOUND?

Live, immediate, present, dynamic, detailed.  At CES we were shaking the suite below us at the Alexis Park with the deep bass battle drums from "Braveheart" and only 30 watts!  We custom design our products to make it sound like you are on the stage with the performers, listening to real live vocalists and real instruments.

"Hi Don,  Wanted to let you know that my #860 Power amps arrived safely...They're both physically and sonically beautiful... the cd to amp option (bypassing preamp) is working very nicely... the upper and lower extension is far beyond what I was previously experiencing, and the midrange,...ah the midrange... I will have to eventually find the appropriate adjectives... I was up until the early hours last night listening to Diana Krall & Patricia Barber... intoxicating!! "      Greg G.   Reston, VA.

When you listen to Diana Krall play the piano on our system, you will feel like you are sitting at the bench with the bass strings vibrating on your left and the melody running up and down the keyboard octaves on your right, with Diana sitting on top of the concert grand piano singing to you in person.  You will hear the delicate smack as she parts her lips, draws a breath, and sings "I'm Through With Love" to you in person.  You don't just hear our 3-dimensional sound stage, you're on the stage involved in the live performance.

UPGRADES: 

".3" Upgrade.  Input Circuit. 
Make the input grid stopper a fixed value. Add grid bypass to V1-6SN7 tube. Modify volume control circuit.  This upgrade adds only 2 resistors to the music signal path.  This upgrade lowers the system noise floor, gives some sonic improvement, and makes the volume control work better.  Prior to the upgrade you may have noticed that the volume control would interact with some brands of 6SN7 tubes in the V1 tube socket.  Prior to this upgrade it was necessary to use only the highest quality tubes in the V1 socket.  This upgrade will cure that issue and allow you to use a wider selection of available 6SN7 tubes in the V1 socket.  It will also lower the signal-to-noise to -90dB.


".7" Upgrade.  (Also includes the ".3" Upgrade.) 
Plate Circuit. Add more isolation and filtration to 6SN7 plate circuit. 
Filament Circuit. Convert 6SN7 filament circuit to DC voltage. 
This upgrades does not add any parts to the music signal path.  This upgrade takes the amp to a whole new level. You will think you upgraded your speakers too.  This upgrade seriously stabilizes the filament and B+ voltage rails to a whole new level that also takes the signal-to-noise measurement to -99dB at 7.0 volts output.  The bass and vocals are even more clear and clean than before.  The bass is even fuller and richer.  The upper octaves of the piano are cleaner and more accurate.  The notes decay and ring even more realistically.  This upgrade will get your older amp closer to the performance of our newest Model 864 amp without spending $5,000.00.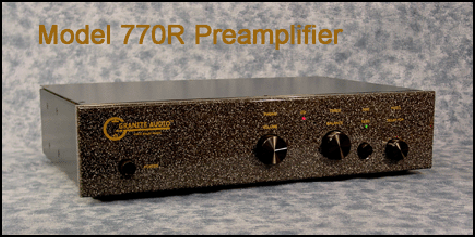 Quest For Sound
2307-R Bristol Pike
Bensalem Pa 19020
215-953-9099
www.questforsound.com
[email protected]

Quest For Sound
Verified Dealer
| | | |
| --- | --- | --- |
| Last 12 months | 18 | 100.0% |
| All-time | 2990 | 99.5% |
Items from this seller