Sorry, this listing has ended.
You may like one of these similar items:
---
KEF Q-900 Loudspeakers > Rosewood > Uni-Q driver array > Only 18 months old > MSRP $1,850.00 [Expired]
---
---
I bought these speakers to use for a short time while I am waiting for my Magico S5 MK II to be delivered. My Magico's should be here next week so I am posting these for sale. Man am I impressed with these speakers. I just wanted something to use for a couple weeks and wanted to try these because so much has been said about how good they are. They are right!   
These are very good speakers and sound way better than I thought they would and really way better than they should for this kind of money. These are really good sounding speakers which is amazing for this price. 
For the record these destroy all those other budget speakers that people say are amazing such as Elac made by Andrew Jones. 
I tried a bunch of the budget speakers for a bedroom set up and all are so compromised. Not these. This is a legit HiFi speaker. I have these matched with $60,000 worth of electronics and cabling and they sound fantastic. 
If a small company made these they would need to charge $4000 or $5000. 
Instead they are made by a huge company that applied economy of scale to use really good driver and crossover design with great looking cabinets but because they make so many cabinets they cost so much less to make. Take advantage of Kefs set up because this sound for this price is rare indeed!       
I also owned the KEF LS50 and these are much better. They have solid bass and impact that the 50's just can't match.    
My Magico S5 MK II are $38,000 Speakers and these are $1,850 and yes the Magico's are better but the price difference is pretty insane when you hear how great these sound. Pair these speakers with a good source and electronics and they are very impressive.  
I have these hooked up right now and listening to them with my Bricasti M1SE DAC, Simaudio Moon Evolution P-8 Preamp, Pass Labs X250.8 amp and Kubala-Sosna Emotion full loom of cables and they sound fantastic. They sound like $3,000 / $4,000 speakers not $800 speakers. They look the part also. Put these with a Wyred for Sound, Bel Canto or Hegel type Integrated amp and you will have a killer little set up for very reasonable money.  
10 years ago this type of sound for this type of money did not exist. Trust me you will love these speakers if this is the type of money you are looking to spend. Even if you have $2000 to $3000 to spend you should try these. They are that good. How do I know this? I own them, I bought them and put them in my system. They are in perfect condition to boot and same as new with all packaging and everything same as new.      
Driving Home Hi-Fi Sound
The Q900 features a specially-voiced 8 inch aluminum Uni-Q driver with a 1 inch vented aluminium dome tweeter at its acoustic center, which sits above three 8 inch bass drivers. This combination of drivers produces an accurate representation of the human voice, a true reproduction of instrumentation, and undistorted bass that can be exactly as powerful as you want it to be.
Below the Uni-Q driver array are three stacked 8 inch bass drivers working in tandem to quickly and efficiently produce a range of low frequencies. The drivers' construction, alongside the Q900 cabinet, reduces additional and unwanted bass resonance, meaning you'll never experience muddy bass.
Perfect Pairings and Easy Placement
The Q900 sits on an aluminum plate supported by four steel 'plinth' spikes with locking knobs for easy height adjustment. The plinths also serve to ground the Q900, resulting in a rigid connection that eliminates any rocking resonances.
"Best Stereo Loudspeaker" – Readers Choice Year:2012Magazine / Issuing Body:AuerbachverlagCountry:GermanyProduct:Q900
"Goldenes Ohr 2012" 3. "Best floor standing Loudspeakers up to 3.000 Euro" Year:2012Magazine / Issuing Body:AudioCountry:GermanyProduct:Q900
Best Budget of the Year "....the sound reproduction from Q900 is fast and clear, not only reflects the sound feature from the matching electronics, but, which makes Q900 most distinctive, also truly reproducing the refined instrumental music and vocal from the original recording.
Furthermore, based on its power and intensity, Q900 is capable of creating a , as to embrace the listeners into a melodic sound field.
…Along with the cost-effective strategy and pricing, KEF Q900 is sure to be awarded as the Best Budget of the Year." Year:2012Magazine / Issuing Body:AudioArt MagazineCountry:TaiwanProduct:Q900
Gold Award - Middle Class Over 1000mm Year:2011Magazine / Issuing Body:HometheaterphileCountry:JapanProduct:Q900
Home Theater Top Picks
Year:2011Magazine / Issuing Body:Home TheaterCountry:USAProduct:Q900
image: https://www.stereophile.com/sites/all/themes/hometech/images/headiconlarge.png
KEF Q900 loudspeaker
Kalman Rubinson
  |  Sep 8, 2011
A not-unrelated consideration is that KEF seems to have made many choices that take advantage of its historical strength in driver design, rather than encumber the bill of materials with costs related to appearance. The 8" Uni-Q aluminum driver, with its larger-than-usual tweeter and Tangerine waveguide, is a notable sophistication for a speaker at this price. The addition of three more 8" cones, one active and two passive, supports a bass extension that is also uncommon for the price.
But the most important thing—or, for the true audiophile, the only thing—to consider is the Q900's sound. That sound is wide-range, balanced, and spacious, and seems to neither favor nor disfavor any genre of music. I have been sampling small floorstanders in the under-$2000 range for a number of years now, and there is no other speaker in that range that I prefer to the KEF Q900.
Read more at https://www.stereophile.com/content/kef-q900-loudspeaker-page-2#rg2ULPASArTDpcwC.99


Last but not least, the Q900 is pleasantly dynamic particularly on the macro scale which ties back to surface area. Attacks are explosive. Things don't merely go louder but also get bigger. This underscores a greater spatial impression of the music. In an ideal case where the recording is right and the hifi transmits it, one really gets to meet a dynamically breathing stage body which isn't corseted but bouncy and mobile… far from boring. The ease whereby large dynamic swings translate is far from standard in this price class. Microdynamics are on target but don't constitute any particular strength. Here superior monitors do as well or better but are clearly outclassed on macrodynamics.


Kef's Q900 is a fabulous tower speaker once situated in the appropriate environ. That's of course a quite universal statement true for any speaker but here of particular relevance. Should you own a system that lives on the bassier warmer side of neutral to want an antidote, the Kef won't be it. If your room is smaller and the speakers will have to remain close to the wall, the Q900 could get difficult. But if you can accommodate a freer placement in a medium to large room, you'll end up with a very complete speaker for a very smart price which offers a mature tonal balance and which projects an opulent stage into the room. I found the performance terrifically involving. The biggest shocker? That this is possible for so little.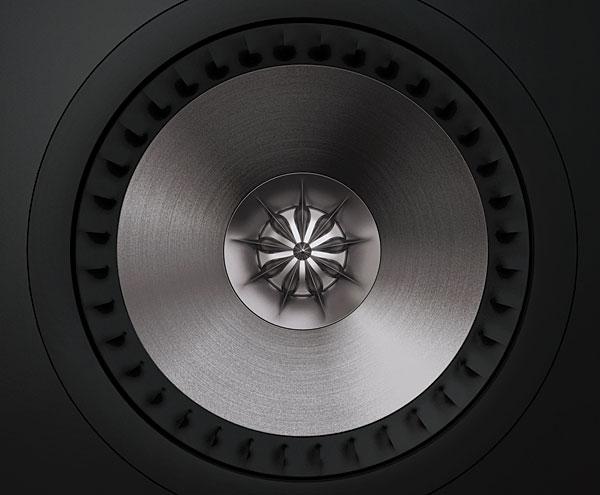 Uni-Q driver array
Sweet, spacious and true, wherever you sit. 

Thanks to the latest computer modelling techniques, years of painstaking development and a dash of design genius, the new iteration of the Uni-Q concept packs a formidable complement of design innovations. Based on the state-of-the-art HF driver developed for Concept Blade, the Q boasts a much larger (25mm/1 in. dome) tweeter for increased sensitivity and distortion-free power handling. It plays as loud as it plays true. 
Advanced bass technologies
Deeper, tighter and more accurate bass. 

Featuring rigid new aluminium cone technology just like the Uni-Q array, the Q Series advanced bass driver is a tour de force in its own right. A die-cast aluminium chassis rigidly locates the high efficiency vented magnet assembly to prevent unwanted resonance, and the large (50mm) voice coil ensures impressive power handling. Its musicality is impeccable: seductively tuneful and well controlled, and on the floorstanding models, complemented by dedicated front-firing auxiliary bass radiators (ABRs). 
Total system design
A holistic approach with no compromises. 

The performance envelope of these sensational new drive units is so generous that the signal needs minimal intermediation - simple first order crossovers are all that's required, as you can tell from the transparency of the sound and the inaudibly fluent transitions. 
This great product is located on the North Shore of Boston, MA. 
Please note I will not be able to ship these out until next week. Email me with questions we can set up a ship date. These are super speakers for the money. 
Please take some time to read my Feedback. It shows how I genuinely care about the other Audiogon members and the small group of other fellow audiophiles. I don't do this for a living but for me it's fun, it's my hobby. I buy some new gear and I am happy that there is a great place to either buy more or when it's time to sell and try some other gear. 
I take the greatest care of my items and I am offering a world class product for a great, well below market price. I am professional business person by trade and an audiophile by hobby and you can count on having a first class buying experience to go with some great top of the food chain Hi-Fi products .

I appreciate your taking the time to read my posting. Thank you for the time and consideration. Feel free to reach out if I can answer any questions. Shipping to be paid by the buyer and flat rate price is for continental USA 48 states only so please ask if you need to ship elsewhere. Only 3% for PayPal please. PayPal friends and family is Free… If you click the buy it now please allow me a little time to adjust the PayPal fee's. 
Thank You 
fsmithjack member since January 2013
| | | |
| --- | --- | --- |
| Last 12 months | 78 | 100.0% |
| All-time | 423 | 100.0% |
Items from this seller