Sorry, this listing has ended.
You may like one of these similar items:
---
Spectral DMA-360 Solid State Monoblock Pair, with Original Boxes, Trades OK [Expired]
---
---
**Please click here to check out our newly launched SkyFi Audio website with additional items for sale**
Monaural amplifiers from the legendary american maker Spectral.  
These puppies are rated at 300W each at 8 ohms, and 533W at 4 ohms.  
Internal and external construction and component quality is the highest I've ever seen.  I would rate these 10/10 functionally and 8/10 cosmetically.
This auction is for the 2 pieces complete with their manuals, boxes, and power cords.  New double boxes were just purchased from Spectral and were quite expensive. 
Cosmetically the exterior is in very good shape with no significant scratches or dents as visible in the pictures.  One of the units has some discoloration on the plastic insert front panel only visible when the unit is powered off, just above the logo and barely visible on the pictures.  
The tops do not have any scratches and the aluminum faceplates are clean except for one small nick visible in the pictures.  The heatsinks are free of scratches or dents.  
Matching MIT interconnects, power cables, and speaker cables are also available - but not included in this auction.
From the Spectral literature: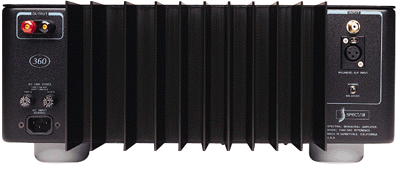 DMA-360 Monaural Power Amplifier
Power Output:
(continuous): @ 8 ohms - 300 Watts RMS
@ 4 ohms - 533 Watts RMS
@ 2 ohms - 680 Watts RMS
Output Compliment: 90 Amps peak
Frequency Response: +-0.1 dB, DC - 150 KHz
+-1 dB, DC - 1 MHz
+-3 dB, DC - 1.8 MHz
Distortion:
Static: less than 0.015% from DC
to 100 KHz, typically
0.009% @ 300 WRMS/8 ohms
Dynamic: 8 Tone Cluster Test 20
KHz @ 500 Hz separation
0.01% @ 8 ohms
0.015% @ 4 ohms

Speed:
Risetime: less than 300 nanoseconds
Settling: 1.5 microseconds to -40 dB
Slew Rate: 600 volts/microsecond

Noise:
Signal to Noise: 97 dB nweighted,
107 dB ASA A
Crosstalk: 98 dB @ full power 8 ohms

Input:
Impedance: 10k ohms
Sensitivity: 1.5 volts / nominal output

Power Supply:
Line Voltage: 100 volts, 120 volts,
240 volts (internal wiring)
AC Voltage Range: +-10%
Maximum Consumption: 2000 Watts
Quiescent Consumption: 250 Watts
Operating Temperature: 0 deg. to +50 deg. Cesius range,
32 deg. to +122 deg. Fahrenheit

Protection Features:
DC Protection Servo: .5 volt range
Current Limit Onset: 90 Amps
Thermal Threshold: Protects at 85 deg. Censius,
185 deg. Fahrenheit
AC Main Fuses: 120v 5A or 220v 2.5A slo blo

Size and Weight:
Dimensions: 20" (50.8 cm) W,
7.23" (18.4 cm) H,
19.6" (49.9 cm) D,
Weight: 67 lbs, 30.4 KG Net
More information from Spectral here:
http://www.spectralaudio.com/dma360.htm
Thanks for looking and please click here if you would like to receive a list of the equipment we receive from time to time.  We promise not to bombard you with junk email.
----------
PURCHASING FROM SKYFI
This item will be professionally packaged and insured for safe transit to your home. 
Please click here for detailed specifics regarding our specialized packing process that separates us from the rest.
If we don't have the original manufacture's packaging, we use heavy duty double ply corrugated boxes with Instapak expanding foam custom inserts.  In many cases this has proven to be better than the original packaging.  We also use high quality fiber reinforced tape to seal our packages.  Lightweight items will be bubble wrapped and shipped in a high-quality box. 
This item is available for pickup in Ridgewood, NJ or Union Square, NYC (with convenient parking in the building).
NJ Residents or anyone picking up without a resale certificate will need to pay NJ Sales Tax.
Use the Buy It Now button and we will cover the PayPal fees.
Thanks for looking and be sure to call or text 646.852.2073 with any questions. 
Please also click here to visit our Audiogon store to see the rest of the items we have for sale.
----------
WHO WE ARE 
SkyFi Audio is a small startup business specializing in the purchase, reconditioning, and reselling of select high-end audio equipment.  We only buy equipment the we admire and are passionate about. No mid-fi, no gimmicks, no junk. 
Each piece of equipment is cosmetically restored and fully tested in our well-equipped lab by an engineer with 30+ years of experience in the HiFi world. If it does not meet or exceed the original manufactures specifications, it will not be sold.  We are very selective about the equipment we purchase, focusing on mostly analog, high-build quality, American, and European built units.
Through our sister company, which is an authorized dealer for McIntosh, Audio Research, Sonus Faber, ClearAudio, Pro-Ject Audio Systems, and Sony ES, we have access to OEM parts, service, and support.  If you are local and looking for new equipment from the above-mentioned manufacturers, please drop us a line as we can arrange both sales and professional installation in the tri-state area.
PURCHASING GUIDELINES
We do not accept or review any offers that do not go through the official Audiogon system. We have too many items for sale and it's nearly impossible to keep track of offers outside of the official system. Please don't message, email, or text any offers. 
If you do not see a "Make an Offer" button, it means we are not considering any offers on that item.   
PAYMENTS
We prefer working through PayPal which allows you to use a credit card or bank transfer. We do not charge extra for any payment fees if you purchase the item at the asking price.  You can also send us a personal check (which will need to clear before shipping), certified check, money order, or wire transfer. International clients without access to PayPal should use a bank wire transfer. 
If you are picking up an item we do not accept PayPal.  You must pay in person with cash, certified or bank check, or wire transfer.  If you make a PayPal payment and are picking up the item, it will be returned. 
TRADE IN POLICY 
We accept trade-ins of equal or lesser value under certain conditions.  Simply ask and let us know the exact model, condition, and the accessories that are included (such as the original box, remote, cables, manual, etc.).  We will only consider high-end equipment from mainstream manufacturers such as McIntosh, Mark Levinson, Audio Research, Krell, etc. and will typically pass on displays, projectors, receivers, dated surround processors, and mid-fi equipment of any type.  We will offer a fair value for your equipment, but keep in mind we are running a business and will need to be able to resell the equipment at a profit after investing a great deal of time and resources in testing, certifying, repairing, cleaning, and packaging the incoming equipment.  If you are looking for top dollar we suggest attempting to sell it directly to an end user on your own.
SELL US YOUR GEAR (Working or Broken)
We will also purchase your used or broken gear and arrange pickup if you are in our local market. Just drop us a note for a quote but be sure to include the condition and what is included. 
HOW TO VISIT US                                                                                                        
We are currently operating from a residence in Ridgewood, NJ.  You are welcome to make an appointment if there is a piece of equipment you would like to see in operation before or after purchase.  We have a well-equipped, dedicated listening room with tons of equipment of all makes and models.  We are not a store, so please don't make an appointment if you are just curious as to how a speaker or piece of equipment sounds.  In essence, no tire kickers please.
If you are in NYC and cannot make it out to Ridgewood, we can arrange pickup in Union Square (14th Street) after the purchase.   You can call or text 646.852.2073 with any questions or to schedule an appointment.  We can also arrange to install, calibrate, and tune the gear in your listening room if you are local to the area.  This is super useful when purchasing large speakers or heavy amplifiers.  It is also great for ensuring your new turntable is setup correctly in its final resting place.  
V1.9
skyfi member since January 2012
skyfi.nyc
Verified Dealer
| | | |
| --- | --- | --- |
| Last 12 months | 108 | 100.0% |
| All-time | 345 | 100.0% |
Items from this seller