Sorry, this listing has ended.
You may like one of these similar items:
---
Sumiko Pearwood Celebration II, rebuilt from Soundsmith [Expired]
---
---
I just received this rebuilt Sumiko Pearwood Celebration II from Soundsmith and haven't even unboxed it. The cartridge is about 3 years old and suffered a bent cantilever. Off to Soundsmith for a $450 rebuild with their best boron cantilever.
The usual retail for this cartridge is $2,799 and it is truly a world-class cartridge with reviewers likening it to listening to a master tape. I recently purchased a Soundsmith MIMC Star and while I have no doubt the Pearwood is superior, finances dictate sale. Trusted seller with perfect feedback. You will be receiving an essentially new cartridge at half the retail price. 
"One of My Two Reference Cartridges" - The Absolute Sound Magazine
For over five years Sumiko has provided the Celebration Pearwood Signature MC moving coil phono cartridge to music lovers seeking the musical experience of the finest and most expensive phono pickups at a more reasonable cost. New advances in material technology and construction techniques have allowed for a significant improvement in sound quality and have resulted in the creation of this new Mark II version.
"A Great Masterpiece"
"The Sumiko Celebration cartridge produces exceptional sound quality with all of the characteristics of a great masterpiece," notes Anthony H. Cordesman in his review of the original Celebration cartridge in The Absolute Sound magazine. "It is one of my two reference cartridges."
"It sounded magical straight out of the box. This cartridge has the uncanny knack of making solid-state equipment sound tubed, of making metal tweeters seem soft-domed a la mid-1970s BBC designs, and of caressing a voice like a honey-lemon mixture attacking a smoker's rasp," reports HomeTheaterReview.com.
"I Found a Great Deal to Celebrate"
"This cartridge is a fine performer," raves HifiCritic.com. "It behaves well, with a technically sound performance, and aligns so well you know when it's right. At the price it deserves recommendation."
"I can think of one or two that I have liked as much, and yes, they cost a lot more.," writes Rick Jensen in a review of the original Celebration for EnjoyTheMusic.com. "I found nothing to fault in this great cartridge, and a great deal to celebrate."
Improvements Over the Original Model
Improvements to the original Pearwood Celebration include a brand new handcrafted Pearwood cartridge body, refined long-grain boron cantilever, and most notably a new ultra low-mass Ogura Jewel Co. P9 Stylus (Vital Design). In addition, a new, machined billet Teflon back plate features custom hollow and tapered brass mounting pins for ease of installation. These refinements result in a cartridge that offers more extended high frequencies along with bass extension and an extremely articulate mid-band range.
The Pearwood Celebration II embodies all the virtues that over 25 years of experience in designing and distributing the finest in analog products.
Boron Cantilever with Nude Contact Line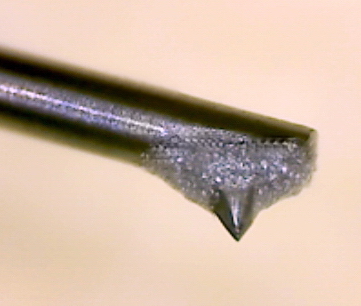 $450 minimum + shipping/insurance
Our new Boron cantilever and ultra low mass Contact Line stylus is an excellent replacement for those who desire to have the Boron material used. Our new Boron cantilever which holds a Nude "Contact Line" diamond of a low mass design. This combination of Boron cantilever and low mass stylus creates an ultra low mass system, capable of the finest reproduction from your cherished vinyl. The Contact Line Diamond has three times the contact area in the vertical direction of the groove wall compared to an elliptical shaped diamond. This lowers the force per unit area on both the diamond and the record groove, resulting in lower record and diamond wear.
This upgrade can be done to almost any cartridge and stylus assembly. The Boron cantilever material is original cantilever material in many designs. If you select and desire this level of rebuild, we will automatically proceed with this assembly unless we find a technical reason that it cannot be installed.
austinbob member since April 2011
| | | |
| --- | --- | --- |
| Last 12 months | 6 | 100.0% |
| All-time | 132 | 100.0% |
Items from this seller