Consonance Cyber 845 set
Listing ID: lis9fd8f
Classified
Listed
·
773 Views
Time Left: 13 Days
Ending:
Asking Price: $4,095.00
New Retail Price: $8,395.00
Make Offer
| | |
| --- | --- |
| Condition | |
| Payment methods | |
| | Contact seller after sale to pay via VISA/Mastercard or Wire Transfer |
| Ships from | Los Angeles, CA, 90077 |
| Ships to | United States and Canada |
| Package dimensions | unspecified |
| Shipping carrier | UPS |
| Shipping cost | Specified after purchase |
| Original accessories | Remote Control, Box, Manual |
| Average | Research Pricing |
Breath Taking, Consonance Tube Electronics, Current Models (Like New less than 20 hours of use / tubes are not even full broken in) Opera Consonance Line 1 Tube Pre Amplifier reg $2,195 & matching Upper Consonance  845 Mono Block Amplifiers.
Highest End Chinese Tube products with detailed layered sound and looks to die for & rarely found pre owned as owners don't re sell them (see pictures).

Move forces Sale. & truly like new and a Gorgious set reg only $8,395 now $4,190.
No low offer considered.

Line Stage Pre Amplifier Serial # OPO 0320006

Amplifiers Serial # OPO 320007 & # OPO 32000
=====================================
Opera Audio (Consonance) Tube Line Stage $4,495:


Below is a brief description of Opera Audio by Robert Harley, Editor of The Absolute Sound in 2008 (from Opera Audio website):
Opera Audio was founded in 1994 by
Eric LIU, an optical-mechanical engineer whose real passion was for
music (particularly European opera) and audio. His story is the classic
"kitchen-table" start-up; he made a tubed amplifier for his own use, was
asked to make another for sale, and decided to go into business.
Significantly, Opera was the first
turntable manufacturer in China and has demonstrated with analog at
every show since the company's founding. Even with more than 100
products in the line (including technical and cosmetic variations of
products), Mr. Liu still creates all the designs himself. The product
range includes both solid-state and tubed integrated amplifiers,
preamps, power amps, CD players, and turntables. Opera even makes its
own tone arms…
 …Everything about Opera Audio was impressive, from the fundamental design ethic to the build-quality to the sound.
—— ROBERT HARLE
All
Opera Audio's products are sold under "Consonance' brand in and outside
of China.  It is a registered trademark in many countries inlcuding USA,
protected by local laws. 
All
Opera products listed on the official Opera website are available for
North American market with custom 115V powe supply. If you do not see
the model you are interested in on Grant Fidelity website, please visit www.opera-consonance.com and contact us for pricing information. 
All Opera products are shipped directly
from the factory (Beijing, China) to North American customers by express
air freight at no extra charge to the buyer. This will significantly
reduce turnaround time for custom 115V transformer and your choice of
wood color. Average order turnaround time is 2 weeks, then the item will
be shipped by air with 6-8 business days transit time. 
All Opera products offered by Grant Fidelity has NO retail mark-up
in the price. You will be able to own a fine piece of high end audio
from this premier manufacturer at wholesale price, plus free air express
shipping, along with Grant Fidelity warranty provided from North
America. Please purchase with absolute confidence. 
see: http://shop.grantfidelity.com/Opera-Audio-Consonance--v4/

===================================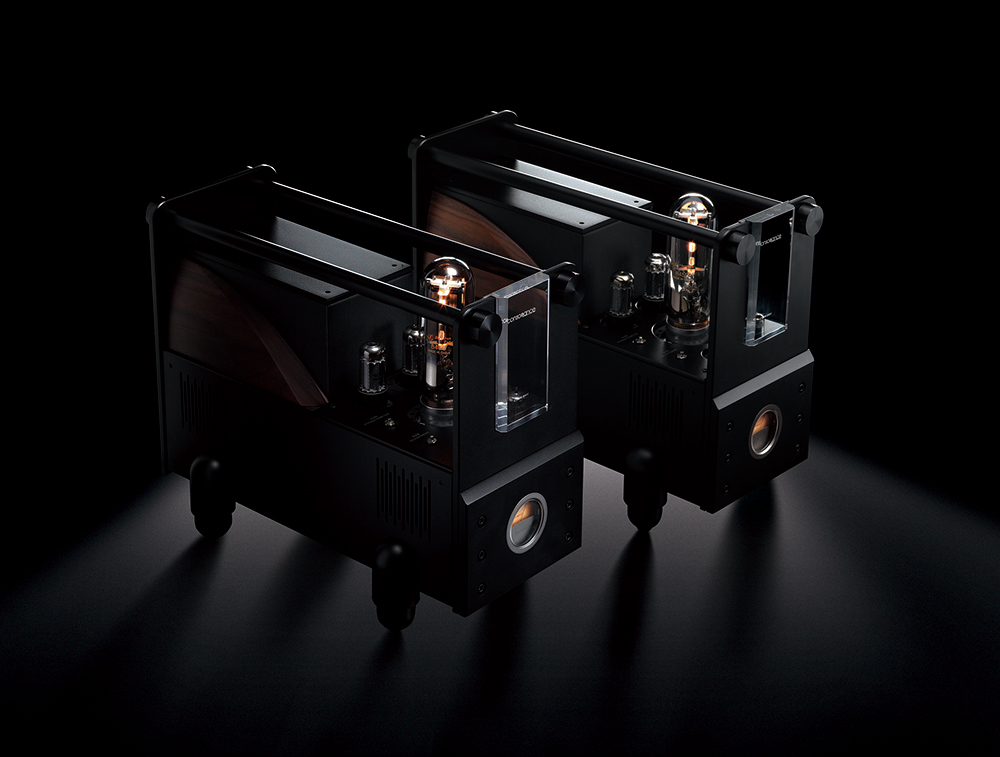 Upper Consonance 845 Tube Mono Blocks:

See: http://shop.grantfidelity.com/Consonance-Cyber-845S-Tube-Power-Amplifiers-pair

All
amps are thoroughly tested before shipping and Consonance factory one
year parts warranty (not including tubes which is 90 days warranty) in
place for original owner. No labor warranty in North America included in
the drop shipping price. Schematics will be provided to buyer for
future service with your own choice of tube amp repair technician. 
2007 Blue Moon Award Winners in the Audio Reviews Categories


Review by HiFi+ magazine in UK in 2012:
"The Consonance Linear 1
and Cyber 211 are important amps. If these amps were made in the UK or
the USA, their level of fit and finish coupled with the fine sound would
have people lining up to shout loud about them. However, they would
cost about three times as much, and people would not bat an eyelid. This
is a combination you have to take seriously."
Read full review here: http://www.hifiplus.com/articles/consonance-linear-1-preamplifier-cyber-211-mono-power-amps-hi-fi-87/
Description: 
The Consonance Cyber 845S/211S tube power amps are the 2010 improved
version of the award winning Cyber 845/211. The original version was
reviewed multiple times all over the world and are highly praised by
audiophiles in Asia, North America and Europe. They are so unique
looking compared to many industrial looking tube amps - you see it once
and will not forget it. 
The pair of monoblocks has bias meter at front for you to easily
monitor high voltage 845/211 tubes' working voltage to avoid overheat.
Rectifier tubes are changed to the more reliable 5AR4. Chassis is
changed to black - easy to match other equipment. The feet of the amp
have been raised to allow you directly place the amp on low carpet
without blocking heat ventilation under it. Aluminum bars on top allow
you to easy move the heavy amp without breaking your back :) 
Sound of this amp? Well, the industry's highly regarded 6moons Blue Moon award in
2007 speaks for itself. It's music heaven on earth with this amp.
Comparable western made amps like this one would easily cost you to 5
figures - this one is very reasonably priced and extremely well built. 
The pair can be factory ordered in either 211 tube setting or 845
tube setting. Please note that you cannot switch from 211 to 845 or vice
versa without modify some parts inside the amp. You must specify which
setting you would like to have at the time of order.
Ideal bias setting: The front meter needle should
stay out of the red zone (see picture above - click to zoom in). The
perfect bias point is half way between the middle point to the right
extreme. Please refer to the operating manual for other operations
instruciton but ignore the bias setting (which was for the old model
pre-2010). 
 Specifications: 
Power Output: 16 watt with 211 tubes, 28
watt with 845 tubes, RMS 1kHz
Total harmonic distortion: less than 1%
(10watt, 1kHz)
Frequency response: 5Hz - 47kHz (-3dB)
Input sensitivity: 0.6V for 211 tube, 0.7V
for 845 tube
Input impedance: 100k ohms
Output: 4, 8 ohms. User select able
Signal/Noise: 90db
Consumption: 190 watt x 2
Input Interfaces: 1 group (RCA)
Vacuum tube on each channel
1 x E88CC Input

1 x 5687 Driver

2 x 5AR4 Rectifier

1 x 211 or 845 power tube
Warm-Up Time: 3 Minutes
Weight / size: 35kg x 2 (packed)


Feel free to call with questions, I can be reached in my Los
Angeles Audio & Video showroom weekdays (11-4PM) 310-472-8880 or
after hours and weekends (10-10) on my cell 310-927-2260 or e-mail me
directly at: [email protected]

Contact:  David
Weinhart best to CALL with questions in Los Angeles Showroom from 11-4PM
@ 310-472-8880 or my cell after hours and weekends from 10-10PM @
310-927-2260 or e-mail me directly at [email protected]     

For more information, visit my NEW & IMPROVED web site @ www.weinhartdesign.com for great deals!

Weinhart Design has
lots of other items new and used and if you're in Los Angeles or
visiting please accept my invitation to experience our World Class Audio
Showroom (BY APPOINTMENT).

We are always
interested in purchasing quality Audio and Video items, ESTATES & LP
collections and most quality trades are welcome. 

All sales
out of California are California State Sales Tax exempt. California
9.5% State Sales Tax applies only for items picked up or shipped to a
California address. 

We accept payments by Bank Wire Transfers
without fees and is the only form of payment on all sales out of the
U.S. and Canada. We prefer this method of payment, which also makes
shipping to addresses other than billing agreeable. VISA, MasterCard and
Paypal are gladly accepted within the U.S. and Canada as long as the
charge is approved and shipping to the billing address on record and
adds 3% to cover costs. 

Please call me directly in my world
class showroom in Los Angeles weekdays 11-4PM @ 310-472-8880 or on my
cell including weekends from 10-10PM @ 310-927-2260 and I can answer
your questions and help you with all of your new and pre owned needs. 


   Making Audio Systems better 

          one system at a time,

        David Weinhart 
    Weinhart Design, Inc. 
        President & CEO 

e: [email protected] 
   www.weinhartdesign.com 

 The Audio and Video Expert 
2337 Roscomare Road, Studio #1 
  Los Angeles, California 90077 

    Showroom) 310-472-8880 
         Cell) 310-927-2260
No questions have been asked about this item.
Return Policy
Return Window
Returns are not accepted on this item.
davidamb member since February 2006
Weinhart Design
Verified Dealer
| | | |
| --- | --- | --- |
| Last 12 months | 147 | 100.0% |
| All-time | 2286 | 99.3% |
Items from this seller