Avid Volvere
Listing ID: lis9fg38
Classified
Listed
·
1641 Views
Time Left: 18 Days
Ending:
Asking Price: $3,995.00
New Retail Price: $12,000.00
Make Offer
| | |
| --- | --- |
| Condition | |
| Payment methods | |
| Ships from | Los Angeles, CA, 90077 |
| Ships to | United States and Canada |
| Package dimensions | unspecified |
| Shipping carrier | UPS |
| Shipping cost | Specified after purchase |
| Average | Research Pricing |
( ( ( PENDING SALE ) ) )
































AVID Volvere Turntable, SME 5 Arm with Denon 103 MC Cartridge & Nice dust cover :


As new, no factory box for table new around $6,000 or Dust Cover $400, we have factory boxes for the Denon 104 Cartridge $600 has less than 400 hours and comes factory boxed and SME 5 superb tone arm $5,000 = $12,000 package and ready to be enjoyed by you ?
We are a well known and highly regarded Los Angeles Audio Dealer and have lots of new, demo and deals on cartridges & Phono sections. It is best to casll for your best options.
Approximately 9 years old, look as new and sounds WONDERFUL
We can build proper shipping boxes and ship to USA & Canada.
Copied From the factory web site & using the info from the latest model that comes with a Speed Controller, this one plugs into the wall.
AVID
builds some of the world's most technologically advanced turntables,
and the highly acclaimed AVID Volvere is no
exception! Not only is this table absolutely stunning to behold, every
aspect of the Volvere has been designed and machined in-house to the
absolute highest tolerances. This is a table you could easily live with
for the next 25 years! The active suspension of the Volvere perfectly
isolates the table from any vibrations in the room. There is no
turntable we know of with a suspension as sophisticated as this anywhere
near this price. That's AVID's design philosophy: keep all vibration
away from the LP and the stylus in the groove, and you'll hear so much
more of the micro-detail that's been buried in the grooves of your LPs!
Pace, rhythm and timing are not just buzz words used by audio reviewers,
when you hear your music played back on this table you will be pulling
LPs off your rack with your jaw open.
"Stunning chassis"
In
brief this is a belt drive, sprung subchassis design. Built to the same
engineering standards as the Acutus turntable and incorporating a
similar clamping, bearing and suspension design. Vibration caused by the
stylus during playback is transmitted to the subchassis directly
through the main bearing and not absorbed into the platter. This is
achieved using a unique matting material and clamping system.
External
vibrations are isolated by the unique AVID variable frequency
suspension system, giving optimum isolation without the 'wobble'
commonly found in other designs.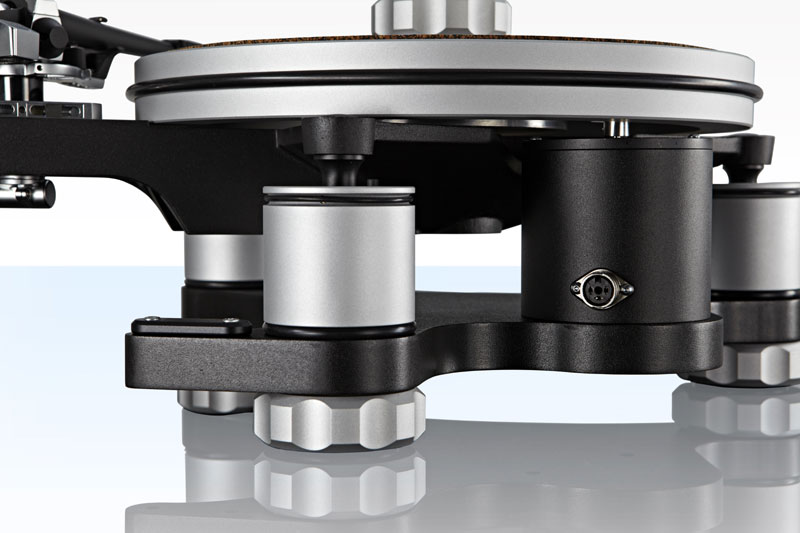 Recently
the Volvere was revised into the Series 4. Improvements over previous
versions included improved vertical suspension with integrated lateral
isolation bands with adjustability from above. A full stainless steel
bearing like the Acutus and thicker platter, some 40% heavier and
cosmetic improvements to the feet and clamp, making a real engineering
statement.
Stunningly finished in Silver or Black, this product is the natural choice for the discerning vinyl enthusiast.
 ================
SME engineers, recognizing the
potential of the latest complementary equipment, accepted the challenge
to design and build a pick-up arm which unlike others in existence would
make no detectable sound contribution of its own.
The work took almost four years and
the measure of its success is the acceptance of the Series V precision
pick-up arm by technical experts and users as one of the world's truly
great audio products. Series V sound has an almost startling dynamic
range and neutrality enabling high levels to be enjoyed. It escapes the
'LP' sound and demonstrates that structural resonances in pick-up arms
are responsible for much that makes vinyl records readily discernible
from master tapes.
Series V Dimensions
 
A – Distance from pivot to stylus
233.15mm
B – Distance from pivot to turntable centre
215.35mm
C – Cartridge fixing centres
12.70mm
D – Offset angle
23.635°
E – Linear offset
93.47mm
F – Overhang
17.8mm
G – Height above mounting surface
max. 87.90mm

min. 56.40mm
H – Height of record surface above mounting surface
max. 57.90mm

min. 26.40mm
J – Depth below mounting surface
56.75mm
K – Radial clearance for balance weight
73.0mm
L – Clearance between cabinet lid and record surface assuming cartridge height at 17.0mm
35.0mm
Additional Information




Build








Unique one-piece pressure die-cast tone-arm utilising the advantages of magnesium, replace conventional fabricated construction.


Internal constrained layer damps minute residual vibration leaving
the tone-arm acoustically inert. Fine machined cartridge platform,
enamel free to avoid interface resonance.


A Stainless steel cross shaft, ground and thread ground. Carried in
massive yoke on 10mm ball races. Axis at record mean level to minimise
warp-wow.


Dynamic balance graduated vertical tracking force (VTF) control applies 0-3g x 0.125g through resonance controlled spring.


Unique assembly gives high rigidity and allows bearings to be critically adjusted before tone-arm is fitted.


Stainless steel vertical shaft, ground and thread ground, with integral 16mm diameter flange to couple shaft and yoke.


23mm diameter steel pillar, heat treated, ground and honed, carries two 17mm ball races, widely spaced to resist tilt.






It
is best to call David and visit: www.weinhartdesign.com with questions
in Los Angeles Showroom 310-472-8880 or on my cell after hours and
weekends 310-927-2260 any time from 10AM - 10PM.

Weinhart
Design has lots of other items new and used and if you're in Los
Angeles or visiting please accept my invitation to experience our World
Class Audio Showroom and please visit our web site @ www.weinhartdesign.com

We
are always interested in purchasing quality Audio and Video items, LP collections and most quality trades are welcomed.
All sales out of California are State Sales Tax exempt.
California State Sales Tax of 9.5% applies for items picked up or shipped to a California address.

We
accept payments by Bank Wire Transfers without fees and is the only
form of payment on all sales out of the U.S. and Canada. We prefer this
method of payment and also makes shipping to addresses other than
billing agreeable.
VISA, MC and Papal are gladly accepted within
the U.S. and Canada as long as the charge is approved and shipping to
the billing address on record and adds 3% to cover costs.

Please
call me directly in my world class showroom in Los Angeles weekdays @

310-472-8880 or any reasonable time on my cell including weekends @

310-927-2260 and I can answer your questions and help you with all of
your new and pre owned needs.
Changing the Way You Listen, 


         David Weinhart
       Weinhart Design, Inc.
         President & CEO[email protected]
  www.weinhartdesign.com
The Audio and Video Expert
2337 Roscomare Road, Studio #1
 Los Angeles, California 90077
    Showroom) 310-472-8880
         Cell) 310-927-2260
No questions have been asked about this item.
Return Policy
Return Window
Returns are not accepted on this item.
davidamb member since February 2006
Weinhart Design
Verified Dealer
| | | |
| --- | --- | --- |
| Last 12 months | 147 | 100.0% |
| All-time | 2286 | 99.3% |
Items from this seller