Supra Cables Sword- IFL Anniversity 1m RCA's
Listing ID: lis9fgaa
Classified
Listed
·
81 Views
Time Left: 20 Days
Ending:
Asking Price: $549.00
New Retail Price: $1,000.00
Make Offer
| | |
| --- | --- |
| Condition | |
| Payment methods | |
| Ships from | Los Angeles, CA, 90077 |
| Ships to | United States and Canada |
| Package dimensions | unspecified |
| Shipping carrier | UPS |
| Shipping cost | Specified after purchase |
| Original accessories | Box |
| Average | Research Pricing |
Supra Sword ISL Anniversary Silver 1 meter
RCA interconnects as new factory boxed (two pairs sold each pair ):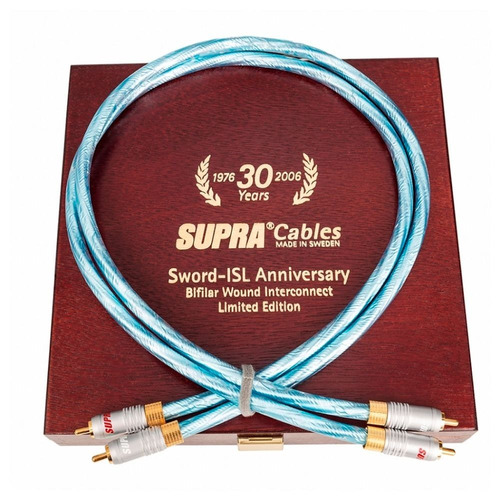 INTERCONNECTS - Hi-Fi - SWORD-ISL AUDIO
SUPRA Sword Interconnect - The High End
The success with the Sword loudspeaker cable lit an idea of
designing an interconnect according to the same patented design concept.
The cable works as a perfect signal carrier without the side effects of
the traditionally designed cables, which display severe problems with
frequency responce and phase shifting. Sword maintain the signal
integrity with almost immeasurable deformation due to our freedom and
ability to master the electro-physical layout, instead of compensating
with mystery boxes and batteries. It is hard to beat the Sword series,
regardless of price. Available in single-ended (RCA) and balanced (XLR)
version.
What does it sound like?
The best description is nothing - Supra Sword does not sound at
all. Supra Sword passes the complex music signal of an infinite number
of sine waves and an infinite number of levels without causing any
deformations between the source output to the receiver input. No part of
the music suffer delay (phase shift), why the timing of each tone are
exactly the same before and after. If every other hifi device in the
system is capable of equally correct timing and preservation of the
recordings' sound, the speaker setup and listening room acoustics is
optimal, the result is such alive you can truly imagine being in the
studio among the musicians. The Sword's lack of electrical properties
ensures complete transparency. It is sometimes harder to distinguish a
transparent cable from a cable with an apparent "sound lift" that
emphasize certain notes. One will soon know however, when each album in
the music collection exhibits the same sound style rather than the
unique signature of every album/tune.
The Sword Design
The figure to the right illustrates the cable design. In each
polarity conductor there are twelve individually insulated strands
forming two layers, the inner six spun around an inner core, with high
pitch in one direction, the outer six in the opposite direction
separated from the inner layer by an extruded insulation layer. This
strand orientation, efficiently counteracts all unwanted
electro-physical properties, giving all audible frequencies uniform
conditions internally and further, no open window for malicious noise to
enter. The music will pass through sounding exactly the same. That is
what distinguishes a completely transparent cable.
Sword-ISL
Our best analogue interconnect ever; Supra's flagship. Sword–ISL
is an interconnect pair with Supra RCA-8 anniversary plugs, made for
analogue single-end applications.
N.B. Sword does no longer include the wooden separator
due to customers requirement. Too many perceived the wooden block to be
an ocstacle when connecting and routing the cable.
==============================================
Feel free to call with questions, I can be reached in my Los
Angeles Audio & Video showroom weekdays (11-4PM) 310-472-8880 or
after hours and weekends (10-10) on my cell 310-927-2260 or e-mail me
directly at: [email protected]

Contact:  David
Weinhart best to CALL with questions in Los Angeles Showroom from 11-4PM
@ 310-472-8880 or my cell after hours and weekends from 10-10PM @
310-927-2260 or e-mail me directly at [email protected]     

For more information, visit my NEW & IMPROVED web site @ www.weinhartdesign.com

Weinhart Design has
lots of other items new and used and if you're in Los Angeles or

visiting please accept my invitation to experience our World Class Audio
Showroom (BY APPOINTMENT).

We are always
interested in purchasing quality Audio and Video items, ESTATES & LP

collections and most quality trades are welcome. 

All sales
out of California are California State Sales Tax exempt. California
9.5% State Sales Tax applies only for items picked up or shipped to a
California address. 

We accept payments by Bank Wire Transfers
without fees and is the only form of payment on all sales out of the
U.S. and Canada. We prefer this method of payment, which also makes
shipping to addresses other than billing agreeable. VISA, MasterCard and
Paypal are gladly accepted within the U.S. and Canada as long as the
charge is approved and shipping to the billing address on record and
adds 3% to cover costs. 

Please call me directly in my world
class showroom in Los Angeles weekdays 11-4PM @ 310-472-8880 or on my
cell including weekends from 10-10PM @ 310-927-2260 and I can answer
your questions and help you with all of your new and pre owned needs. 


 Making Audio Systems better

      one system at a time,
           
         David Weinhart 
     Weinhart Design, Inc. 
       President & CEO 

e: [email protected] 
   www.weinhartdesign.com 

 The Audio and Video Expert 
2337 Roscomare Road, Studio #1 
  Los Angeles, California 90077 

   Showroom) 310-472-8880 
       Cell) 310-927-2260
No questions have been asked about this item.
Return Policy
Return Window
Returns are not accepted on this item.
davidamb member since February 2006
Weinhart Design
Verified Dealer
| | | |
| --- | --- | --- |
| Last 12 months | 138 | 100.0% |
| All-time | 2271 | 99.3% |
Items from this seller