DEMO Ars-Sonum Filarmonia SM Class A EL34 Tube Integratred Amplfier
Listing ID: lis9ggf6
Classified
Listed
·
139 Views
| | |
| --- | --- |
| Condition | NEW |
| Payment methods | |
| | Contact seller after sale to pay viaExpress Checkout, VISA/Mastercard, American Express, Discover or Certified check |
| Ships from | Liverpool, NY, 13090 |
| Ships to | United States and Canada |
| Package dimensions | ?" × ?" × ?" (50.0 lbs.) |
| Shipping carrier | FedEx |
| Shipping cost | Free |
| Original accessories | Box, Manual |
| Average | Research Pricing |
We now have a demo unit for sale! Will come with full 2 year warranty (60 days on tubes), all factory packaging, and a spare set of new fully tested, burned-in, and matched output tubes (that is when we can get some more JJ E34Ls!). ALSO, full 30 day satisfaction guarantee. Please call or message us for price!
JUST DON'T LOOK AT THE PICTURES! :-P LOTS OF DETAILS, INFORMATION, ETC THAT IS ACTUALLY WORTH READING ABOUT THIS AMP IS GIVEN BELOW! :-) Thanks!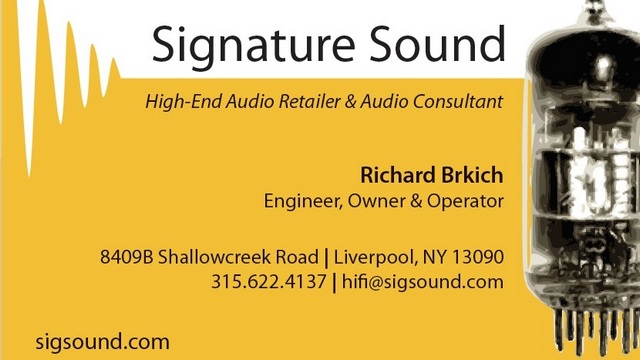 Ars-Sonum Filarmonia SM Integrated Amplifier - $5,250
A BRIEF INTRODUCTION OF Ars-Sonum AND A FEW NOTES ABOUT THIS AD Please Read (sorry this is a long ad, but we wanted to give full details on this amplifier in hopes it will answer most questions you may have or info you would like to know - Thanks in advance for your interest!):
INTRODUCTION & SOME HISTORY
Like some other small companies are doing, I am using this Audiogon ad as a way for us to get the word out, generate some interest, and maybe sell a few Ars-Sonum products for we are the exclusive USA dealer/retailer for. I imagine most of you are not familiar with Ars-Sonum or have ever heard of them. They are a small company located in Madrid Spain that has been manufacturing tube audio amplifiers for over 20 years. Some of you may recognize this is (a much later and newer version of) the amplifier that Merlin Music Systems (Bobby Palkovic) introduced and sold in the USA around 2005. It quickly earned a reputation for delivering excellent sound with his Merlin speakers and also received a excellent review in Stereophile by John Marks in 2007 (and if I recall right, it was a Stereophile Class A recommended component).
With Bobby Palkovic's unfortunate passing in 2015 and the following closure of Merlin Music Systems, we (Signature Sound) took on all sales and support of Ars-Sonum amplifiers in the USA. Service work for the amplifiers was always performed by me (Rich Brkich) for Merlin, so I have since then continue(d) to provide authorized factory service and upgrades for all Ars Sonum amplifiers today (my background includes younger years of working as a tech then degrees in Electronic Tech and Electrical Engineering, followed by about 10 years in the aerospace industry).
There have been several versions of the Filarmonia amp made over the years. The early version reviewed by John Marks back in 2007 was the Filarmonia SE version (read that as Filarmonia, Series "E" - hence the "SE"). Since then, the SJ and SK models/versions have been sold here in the USA. These versions incorporated various improvements over the SE version such as reducing the number of coupling caps in the signal path, revised chassis design with better venting and chassis mount RCA jacks, improved power transformer, and a coupling cap upgrade in one spot in the design.
WHAT'S AVAILABLE TODAY AND HOW WE ARE SELLING THESE AMPS
This brings us to today (Spring 2020) and the new (as of Summer 2019) Ars-Sonum Filarmonia SM integrated amplifier, which from the outside looks much like the amp introduced by Merlin to the USA back in 2007, but internally incorporates many improvements/changes that results in a clearly better sounding amplifier than any other previous version. These are outlined (in the italic paragraphs) below, but first a few notes about how this amplifier is priced/sold:
- This is a FIXED price listing. I'm sure a few of you will make offers at less than the posted price, but those will be politely declined or countered with a full price counter-offer.
- We WILL consider trade-ins. Please message, e-mail, or call us with what you have to trade-in (its age, condition, inclusion of box/manual etc) and I will let you know if I will take your item on trade and how much I could offer for it towards purchase of a new Filarmonia.
- Ars-Sonum amplifiers are priced here in the USA with no additional distributor mark-up. In fact if Ars-Sonum would sell you a amplifier from them in Spain to the USA (spec), after currency conversion, FedEx shipping, and import duties - you would be paying close to what we are charging for this amplifier plus you get the full benefit of support, and service here in the USA.
- Price includes free ground shipping within the continental USA on new amplifiers. All amplifiers come to us directly from Ars-Sonum in Madrid Spain via FedEx international Air. Each amplifier when it arrives goes through a 40 point test to ensure it (and all its tubes) are perfect prior to shipment to the customer. Each amp arrives double boxed from Spain, but we replace the outer box with a new (double wall) box to ensure the amp arrives to your door in perfect shape. Since Ars-Sonum has limited production capacity, lead time on new amplifiers can be as long as 8 weeks.
- Lastly, if your are serious about buying one and want to hear it, contact me to make arrangements for a home listen to our demo unit (yes, I will require refundable deposit to be made to secure the amp while in your possession until it is returned). We also welcome visits to our Syracuse NY area location for a listen if that is feasible.
PRODUCT OVERVIEW/TECH SUMMARY
Ars Sonum NEW Filarmonia-SM Integrated Amplifier - $5,250 Hand crafted (limited production) optimized classic design made with very high quality parts, materials, (hand wound) transformers, and more - all lovingly put together by designer/engineer Ricardo Hernandez in Madrid, Spain. The Filarmonia uses a special screen grid regulated pentode circuit and a low 6dB of feedback to deliver 28W/ch of glorious sound. The Filarmonia SM (introduced July 2019) is the latest version of this great amplifier (it replaces the Filarmonia SK). The new Filarmonia SM incorporates multiple improvements:
A completely new highly optimized circuit board design. It incorporates multiple improvements to the power supply, optimized audio signal path routing, improved ventilation, and audio circuit refinements for considerably better performance and sound. The only sacrifice is 2 less watts per channel than previous versions.
All coupling capacitors in the audio signal path have been upgraded. The front end new uses V-Cap Copper Teflon capacitors and in the driver/output stage there are Mundorf Supreme Silver/Gold/Oil parts. All are top quality and excellent sounding (and expensive) parts.
The power supply improvements necessitated the design of a completely new power transformer to supply additional voltage supple/regulation circuits.
The Filarmonia SM comes with thoroughly tested and matched JJ E34L output tubes, select NOS 5814A driver tubes, and a carefully screened (only about one out of four to five new tubes meet Ars Sonum's spec's for use in their amplifiers) low noise JJ E88CC gain/preamp tube for excellent performance right out of the box without any tweaking or tube-rolling necessary. Additionally, all signal path capacitors go through a 1,000 hour run in process (on a proprietary coupling capacitor break-in device) before being installed in any Ars-Sonum amplifier. While the amplifier does require break-in to sound its best, the run in process minimizes the coupling capacitors effects during this period.
Ars Sonum produces its amplifiers in limited quantities. Generally they are built to order, but we are working with Ars Sonum to pre-order units in order to minimize lead time. As well, we also have a fully broken in demo model that is available for audition here at Signature Sound or in YOUR home (please call or e-mail to make arrangements for a home demo of the Filarmonia SM) before placing your order.
For the ultimate turn-key experience, the Filarmonia SM can be purchased with a optional Clear Beyond or Clear Beyond XL Power cord at a substantial savings. See the Ars-Sonum USA Product Summary & Price Guide on our web-site for details: https://sigsound.com/ars-sonum-filarmonia/
Signature Sound is a small Hi-End HiFi shop located near Syracuse New York. We have been in business since 1990. Feel free to check out our website www.sigsound.com or call us at 315-622-4137 with any questions. We accept all major credit cards and PayPal. A note to my fellow New Yorkers.... New York state residents (i.e sales billed/shipped to a New York State address) will be charged applicable local New York state sales tax on the total sale amount.
Signature Sound is a authorized dealer for: Audience Cables, Atma-Sphere, Clearaudio, Cardas Cables, Benz Micro Cartridges, Fried Audio Speakers, DH Labs, Dynavector, EAR USA, Grado Labs, JPS Labs, Joule-Electra, iFi Audio, Kiseki, Merlin Music Systems, Musical Surroundings, Mark Audio-SOTA Speakers, Power Modules (Belles), Rega Research, Roon Labs Nucleus, Rogue Audio (NEW!), Ryan Speakers, and Wavelength Audio.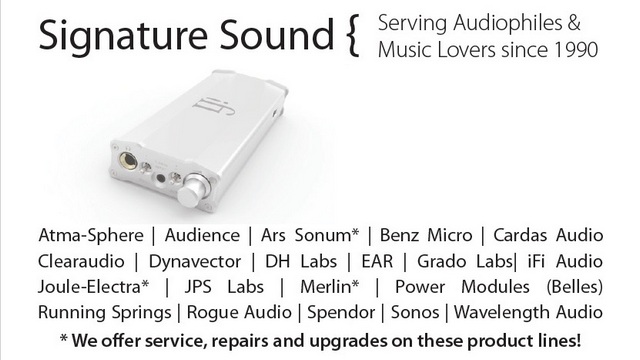 No questions have been asked about this item.
Return Policy
Return Window
Item can be returned within 14 days of receipt.
General Terms
Items must be returned in their original condition, with all included packing materials and no signs of use. Buyer assumes responsibility for all shipping return costs unless the item was not received as described.
Refunds
Buyer will receive a full refund in the original payment method less any shipping charges.
member since November 2009
signaturesound Verified Dealer
| | | |
| --- | --- | --- |
| Last 12 months | 51 | 100.0% |
| All-time | 847 | 99.6% |
7 Watchers
Items from this seller

Signature Sound High-End Audio E-STORE
View All Products For Sale