Muse Polyhymnia
Listing ID: lis9j695
Classified
Listed
·
125 Views
Time Left:

26 Days
Ending:
New Retail Price:

$7,150.00
$1,295.00
Make Offer
| | |
| --- | --- |
| Condition | |
| Payment methods | |
| Ships from | Los Angeles, CA, 90077 |
| Ships to | United States and Canada |
| Package dimensions | unspecified |
| Shipping carrier | UPS |
| Shipping cost | Specified after purchase |
| Original accessories | Remote Control, Manual |
| Average | Research Pricing |
Impressive Muse Polyhymnia Universal Player.
Fantastic build quality and sound quality. Highly regarded and well reviewed..

Muse Polyhymnia universal player:
Wes Phillips
| Oct 14, 2007
"I have something I think might interest you," said Elite AudioVideo Distribution's Scot Markwell. "Kevin Halverson has some, shall we say,
different
ideas about universal players."
image: https://www.stereophile.com/images/archivesart/1007muse.1.jpg
We walked into Elite's dark demo room at last year's Consumer Electronics Show and Markwell stepped aside with a flourish, gesturing toward a quasi–industrial-looking, powder-coated box: the Polyhymnia universal disc player, from Halverson's Muse Electronics.
"Ta-daa!" Yes, he said it.
I must not have looked impressed. "Oh, I forgot," he said. "It's only fancy on the inside." And—as he quickly demonstrated—in performance.
Markwell cued up an SACD and pressed Play. It was like that hackneyed scene when the prim librarian takes off her glasses, shakes out her coiled hair, and stares into the camera. She is drop-dead gorgeous, after all.
Hubba, as they say, hubba.
Love passed, the muse appeared
Polyhymnia is the Greek muse of sacred song and lyric poetry, and the inventor of the lyre and harmony. Her name literally means "(singing) many songs," so it's an appropriate name for a universal disc player. The Muse Polyhymnia (as opposed to the muse Polyhymnia) is one of Muse's Modular Audio-Video Platform (MAP) components, which means that its four bays allow the end-user to add the features he or she might require. The Polyhymnia sings "Red Book" CDs, DVDs -Audio and -Video, SACDs, and MP3-encoded discs in two channels, with multichannel playback available as a separate $750 module.
My review sample, which Scot Markwell called "standard" in that it included the Ultra Performance analog output module and RCA and XLR stereo outputs, also included the optional multichannel output module (RCA), and an A/V output module (S/PDIF, S-video, composite video, component video). The fourth bay was empty, although a variety of choices, including an attenuator module, can be included. Price of the standard stereo model: $6400.
image: https://www.stereophile.com/images/archivesart/1007muse.2.jpg
I said that the Polyhymnia's glamour resides within, but that's not to say it doesn't have its own kind of lab-gear butchness. A powder-coated case may not be as sexy as an anodized one, but the Polyhymnia is built like a brick and screams dependability. Think subdued Harley-Davidson: no chrome, lots of grunt.
The Polyhymnia is the sixth generation of Kevin Halverson's take on DVD. In fact, when Classic Records decided to take advantage of DVD's 24-bit/96kHz spec back in the format's infancy, it was Halverson who brought the news to Stereophile in Santa Fe: "Don't you get it? For the first time, audiophiles can actually own studio-quality masters!"
DSD and PCM are both handled by native conversion, using a passive reconstruction filter (a high-order Bessel topology) and, Halverson says, "a highly differential instrumentation-amplifier signal path. We find that this topology has the advantage of reduced spectral contamination and a low and spectrally flat noise floor."
The Polyhymnia's front panel looks almost bare. There's an IR window, two rows of three control buttons each, a disc tray, and a small illuminated display. Although a video display isn't required for day-to-day use, some functions are a lot easier to access if one is present—and a display is essential for setup.
The Polyhymnia is accompanied by the largest, heaviest, most solidly constructed remote control I've ever encountered. It weighs about as much as a red-clay brick and seems as durable—an important consideration, as users will be overwhelmed almost daily by the urge to hurl it against something solid.
Why? Because the Remote-2 has 64 buttons, all exactly the same size, many of them labeled cryptically in light gray letters on a slightly lighter gray background. I also found the buttons fiddly—or maybe it's the IR window. All I know is that the Polyhymnia ignored an awful lot of my commands. (Markwell tells me a much simpler remote for the Polyhymnia, called the Remote-1, which is easier to navigate, is now available as a $375 option. Seeing is believing.)
One additional note: The owner's manual states that "The Polyhymnia should never be connected to a mains source (power outlet) other than the normal domestic service. After market 'power conditioners' of the active variety (regeneration devices) can damage your Polyhymnia and should never be used." Now you know.
Fool, said my muse to me
Before setting up the Muse Polyhymnia, eat a substantial breakfast, preferably accompanied by enough caffeine to wake you thoroughly without giving you the jitters—those remote buttons are small and require a firm and accurate touch. Hook up your video display and be prepared for a trial by menu. You'll need to tell the Polyhymnia how to handle digital audio output (including Dolby Digital, DTS, linear PCM, MPEG, and video). If you're integrating the player into an A/V system, you'll need to establish the aspect ratio and assign S-video or component pathways. There are submenus for DVD playback mode (DVD-V or DVD-A) and DSD playback (two-channel, multichannel, or CD layer). There's a DTS downmix submenu, as well as an option to constrain the dynamic range of your discs (some people actually want this, believe it or not). There's more, but you get the idea.
Of course, one reason you have so many options is that the Polyhymnia can do so many things. I just set it up to play two-channel CD, SACD, and DVD-A. Then the video display went bye-bye. It turned out to be true that you don't need a display to play discs—unless you change your mind about whether you're listening to DVD-A only. If you want to hear the soundtrack on an occasional DVD-V, you'll need to fetch the monitor again and leave it there so you can switch the Polyhymnia back to DVD-A afterwards.
Livelier liquor than the muse
The Polyhymnia's On/Off switch is on its rear panel. For daily use, the player is left on; it lapses into Standby mode after about an hour of inactivity. And you might as well leave it on, because it sounds better after it's been on for a few hours. I offer no explanation for this, but I observed it every time I shifted the Polyhymnia from one system to another.
Muse Polyhymnia universal player Page 2
As a CD player, the Polyhymnia impressed me from the get-go.
Chickasaw County Child: The Artistry of Bobbie Gentry
(CD, Shout! DK-32278) was a revelation. Joan Osborn said that Gentry's voice is to women's voices as Sophia Loren's curves were to women's bodies: the epitome. The Polyhymnia captured that hyper-femaleness, setting it within baroque soundscapes that had width, height, and, most of all, depth. The bottom end was impressive, as was the top-end sparkle.
John Coltrane's Settin' the Pace (CD, JVCXR-020202) put a big tenor sax in the center of my room, spitting overtones at the walls as forcefully as, well, me spitting watermelon seeds at June bugs (it's good clean fun, trust me). The revelation, however, was the brilliance of Art Taylor's cymbals—they had a shimmer and a sizzle that approached live music.
Yes, the Polyhymnia was a very good CD player.
Its playback of DVD-Audio discs was also impressive. Generally, I prefer SACD, if only because DVD-A seems to force you to have a monitor in the system to pick a mix or a bass setting or some damn thing, and that crap just gets on my last nerve. However, having already told the Polyhymnia what to do when I set it up, now all I had to do was hit Play twice and listen to my DVD-As. I'd forgotten how good they can sound.
image: https://www.stereophile.com/images/archivesart/1007muse.3.jpg
"Janie Runaway," from Steely Dan's Two Against Nature (DVD-A, Giant/Reprise 24719), had a slamming bottom end set against a sparsely populated band and those ethereal Steely Dan vocals. Everything was so well presented that I got lost in the detail: "Let's grab some takeout from Dean & DeLuca / a hearty gulping wine / you be the showgirl / I'll be Sinatra...Come to ol' blues eyes and tell me—who do you love?"
Hmmm. I think I liked that song better before I understood the lyrics.
However, there was no questioning the glory of Joni Mitchell's "A Case of You," from Both Sides Now (DVD-A, Reprise 47620). Oh, the smoky resonance of her voice, the silky strings, Wayne Shorter's vivid soprano-sax solo—has any promising youngster ever matured so thoroughly into a true artist as completely as has Mitchell? Curse you, DVD-A consortium, for screwing up this format so completely that I could have spent years without hearing this disc—and curse me for holding the format itself against such beauty.
SACD was impressive, too. Tierney Sutton's The Other Side (SACD, Telarc SACD-63650) had presence, body, and a silvery top end. Joe Beard's Dealin' (SACD, AudioQuest AQ-SACD1055) was all bluesy bluster, from Beard's propulsive guitar to Jerry Portnoy's blown-out mouth harp. And David Russell's Art of the Guitar (SACD, Telarc SACD-60672) was convincing in its three-dimensionality and delicacy.
Why does my muse only speak when I am unhappy?
My reference universal player, the Ayre C-5xe ($5995), seemed a logical benchmark for the Polyhymnia. The Ayre has no video output and is focused solely on two-channel audio, so the Muse does offer features that may tempt listeners who want to use the Muse in a multichannel or A/V system—and, of course, the Muse's modular platform makes it simple for any consumer to configure to his or her requirements. On the other hand, the Ayre's two-channel, audio-only focus made it so much simpler to use—which meant that my neighbors weren't disturbed by the foul language I invariably spat at the Muse when it didn't do what I thought I'd told it to. I'm sure most Stereophile readers will do a better job of mastering that blankety-blank remote than I did—or perhaps Muse's new "streamlined" remote will solve this minor annoyance.
The Ayre and Muse were more similar than different in their reproductions of CD sound. If the Muse had brisker pace and a tad more oomph on Bobbie Gentry's "Okolona River Bottom Band," the Ayre had greater air and breath on "Morning Glory." Perhaps the soundstage was larger with the Polyhymnia, but the Ayre's tighter focus was just as impressive. If pressed, I'd probably dance with the one what brought me—I'm used to the Ayre—but you might choose differently.
The Muse's brawn made Coltrane clearly the star of Settin' the Pace, burnishing his brash brass with a special luster, although the Ayre presented more of Art Taylor's cymbal overtones.
On Steely Dan's "Janie Runaway," I was again impressed by the Muse's slam and low-end power, but the electric piano and guitar sounded somewhat leaner and less present than when played through the Ayre. The C-5xe was a tad more laid-back. Your preference might well hinge on which you value more: energy (Muse) or coherence (Ayre).
Joni Mitchell's "A Case of You" also revealed each player's strengths. The Polyhymnia had great momentum and the frequency extremes were superbly delineated, although the Ayre gave Mitchell's voice an extra dose of smoky breath. Through the C-5xe she was more prominent, while the Muse emphasized the instruments more. Well, a bit more—at this level, we're speaking of minor differences.
Through the Ayre, Tierney Sutton's voice in "Haunted Heart" had a touch more air, especially her head tones. Overall, I'd say voices had a touch more "glamour" through the Ayre. Again, the Polyhymnia's presentations of detail and separation were superb, whereas the C-5xe emphasized blend over detail.
That's one reason Joe Beard's Dealin' had such drive and rhythmic energy through the Muse. It flat-out rawked. The Ayre was a touch more restrained, although its more tightly packed soundstage was almost as impressive as the Muse's larger one.
David Russell's Art of the Guitar had a plummier midrange through the Muse, which was a surprise. The Ayre's timbre was somewhat leaner, and it presented more string noise than the Polyhymnia. On the other hand, the sense of a small instrument in a large, reverberant acoustic was greater with the C-5xe.
Did one player come out a clear winner? Actually, they both did—though I know some readers will think that's a cop-out. The fact is, I could live happily with either, especially without having the other one around to do A/B comparisons all the time. For slam and impact, the Muse would be my choice. For vocals and coherence, it would be the Ayre, probably.
Be thou the tenth Muse
It's not just either/or, however. Many factors go into choosing a universal player, and the Muse Polyhymnia is definitely a contender in the high-end universal-player sweepstakes. It's solidly constructed and meticulously designed. Its modular platform allows consumers to put it together to precisely match their requirements, which is no small consideration.
My only quibble with the Polyhymnia—and this is a nit I'm picking—was that I disliked its large Remote-2 control. Maybe that's a bigger deal for a guy who switches gear in and out of his systems all the time than it would be for a monogamous listener.
But given the Muse's performance with any type of digital disc I fed it, I'd be willing to forgive a lot more than an awkward remote. Under its utilitarian lid lurks one sexy, high-performance beast.
Hubba-hubba indeed.
Sidebar 1: Specifications
Description: Universal disc player with remote control. Formats supported: CD and MP3 discs, DVD-V, DVD-A, and SACD discs in two- and multichannel formats. Analog outputs: RCA (1 pair), balanced XLR (1 pair); optional analog output module includes 4 pairs of RCA jacks for surround-sound and subwoofer outputs. Digital outputs: S/PDIF (BNC). Video outputs: composite (BNC), component (3 BNC), S-VHS. Conversion type: 24-bit. Reconstruction filter: passive, third-order. Maximum output level: 2V RMS. Frequency range: not specified. Power consumption: 23W typical, 50W maximum.
Dimensions: 18.25" (470mm) W by 4.5" (115mm) H by 13" (335mm) D. Weight: 17 lbs (7.7kg).
Serial Number Of Unit Reviewed: 0511208.
Price: $7150 (configured as reviewed, with multichannel module). Additional modules available. Approximate number of dealers: 12. Warranty: 3 years; transport mechanism, 1 year.
Manufacturer: Muse Electronics, Inc., P.O. Box 2198, Garden Grove, CA 92842. Tel: (888) 467-5550. Fax: (714) 985-0155. Web: www.museelectronics.com. US distributor: Elite AudioVideo Distribution, P.O. Box 93896, Hollywood, CA 90093. Tel: (323) 466-9694, x21. Fax: (323) 466-9825. Web: www.eliteavdist.com.
Muse Polyhymnia universal player Measurements
Sidebar 3: Measurements
After connecting the Muse Polyhymnia to a TV monitor, to make sure it was set up optimally and that such features as Dynamic Range Compression (DRC) were set to "Off," I tested it from its balanced and unbalanced output jacks. At 1.99V, the maximum output at 1kHz from DVD-Audio and CD was very close to the CD standard's 2V, although, unusually, it was identical from the balanced and unbalanced outputs. The maximum level for SACD was significantly lower, at 1.68V. This 1.5dB difference will invalidate any non–level-compensated comparisons among the three media. Both sets of outputs were non-inverting, with the XLRs wired with pin 2 hot. The Polyhymnia's output impedance was also the same from both sets of outputs: a low 152 ohms.
Error correction was, as with the Marantz SA8001 also reviewed in this issue, the best I have encountered—the Muse produced no audible glitches in its output until the gaps in the data spiral on the Pierre Verany Test CD reached 3mm in length! I usually monitor a player's data output with RME's DIGICheck program when I run this test, to see when the error flag is set, which generally happens before audible problems are heard. When I did this, I noticed that all 24 bits in the Polyhymnia's digital output were active—even with 16-bit data, which is unusual.
Looking at the player's frequency response, this was identical within the audioband for all three media (fig.1). DVD-A data cut off sharply above 45kHz, as expected, while SACD data continued the gentle ultrasonic rolloff above that frequency, reaching –13.5dB at 100kHz. The very nonflat traces in fig.1 were taken with pre-emphasized CD data. The shape of the traces accurately reflects the pre-emphasis equalization curve, meaning that the Muse, like an increasing number of digital playback components, does not apply the necessary de-emphasis. Fortunately, pre-emphasized CDs are relatively rare, but if your Muse player sounds unacceptably shrill, you're playing a pre-emphasized disc.
image: https://www.stereophile.com/images/archivesart/1007MUSFIG1.jpg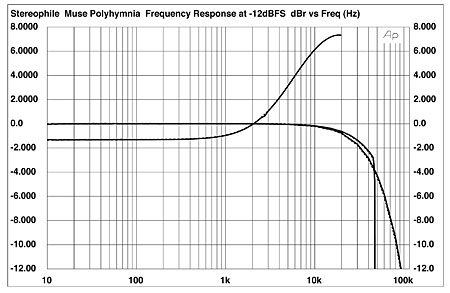 Fig.1 Muse Polyhymnia, frequency response into 100k ohms (from top to bottom at 40kHz): 96kHz-sampled DVD-A data at –12dBFS, SACD data at –3dBFS. Top traces at 20kHz: pre-emphasized CD data at –12dBFS. Top traces at 20Hz: regular CD data at –12dBFS. (Right channel dashed, 0.5dB/vertical div.)
Channel separation was better than 100dB in both directions at all frequencies up to 15kHz from the balanced outputs, but was asymmetrical from the unbalanced jacks, at 107dB, R–L below 1kHz, but 88dB across the audioband, L–R (not shown). Looking at the oscilloscope screen confirmed that this was due to true crosstalk, not noise.
The Muse's noise floor is a little higher in level than the highest-resolution players I have measured, which might be connected with its lower-than-normal output level. This can be seen in fig.2, which shows spectral analyses, taken with a swept 1/3-octave bandpass filter, of the Polyhymnia's output while it played back dithered 16-bit CD data (top pair of traces) and 24-bit DVD data (bottom traces), both representing a 1kHz tone at –90dBFS. The CD traces have a touch of second-harmonic distortion evident, but are otherwise dominated by the dither noise used to encode the signal on the CD.
image: https://www.stereophile.com/images/archivesart/1007MUSFIG2.jpg
Fig.2 Muse Polyhymnia, 1/3-octave spectrum with noise and spuriae of dithered 1kHz tone at –90dBFS (from top to bottom at 3kHz): 16-bit CD data, 24-bit DVD-A data (right channel dashed).
Increasing the bit depth drops the noise floor by 8dB, compared with the 20dB I've found with the highest-resolution players. However, the Polyhymnia will still resolve signals below the CD's limit, which is shown in fig.3, which compares the spectra of its output while it plays back SACD data representing dithered 1kHz tones at –90dBFS and –120dBFS. Peculiarly, these spectra are free from the second-harmonic content seen in the LPCM analyses in fig.2. On the positive side, note that all of these spectra are completely free from any power-supply–related spuriae.
image: https://www.stereophile.com/images/archivesart/1007MUSFIG3.jpg
Fig.3 Muse Polyhymnia, 1/3-octave spectrum with noise and spuriae of dithered 1kHz tone, SACD data, at (from top to bottom at 1kHz): –90dBFS, –120dBFS (right channel dashed).
Looking at the Muse's linearity error with CD data (fig.4), I was surprised to see a slight degree of negative error below –85dBFS. This error was absent with SACD data; it might correlate with the second-harmonic content evident in fig.2. (Energy is being transferred from the fundamental to the harmonic, reducing the absolute level of the former in a graph such as this.) But given the very low signal level at which this all occurs, along with the small amount of error, I suspect it is of academic interest only. The Polyhymnia's reproduction of an undithered tone on CD at exactly –90.31dBFS clearly revealed the three DC voltage levels (fig.5), though the slight waveform asymmetry correlates with the second-harmonic distortion noted with the dithered tones. Increasing the bit depth to 24 gave a nice-looking sinewave (fig.6).
image: https://www.stereophile.com/images/archivesart/1007MUSFIG4.jpg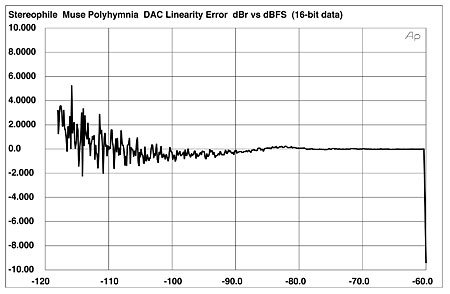 Fig.4 Muse Polyhymnia, left-channel departure from linearity, 16-bit data (2dB/vertical div.).
image: https://www.stereophile.com/images/archivesart/1007MUSFIG5.jpg
Fig.5 Muse Polyhymnia, waveform of undithered 1kHz sinewave at –90.31dBFS, 16-bit data.
image: https://www.stereophile.com/images/archivesart/1007MUSFIG6.jpg
Fig.6 Muse Polyhymnia, waveform of undithered 1kHz sinewave at –90.31dBFS, 24-bit data.
Driving high-level tones into high impedances, the only harmonic apparent was the third, around –90dB (not shown). But into lower impedances, both some even-order harmonics and the fifth harmonic appeared (fig.7). The THD is still very low in absolute terms, however, at 0.005%. The picture was not quite as rosy when it came to the high-frequency intermodulation test (fig.8). The second-order difference component at 1kHz was low, at –93dBFS (0.0024%), but higher-order spuriae around the fundamental tones are present at a higher level. This behavior was not affected by dropping the load impedance, even to as low as 600 ohms, but I would still have rather not seen it.
image: https://www.stereophile.com/images/archivesart/1007Musfig7.jpg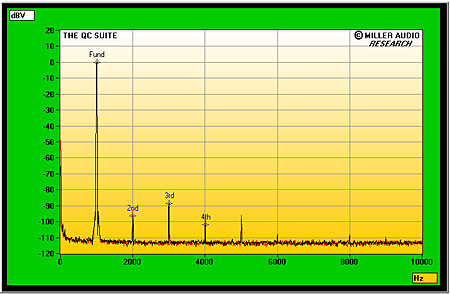 Fig.7 Muse Polyhymnia, spectrum of 1kHz sinewave at 0dBFS into 5k ohms (linear frequency scale).
image: https://www.stereophile.com/images/archivesart/1007Musfig8.jpg
Fig.8 Muse Polyhymnia, HF intermodulation spectrum, 19+20kHz at 0dBFS peak into 5k ohms (linear frequency scale).
Finally, assessed with the Miller Audio Research Jitter Analyzer with 16-bit (CD) and 24-bit (DVD) data, the Polyhymnia demonstrated very good rejection of word-clock jitter, at a respective 361 and 273 picoseconds peak–peak. The increase in jitter with CD data was mainly due to the introduction of a pair of data-related sidebands at ±230Hz (fig.9, red "4" markers), plus some sideband pairs at higher frequencies (purple numeric markers), these of unknown origin.
image: https://www.stereophile.com/images/archivesart/1007Musfig9.jpg
Fig.9 Muse Polyhymnia, high-resolution jitter spectrum of analog output signal (11.025kHz at –6dBFS, sampled at 44.1kHz with LSB toggled at 229Hz), 16-bit CD data. Center frequency of trace, 11.025kHz; frequency range, ±3.5kHz.
Overall, the Muse Polyhymnia demonstrated good measured performance, but I was puzzled by its slightly worse low-level linearity with LPCM data compared with SACD data.—John Atkinson
Read more at https://www.stereophile.com/content/muse-polyhymnia-universal-player-measurements#YhPJ1qTvv53B14UX.99Read more at https://www.stereophile.com/content/muse-polyhymnia-universal-player-specifications#luqBFvisUwaBhEfm.99
Read more at https://www.stereophile.com/content/muse-polyhymnia-universal-player-page-2#oW0TxviR1amPdF2R.99
Read more at https://www.stereophile.com/hirezplayers/1007muse/index.html#OS9fOKppGDEp4S53.99
Feel free to call with questions, I can be reached in my Los Angeles Audio & Video showroom weekdays (11-4PM) 310-472-8880 or after hours and weekends (10-10) on my cell 310-927-2260 or e-mail me directly at: [email protected]

Contact: David Weinhart best to CALL with questions in Los Angeles Showroom from 11-4PM @ 310-472-8880 or my cell after hours and weekends from 10-10PM @
310-927-2260 or e-mail me directly at [email protected]

For more information, visit my NEW & IMPROVED web site @www.weinhartdesign.com for great deals!

Weinhart Design has lots of other items new and used and if you're in Los Angeles or
visiting please accept my invitation to experience our World Class Audio Showroom (BY APPOINTMENT).

We are always interested in purchasing quality Audio and Video items, ESTATES & LP
collections and most quality trades are welcome.

All sales out of California are California State Sales Tax exempt. California 9.5% State Sales Tax applies only for items picked up or shipped to a California address.

We accept payments by Bank Wire Transfers without fees and is the only form of payment on all sales out of the U.S. and Canada. We prefer this method of payment, which also makes shipping to addresses other than billing agreeable. VISA, MasterCard and Paypal are gladly accepted within the U.S. and Canada as long as the
charge is approved and shipping to the billing address on record and adds 3% to cover costs.

Please call me directly in my world class showroom in Los Angeles weekdays 11-4PM @ 310-472-8880 or on my cell including weekends from 10-10PM @ 310-927-2260 and I can answer your questions and help you with all of your new and pre owned needs.


Making Audio Systems better

one system at a time,

David Weinhart
Weinhart Design, Inc.
President & CEO

e: [email protected]
www.weinhartdesign.com

The Audio and Video Expert
2337 Roscomare Road, Studio #1
Los Angeles, California 90077

Showroom) 310-472-8880
Cell) 310-927-2260
No questions have been asked about this item.
Return Policy
Return Window
Returns are not accepted on this item.
member since February 2006
Weinhart Design Verified Dealer
| | | |
| --- | --- | --- |
| Last 12 months | 156 | 100.0% |
| All-time | 2352 | 99.4% |
7 Watchers
Items from this seller

Weinhart Design The AV Experts E-STORE
View All Products For Sale