Sorry, this listing has ended.
You may like one of these similar items:
---
---
( ( ( PENDING DEAL ) ) )






Viva Linea world class Reference two chassis, cost no object, Tube line stage:
Otherworldly, Stunning, Incredible, fantastic. I can't find words to describe this preamp as it is gorgeous.
As new factory boxed, audio reference in design & Sound and priced to sell very quickly ‼️
This is already priced ridiculously well and anyone realizing what this is should run don't walk and have it in your system. Don't let this one get away from you.
Please note: we add for shipping, 3% PayPal or VISA or MC costs (some no cost options best to call) and sales tax is only collected if picked up or delivered to a California address.
This Viva Linea pre amp with remote volume is gorgeous with matching outboard power supply is perhaps the finest piece of audio art that we have ever seen with the sound quality to match.
Features Liquid organic sound and styling, Incredible build quality and beautiful enough to display as art and to be used as your reference pre amplifier.

We have the condition listed as 9 out of 10, excellent. Honestly, its as new like mint 10 out of 10. This thing is as close to Mint as possible and likely the finest pre owned one to be found.
Linea represents our quest for excellence in selecting and delivering signal from the source to the power amplifiers, while providing for volume level control. It offers musical enjoyment through refined dynamics and ultra low distortion.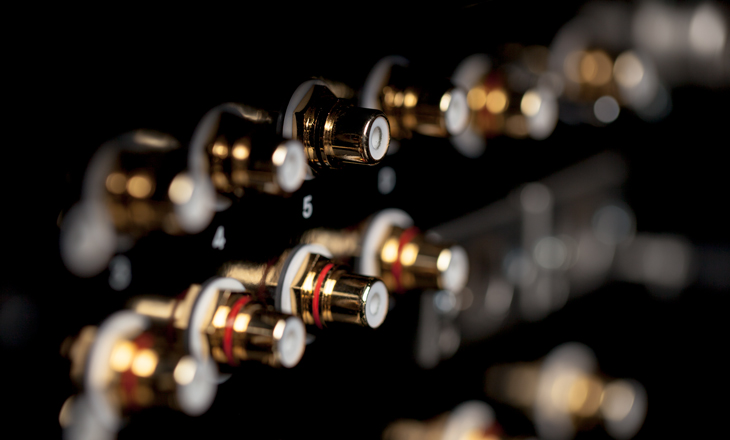 Delivering exceptional sound dynamics
Linea is a unique product due to its extremely short signal path, with only one active stage maintained in the simplest topology. It is built with carefully selected parts and a state-of-the-art output transformer.

Linea has a robust external power supply for delivering unconstrained sound dynamics and impact. At both micro- and macro-levels, dynamic shadings and headroom are limitless. The deep, tight and accurate bass is complemented by the transparent and liquid mid-range frequencies, with the sense of openness and lack of compression in the upper frequencies.

To address the need for separate subwoofers or auxiliary components, Linea provides a secondary output with a preset level. Linea offers buffered output with the level control, ready for bi-amplification. The chassis is made of solid aluminum for best magnetic neutrality and resonance control.
"Linea is Viva's finest stereo line preamplifier."
Unit:
Dimensions w×h×d:
410×185×410 mm

Weight: 14 kg
Tube Complement:
2×6C45P; 2×6N1Pi;
2×2A3
PSU:Dimensions w×h×d:
410×210×410 mm
Weight: 15 kg
Tube Complement:
2×2A3
Stereo line preamplifier featuring Triode tubes
READ MORE MATERIALS & COLOURS Linea comes in a virtually unlimited array of colors. You can personalize your Linea to match your interior.

Through our local offices and dealers, we offer the option of helping you set up and connect your Viva Audio equipment in order to ensure the best performance results. FEATURED PRODUCTS ///
Handcrafted
SPECIFICATIONS/FEATURES:
Stereo line preamplifier


Triode tubes


One Active Stage for shortest path


Zero feedback single-ended


Class A circuit featuring low noise and incredible transient response


Extremely high quality output transformer, built with special materials


Real point-to-point wiring

Buffered second output with level control, ready for bi-amplification

Four RCA Line Inputs, one RCA direct Input, one XLR Input

Unbalanced and balanced outputs

Output Impedance 130 Ohms allows for long output cables

External 2A3 based power supply

Remote volume control.

Tube Complement:2×6C45P; 2×6N1Pi; 2×300B or 2A3

Dimensions w×h×d:410×185×410 mm

Weight: 14 kg

PSU:Tube Complement:2×2A3

PSU:Dimensions w×h×d:410×210×410 mm
PSU:Weight: 15 kg.

Feel free to call with questions, I can be reached in my Los Angeles Audio & Video showroom weekdays (11-4PM) 310-472-8880 or after hours and weekends (10-10) on my cell 310-927-2260 or e-mail me directly at: [email protected]

Contact: David Weinhart best to CALL with questions in Los Angeles Showroom from 11-4PM @ 310-472-8880 or my cell after hours and weekends from 10-10PM @
310-927-2260 or e-mail me directly at [email protected]

For more information, visit my NEW & IMPROVED web site @www.weinhartdesign.com for great deals!

Weinhart Design has lots of other items new and used and if you're in Los Angeles or
visiting please accept my invitation to experience our World Class Audio Showroom (BY APPOINTMENT).

We are always interested in purchasing quality Audio and Video items, ESTATES & LP
collections and most quality trades are welcome.

All sales out of California are California State Sales Tax exempt. California 9.5% State Sales Tax applies only for items picked up or shipped to a California address.

We accept payments by Bank Wire Transfers without fees and is the only form of payment on all sales out of the U.S. and Canada. We prefer this method of payment, which also makes shipping to addresses other than billing agreeable. VISA, MasterCard and Paypal are gladly accepted within the U.S. and Canada as long as the
charge is approved and shipping to the billing address on record and adds 3% to cover costs.

Please call me directly in my world class showroom in Los Angeles weekdays 11-4PM @ 310-472-8880 or on my cell including weekends from 10-10PM @ 310-927-2260 and I can answer your questions and help you with all of your new and pre owned needs.


Making Audio Systems better

one system at a time,

David Weinhart
Weinhart Design, Inc.
President & CEO

e: [email protected]
www.weinhartdesign.com

The Audio and Video Expert
2337 Roscomare Road, Studio #1
Los Angeles, California 90077

Showroom) 310-472-8880
Cell) 310-927-2260
member since February 2006
Weinhart Design Verified Dealer
| | | |
| --- | --- | --- |
| Last 12 months | 147 | 100.0% |
| All-time | 2724 | 99.5% |
Items from this seller