Sorry, this listing has ended.
You may like one of these similar items:
---
Rogue Audio RP-5 Preamp - Black [Expired]
---
---
ROGUE AUDIO RP-5 PREAMP W/BLACK FACEPLATE - USED - $2,250  plus shipping
***Scroll down to read full details on this used item below!***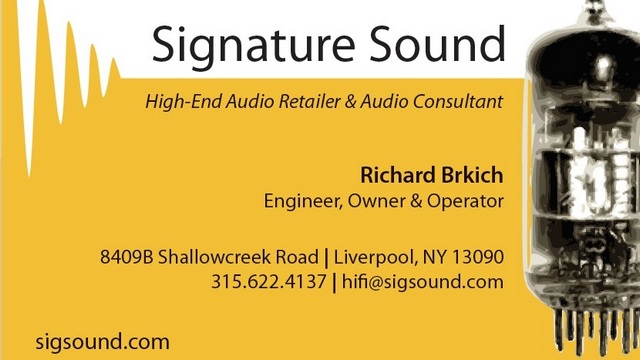 This 2 year old one owner used Black Faceplate Rogue Audio RP-5 tube preamp is in very good to excellent condition. It does have a couple light marks on the top cover (see close up pics of top cover - unless you have direct light on it, it is very hard to see and my reason for the 8/10 rating). The preamp is in perfect working order and comes with two sets (of 4) 12AU7s. The preamp has set of Tung-Sol (current Russian) 12AU7/6189 in it (which test strong) and also comes with a set (of 4) of JJ ECC82/12AU7 (which test a bit weak, but usable). It comes complete with factory box, manual, and remote control. Retail new these a are $3,495, this used Rogue RP-5 is yours for $2,250.
Signature Sound is a small Hi-End HiFi shop located near Syracuse New York. We have been in business since 1990. Feel free to check out our website www.sigsound.com or call us at 315-622-4137 with any questions. We accept all major credit cards and PayPal. A note to my fellow New Yorkers.... New York state residents (i.e sales billed/shipped to a New York State address) will be charged applicable local New York state sales tax on the total sale amount.
Signature Sound is a authorized dealer for: Audience Cables, Atma-Sphere, Clearaudio, Cardas Cables, Benz Micro Cartridges, Fried Audio Speakers, DH Labs, Dynavector, EAR USA, Grado Labs, JPS Labs, Joule-Electra, iFi Audio, Kiseki, Merlin Music Systems, Musical Surroundings, Mark Audio-SOTA Speakers, Power Modules (Belles), Rega Research, Roon Labs Nucleus, Rogue Audio (NEW!), Ryan Speakers, and Wavelength Audio.
We are also the lone USA Authorized Dealer/Distributor for Ars Sonum amplifiers, and we offer service, support, AND upgrades for Merlin Music Systems speakers and BAMs as well as Joule-Electra amplifiers and preamplifiers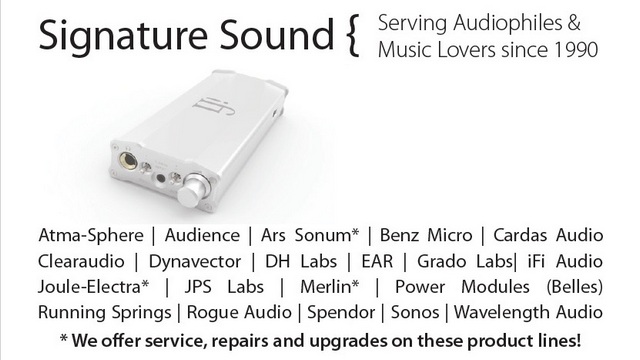 member since November 2009
signaturesound Verified Dealer
| | | |
| --- | --- | --- |
| Last 12 months | 45 | 100.0% |
| All-time | 742 | 99.6% |
Items from this seller