Torus Power Ref RM-60 Bal AVR 240 in 120 out
Listing ID: lisa0262
Classified
Listed
·
216 Views
Time Left:

27 Days
Ending:
New Retail Price:

$14,495.00
$4,949.00
Make Offer
| | |
| --- | --- |
| Condition | |
| Payment methods | |
| Ships from | Los Angeles, CA, 90077 |
| Ships to | United States and Canada |
| Package dimensions | unspecified |
| Shipping carrier | UPS |
| Shipping cost | Specified after purchase |
| Original accessories | Box, Manual |
| Average | Research Pricing |

Torus AVR 60 BALANCED Reference Toroidal Isolation Power Conditioner like new with up graded 9 pieces Furutech GTX-DR NCF Rodium up graded duplexes adding $2,250 and custom made Furutech Power Cord (see last two pictures) extra labor not added :
Just lowered for a even better deal and ready to be enjoyed by you ‼️
TORUS is Made in CANADA by Plyatron a world class Transformer maker for Bryston (we are an authorized dealer for both Torus & Bryston) and many of the best audio components made in the world !
This is the best cost no object Transformer based unit made with serious upgrades (improving the sound) in the Duplexes and the Power Cord  and highly recommended !  
Automatic Voltage Regulation :



Toroidal Isolation


Noise Filtering



High Instantaneous Current Capability



Series Mode Surge Suppression


Automatic Voltage Regulation


Smart Ethernet


Smart upgrades included Duplexes upgraded and superior power cord added for improved performance and better sound 


Product Description :


Torus AVR 60 BAL
Technology:


Toroidal Isolation


Noise Filtering



High Instantaneous Current Capability



Series Mode Surge Suppression


Automatic Voltage Regulation


Smart Ethernet


Description:
Torus Power AVR models add Automatic Voltage Regulation to the
standard Torus Power features, thereby enhancing protection against
voltage sags, brownouts and surges. Ethernet connectivity and RS232
interface makes AVR models ideal for basic home monitoring applications.
Torus AVR will keep the output constant within the range of 115 Volts
to 125Volts, with an input voltage of 90V to 130V. Between 85V to 90V,
and between 130V and 135V, the regulation will be reduced.
Balanced Input is available on many Torus Power models, providing an
additional stage of noise cancellation. Torus AVR with balanced input
will keep the output constant within the range of 115 Volts to 125
Volts, with an input voltage of 170V to 270V.
Features:


IP addressable with built-in web browser interface – allows remote monitoring and control


Password protection control


Automatic email notification on fault condition


RS-232 control — compatible with Crestron and other control systems


Switch-On Safety Delay (5 seconds) when power turned on / restored


Cloud based monitoring and control through ihiji, and other systems


Front panel display shows voltage conditions (input / output voltage), current draw, and IP address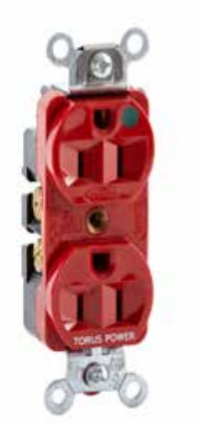 Torus Medical Grade Outlets on North American Models
Torus Power RM, AVR, and AVR2 series models use extra heavy duty
medical grade outlets custom manufactured by Hubbell. These outlets
provide greater contact force, reduced heat buildup, and redundant
grounding, and are vastly superior to commercial grade outlets. Torus
Power 15 Amp & 20 Amp Outlets are available for purchase.
Specifications: MODEL
AVR20 BAL
AVR 45 BAL
AVR60 BAL
AVR75BAL
AVR90 BAL



FACEPLATE:
19″ RACK MOUNT (RK), or 17″ SILVER (CS), 17″ BLACK (CB)


CHASSIS:
4U
5U


INPUT:
170 – 270 VAC


OUTPUT:
120 VAC +/- 5 V


INPUT FUSE:
1 X 10A
2 X 25A
2 X 30A
2 X 40A
2 X 45A


OUTPUT CURRENT:
20A
45A
60A
75A
90A


POWER VA:
2,400
5,400
7,200
9,000
10,800


FREQUENCY:
60 Hz


NO. OUTLETS
10
18
24


INLET:
IEC 20A
TWIST LOCK 30A, 250V
TWIST LOCK 50A, 250V


OUTPUT FUSES: 3 X 20 A
5 X 20A


WEIGHT LB:
103
138
164
195
200


WEIGHT KG:
47
62.5
74.5
88.5
90.5


SIZE MM W X D X H: 483 X 483 X 203
483 X 559 X 249
483 X 660 X 249


SIZE IN W X D X H
19 X 19 X 8
19 X 22 X 9.8
19 X 26 X 9.8
Input Voltage also available at 208V for BAL products feeding from a 3 phase system.
Balanced Input current is drawn at one half the output current capacities.
Balanced Input wiring should be installed by a qualified electrician.

=========================================================

It
is best to call David and visit: www.weinhartdesign.com with questions

in Los Angeles Showroom 310-472-8880 or on my cell after hours and

weekends 310-927-2260 any time from 10AM - 10PM.

Weinhart
Design has lots of other items new and used and if you're in Los

Angeles or visiting please accept my invitation to experience our World

Class Audio Showroom and please visit our web site @ 
www.weinhartdesign.com

We
are always interested in purchasing quality Audio and Video items, LP collections and most quality trades are welcomed.
All sales out of California are State Sales Tax exempt.
California State Sales Tax of 9.5% applies for items picked up or shipped to a California address.

We
accept payments by Bank Wire Transfers without fees and is the only
form of payment on all sales out of the U.S. and Canada. We prefer this
method of payment and also makes shipping to addresses other than
billing agreeable.
VISA, MC and Papal are gladly accepted within
the U.S. and Canada as long as the charge is approved and shipping to
the billing address on record and adds 3% to cover costs.

Please
call me directly in my world class showroom in Los Angeles weekdays @

310-472-8880 or any reasonable time on my cell including weekends @

310-927-2260 and I can answer your questions and help you with all of

your new and pre owned needs.
 Changing the Way You Listen, 


         David Weinhart
       Weinhart Design, Inc.
         President & CEO
[email protected]
  www.weinhartdesign.com

The Audio and Video Expert
2337 Roscomare Road, Studio #1
Los Angeles, California 90077
Showroom) 310-472-8880
        Cell) 310-927-2260
No questions have been asked about this item.
Return Policy
Return Window
Returns are not accepted on this item.
member since February 2006
Weinhart Design Verified Dealer
| | | |
| --- | --- | --- |
| Last 12 months | 147 | 100.0% |
| All-time | 2370 | 99.4% |
4 Watchers
Items from this seller

Weinhart Design The AV Experts E-STORE
View All Products For Sale