Sorry, this listing has ended.
You may like one of these similar items:
---
Bryston 28-3 Cubed top current Reference 1000 watts to 8 ohms [Expired]
---
---
Bryston 28-3 Cubed Silver "Top current Reference" 1000 watts to 8 ohms 3,500 watts into 2 ohms and the Weinhart Design cost no object Reference mono blocks "as new", factory boxed see attached pictures:
Reduced for fast sale during this unprecedented time. 
THIS is as good of a deal as it gets from an Bryston dealer and your 
BEST OPPORTUNITY to own a best 1,000 watt into 8 ohms Reference pair of Reference monoblocks. These will drive virtually any load and are the best sounding Amplifier at low volumes mid volumes and loud volumes on even efficient loudspeakers and able to properly drive loudspeakers that likely you have never heard powered correctly (impedance loads can make a choice like this really a BEST CHOICE...
Simply stated this is the Weinhart Design cost no object reference and the finest solid state amplifier we have ever had in our showrooms.
Please note: we have (((two pairs open as new only one pair being offered at a reduced price))) a extra pair in silver posted but our Bryston 28-3 Mono's in 19" Black the showrooms Reference pair can be yours if preferred for $900 more... being the finest reference cost no object thousand watts into 8 ohms we have ever experienced in our showroom's (we will keep one pair for showrooms reference)‼️
These are a current model and the Weinhart Design Reference as new and sold as used with warranty (call for details).

We proudly have another pair in Black our demo's are on display. This
 the fact that this is one of the most powerful amplifiers on the market and can drive virtually any loudspeaker with total grace and ease, the 28B³ mono block amplifiers are some of the finest sounding models ever at any power output. These amplifiers take complete control over your loudspeakers and command them to be their best. Bryston first-to-last-watt philosophy demands that each of our products sounds equally amazing at all power output levels. There is no product we have ever engineered that demonstrates this philosophy better than the 28B³. Even if you don't need all the power these amps offer, you owe yourself the pleasure of a demonstration. Hear the 28B³ today at Weinhart Design in Los Angeles in out cost  no object Reference system (by appointment).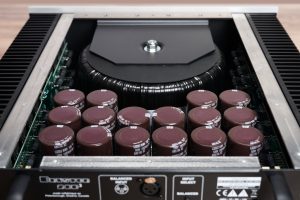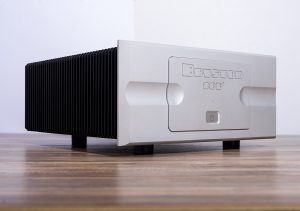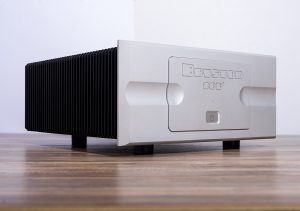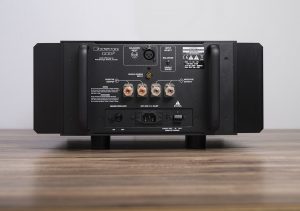 Flagship true Reference pair of Mono block Power Amplifiers :
The 28B³ is Bryston's flagship power amplifier, a single channel (mono) amplifier which sounds incredibly detailed and musical at very low levels and maintains that same sophistication and drive capability with even the most difficult inefficient speakers, large or small.
The 28B³ boasts one channel capable of 1000 watts intended for use in very high performance professional audio systems. Robust yet beautiful machined aluminum enclosures house a proprietary industry-leading circuit design, resulting in exemplary performance observed both in the listening space and in the laboratory.
The Bryston 28B³ amplifier can receive analog audio from any preamp or surround processor with volume controlled line-level outputs. A balanced XLR input as well as a singled ended RCA input are both available and can be selected using the Input Select switch on the rear panel of the amplifier.
Integrate the 28B³ with other electronics in your system. The low-voltage trigger on the back of the amp can be connected to your Bryston preamp to automatically power on when you turn on your preamp.
Every single 28B³ comes with an individual specification sheet. You'll see exactly how well your particular amplifier performed on the test bench. And like every Bryston amplifier, each 28B³ is tested for 100 hours in the factory before it ships to ensure long term reliability.
Bryston Cubed Series Amplifiers:
Bryston amplifiers enjoy universal acclaim from both audio professionals and music enthusiasts unlike any other brand in the world. As a result of relentless passion for superb performance and unparalleled build quality, Bryston engineers have continued to innovate since the company's groundbreaking premier in 1976. The Cubed Series amplifiers continue this tradition of excellence, highlighted by lower distortion, increased bandwidth, and reduced noise, presenting listeners with a crystal clear window into their most favorite recordings.
Bryston Cubed Series Amplifiers, featuring patented circuitry developed in conjunction with Dr. Alexandru Salomie, move the listener ever so close to the music with such visceral realism, the experience is most comparable to live performance.
What Defines High Performance?
Reproducing exactly what is captured in a recording without exception and without added distortion fulfills Bryston's definition of high performance. Each Bryston Cubed amplifier is designed without compromise in pursuit of this lofty goal.
Bryston engineers, led by Christopher Russell, have been busy over the years since the advent of the SST2 Series finding new methods to reduce noise and distortion to reveal more nuance and subtlety than ever before. Cubed Series amplifiers employ significant improvements over the highly acclaimed SST2 Series, including dramatically less distortion at the input stage, improved common mode noise rejection, a major improvement in EMI/RFI noise rejection, and less than 500mW standby power consumption. Finally, Bryston updated the dress panel aesthetics with clean lines and a new finish.
Extreme Clarity and Detail
At Bryston, finding ways to eliminate distortion from its designs is a way of life. All Cubed Series amplifiers feature a new patented input circuit that is precisely optimized and linear beyond any that Bryston has used before. Featuring twelve active devices in a groundbreaking array, this new circuit both matches the amplifier to virtually any preamplifier and provides the first 6dB of gain. The new input stage is so transparent, its measurable distortion is less than 1/1000th of 1 percent!
Newly designed circuitry in the Cubed Series amplifiers is virtually impervious to noise such as RFI and others induced by external and environmental causes.
The Quad-Complementary topology improves linearity to a new standard of accuracy while virtually eliminating aggressive higher harmonic distortion byproducts. The overall harmonic distribution of Bryston's Quad-Complementary output mimics the characteristics of a Class-A design, but with dramatically lower distortion. Each amplifier channel includes its own fully independent power supply with separate transformer.
Bryston strives for accuracy and transparency because that is what sounds best. When a playback system is faithful to the recording, the listener can enjoy the subtlest details, capturing the depth and soul of the performance as the artist intended.
Legendary Quality :

Cubed Series amplifiers employ design innovation to achieve superior performance, yet so much has remained constant through years of evolution. Each amplifier is manufactured in Bryston's state-of-the-art facility located in Peterborough, Ontario, Canada, utilizing many locally sourced components. Many members of the Bryston team have been with the company for decades and all take great pride in their highly specialized craft.
All Bryston products are proven on the company's test bench for one hundred hours of burn-in before shipping. Amplifiers cycle between full power and idle in thirty-minute intervals to uncover any anomalies that could be illuminated by thermal stress. Bryston's reputation for reliability is without peer.
Not only do Bryston's amplifiers undergo pass/fail testing, but each must also achieve excellence in performance benchmarks as well. With each Cubed Series model, the customer will receive a comprehensive performance certificate detailing the exact specifications of the amplifier.
To demonstrate its commitment to excellence and performance, every Bryston amplifier is warranted to be free of defects in materials and workmanship for a full twenty years.
Front Panels and Finishes
Cubed Series models are available in black or silver colored dress panels and are 17 or 19 inches wide. Nineteen-inch wide models include front mounted handles.
Features:
Balanced XLR and Single ended RCA input
Dual binding post pairs
Thunderous 1000W into 8 ohms (and up to 1800 into 4 ohms)
The patented Salomie circuit found in all Cubed Series amplifiers
Fully convection cooled means no noisy fans
Machined and anodized aluminum enclosure and dress panel
Less than 500mW standby power consumption
SoftStart microprocessor controlled startup sequence won't trip circuit breakers
DC trigger for automated turn on and turn off
Legendary Bryston 20 Year Warranty
Options:
Silver or black faceplate
17" or 19" face plate (non-rack mountable)
Audiophilia
said:
The music they reproduce is full-sounding, very powerful with a lot of drive, and the music has a weight and a density, with real substance to it. The sound is very warm, musical and natural sounding. It is never harsh, clinical, nor aggressive or irritating." - 
Brochure:
http://support.bryston.com/downloads/Brochures/Cubed%20Series%20Amplifiers%202018.pdf

Manuel:
http://support.bryston.com/downloads/Amps/28B3/documents/28B3%20Owner's%20Manual%20Rev%202.pdf

                ===========================================
Feel free to call with questions, I can be reached in my Los Angeles Audio & Video showroom weekdays (11-4PM) 310-472-8880 or after hours and weekends (10-10) on my cell 310-927-2260 or e-mail me directly at: [email protected]

Contact:  David Weinhart best to CALL with questions in Los Angeles Showroom from 11-4PM @ 310-472-8880 or my cell after hours and weekends from 10-10PM @
310-927-2260 or e-mail me directly at [email protected]     

For more information, visit my NEW & IMPROVED web site @ www.weinhartdesign.com

It is best to call David Weinhart for great system design, support and creative system planning and maximizing your investment and making the
best sound possible !

Weinhart Design has lots of other items new and used and if you're in Los Angeles or visiting please accept my invitation to experience our World Class Audio Showroom (BY APPOINTMENT ONLY).

We are always interested in purchasing quality Audio, ESTATES & LP collections and most quality trades are welcome. It is best to call David see information below:

All sales out of California are California State Sales Tax exempt. California 9.5% State Sales Tax applies only for items picked up or shipped to a California address. 

We accept payments by Bank Wire Transfers without fees and is the only form of payment on all sales out of the U.S. and Canada. We prefer this method of payment, which also makes shipping to addresses other than billing agreeable. VISA, MasterCard and Paypal are gladly accepted within the U.S. and Canada as long as the charge is approved and shipping to the billing address on record and adds 3% to cover costs. 

Please call me directly in my world class showroom in Los Angeles weekdays 11-4PM @ 310-472-8880 or on my cell including weekends from 10-10PM @ 310-927-2260 and I can answer your questions and help you with all of your new and pre owned needs. 


Making Audio Systems better 

   one system at a time,
      
       David Weinhart 
    Weinhart Design, Inc. 
       President & CEO 

e: [email protected] 
   www.weinhartdesign.com 

 The Audio and Video Expert 
2337 Roscomare Road, Studio #1 
  Los Angeles, California 90077 

    Showroom) 310-472-8880 
         Cell) 310-927-2260
member since February 2006
Weinhart Design Verified Dealer
| | | |
| --- | --- | --- |
| Last 12 months | 144 | 100.0% |
| All-time | 2400 | 99.4% |
Items from this seller