Sorry, this listing has ended.
You may like one of these similar items:
---
Raidho D1 - Stunning Burl Finish w/ Raidho Stands - Optional Adjustable Feet - Like New Customer Trade-In!!! 12 Months Interest Free Financing Available To Approved Credit!!! [Expired]
---
---
For sale is customer trade-in pair of the amazing Raidho D1s finished in stunning Burl veneer ($25,500 retail).  This particular pair was ordered with all black Raidho Stands (a premium charge - $2900 retail) and Aluminum Adjustable Fee (a premium charge - $1300 retail) making the total retail package of this combination $29,700. 
This pair ships in the original factory packaging complete with manual, etc.  They will be strapped to a skid and shipped via insured freight to ensure they arrive to the new owner safely.
INTEREST FREE FINANCE OPPORTUNITY: 
Next Level HiFi Is Now Offering 12 Months Interest Free Financing, To Approved Credit, On This Listing!!!
The Raidho D1 is simply a legendary speaker.  We have installed more pairs of Raidhos than any other dealer in North America and as such we would be happy to lend our experience, with the proud new owner, as it relates to pairings, setups, etc. to get the most performance possible from your investment.   
Here you can learn more about this incredible speaker:
NOVEMBER 23, 2014
ANTHONY KERSHAW
There was a time that I could not get enough of monitor speakers. I lived with ProAc's very best for a few years, the Response One SC and the Tablette Signature. I truly loved both speakers and had a flirtation with Canada's very good answer to them, the Totem Model 1s. About 15 years ago, as Audiophilia morphed into something new on the new internet, I had to make a 180 degree shift and, at the time, was none too happy about it. Reviewing audiophile quality electronics meant a switch to larger boxes to accommodate the full panoply of sounds. The boxes/panels I reviewed ranged from poor to magnificent. As such, my initial disappointment with the change wore off as my hobby developed into a pretty amazing job. The large, full range box speaker had won me over. For the most part.
During the intervening years, I got to hear a lot of monitor style speakers at shows and often mentioned outstanding examples from BBC monitors to Harbeth, Spendor, Audio Note, and the like. There were 'un British' monitors from PenAudio and others that I also enjoyed, but it was not until Rocky Mountain 2012 that my roots were shaken by a monitor. The speaker that won our best sound of show was the very highly regarded Magico Q1 monitors. This mighty mini looked exquisite and sounded even better. Of course, it had all the super refinements of the best monitors — pinpoint imaging, timbral accuracy and incredible soundstage — but it also had rocking dynamics and slam, more than any monitor of such small dimensions that I'd heard. And, it could also play bass beautifully. 'Beautiful bass' is not always an audiophile descriptor. Many want 'grab you by the collar and slam you into the pavement' bass. With the Magicos, you got that, but the damn notes were tuneful – they had grace, heft, speed and 'felt' low. With this expensive gem, I figured the lucky bastards that owned it would never have to look or listen to another.
I was wrong.
Enter, Denmark's Raidho [pronounced Ride-ho].
Raidho has been manufacturing speakers for fifteen years. While not exactly venerable, they have shown remarkable traction in a finicky business. The great Julius Baker said that there is always room for a great player (talking flutes here in an incredibly saturated market). Same for high end equipment. We are inundated with equipment, some good, some not so. Raidho has done its homework technically and in its promotion.
The D-1 monitor loudspeaker is the newest Raidho and uses two different topologies to produce the sound — a ribbon tweeter and Raidho's new diamond woofer (called 'Raidho Cutting Edge Diamond Technology'). The price is US$28,000. Less expensive Raidho models use a ceramic midrange/woofer, but the D-1 uses a mix of diamond and carbonite. Raidho's Lars Kristensen explained the driver's manufacturing process to me during a recent visit to Toronto. He was very proud of the development and the implementation of the technology. He called the driver 'a true industrial design'.
The D-1 is a single wire, vented design with a sealed ribbon tweeter and 115 mm Diamond Mid/Bass Driver. They are rated down to 50 Hz. On exhaustive listening, this seems to be BMW measurements rather than Mazda (BMW is conservative in its brake horsepower measurements, others less so!) as the bass 'feels' a lot lower. In fact the bass matches and in some repertoire bettered the Magico's benchmark. At least, it sounded that way to me. In any case, the bass is fabulous with no 'monitor' proviso.
The Raidho's are sized at 200 x 370 x 360 mm and weigh in at 12.5 Kg, are rated at 50 Hz – 50 KHz, 6 ohms, and employ a 3 KHz 2 Order crossover.
The D-1s come with exquisite stands that act as an impenetrable barrier for the Wife Acceptance Factor and do no harm to the sound. They bring the bookshelf speakers up to ear level and isolate in a novel way (ball bearings help isolation much like mini Symposium Rollerblocks).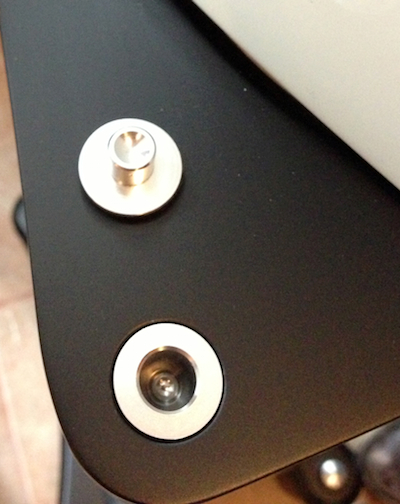 Raidho's novel way of adding isolation to its sexy stand
The D-1s have a completely natural sound; I could hear no coloration in any registers. The highs were pristine in presentation — clear, detailed from both vinyl and CD sources. The midrange, the meat of any good speaker (some say no, but I think of the midrange as wearing the perfect tie, watch and shoes with the Zegna suit — so many men screw up the shoes — same for speaker manufacturers with bass humps and fat midranges), was in perfect harmony with top and bottom octaves. Not always the case when the mids have to be woofer mates with the bass driver.
What really beguiled, though, was not only the 'natural' sound, but the timbral accuracy. I played my own recordings, not for ego, well, a little, but to judge how the sound matched to real life. Bloody well. Rarely have I heard my sound scarily real coming out of a box. Electrostat, yes. Piano, french horn and voice, the 'terrible three' and an engineer's nemeses, were afforded the same reality. As long as you have matching ancillary equipment (you better have, or the Raidho's will embarrass lesser boxes), the really difficult timbres will be no problem.
Got a large room? Also, no problem. These monitors go loud and never give up the essence of their sound. Far louder than you'll ever need, even for intense listening. You have to hear The Rite of Spring through these things! Pow!
I listened to Radiohead and Elvis LPs, original classical Bluebacks and Deccas, and a ton of Classic Records RCA LSC reissues. Glorious sounds from each. The same for CDs, helped in no small regard by a loaner bel canto Transport and the new Jeff Rowland Aeries DAC, both superlative pieces of digital equipment. Piece after piece was rendered musically, powerfully and with sincere regard for the original recording spaces.
Hi fi does not get any better than this. In the here and now, I would rate these Raidho speakers as not only the best sounding monitors I know but among a handful of the best loudspeakers of any size and topology. Yes, up there with greats past and present.
Of course, they're very expensive. But, as my friend Adrian says, 'you gotta pay to play'. Yesterday, I was trying new flutes for a student and I test drove the new BMW 3 Series. The flutes ranged from 10K to a 45K rose gold model. The 3 Series I tested was $59K when all the bells and whistles were added. Excellence costs money. Excellence in design does not date and instills pride of ownership. You will be very proud of your D-1s.
I'm looking forward to hearing Raidho's new larger, floor standing models with the diamond woofers. A completely different animal. I'm not sure where Raidho goes with the larger models as they've captured for audiophiles and music lovers the very best of the sounds we crave. In a bookshelf model! Very highly recommended.
Our Company:


Next Level HiFi is a premier retailer of the world's finest HiFi products. We operate by appointment and offer our clients the opportunity to experience systems not heard elsewhere. We are proud to support our business partners including: Aavik, Ansuz, Børresen, Dynaudio, Focal, Kudos, Naim, Nordost, Octave, Rega, REL, Soulution, & YG Acoustics.  
  
Payment can be made by Check, Cash, Money Order, Credit Card, or PayPal. Credit Card or PayPal adds 3% to the total.    
  
Illinois Residents add 7% to the total.  
Local pickup is available as well.
Feel free to contact us at the following for questions, appointment requests, and or orders:   
  
o: 630-797-5117
c: 630-246-0390
f: 630-830-0395  
e: tyler@nextlevelav.com  
w: www.nextlevelhifi.com
member since April 2007
Next Level HiFi Verified Dealer
| | | |
| --- | --- | --- |
| Last 12 months | 102 | 100.0% |
| All-time | 501 | 100.0% |
Items from this seller