Sorry, this listing has ended.
You may like one of these similar items:
---
Cardas Audio 1.0m Clear Power Cord [Expired]
---
---
Cardas  Audio Clear 1.0m Power Cord - USED - $395 PLUS SHIPPING
***Scroll down to read full details/description below!!!***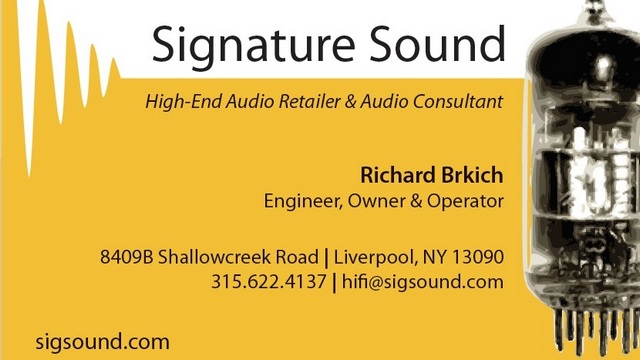 This used Cardas Audio Clear 1.0m Power cord is in very good condition. Comes as you see it, in perfect working order, and cosmetically the only issues are scuff marks on the heat shrink. Terrific clear, smooth, dynamic power cord - great for preamps, integrated amps, and even digital gear. Retail new $720, yours for $395 plus shipping.
Signature Sound is a small Hi-End HiFi shop located near Syracuse New York. We have been in business since 1990. Feel free to check out our website www.sigsound.com or call us at 315-622-4137 with any questions. We accept all major credit cards and PayPal. A note to my fellow New Yorkers.... New York state residents (i.e sales billed/shipped to a New York State address) will be charged applicable local New York state sales tax on the total sale amount.
Signature Sound is a authorized dealer for: Audience Cables, Atma-Sphere, Clearaudio, Cardas Cables, Benz Micro Cartridges, Fried Audio Speakers, DH Labs, Dynavector, EAR USA, Grado Labs, JPS Labs, Joule-Electra, iFi Audio, Kiseki, Merlin Music Systems, Musical Surroundings, Mark Audio-SOTA Speakers, Power Modules (Belles), Rega Research, Roon Labs Nucleus, Rogue Audio (NEW!), Ryan Speakers, and Wavelength Audio.
We are also the lone USA Authorized Dealer/Distributor for Ars Sonum amplifiers, and we offer service, support, AND upgrades for Merlin Music Systems speakers and BAMs as well as Joule-Electra amplifiers and preamplifiers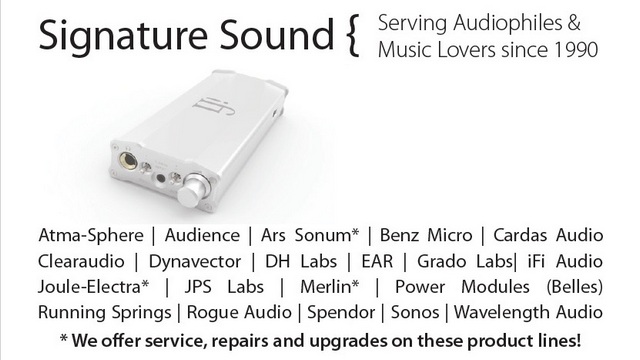 member since November 2009
signaturesound Verified Dealer
| | | |
| --- | --- | --- |
| Last 12 months | 39 | 100.0% |
| All-time | 760 | 99.6% |
Items from this seller