Krell Showcase 7 Bal, 250 w in 4ohm x 7)
Listing ID: lisa8g0b
Classified
Listed
·
328 Views
Time Left:

24 Days
Ending:
New Retail Price:

$5,500.00
$2,750.00
Make Offer
| | |
| --- | --- |
| Condition | |
| Payment methods | |
| Ships from | Los Angeles, CA, 90077 |
| Ships to | United States and Canada |
| Package dimensions | unspecified |
| Shipping carrier | UPS |
| Shipping cost | Specified after purchase |
| Average | Research Pricing |
Krell Showcase 7 Balanced 7 Channel Pre-Amp/Processor Amplifier :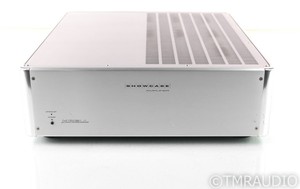 Please note: matching Showcase Theater processor coming soon & sold separately.
Nice used condition (see attached pictures) some hard to see wear but a nice 7/10.
One owner moving creates this opportunity.
Home Theater Review said:
https: //hometheaterreview.com/krell-showcase-av-preamp-and-7-channel-amplifier-reviewed/

Unique Features: Showcase Amplifier - Now, it was on to the Showcase
Amplifier to complete the dynamic duo. The Amplifier has the same
brushed aluminum casing as the Processor, but the front only has the
logo in the center and power controls/LEDs on the left side. It is also a
very attractive piece cosmetically, and is rated at 125 watts per
channel at 8 ohms which doubles to 250 watts at 4 ohms. The amp weighs a
solid 58 pounds, and has vent holes on top and bottom. The back panel
has both balanced and unbalanced connectors for all channels, and solid,
well-spaced binding posts for speaker cable hookup. One of the great
features of the amp is that it can be upgraded with extra channels, so
if you buy the 5-channel version and then migrate to a 7.1 system, the
amp can be upgraded by the factory for the extra channels. The amp can
be connected via trigger to the processor. I would not be fooled by the
relatively "low" rating of 125 watts/channel on the amp, as what matters
as much as wattage is the ability of an amp to supply current. Krell
amps have always been exceptional at this, and this characteristic
allows for excellent control of speakers that are more difficult to
drive. This shows up in the ability to double wattage output as the
impedance is halved.

Bottom line: this amp can drive difficult speakers
and fill a good-sized room with copious amounts of sound.
=============================
Product Information :


The
brushed aluminum Krellcoat finish of the Krell Showcase 7-channel
amplifier might make it look a dainty unit, but hidden under its elegant
exteriors is raw power. This Krell Showcase amplifier has seven
channels, ensuring sufficient sonic power. This Krell 7-channel
amplifier exhibits the same quality performance as the other units that
bear the legendary Krell brand. The Krell Showcase 7-channel amplifier
utilizes Krell Current Mode circuitry which enables the unit to
reproduce audio to a great detail, even the critical low-level signals.
This Krell Showcase amplifier houses an enormous 1,500 W toroidal
transformer and 80,000 microfarads of filter capacitance, which
addresses power supply issues nicely. The Showcase amplifier module of
the Krell 7-channel amplifier uses eight high-speed power devices to
deliver 125 W into 8 ohms and 250 W into 4 ohms, ensuring great output.
Product Information :


Brand Krell


MPN SHOWCASE 7


Model Showcase 7


eBay Product ID (ePID) 66813737


Product Key Features :




Type Power Amplifier


Number of Channels 7


Dimensions :




Weight 60lb.


Width 17.3in.


Height 5.7in.


Depth 19.8in.


Additional Product Features :




Number of Speaker Outputs 7


No Remote Control


Power Per Channel AT 8ohm 125W


Frequency Response 20Hz-20kHz


Power Per Channel AT 4ohm 250W


Audio Snr 110dB


Not Bridgeable


==============================================
It
is best to call David and visit: www.weinhartdesign.com with questions

in Los Angeles Showroom 310-472-8880 or on my cell after hours and

weekends 310-927-2260 any time from 10AM - 10PM.

Weinhart
Design has lots of other items new and used and if you're in Los

Angeles or visiting please accept my invitation to experience our World

Class Audio Showroom and please visit our web site @ 
www.weinhartdesign.com

We
are always interested in purchasing quality Audio and Video items, LP collections and most quality trades are welcomed.
All sales out of California are State Sales Tax exempt.
California State Sales Tax of 9.5% applies for items picked up or shipped to a California address.

We
accept payments by Bank Wire Transfers without fees and is the only

form of payment on all sales out of the U.S. and Canada. We prefer this

method of payment and also makes shipping to addresses other than

billing agreeable.
VISA, MC and Papal are gladly accepted within
the U.S. and Canada as long as the charge is approved and shipping to
the billing address on record and adds 3% to cover costs.

Please
call me directly in my world class showroom in Los Angeles weekdays @

310-472-8880 or any reasonable time on my cell including weekends @

310-927-2260 and I can answer your questions and help you with all of

your new and pre owned needs.
More Items from this seller

Visit our Weinhart Design The AV Experts E-STORE
 Changing the Way You Listen, 


          David Weinhart 
       Weinhart Design, Inc.
         President & CEO
[email protected]
  www.weinhartdesign.com

 The Audio and Video Expert 2337 Roscomare Road, Studio #1 Los Angeles, California 90077   Showroom) 310-472-8880         Cell) 310-927-2260
No questions have been asked about this item.
Return Policy
Return Window
Returns are not accepted on this item.
member since February 2006
Weinhart Design Verified Dealer
| | | |
| --- | --- | --- |
| Last 12 months | 141 | 100.0% |
| All-time | 2496 | 99.4% |
1 Watcher
Items from this seller

Weinhart Design The AV Experts E-STORE
View All Products For Sale