MIT Magnum 1.3 Bi-Wire 10 FT Pair
Listing ID: lisa93gg
Classified
Listed
·
53 Views
Time Left:

30 Days
Ending:
New Retail Price:

$7,199.09
$1,995.09
Make Offer
| | |
| --- | --- |
| Condition | |
| Payment methods | |
| Ships from | Los Angeles, CA, 90077 |
| Ships to | United States and Canada |
| Package dimensions | unspecified |
| Shipping carrier | UPS |
| Shipping cost | Specified after purchase |
| Average | Research Pricing |
MIT Magnum 1.3 bi-wire speaker cables (pair) in a 10 ft length.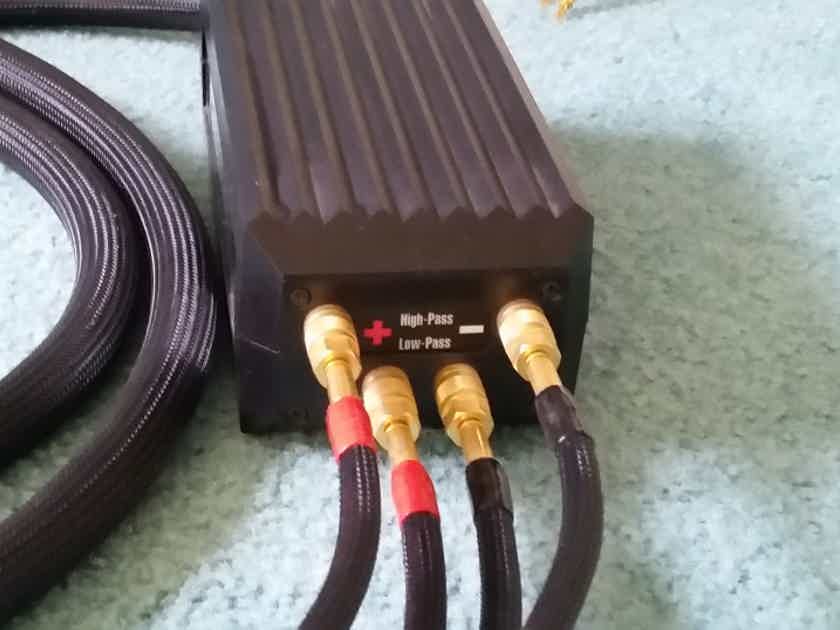 No low offers considered, all trades welcomed.
In excellent condition serial # 27091
Interchangeable termination ends comes with enough ends for Bananas sending to Spades at the speaker ends
This is from the MIT website :

Rich, detailed imaging, precise powerful bass, clean highs without
grain or edginess are all features of the Magnum M1.3 Speaker Cable.
With 51 poles of articulation, the M1.3 produces increased tonal
complexity that retains a rich overtone and harmonic structure within a
large three dimensional soundstage. Soundstage and imaging has once
again been enhanced over its predecessor with an upgrade to MIT's two
proprietary 2C3D technologies: Stable Image Technology (SIT®) and Jitter
Free Analog (JFA®). Discrete networks for both mid/high and low
frequencies. (Uses included MIT patented iconn(r) connectors).




In part said:


he Magnum M1.3 cables under review sit at the top of MIT's Magnum line,
which in turn resides between the top Oracle and the less expensive
Shotgun ranges. When designing the latest Generation 3 products, MIT
founder Bruce Brisson hotrodded the Oracle V1.3 and Magnum M1.3 using
new 2C3D technology. Soundstaging and imaging are said to be improved with an upgrade to two of MIT's two proprietary 2C3D technologies: Stable Imaging Technology (SIT) and Jitter Free Analog
(JFA). I asked MIT's Gavin Fish to elaborate. "Stable Image Technology
assures that the imaging quality of the overall system is stable over
the widest possible dynamic range of audio signals. Soundstage
dimensions including depth and the images of instruments and vocalists
stay firmly placed from triple pianissimo to triple fortissimo without
wandering, wavering, blooming or becoming unfocused at the highest
levels. The synergy of the MIT network technologies results in what we
call Jitter-Free Analog. The sonic attributes of this are similar to
those experienced with digital audio equipment that has been optimized
for extremely low signal timing jitter. The dominant effects of this
network synergy are increased clarity, focus and image stability with
accurate depth localization being particularly noticeable. Another
prominent benefit are improved microdynamics in the treble range with
better time coherence and natural tonality. JFA creates a lifelike
sense of space around each instrument and voice while integrating
harmonic structures and improving timbre and articulation across the
spectrum."

              =====================================
It
is best to call David and visit: www.weinhartdesign.com with questions

in Los Angeles Showroom 310-472-8880 or on my cell after hours and

weekends 310-927-2260 any time from 10AM - 10PM.

Weinhart
Design has lots of other items new and used and if you're in Los

Angeles or visiting please accept my invitation to experience our World

Class Audio Showroom and please visit our web site @ 
www.weinhartdesign.com

We
are always interested in purchasing quality Audio and Video items, LP collections and most quality trades are welcomed.
All sales out of California are State Sales Tax exempt.
California State Sales Tax of 9.5% applies for items picked up or shipped to a California address.

We
accept payments by Bank Wire Transfers without fees and is the only

form of payment on all sales out of the U.S. and Canada. We prefer this

method of payment and also makes shipping to addresses other than

billing agreeable.
VISA, MC and Papal are gladly accepted within
the U.S. and Canada as long as the charge is approved and shipping to
the billing address on record and adds 3% to cover costs.

Please
call me directly in my world class showroom in Los Angeles weekdays @

310-472-8880 or any reasonable time on my cell including weekends @

310-927-2260 and I can answer your questions and help you with all of

your new and pre owned needs.
See more Items from this seller

Visit our Weinhart Design The AV Experts E-STORE
 Changing the Way You Listen, 


          David Weinhart 
       Weinhart Design, Inc.
         President & CEO
[email protected]
  www.weinhartdesign.com

 The Audio and Video Expert 2337 Roscomare Road, Studio #1 Los Angeles, California 90077  Showroom) 310-472-8880      Cell) 310-927-2260
No questions have been asked about this item.
Return Policy
Return Window
Returns are not accepted on this item.
member since February 2006
Weinhart Design Verified Dealer
| | | |
| --- | --- | --- |
| Last 12 months | 126 | 100.0% |
| All-time | 2529 | 99.4% |
3 Watchers
Items from this seller

Weinhart Design The AV Experts E-STORE
View All Products For Sale