Sorry, this listing has ended.
You may like one of these similar items:
---
NAD Streaming DAC/AMP Speaker package! [Expired]
---
---


Package deal;
NAD Master M33 & DALI Rubicon 8
*Come hear in person private by appointment audition
We offer hundreds of preselected PACKAGE DEALS
NAD MASTER Series
DALI EPICON, RUBICON, CALLISTO and other speakers




Simply Amazin' 2 pc set-up!
In my 41+ years experience I just have to say I LOVE both the incredible job NAD Master Series has done & the State-of-the Art Epicon is in a Class of its own - Hands down Winner BEST Audiophile Streaming DAC amp & audiophile No holes barred speakers
Serious Members ready to purchase email for SALE price!

Both the Master Series M33 amp and DALI Epicon 6 for lack of better description are outstanding.
One of the best things I discovered is the combination of these 2 amazing components - they so perfectly match each other....Wow!
They create such a unique audio perfect system that I found myself truly satisfied after listening to the first track. Hearing such familiar music in an entirely new light with greater detail than I have ever before is at same time beautiful & horrifying. Wondering WHY, HOW so many other Tower speakers in the $15,000 pair range could miss so much of the intensity, detail & definition that the Epicon 6 revealed started to be a distraction so many questions of how these sound so different
NAD Master Series has always made unique, high quality gear but, dare I say is it "High-End" enough? Well Yes, over the years every now & then The Master Series has had standout components worthy of the the highest 'Audiophile' praise . This would no only qualify as one of those in my four+ decade long career I would have to say this is NAD's #1 accomplishment over entirety of the Master Series truly a great streaming amp filled with every option one could want(or need) one sounds so neutral & powerful that it will match any speakers
so, before I go to details of the listed 2 components let me be clear, if your room, budget, or situation requires a bookshelf or you simply require a different set-up I am here to assist you in fine tuning your selection so that you too can feel way I did in my first audition of these amazing components
My Goal?
Your happiness, provide guidance, advice so you'll own
P E R F E C T L Y M A T C H E D system

The NAD Masters Series M33 has an incredible list of features that make it an ideal centerpiece for a two-channel audiophile sound system. It produces a stable 200 watts into an 8- or 4-ohm load, for compatibility with a wide range of speakers. It offers plenty of analog and digital inputs for making wired connections, along with multiple wireless music streaming options. And it offers built-in room correction and optional voice control.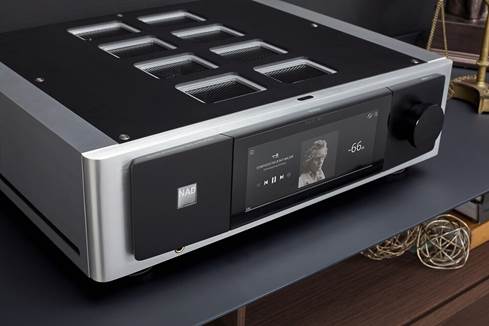 The very versatile NAD Masters Series M33 offers 200 watts of power per channel, plus multiple options for playing music via wired components and wireless streaming.
A wealth of streaming features
If you like the convenience of wireless streaming, this amp has you covered: Bluesound's proprietary BluOS operating system gives you easy app-based access to popular online streaming services like Spotify®, Qobuz, and more, as well as your personal library of downloaded music, including high-res audio files. You can also enjoy lag-free multi-room wireless music when you add on Bluesound speakers and components for other rooms. Apple® AirPlay® 2 lets you stream directly from an iPhone® or iPad® and ask Siri to play Apple Music.
Two-way Bluetooth means you can play the audio from apps on your mobile device through the M33, or send music from the amp to compatible wireless speakers or headphones.
Convenient connections
For analog music fans, the M33 offers unbalanced RCA and balanced XLR inputs. A built-in phono stage lets vinyl lovers connect a turntable with moving magnet or moving coil cartridge.
And there are a plethora of handy digital connections on the rear panel, including:
dual optical and dual coaxial inputs for connecting a CD player, Blu-ray player, or output from a compatible TV
USB Type-A for connecting a thumb drive loaded with music
AES/EBU XLR input
HDMI ARC for enhancing dialogue, music, and sound effects from a compatible TV
Ethernet port for making a wired connection to your network
The back panel features two sets of binding posts for connecting pairs of speakers. If you want extra bass, the M33 includes two mono RCA outputs for connecting powered subwoofers. There's also a headphone jack and analog preamp outputs.
Advanced room correction
The M33 includes Dirac Live — one of the industry's best room-correction platforms. This software-based system uses the included calibration microphone to take precise acoustic measurements of your room, and creates a customized correction curve that fine-tunes the output of your speakers and subwoofers. You get smooth, clear sound that's uniquely tailored to your space.
Innovative amplifier technology
This amp offers pristine Class D amplification thanks to HybridDigital Purifi Eigentakt™ technology. It helps the amp maintain even frequency response into lower impedance loads, and minimizes the occurrence of digital clipping. Of course, it also offers robust power output and accurate sound with minimal distortion, for a listening experience that NAD calls "analog-like."
Product highlights:
200 watts x 2 channels into 8 or 4 ohms (20-20,000 Hz) at 0.002% THD
4-ohm stable for use with a wide range of speakers
frequency response: 20-60,000 Hz
32-bit/384kHz ES9028Pro SABRE DAC built in

supports high-res MQA, FLAC, WAV, and AIFF files

color touchscreen display
supports voice control with Amazon Alexa and Google Assistant devices
BluOS compatibility for further expansion with Bluesound wireless speakers
built-in two-way Bluetooth® with aptX HD

receiver mode for playing sources wirelessly
headphone mode for listening on Bluetooth headphones

connects to your home network via built-in dual-band Wi-Fi® or wired Ethernet for music streaming

includes support for Amazon Music Unlimited, Spotify®, TIDAL, Napster, Deezer, Qobuz and more (subscription required for some services)
free internet radio from TuneIn Radio and iHeartRadio

Apple® AirPlay® 2 lets you stream directly from an iPhone® or iPad® and ask Siri to play Apple Music

free BluOS controller app for iOS®, Android™, Windows, and Mac OS X

built-in Dirac Live room correction with included calibration microphone improves clarity and stereo imaging
PRODUCT DETAILS
Allow sensational musical moments to live on in the comfort of your own home with the revolutionary EPICON 6. Designed to make a lasting impression, the exterior of the loudspeaker is as captivating to the eye as the sound is to the ear.
The backbone of EPICON 6 is DALI's new driver technology. Featuring two 6 ½" bass woofers, the unique Linear Drive Magnet System as well as the breakthrough ribbon/soft dome hybrid tweeter the sound breaks with traditional loudspeaker conventions.
The EPICON 6 relies on a 2½-way system as – compared to the EPICON 2 – it features an additional woofer kicking in below 600Hz. However, for the highest frequencies the EPICON 6 also incorporates a ribbon tweeter as part of the hybrid tweeter, in reality turning the speaker into a '2½ + ½-way' construction.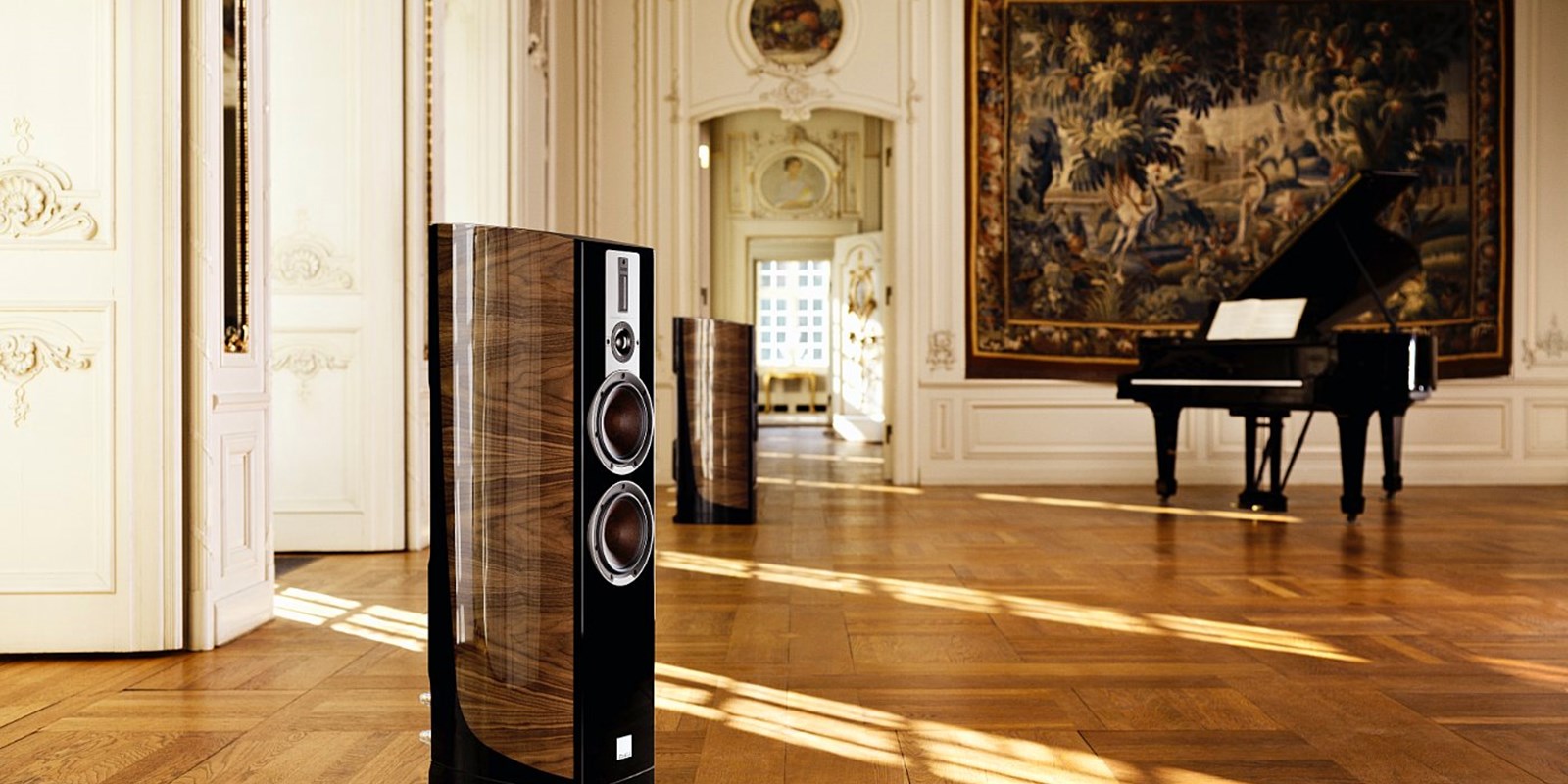 member since May 2011
Home Theater Design & Installations Verified Dealer
| | | |
| --- | --- | --- |
| Last 12 months | 3 | 100.0% |
| All-time | 126 | 100.0% |
Items from this seller