Sorry, this listing has ended.
You may like one of these similar items:
---
SuperCharge your EtherREGEN by UpTone Audio with an AfterDark Master Clock - Stereotimes call its " The BEST UPGRADE available today" [Expired]
---
---


AfterDark PROJECT CLAYX GIESEMANN OCXO 10MHz Queen Master Reference Clock
$565.00
https://ctronicmusic.com/shop/ols/products/afterdark-project-clayx-giesemann-ocxo-10mhz-reference-master-clock
AfterDark PROJECT CLAY X GIESEMANN OCXO 10MHz EMPREOR SIGNATURE Reference Master Clock $885.00 
https://ctronicmusic.com/shop/ols/products/afterdark-project-clay-x-giesemann-ocxo-10mhz-empreor-signature-reference-master-clock
AfterDark BLACK MODERNIZE LPS X 2 GIESEMANN OCXO 10M EDITION $265.00 
https://ctronicmusic.com/shop/ols/products/afterdark-black-modernize-lps-x-giesemann-ocxo-10m-edition
AfterDark BLACK MODERNIZE LPS X 2 GIESEMANN OCXO 10M EDITION- HIGH CURRENT VERSION $485.00
https://ctronicmusic.com/shop/ols/products/afterdark-black-modernize-linear-power-supply-high-current-version
AfterDark PROJECT CLAYX Eva Reference Carbon Fiber Woven 75 Ω BNC Master Clock Cable 0.5M $385.00
https://ctronicmusic.com/shop/ols/products/xn-afterdark-project-clayx-black-river-carbon-fiber-woven-75-bnc-master-clock-cable-cm08c
Master Clocks - The EtherREGEN - The Home Audio Network
CTronic Music of Boston is the North American Distributor for AfterDark Audio Technology Products and Services. We are proud to offer their full line of OCXO Master Clocks, Linear Power Supplies and numerous network based hi-end audio devices. We are a full service distributor and partner with AfterDark handling all their product, marketing, sales, warranty and service inquiries for North America, Europe and Africa. Our corporate offices and warranty service facility is located in Danvers, Massachusetts on Boston's North Shore. 


These incredible audio devices have exploded onto the US audio scene. Offering true, reference level performance at prices formerly unimaginable. The Editors of Stereotimes and other well-known magazines in the UK, Germany, France and Italy have all requested demo units. The secret is out, nothing comes close to delivering this level of audio improvement. Plug this master clock into your Uptone Audio EtherREGEN and prepare to have your mind blown! 


We guarantee it or your money back!


None of us involved in hi-end audio be it any of the OEMs, dealers, distributors or even the super knowledgeable audiophiles fully understood just how much audio improvement was available to us via our own home audio networks? 


We just didn't know and honestly how could we have known? 


Many of todays Hi Fi audio devices such as streamers, network players and DAC's already perform many of the requisite duties of cleaning, re-clocking and making the bits from our home audio network sound great. The home audio network just wasn't something anyone was looking at real closely. We thought everything was fine. In fairness, why would we have not? Our systems sounded great? It just wasn't in our audio upgrade consciousness. 


We were focused on DAC chips and all the new emerging network based devices themselves but the network as its own discrete, individual entity 
was not yet on our radars. We know now this was a mistake but we didn't know that at the time. Hindsight is always 20/20! 


As network based streaming audio gained in popularity we naturally started to look at the network more closely. We started with the simple and most obvious upgrades such as improving our Ethernet cables and removing all the SMPS (wall warts) from our audio systems. We replaced the wall warts with linear power supplies. These changes seemed to help. In some cases we even added an upgraded or modified network switch and this seemed to push the performance even further. The important point to take out of this is the network was finally a legitimate area of focus. We were learning that we could obtain meaningful audio improvement from improving our home network. Truth be told these changes were just starting to scratch the surface. Real innovation is what drives real change in the audio industry and real innovation was just around the corner. 


The real change started to happen with the introduction of the outstanding Uptone Audio EtherREGEN. Alex Crespi and John Swenson, a couple of the audio industry's brightest stars created a device that truly makes a significant difference. There was nothing else out there quite like it. It is a legitimate ground breaking device. Not only does the Uptone Audio EtherREGEN do a much better job at cleaning and re-clocking our home audio networks, they had the foresight to include a BNC Clock input. This input allows the EtherREGEN's internal clock to be bypassed so it can accept a much more powerful 10MHz signal from an OCXO Master Clock. This changed everything. It was an absolute game changer! Make no doubt about it streaming audio will never be same!  


The EtherREGEN's true brilliance was unleashed with a vengeance when it was tethered to a powerful master clock. The two working in tandem blew the boundaries wide open of what was thought possible. No one had any idea this combo could improve our systems like this! It is unreal!    


When you insert an industrial strength oven controlled crystal oscillator into your home audio network that would normally be found in a high tech manufacturing environment the impact on streaming audio is just breathtaking! An OCXO Master Clock is an incredibly powerful device. One much-much more powerful then our home network requires to work properly. That is the catch. We just didn't know. What the network requires to work properly and what is the best for streaming audio are two very different things. So much more so than anyone ever knew! It was a true eye opener.


This in many ways is a true learning event for the audio industry. Employing this level of concentrated timing precision and accuracy has never been attempted like this before. The more precise and accurate the timing the more it sounds like analog. In this unique situation using a much more powerful timing device you would think it would sound more like better digital. That the sound would be cleaner, quicker, sharper and more dynamic. This is not the case. It sounds more natural and organic, more relaxed. The music sounds closer, more intimate, more delicate with some natural warmth while being more transparent with heft. It's totally different from what past experience has taught us. This hyper-clocked sound it addictive. It sounds like your listening to a better recoding. It strips off layer after layer and reveals a level transparency that heightens the entire musical event. Everything becomes closer and fuller like that of a master tape. It is digital music that doesn't sound like digital. It sounds like analogue, very good analog.  


Folks that have bought our master clocks and attached them to their EtherREGEN's ask me how I am the only one doing this. They are amazed. Asking why isn't this on the cover of Stereophile? My response is simple. Because it's brand new, it an emerging technology, out on the bleeding edge but folks are starting to learn and learn quickly. 
Read the Stereotimes review he can't believe it. He was blown away! 


The combination of these unique, specialty devices (EtherREGEN & Queen Master Clock) each performing their own very specific role allows digital audio to hit its true potential. This is digital audio at its very best. There isn't a CD player or SACD player on the planet that can compete with this. I don't care what they cost. This tech has made more then a few high end audio items obsolete. 


Prepare to have your mind blown! 

We are just so thrilled with the customer feedback coming in.
Our UIO (units in operation) is growing and quickly. Many 
folks have been kind enough to share their 
thoughts and experience with us.  


Below is a few snippets from the emails, texts and messages: 


Frank this sounds amazing, unbelievable, how is this possible, can't believe it, thank you Frank, OMG are you serious, unreal, draw dropping, Frank you undersold it and what you wrote was borderline silly, unbelievable, absurdly good, I would pay $10,000 for this, Frank I never thought this was possible, I thought you were over exaggerating, 
just astonishing, shocking, Flabbergasted and this list goes on. I am going to ask folks 
if I can share their full emails and texts to make it easier but honestly every single person 
says the same thing. 

They all say: 
It is so much better than I thought it would be. 
 
The concept behind mastering the network-based time domain is grounded in solid science, it is measurable and verifiable. Yet it runs contrary to how audio upgrades paths have traditionally come forth. The bottom line is this kind of increased sound quality has 
always cost a lot more money! Much more!

Not only is this an incredible upgrade standing on its own, but it is disproportionately inexpensive. If we based our prices on actual audio improvement our prices would increase 10-fold. The good news our products price for performance are industry bests and we only charge based on the device. This combination of very different, specialty devices has produced a result that has far exceeded what anyone thought possible. Our devices along with those of our friends and colleagues over at Uptown Audio are the best bang for buck components you can buy on the market today bar none!  Our Master Clocks and Linear Power Supplies vastly improve upon the excellent Uptone Audio EtherREGEN! You just cannot get this kind of Improvement anywhere else.   

Featured: AfterDark Project CLAY GIESEMANN OCXO Queen Master Clock is an audiophile-grade reference master clock that generates 10MHz signals with vanishingly low jitter to considerably enhance digital playback systems with remarkable clarity and dynamics. The Queen Master unlocks the transparency and full dynamic range of your soundstage with incredible dimensionality and detail, free from digital blurring. Ideal for high-end studios, mastering suites, and home Hi Fi audio playback systems, the Queen Master delivers the precision and audio purity your digital playback chain has been missing. 
We believe and the test data shows one of the most commonly under-resourced yet critically important aspects in the audio chain is the network time domain. Mastering the network time domain and how it relates to the overall quality of the musical presentation has not been thoroughly exhausted or solved up until this point. Not until now that is. This combo changes everything! It's impact will change your system like nothing.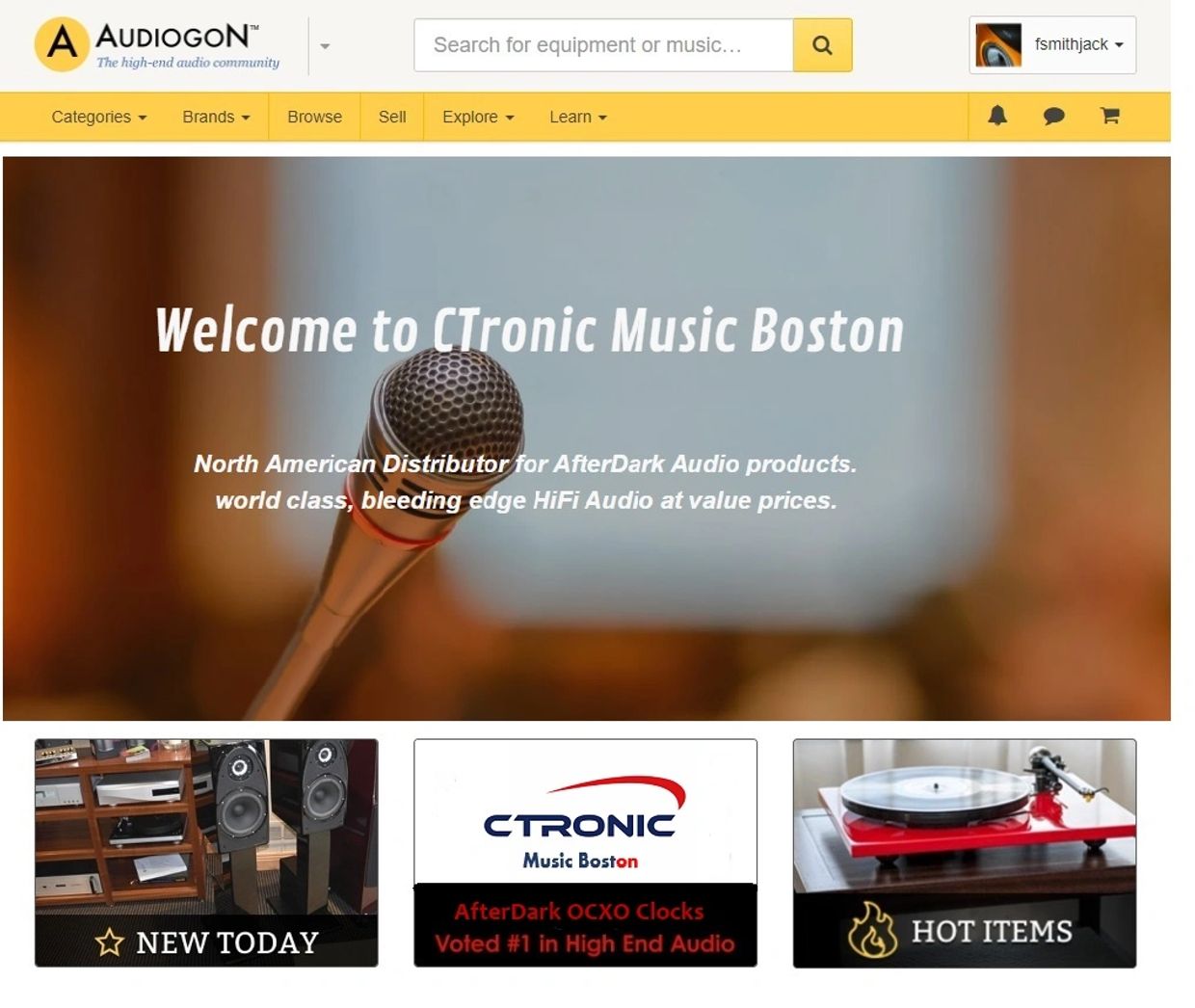 OCXO Master Clocks and Linear Power Supplies x 2
The combination of a world class OCXO master clock and clean power from a robust linear power supply attached to an Uptone Audio EtherRegen will transform your Hi Fi system like nothing you have ever experienced before. Our listening tests combined with overwhelmingly positive consumer feedback confirms this is the best bang for buck upgrade you can make. It is the missing link in todays, modern, Ethernet based Hi Fi systems. We have solved this riddle and bring you this remarkable upgrade at attainable, real world value prices.

LEARN MORE



Stereotimes Senior Editor on his Audio Review
Senior Editor for Stereotimes: 
Sneak Peek
Snippets and paraphrase from Stereotimes Brand-New Professional Audio Review  

An All-Out Assault on Jitter

I absolutely loved the AfterDark OCXO Clock, Linear Power Supply, and Black River BNC digital cable products so much for what it does in my system. The improvement in my system was profound. It transformed my digital front end in ways I had not experienced  before even by those that cost much more.
It all came together recently since I bypassed the internal clock in the EtherRegen with the AfterDark OCXO Clock.

It clearly demonstrated how important the accuracy of the time domain has on our home Ethernet network in the reproduction of music. With the significant reduction in digital artifacts, transients were reconstructed with superior stability and rhythmic integrity, presenting individual instrumental attacks with remarkable clarity. The music's overall pace and timing became more natural with AfterDark Clock, Linear Power Supply, and Black River BNC digital cable installed.

Once I swapped these into my system, I was hearing things I had not heard before. I was hearing further into the recording, appreciating a surprisingly large increase in microdynamic contrasts and bass articulation. The double bass response was tighter and displayed significantly less overhang.

The piano displayed a greater sense of space and depth within the soundstage and possessed a more natural tone. I also heard a greater weight of the piano, enhanced pitch definition and more complex textures from the double bass. The improvement in my system was profound in ways not achieved by tweaks, isolation, cables, etc; the impact of a dedicated clocking system was shown to be at the heart of digital reproduction.

There was also added weight to the music while the music took on a greater sense of realism. Given the added sense of space with nothing between you and the music, I had no thoughts of going back to the internal clock in my EtherRegen. My digital front end was transformed. The value for the dollar of this upgrade is in the absolute upper echelon of upgrades you can make. I loved the AfterDark products.

I immediately purchased the review samples.

My highest recommendation.

Senior Editor of Stereotimes Magazine

The AfterDark Queen Master
Today's available digital converters, clocks, and audio re-clockers perform acceptably well reproducing or processing digital audio. Even so, we at AfterDark along with our North American partners on the Charles River, Ctronic Music Boston felt the existing products that enhance digital playback, OCXO clocks and linear power supply solutions are way overpriced. We knew we could bring a line of products to market at a much lower price while substantially increasing digital playback performance. Just look at how exceptionally well our products measure and the subjective consumer and reviewer response has been nothing short of astounding.  
We are proud to offer this high fidelity, precision audio device at an unrivaled price. The performance per dollar cannot be matched. It has made traditional audio upgrades obsolete. You do not want to spend money on any traditional upgrade before you add an Uptone Audio EtherRegen and the Queen Master. If needed the Queen Masters side kick the LPS x 2 if you do not already own an LPS. They make humble audio systems dramatically better, and they make ambitious system improve a great deal as well. It is a very satisfying product offering.    
In our commitment to advancing the state of the art and science we set out to investigate the possibilities to further enhance the performance of digital audio systems. To do so, our R&D team set out to build the very best clock we could. That ended up being the Emperor Giesemann EVA clock. This clock measures Phase
[email protected]
10Hz -145 and Phase
[email protected]
1 -121. The Emperor Giesemann EVA is the clock we worked from to develop the Queen Master. The Queen Master reflects many of the lessons learned and employs much of the same technology as The Emperor Giesemann EVA.
The AfterDark R&D team developed a master clock generator with a technical performance beyond what we thought was possible for the price. The result of the Queen Masters performance was then verified by a group of experienced audiophile beta testers to ensure the hard work translated into best-in-class sound.
The end result of our extensive efforts is the Queen Master: a superior 10 MHz reference master clock with a price to performance ratio unrivaled anywhere combining uncompromising engineering with the beauty of simplicity and the utmost clock precision.
Linear Power Supply x 2
A well laid-out main linear power supply constitutes the basis for exceptional high-end product performance. To meet this requirement, we specifically designed for the Queen Master a dual rail linear power supply based on a Nuvotem Talema Encapsulated Transformer: 25VA with Fast Acting Fuse Protection. It features two simultaneously driven voltage output jacks to power both the Queen Master and the Uptone Audio EtherREGEN. It provides Phillips BC 2200uf/25v x 4 Reservoir Caps, total of 8800uf and AC Noise Filter: UK RIFA RFI Suppression Caps & Noise Filter for the best suppression for the supply voltages. The Incoming AC: Japan Made EDK Switch / Furutech IEC and Schurter Gold Fuse for Audio Optimization, High Speed Rectifier with RIFA 0.1uf Bypass Caps. It has Phillips 1% Precision Resistors, Panasonic FC 120uf, 390uf Decoupling Caps, Mexico Made premium Inductors and Analog Device OP177 for Voltage Error Feedback Compensation and a Toshiba Pass Power Transistor. It is housed in a high-quality Integrated Aluminum Heat-sink chassis with premium Carbon Fiber 6mm/1mm Front & Back Plates. This premium, quiet power supply is the perfect partner for your Queen master and Uptone EtherRegen. You choose a fixed voltage that is the same for both rails from Voltage Ratings: 5VDC/3.5A, 9VDC/2.5A, 12VDC/2A, 19VDC/1.5A, 24VDC/1A. Default is 12VDC/2A.    
https://ctronicmusic.com/
member since January 2013
| | | |
| --- | --- | --- |
| Last 12 months | 21 | 100.0% |
| All-time | 447 | 100.0% |
Items from this seller