Sorry, this listing has ended.
You may like one of these similar items:
---
Graham Slee Revelation C [Expired]
---
---
Suitable Cartridges
The Reflex C is suited to low output moving coil (MC) with output in the region of 0.2 - 1.0 mV (ref 1kHz at 5cm/sec)
Cartridges having lower outputs may be used if you accept the risk of hearing more hiss than you may be comfortable with.
Your amplifier's volume control is intended to be set to give you the loudness you want and should be adjusted accordingly. With the lowest output cartridges you will need to turn the volume control higher than you would use with other sources such as a CD player.


ncludes upgraded power supply/ PSU. A must for any serious record collector. It's quite amazing how they can make early LPs and 78 rpm records sound as tonally balanced and fresh as some of todays modern vinyl records.

Three 3-way switches provide a matrix of equalisation curves covering virtually all electric phonograph records ever released, including today's modern RIAA pressings.
Features
The right equalisation easily selected on a matrix of three 3-way front panel switches
Reflex flagship performance in RIAA mode
Rear panel mono-sum selector switch (centre: stereo; up or down: mono)
Fast-Active preamp and equalisation technology
Latest innovative Ultra-Linear technique
Inherent reduced vinyl click and pop characteristic
Rock steady sound stage and truly 3D performance from modern vinyl
Moving Magnet and Moving Coil sensitivity versions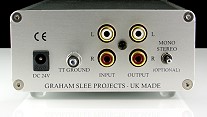 Specifications
Input range: 0.2mV to 1.0mV
Output (for input range): 252mV to 1,260mV (1.26V)
Maximum input: 3.9mV rms
Maximum output: 4.914V rms
Gain: 62dB (1,260) at 1kHz
Input impedance: 100 Ohms
Output (driving/source) impedance: 1k Ohm
Recommended load impedance: 10k Ohm or greater
Noise at output: -62dB CCIR Q-pk
Equivalent input noise (EIN): -124dB
Distortion: 0.02%
RIAA accuracy: <0.5dB
Frequency response: 20Hz - 200kHz (flat, corrected to RIAA)
Channel balance: 0.2dB
Channel separation: 64dB
Size: (approx.) W: 107 x H: 50 x D: 180 (mm) inc. jack
| | | |
| --- | --- | --- |
| Last 12 months | 63 | 100.0% |
| All-time | 240 | 100.0% |
Items from this seller