Sorry, this listing has ended.
You may like one of these similar items:
---
Locus Design Axis USB cable 1 meter [Expired]
---
---
Locus Design Axis USB cable as new in a 1 meter digital cable.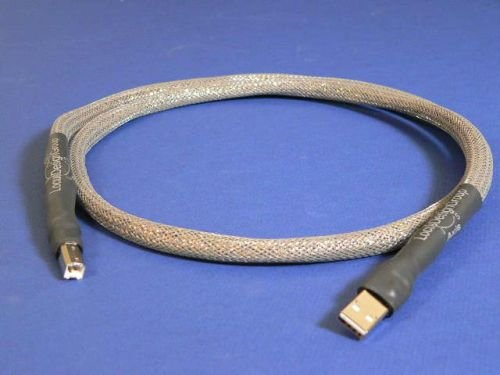 See Home page at: https://www.audiosurroundings.com/store.php/Ericlove/pd9847843/locus-design-axis-usb-cable



Locus Design says:

This is not a reworking of an existing cheap mass produced USB cable, the Axis is a true audiophile grade product, constructed one at a time.
In order to set a new standard of performance, this is an entirely new design, utilizing my custom manufactured DCT-OFC wire. Drawn, tempered, and insulated to my specs's this wire also boasts as integral part of the manufacturing process is our world renowned CryoFreeze? process, an exclusive to Locus Design/CryoParts.



Close attention is paid to mitigating mechanical noise and triboelectric effects. The core of the Axis USB is a special braid of ultra pure DCt-ofc conductors and Teflon air tubes this precise, reproducable, and expensive computer controlled braid is proprietary and only available from Locus Design. This remarkable geometry is designed to mitigate degradation and interference with/to/of the data and VDC lines of the USB signal.



For the Axis USB, we have have developed a new special shielding comprised of a tinned copper weave and strategic use of ERS fabric. This shielding and damping is designed to isolate the data and VDC lines from any external influence, be it mechanical or electrical. This shielding technique is unique to Locus Design.



Most USB cables are shielded (if they are not, they SHOULD be), however it is very rare indeed to find a USB cable that isolates the data lines from the voltage lines. We pioneered our novel approach of isolating the +/- data lines from the +/- VDC lines with the Axis USB cable.



=====================================================================
It is best to call David and visit: www.weinhartdesign.com with questions

in Los Angeles Showroom 310-472-8880 or on my cell after hours and

weekends 310-927-2260 any time from 10AM - 10PM.


Weinhart Design has lots of other items new and used and if you're in Los

Angeles or visiting please accept my invitation to experience our World

Class Audio Showroom and please visit our web site @

www.weinhartdesign.com



We are always interested in purchasing quality Audio and Video items, LP collections and most quality trades are welcomed.
All sales out of California are State Sales Tax exempt.
California State Sales Tax of 9.5% applies for items picked up or shipped to a California address.



We accept payments by Bank Wire Transfers without fees and is the only

form of payment on all sales out of the U.S. and Canada. We prefer this

method of payment and also makes shipping to addresses other than

billing agreeable.
VISA, MC and Papal are gladly accepted within the U.S. and Canada as long as the charge is approved and shipping to the billing address on record and adds 3% to cover costs for VISA or MC best to call David.



Please call me directly in my world class showroom in Los Angeles weekdays @

310-472-8880 or any reasonable time on my cell including weekends @

310-927-2260 and I can answer your questions and help you with all of

your new and pre owned needs.
More special Items from this seller or go to our web site: www.weinhartdesign.com

Weinhart Design The AV Experts Audiogon E-STORE


Changing the Way You Listen,





David Weinhart

Weinhart Design, Inc.

President & CEO

[email protected]

www.weinhartdesign.com

The Audio and Video Expert

2337 Roscomare Road, Studio #1

Los Angeles, California 90077

Showroom) 310-472-8880

Cell) 310-927-2260
member since February 2006
Weinhart Design Verified Dealer
| | | |
| --- | --- | --- |
| Last 12 months | 153 | 100.0% |
| All-time | 2715 | 99.5% |
Items from this seller