Sorry, this listing has ended.
You may like one of these similar items:
---
High Fidelity Cables: Reveal XLR Interconnects Pair - 16 Feet - Over 50% Off - MSRP $3,499.00 - Same as NEW - Trades Accepted [Expired]
---
---


High Fidelity Cables Reveal XLR Interconnects for over 50% OFF - 16 Feet Long - MSRP $3,499.00. Same as Brand New - Not even broken in - these are special ordered 16 Foot versions. This is about what you would pay for only a regular 1- Meter pair. Huge savings for someone that wants or could use a longer pair of reference level Interconnects. They come as they new in the rugged OEM hard plastic carrying case.
Trades are accepted



These are insanely good. For my system these longer IC cables are not required but if you could use the extra length or just want an amazing pair reference IC's that also offer flexibility then you will love these. They sound fantastic and are new / mint. I use Nordost Frey 2 in my reference system and these are much better.
I'm an very impressed with these cables. I tested them in my reference system: Ypsilon Phaethon Integrated, Bricasti M1SE MDx DAC w/Network Card, Antipodes S40 Server / Antipodes S60 Power Supply, Focal Sopra Speakers and Nordost Frey 2 SC's and XLR IC's and all Tara Labs The One Power Cords and I was very impressed.
Part of me wants to keep them but I have other priorities. They are incredibly open and transparent cable with some nice warmth to them. Great extension. Rare to offer both but they do. They are a very refined and sophisticated sounding cable. The bass caught me off guard. It is quick, tight and full, even a little rich which with the increased speed does wonders for a system. It felt quicker and a bit fuller and warmer. I knew if I kept in my system more then a short time they would never leave but I only need 1.0M so its a waist for a such an amazing and long cable when not needed. Trust me these are absolutely fantastic sounding cables.They give 90% of their $20,000 cables, They have a unique and quite expensive approach to cable construction and the build is as impressive as I have ever seen. You will love these cables and honestly at this price you can't go wrong. They will be worth this or more in 5 years so they are a steal. I took on trade for a great price and just passing it on. At this price they are the best cable value deal on Audiogon.





Comes same as new in that I took these in as trade in 's but don't need this length for my reference system. Huge savings on a true reference level XLR Interconnect 50% off retail price is an unreal value.

https://ctronicmusic.com/

I am the Owner of CTronic Music Boston - Distributor for AfterDark Audio. I took these in on trade toward a Master Clock and Linear Supply that my customer plugged into his UpTone Audio EtherREGEN. He absolutely loves it and these cables are absolutely fantastic, new he just has a lot of gear and cables I took these as a trade!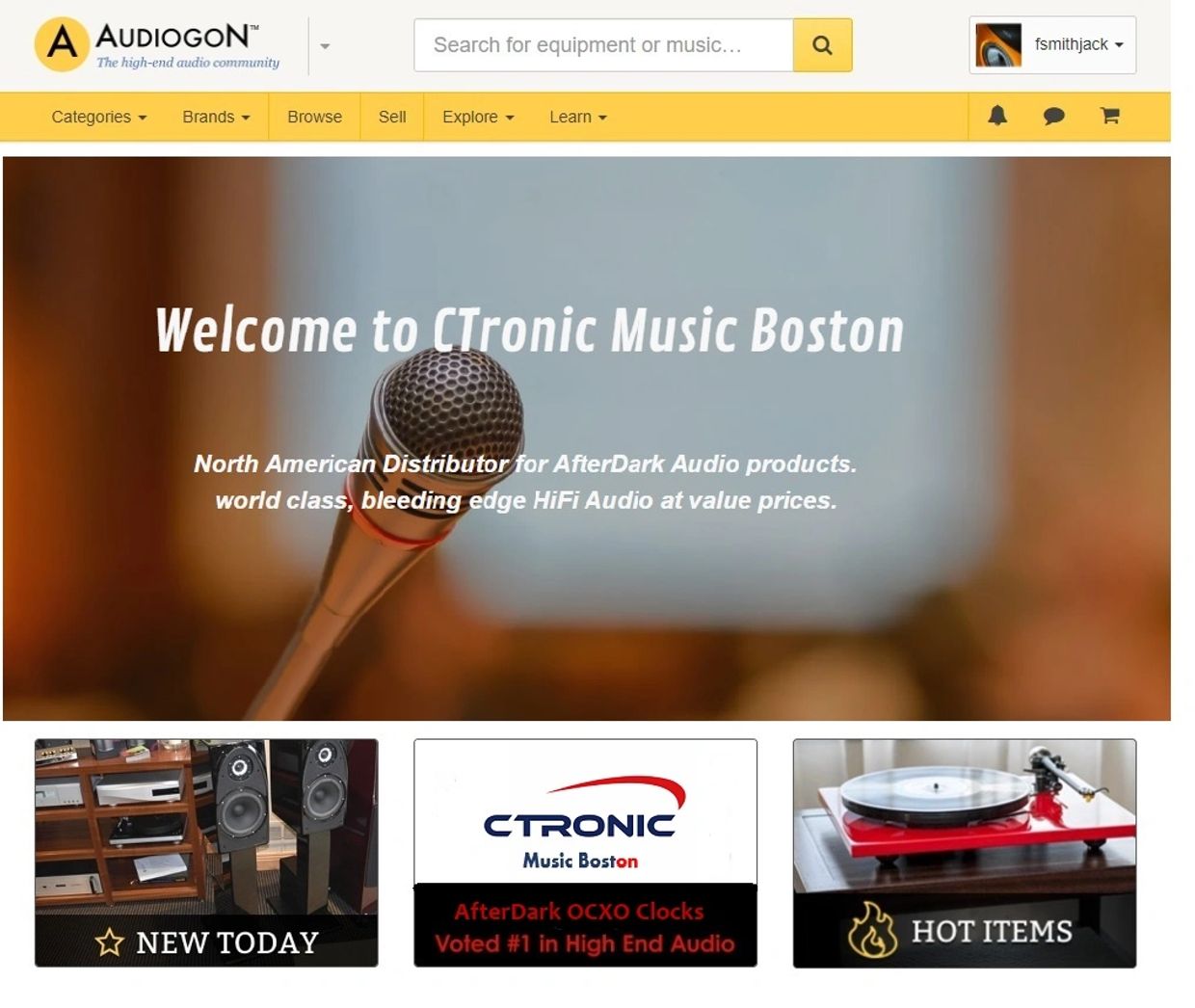 member since January 2013
| | | |
| --- | --- | --- |
| Last 12 months | 24 | 100.0% |
| All-time | 480 | 100.0% |
Items from this seller