Sorry, this listing has ended.
You may like one of these similar items:
---
LKV Research - Veros PWR+ - Stereo Amplifier - 12 Months Interest Free Financing Available!!! BTC Now Accepted!!! [Expired]
---
---
Offered for sale is a LKV Research Veros PWR+ Solid State Stereo Amplifier in Very Good condition. This amplifier is a recent trade-in from a customer in the process of a full system upgrade. The amplifier comes in Original Box and will be shipped via freight strapped to a skid and shrink wrapped to ensure it arrives in perfect condition to its new owner.

INTEREST FREE FINANCE OPPORTUNITY: Next Level HiFi Is Now Offering 12 Months Interest Free Financing, To Approved Credit, On This Listing!!!

BITCOIN: Next Level HiFi Is Now Pleased To Offer Acceptance Of Bitcoin (BTC) Payment.

Read below for more information on the Veros PWR+ from LKV Research's web site.
_________________________
Advancing Amplification
Class A + Class D
The Pinnacle for Sound
A Common Question:
When will Class D surpass Class A in a power amp?
The Better Question:
When will an audiophile Class A input connect to audiophile Class D output?
Now!
LKV Research has refined its AZF circuit for the Purifi Eigentakt (1ET400A), providing sublime Class A amplifier input with superb Class D output, which together mold and grip a speaker's drivers. The
Veros PWR+
delivers the high fidelity you've desired and sought.
400 Watts in 4 ohms
Fast Response to Transients
Class D Output
Exceptional Frequency Response
Appropriate Damping
Small Carbon Footprint
Dual-Mono, Balanced Topology
Minimized Crosstalk
AZF Input Circuit
Exceedingly Low Noise
Short Signal Path
Differential (Balanced), not Single-Ended
Minimize All Distortion Sources
Zero Feedback
Discrete, Matched Components
76 JFETS
Polypropylene Capacitors
No Electrolytics in Signal Path
Tight Tolerance Resistors

LKV Research - Precision Instruments
Precise or Robust.
Phone engineers in the 1920s sought the smallest bandwidth for intelligibility which allowed analog signals to repeat consistently throughout the world, no matter the situation, no matter the variation in components. Feedback makes the phone network robust, but not music.
Audiophiles demand precision,
listening to the entire audible spectrum with as little noise and distortion as possible. When designed correctly with differential amplification (aka balanced), zero feedback circuits provide the shortest signal paths to minimize multiple noise and distortion factors, not just THD. LKV Research's
AZF
short signal path, gain circuit delivers extremely quiet amplification from phono stages through the first power stage for precision listening.
The physical realities of loudspeakers require different solutions. Speakers have low impedances of 2 to 8 ohms and vary with frequency. To provide consistent voltage drive to the loudspeaker, power amps must use feedback to maintain extremely low output impedance. Class D amps have had a reputation for unsatisfying high frequency sound. But that changed with the advent of Hypex NCore Class D high-current modules, designed by the genius of Bruno Putzeys. NCores use an innovative feedback loop to maintain constant feedback levels throughout the audio spectrum. High frequency sound is sweet and airy. Bill Hutchins, the chief designer of LKV Research, combined a linear power supply with an optimized AZF circuit for the NCore's input. The Veros PWR+ was created for both RCA and XLR inputs.
LKV Research's Veros PWR+ combined the expertise gained from designing the Veros phono stage for low-output moving coils (0.1 mV) with the output circuitry of the NCore 500. As a precision instrument built with 76 matched JFETs. The Veros PWR+ truly rivals all audiophile power amplifiers.
Zero feedback for precision requires differential (balanced) amplification to reject noise, short signal paths to slash picking up noise, matched FETs, polypropylene capacitors, metal-film resistors, HEXFRED diodes, no op-amps to prevent distortion, and dual-mono topology to minimize crosstalk. The resulting ultralow noise floor from the AZF gain circuit provides a dramatic S/N ratio.

Accuracy means driving your loudspeakers without adding problems.
LKV Research builds sophisticated, precision instruments for your listening ease. The LKV Veros phono, line, and power components provide exceptional audiophile clarity; especially when connected with XLR cables. Please see our website and designer's blog for details and to purchase electronics that deliver on their promise.
Veros PWR+ Preliminary Specifications
Power Output @ 1% Total Harmonic Distortion, THD:
2 Ohm Load – 220 Watts
4 Ohm Load – 400 Watts
8 Ohm Load – 200 Watts
Performance, 4 Ω Load
Frequency Response:
20 Hz – 20 kHz: +/- 0.039 dB
Intermodulation Distortion SMPTE (8 Ω):
1 Watt: -97 dB
10 Watts: -90 dB
50 Watts: -76 dB
100 Watts: -70 dB
Total Harmonic Distortion at 1 kHz:
1 Watt: 0.0007%
10 Watts: 0.001%
50 Watts: 0.005%
100 Watts: 0.11%
Signal/Noise Ratio, 20 Hz to 20 KHz, no weighting:
1 Watt output: 88 dB
10 Watt output: 97 dB
50 Watt output: 105 dB
100 Watt output: 107 dB
Interchannel Crosstalk, 2 KHz, one channel driven:
Sensitivity, input for full power:
Input Impedance:
200 kΩ Single-Ended (RCA)
400 kΩ Balanced (XLR)
Output Impedance:
Dimensions:
W: 43 cm, D: 43 cm, H 21 cm
Allow 5 cm Left/Right and Top for cooling
23 kg
W: 17 inches, D: 17 inches, H: 8 inches
Allow 2 inches Left/Right and Top for cooling
50 pounds
LKV Veros PWR+ power amplifier
Herb Reichert
| Aug 18, 2020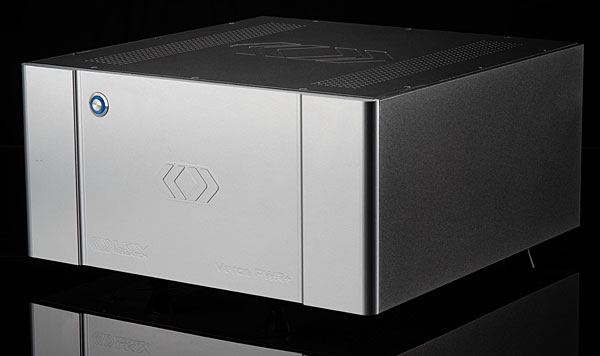 As much as I admire Belgian amplifier designer Bruno Putzeys's accomplishments, I have harbored some misgivings about class-D amplifier sound. I do not believe it represents the future of perfectionist audio. Despite the fact that today's active loudspeakers depend entirely on class-D's free horsepower, light weight, and low-temperature operation, I think it sounds vacant compared to class-A. Class-D's primary engineering virtues are its extreme power-to-weight ratio and power-efficiency, as well as its high damping factor. Class-D's chief audiophile virtue is its uncanny transparency, especially in the six lowest octaves, ie, below 1.3kHz. When I listen to good class-D (with a fat, stable linear power supply), I feel like I am gazing into a clear, glass-smooth pond. I can see all the way to the bottom. But (sigh) there are no fish in the pond.
As you already know, I am the Prince of Serendip. For this month I discovered, almost by accident, a power amplifier that puts live fish (and tadpoles and turtles) into a class-D amplifier pond.
The amp I've stumbled on is LKV Research's $10,000 Veros PWR+ stereo amplifier. I first experienced it at Capital Audiofest 2019, where the sound in the LKV room—with the Sonner Audio Legato Unum loudspeakers—struck a remarkable balance between analytical and romantic. I knew something unusually good must be causing that. After a long audition, I told LKV Research's chief-of-everything, Bill Hutchins, that I thought his Veros PWR+ amp sounded more class-A than class-D and asked, may I please review it?
Description
I went to the LKV Research website and clicked Products, then "Veros PWR+ Power Amplifier." The first words I read were: "The Most Musically Accurate Power Amplifier Output Stage Available." I stopped, read it again, then smirked at the expression "musically accurate." I am pretty sure the author is trying to celebrate the fact that LKV Research founder Bill Hutchins uses Purifi Audio's 1ET400A class-D power amplifier modules, designed by Bruno Putzeys. Further down the webpage, the author states that in the Veros PWR+, the 1ET400A modules are driven by a voltage amplifier stage consisting of differential pairs of matched JFETS operated in class-A with no feedback and current-source biasing.
The Veros PWR+ stereo power amplifier is specified to deliver 200Wpc into 8 ohms, 400Wpc into 4 ohms, and 220Wpc into 2 ohms, the maximum power assessed at 1% THD.
A little farther down, the author explains that the Veros PWR+ is equipped with a linear power supply energized by three toroidal power transformers. A 1kVA mains transformer, weighing over 12lb, provides abundant current to the class-D output stage. A second, smaller toroid powers a "floating" +15V DC source that feeds the driver circuitry in the Purifi module. A third toroid "feeds the class-A input/gain/driver stages." All that heavy coiled wire is bolted inside a thick aluminum chassis. The Veros PWR+ weighs 50lb.
The chassis front is plain, with only the LKV logo and an illuminated power button. The rear is nondescript, with an IEC power socket, a screw-in fuse holder, a pair of WBT binding posts, a pair of single-ended RCA inputs, a pair of balanced XLR inputs, and a pair of minitoggles for switching between balanced and single-ended operation. The Veros PWR+ is hand-built by Bill Hutchins in North Conway, New Hampshire.
Setup
At first, I positioned the Veros PWR+ amplifier on the suspended hardwood floor in front of my equipment rack and connected it to my Magnepan .7panel speakers with Cardas Clear Cygnus loudspeaker cable. I hooked it up to my Rogue Audio RP-7 preamp with Cardas Clear Cygnus interconnect. Straight out of the box, the LKV amp sounded fast, liquid, warm, and inviting, just as I remembered it from Capital Audiofest.
The next day, between music tracks, in the midst of pandemic-shutdown silence, I noticed a faint Lutron-dimmer– type buzz that seemed to be emanating from the LKV's chassis. Checking first for hum, I put my ears to the speaker panels and heard only silence. When I examined the chassis with my stethoscope, I realized the sound was originating from behind the front panel, where the 1kVA transformer is bolted. I presumed the buzz was caused by the natural magnetostriction of the transformer coils being amplified by the amp's chassis and the diaphragm of my 1920s wood floor.
Seeking a quick cure, I placed the Veros PWR+ on a Harmonic Resolution Systems M3X-1719-AMG GR LF isolation platform, whereupon the buzz was reduced to a point of serene inaudibility. With the LKV amp on the HRS platform, the sound of music recordings became noticeably purer, with sharper focus. A few days later, on a whim, I switched from the LKV-supplied generic power cord to an AudioQuest Tornado cord, which added bass punch, presence, sharper focus, and more silent silence.
Eriks Ešenvalds's Translations (24/96 FLAC Naxos/Qobuz) is a high–dynamic-range recording with extended passages of extreme quiet. The added silence and clarity produced by these two (not-inexpensive) audiophile "accessories" increased my ability to observe, in a relaxed, focused manner, the nuanced inner workings of the Ethan Sperry–conducted Portland State Chamber Choir (footnote 1).
Listening
John Atkinson knew, as he was recording it, that this Eriks Ešenvalds Translations album would rev me up and engage me on a multitude of levels. He knew I'd recognize the nature poet in Eriks Ešenvalds's compositions. And of course he knows how I relish the sound of choirs in sacred spaces and their vibrating masses of air. He knew how much I enjoyed his previous recording with Erick Lichte (producer) and Ethan Sperry conducting the Portland State Chamber Choir on Eriks Ešenvalds's The Doors of Heaven (24/88.2 FLAC Naxos/Qobuz).
From the Qobuz liner notes: "The Oregon Poet Laureate Paulann Petersen, whose poetry is set on the first two tracks of Translations, stated: 'Art is translation. Art translates mystery for us without destroying that mystery.'" On this recording, "translates mystery without destroying that mystery" describes very well the serene, humanist spirit conductor Ethan Sperry elicited from his choir as well as the spatial acuity of Atkinson's six-microphone recording. Everyone involved with the Translations project apparently demonstrated proper respect for choral sound, church chapel sound, and the intensity of Ešenvalds's art. That respect makes this Naxos recording a gift to the ear and a sacred inspiration.
The LKV Research Veros PWR+, powering the Magnepan.7 quasi-ribbon panels, exposed all the delicate volumes of activated reverberant air that are held by this transcendent recording. Average class-D amps could never convey the full dreaminess of this type of choral poetic. Why not? Too much information would be missing in the upper octaves. But the class-D LKV amp played equally rich and atmosphere-soaked through the entire audio band. It did atmospheric dreamy like class-A does atmospheric dreamy. Surprising and impressive.
Bye-bye Portland, hello Brazil
The berimbau is a single-string percussion instrument that migrated from Africa to Brazil. It is fashioned from a meter-long stick, hollowed-out gourd, and a steel string, frequently one salvaged from the belting inside an automobile tire. Holding the gourd against his belly, the berimbau player strikes the metal string with a small stick called a baqueta while adjusting the wire's pitch with a stone in his other hand. The berimbau's sound is delicate—all buzz, snap, and resonance. Like a harmonica or jaw harp, the berimbau radiates full-spectrum harmonics, filling my listening room with buzzing, animated aural textures.


LKV Veros PWR+ power amplifier Page 2
In jazz, the chief protagonist of the berimbau is, or was, Brazilian avant-garde composer Naná Vasconcelos, an especially inventive virtuoso who played with Gato Barbieri, Don Cherry, and the Pat Metheny Group. His 1979 album
Saudades
(16/44.1 FLAC ECM/ Qobuz) is a tsunami of percussive reverb and a good reviewing tool. Vasconcelos died in 2016.
Compared to Bel Canto
Switching from the Maggies to the Harbeth M30.2 monitors and using the Denafrips Terminator DAC, I began my comparisons of the LKV Veros PWR+ to the Bel Canto REF600M mono amplifiers—also class-D—using Saudades's first track, "O Berimbau." This piece seemed perfect for comparing how the LKV and Bel Canto mono amplifiers handle the berimbau's extreme transients and high-energy bursts of harmonic expansion.
The Veros PWR+ passed this test with an A+ by delivering a succinct, vibrant space wherein the berimbau "spoke" with musically effective acoustic power. Think strong, minutely detailed, and surprisingly wet. Almost tubelike. There was a radiance to the sound that I'd never experienced with class-D.
In comparison, with the Harbeths driven by the Bel Cantos, Vasconcelos's berimbau seemed flatter and drier. With the REF600Ms, it was playing in a smaller space, with less atmosphere.
The REF600Ms have long been my reference for properly implemented—fundamentally musical—class-D. But today, for the first time, in comparison to the Veros PWR+, their limitations were exposed. With the Bel Cantos powering the revealing M30.2s, this Vasconcelos recording sounded clean, quick, and detailed but also austere. In contrast, the LKV rendered berimbau notes with a more complex palette of overtones and showed infinite variation in string attack. With the LKV, soundstage depth was dramatically deep. With the LKV, the marginally annoying ECM compression seemed less noisy and more tolerable. What the LKV was doing seemed inexplicable.
Alternating wires
Every recording I played via the LKV Veros PWR+ was sounding richer and wetter (atmospherically) than class-D is supposed to. It occurred to me that perhaps the LKV's un–class-D atmospherics were, in some small way, being enhanced by the Cardas Clear Cygnus loudspeaker cables, which, in most systems I've heard them in, I would characterize as slightly warm, microscopically detailed, and exceptionally effective at preserving reverberant atmospheric data—all traits I was ascribing to the LKV.
As an experiment, I swapped in a pair of AudioQuest GO-4 speaker cables, which use solid-core conductors. In my experience, solid-core wire tends to make instruments and voices sound distinct and solidly outlined while sacrificing atmosphere. Generally, the GO-4's presentation is sharper, more toned, but less atmospheric than the Cardas's.
With the GO-4s, the LKV's sound became drier and more distinctly drawn. And because it was more distinctly drawn, the sound became more 3D. The soundstage was better mapped, especially with the Denafrips Terminator DAC set to oversampling.
With the GO-4s, the aforementioned berimbau became more tangible as a one-meter-high stick-and-wire sound-generator in front of a microphone. The AudioQuest cables better defined the room boundaries where the berimbau was recorded. The change to AudioQuest cables directed my attention to dynamic contrasts—jump-factor moments—and to the reverb specifically added to "locate" the berimbau in space. With the GO-4s, the LKV Veros PWR+ now sounded more normal class-D than it did with the Cardas Clear Cygnus.
The reverb tails appeared longer when I switched back to the Clear Cygnus. The room boundaries I noticed with the GO-4 became softer. The front edge of notes became less distinct. But the music sounded fuller and more engaging.
In for a penny, in for a pound: I tried Triode Wire Labs' American Series loudspeaker cables, which struck a neutral, extremely transparent balance between the Apollonian AudioQuest GO-4 and the Dionysian Cardas Clear Cygnus. The Cardas made the LKV amp sound liquid and atmospheric, but I was afraid it was adding something to the Veros PWR+'s sound. The AudioQuest provided definition and excitement but dried up the sound too much. The Triode Wire Labs cable seemed to add or subtract the least from what I believe to be the Veros PWR+'s natural character.
Driving the Falcon Acoustics LS3/5a
The LKV Veros PWR+ amplifier did a spectacular job of powering my current-hungry, 4 ohm Magnepan .7s and my resolving, 6 ohm Harbeth M30.2s. So naturally I wondered how it would do with my BFF, 15 ohm Falcon LS3/5a, which previously had not played well with class-D amplifiers.
After a long day playing King Tubby's dub (to ease my blues and loosen up the Falcons' voice coil assemblies), I played The Beauty That Still Remainsand spied into the vast, intricate soundstage of the Norwegian Girls Choir and Anne Karin Sundal-Ask performing compositions based on the diary of Anne Frank (24/44.1 FLAC 2L/Qobuz). It kept me up late with its sympathy for, and faith in, humankind.
The Falcon LS3/5a's specialize in natural tone and high-definition soundstages. They have an uncanny facility for drawing focused pictures in the space around them. They take detail down to dust-particle size and separate individual voices in choirs. With the high-powered LKV amp driving the high-impedance Falcons, The Beauty That Still Remains seemed unusually 3D with a room-filling soundstage that reached the ceiling and penetrated the walls.
The LKV-Falcon pairing produced nuanced vocal dynamics with good transparency. The next day, though, I realized that the sound on some recordings was a little off: occasionally vague and low on boogie factor. Ultimately, the LKV Veros PWR+ and the Falcon LS3/5a loudspeakers were not a great match.
Compared to Rogue Audio ST-100
Next, I played The Beauty That Still Remains and Eriks Ešenvalds's Translations through the Rogue RP-7 preamp driving Rogue's $3495 push-pull, KT120-tubed Stereo 100 amplifier (footnote 2) powering my reference Harbeth M30.2 speakers. In only a few weeks, I had forgotten how open and fully described the ST-100's high frequencies sound. Now there was real space and genuine air. The midrange and bass became less dense than they were with the Veros PWR+. On every recording, the ST-100 delivered a lighter, brighter, sunnier—but less solid—presentation than the LKV.
Switching to sublime female vocals, Norwegian opera singer Kirsten Flagstad sounded serene and enchanted with the Rogue's tubes (Kirsten Flagstad Edition: The Decca Recitals, 16/44.1 FLAC Decca/Qobuz). Flagstad's singing was goose-bump magic with the Rogue amplifier but less magic with the LKV, which made her voice sound thicker and darker than the Rogue's tubes did. Each amplifier presents its own interpretation of transparency. The LKV colors its transparency with a kind of golden-honey quality. The Rogue's transparency was brighter and fresher and more natural—more transparent?
The ST-100 driving the Harbeth M30.2s is my primary reference setup. The 30.2s remind me of Quad 57s: electrostatic-quick and neutral of tone. Nevertheless, the LKV Veros PWR+ amplifier showed me how much weight and instrumental body the Rogue-Harbeth combo was losing through the bottom octaves. I wondered if I needed a "beefier" reference amp.
Conclusion
Sound quality and music enjoyment–wise, the LKV Research Veros PWR+ amplifier sits on a higher mountain than any other class-D amp I've encountered. It seems like Bill Hutchins made a slew of listening-inspired design decisions which, in concert, led to this extraordinarily natural-sounding power amp. I will be surprised if it measures super-low THD-wise, but, rest assured, I smiled contentedly every minute it was playing music in my room.
My thatched-roof stick-hut sencha-tea mind says $10,000 is a lot of money for three transformers and a few circuit boards in a not-fancy box. But is it?
With this LKV Research amplifier, you are getting something extra of unusually high value: Bill Hutchins. I have talked to him at length, and I can vouch for his character. He is humble and patient. He is a small, well-established audio manufacturer who builds phono stages, line amps, and big-system amplifiers in his shop with his own hands. I admire Mr. Hutchins because I once did what he is doing. Therefore, I know: $10,000 is underpriced for an amplifier built entirely in New Hampshire with the love and determination of one person. Long nights under fluorescent lights.
Today, most commercial loudspeakers feature reactive, low-impedance loads. Why? Because watts are cheap? Unfortunately, cheap watts often sound like crap watts. Fortunately, Bill's watts sound like limitless, sensual, tactile, luxury class-A watts. On the speakers I used, the Veros PWR+ put minnows, crappies, and my favorites, bass and catfish, into the once-empty class-D pond. Gleefully recommended.
_________________________
Our Company:
Next Level HiFi is a premier retailer of the world's finest HiFi products. We operate by appointment and offer our clients the opportunity to experience systems not heard elsewhere. We are proud to support our business partners including: Aavik, Ansuz, Børresen, Dynaudio, Focal, Kudos, Naim, Nordost, Octave, Rega, REL, Soulution, & YG Acoustics.

Payment can be made by Check, Cash, Money Order, Credit Card, or PayPal. Credit Card or PayPal adds 3% to the total.

Illinois Residents add 7% to the total.

Local pickup is available as well.

Feel free to contact us at the following for questions, appointment requests, and or orders:

o: 630-797-5117
c: 630-246-0390
f: 630-830-0395
e: [email protected]
w: www.nextlevelhifi.com
member since April 2007
Next Level HiFi Verified Dealer
| | | |
| --- | --- | --- |
| Last 12 months | 66 | 100.0% |
| All-time | 675 | 100.0% |
Items from this seller