Sorry, this listing has ended.
You may like one of these similar items:
---
World-Class Tube Preamp with a 450 Watts per channel in CLASS A/B Amplifier! [Expired]
---
---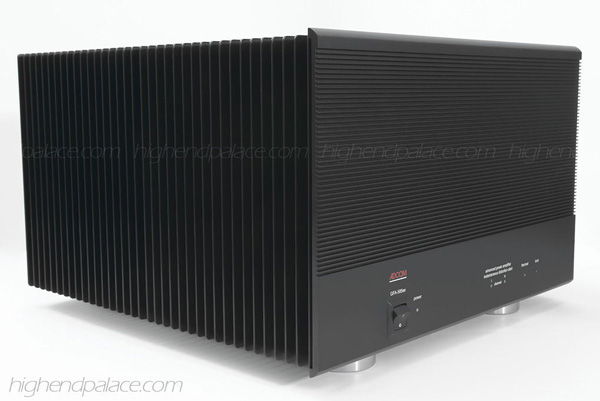 11" Inches tall! 19" Deep! A 90-pound fully balanced beast!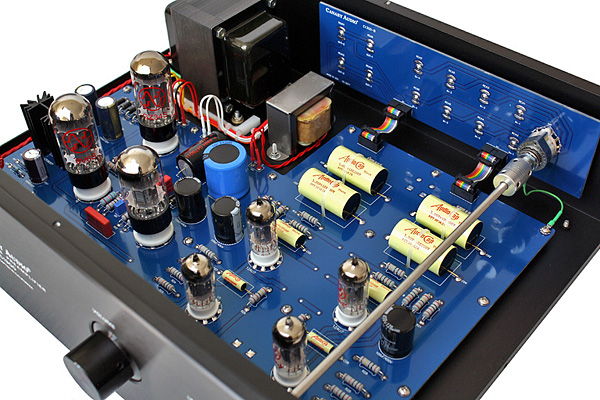 A ROCK-SOLID COMBINATION!!!
NEW! 2022 ADCOM GFA-585SE - New fully balanced CLASS A/B 450 watts per channel beast in 8 Ohms featuring a 1700 VA Toroidal Power Transformer, four tall-large size blue capacitors, 28 premium Beta-matched output transistors -14 per channel, XLR inputs, premium RCA's, and detachable power cord. Accurate Dimensions and Weight by High-End Palace: 11" Tall x 17" Wide x 19" Deep. Weight 96 pounds.

NEW! 2022 CANARY AUDIO C1300 TUBE PREAMP - World-class performance from this seven tubes preamplifier! The preamp circuit features the use of two 12AX7 and two 12AU7 tubes for a low-noise operation, and the power supply circuit uses GZ34, 6V6, and 6SL7 as rectifiers with a classic massive transformer. A stunning match for 99.5% of the amplifiers available in high-end audio. This combination of this 35 pounds C1300 preamp with the new Adcom 585SE is an absolute winning combination that I have been selling with beyond-belief feedback from customers for over four years. You will not believe the sound quality, control, and overall performance of these two pieces together. Here below are two reviews that you must read! Contact me Larry D. Diaz at High-End Palace for further details and pricing! 786 388-8050.
ADCOM GFA-585SE AMP & CANARY C1300 TUBE PREAMPLIFIER

Audio Review by Marc Genton from Franklin, Georgia
I recently bought a Canary C1300 tube Preamp and an Adcom GFA 585SE Amp from Larry Diaz at High-End Palace, in Coral Gables, Florida. I have been on a quest all my life for audio perfection after working in a classical FM radio station during my college years, where I had the delight of working with and enjoying the latest cutting-edge commercial audio equipment.
All I wanted was for my music to sound exactly like it did when recorded, whether that be the front row of a classical concert of orchestral symphonic music, a pipe organ, or next to an intimate jazz ensemble. I wanted each instrument to sound as loud and as detailed and as clear as if I were mere feet from them in a live performance. I feel I have finally reached that place of audio bliss. The Canary Preamp has a power button, a volume control knob, and an input selector knob. The Adcom Amp merely has a power switch. That's it. There are no tone controls, no equalizer controls, and no balance controls. Nothing! When the audio path is transparent, none of those are needed.
So with this preamp and amp driving my Dynaudio speakers, less is truly more. What I get out of my system is exactly what was recorded. Nothing more, nothing less. This new system truly makes me feel I am in audio heaven. Marc G.




NEW ADCOM GFA-585SE & GFA-575SE CLASS A/B AMPLIFIERS
Review by Larry Diaz from High-End Palace
I have personally enjoyed the performance of these new Class A/B ADCOM GFA-585SE and GFA-575SE for the past few months. Coming from a man that has heard, owned, and sells the best amplifiers and monoblocks available in high-end audio I can tell you that this new beast of an amplifier will please 95 out of 100 audiophiles. You will be beyond amazed at what you will hear with this new true balanced design. Do not mistake the GFA-585SE and GFA-575SE with what you have heard or seen in the past from ADCOM, they are clearly the new standard in performance even at twice the investment. This makes these two new Adcom's the best high-power amplifiers you can buy for under $4000 period.
Let's talk about power! There is no replacement for power, for quality current to your loudspeakers! Even a small 2-way monitor benefits hugely when you put a nice 200 to 300 watts amplifier, for mid-size full-range models 300 to 500 watts, and for large full-range loudspeakers 500 to 1000 watts per channel is what I recommend, that would be ideal for most systems. You will notice a fuller sound, deeper bass, superior clarity, and dynamics you never heard before. Out goes thin bright sound when you have a good solid high-end amplifier that delivers high current, high-power! It has nothing to do with loudness, it has to do with superior control and power reserve. Like cruising at 80 miles on a highway with a V12 engine versus in a 4-cylinder car.
With an open budget, you can even take your high-end loudspeakers a bit further, for example using high power solid-state for the lows and even the option of using CLASS A or tube amplification for the highs if you which with an active crossover to have the best of both worlds and have full control to how much lows and highs you like. This is also an option for those customers that have low-power tube amplifiers that do not have the proper power/current to move your full-range loudspeakers by removing the heavy load of reproducing the hard part of controlling the low-frequency drivers. You can dedicate the tube amps just for the mids/highs or highs and get a big high-power amplifier to reproduce the lows and take your system to another level of performance. Remember the tube amplifiers can be a beautiful sweet thing but if you overdrive them or ask more then they can deliver that beautiful sweet thing is out the door.
VISIT OUR WEBSITE FOR TWO MUST-SEE VIDEOS ABOUT HOW MUCH POWER DO YOU REALLY NEED FOR YOUR SPEAKERS BY ALAN SHAW FROM HARBETH LOUDSPEAKERS UK. THE RESULT MIGHT SURPRISE YOU. ALSO, A VIDEO OF MUSIC PEAKING AT OVER 1000 WATTS IN PASSAGES AT CES IN LAS VEGAS WITH TWO CH PRECISION M1 AMPLIFIERS RUNNING IN MONO.
The new ADCOM GFA-585SE and GFA-575SE are a game-changer, and the only ticket to high-end sound for a music lover that does not want or simply can't spend $8500 to over $70,000 for a top-rated high-end stereo amplifier. Now! I am not saying this for you not to buy your dream $30,000 high-end stereo amplifier or $85,000 four-chassis Class A dream monoblocks if you have the desire and means to do it. That pleasure of reaching that extra 25 to 30% of audio and visual perfection is simply priceless, and in case you might want that perfection I happen to sell those high-end amplifiers and monoblocks here at High-End Palace too, just in case is your birthday.
After a great listening session with two of my audiophile friends, I went even a bit further like I usually do and ran two GFA-585SE in Mono just to see what it will do, and once again I was surprised. If you have a set of nice full-range loudspeakers you can run a pair of GFA-585SE in mono, which will give you 1000 to 1200 watts of power per chassis in mono operation. This is simply the best way for truly amazing sound for high-quality power at an affordable price considering that most high-end audio monoblocks ranging from 400 watts to 1000 watts starts from about $20,000 to well over $200,000.
Conclusion! The latest GFA-585SE and GFA-575SE are real winners. I recommend a good reference tube or solid-state preamp and you got true high-end sound under four grand for the stereo version or under seven grand for two amplifiers running in mono. If you are looking for high-quality, high-power amplification in this range of price there is no better option period.
Warm regards my audiophile friends,
Larry D. Diaz
President (CEO)
High-End Palace, LLC
The place for the world's best music systems!
Website: www.highendpalace.com
E-mail: [email protected]
Tel: 786 388-8050


DON'T FORGET TO VISIT OUR WEBSITE! WE ARE KNOWN FOR THE WORLD'S BEST TRADE-INS. FOR DEALS IN THE CERTIFIED TRADE-INS, CONSIGNMENTS & EXTRA DEMOS PAGE AT: https://highendpalace.com/


member since December 2009
HIGH-END PALACE Verified Dealer
| | | |
| --- | --- | --- |
| Last 12 months | 9 | 100.0% |
| All-time | 909 | 100.0% |
Items from this seller