Sorry, this listing has ended.
You may like one of these similar items:
---
Marantz 2325 Fully Restored [Expired]
---
---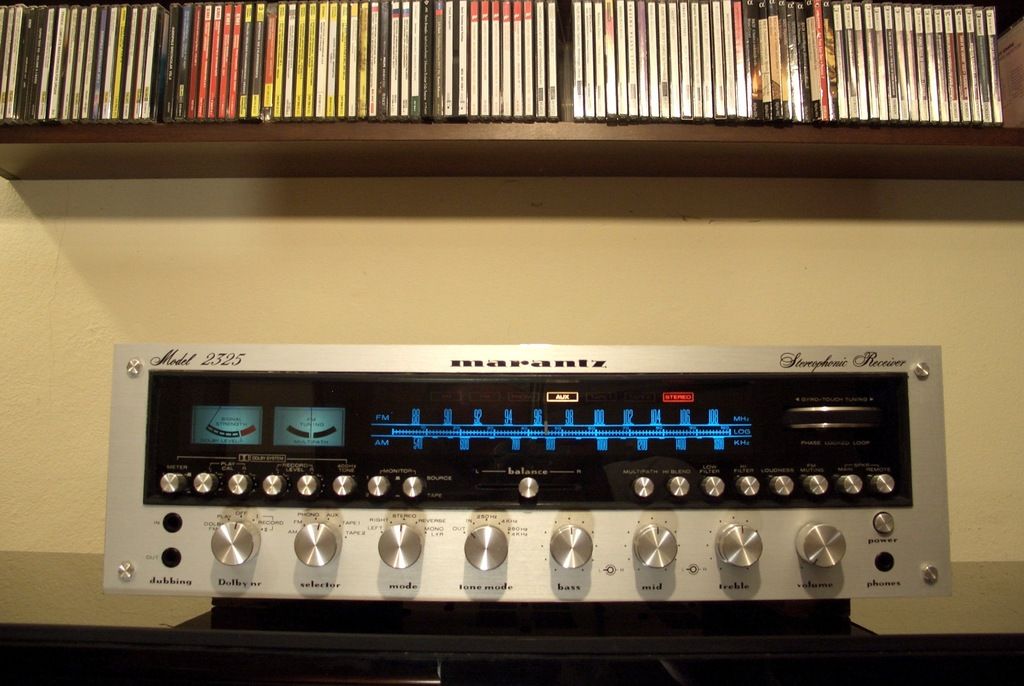 MARANTZ 2325
It's Fully Restored and when i say fully restored i mean in every parts.
It's a very complex Receiver with high Power amplifier over 125 Watts per channel into 8 Ohm and over 200 watt into 4 Ohm
So it need big attentions if you really want that this receiver work for the next 40 years at full power .
Just changing main capacitor and convert it in Led light doesn't mean serviced .
It need to replace
ALL capacitors
that are 40 years old
The wonderfull FM/AM Tuner and stereo decoder need big attention and patient to be alligned into specifications if you really enjoy his amazing sound .
All power Transistors need to replace all insulator and thermal compound
That's what i done on this vintage Receiver . Give a really new life !
The Receiver is in perfect condictions just a minor sign on the metal cover
The front face plate is new!!!


It will be sold with custom wood case shown in pictures. Inside of the wood case i integrated a custom FM antenna  by copper ribbon foil in case it's difficult
place a external one and it work GREAT .
Please take a look below
Here you can see parts of the hard work to restore in every parts this top quality vintage receiver . First of all , all of circuit board have been washed to remove the derty dust  , inspected all bad solder with lens. All the chassis have been completley cleaned .
Second step :
-New front Faceplate
-all capacitors have been replaced with new Audio Grade Elna Cerafine and Elna Silmic in power supply (pic 3)  and in Phono stage , tone control and stereo decoder , preamplifier, Stereo Decoder , dolby.
-For other boards FM and AM i used long life 105° Elna .
-The two big main capacitor 15000uf replaced with new 15.000uf 100V Nippon Chemi that is same in size (pic 1 and 2) .
-New 25A Bridge Rectifier (pic 12) instead of the obsolet TO3 . This is very important becouse bad capacitor stress the bridge and generaly fail after you put the new one .
-All blue Tantalum capacitor and all electrolitics capacitor used in signal path have been replaced with high quality Wima film capacitos .
-All mica insulator in all transistor included for the 8 power transistor with dried white thermal compound have been replaced with high quality Sil Pad insulator (pic 4,5,6) .
-All pots have been cleaned with prof. deoxid spray .
-New light bulbs i used ALL BULBS no LED . I don't like this mod .
-New white paper diffusor .
-Cleaned all connectors and relay contacts .
-All Test procedure Bias and Offset are now under specification -
-FM and AM and Stereo decoder sections alligned with my profesional Rohde & Schwarz Universal Mess Sender Test Set (Pic 14)

The Receiver is now in like new condictions and sound amazing
<!-- #jb-images5715356 a {text-decoration:none;} #jb-images5715356 img {background:#969696;border:7px solid #C0C0C0;border-radius:10px;} #jb-images5715356 img.jb-thumb {width:384px; height:288px; margin:8px 0 0 10px;} #jb-images5715356 a:hover img.jb-thumb {padding:6px; border:1px solid #C0C0C0;} -->
Seller Information
| | | |
| --- | --- | --- |
| Last 12 months | 0 | 0.0% |
| All-time | 42 | 100.0% |
Member since November 2004
Items from this seller