Sorry, this listing has ended.
You may like one of these similar items:
---
Audience Maestro 2 meter Bi-Wire speaker cable [Expired]
---
---
Information from audioholics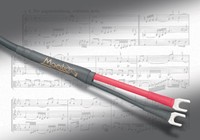 Electrical Data:
DC Resistance: 15m ?/M
Eddy Current Resistance: 30 micro ?/M
Inductance: 0.05 microH/M
Capacitance: 550pF/M
Characteristic Impedance: 16?
Audience Au24 RCA Connectors Gold plated beryllium copper
Physical Data:
Outside Diameter: 8mm
Insulation: XLPE (Cross-linked polyethylene)
Outside Jacket: Soft PVC

The Audience Maestro speaker cables appear to be well crafted and the banana plug terminations are equally impressive. I did have issues with making good contact on certain binding posts since the cable was so stiff. The buyer may alternatively elect to purchase these cables with speaker side spade terminations and amp side banana plug terminations. I chose banana terminations on both sides since I wanted to see how these cables functioned with amplifiers and receivers. Very few receivers can accommodate spade lugs.The Maestro speaker cables represent the middle of the road (at least in price) for Audience.
Excerpt Reprinted from Audience Maestro Marketing Literature
The Maestro loudspeaker cables are placed in the middle of the Audience cable lineup between the technically advanced Au24 cables and the high performance /price ratio Conductor cables. Like all cables by Audience the Maestro loudspeaker cables are designed for low eddy-current resistance. We have found low eddy-current resistance to be the most important quality in high-resolution audio and video cables. The Maestro loudspeaker cables are of rugged construction, suitable for demanding professional environments. To achieve greater sonic purity the physical design leans towards simplicity. Subjectively, a natural musical timbre is realized. There is a strong similarity to the Au24 cables but perhaps without the ultimate degree of resolution achieved by the Au24. Still, the similarities far outweigh the differences.
The Maestro loudspeaker cables are an excellent choice when high resolution combined with rugged construction and moderate price are called for.
Seller Information
| | | |
| --- | --- | --- |
| Last 12 months | 18 | 100.0% |
| All-time | 72 | 100.0% |
Member since December 2012