Sorry, this listing has ended.
You may like one of these similar items:
---
REL Acoustics T3 Subwoofer (Black Wood Finish) [Expired]
---
---
If you are a music lover with a small to medium-size room and a modest budget, the REL T3 subwoofer is for you. It has deep and articulated bass response. This is an extraordinary value.
The REL Acoustics T3 uses a down-firing 8-inch Ultra-Long-Throw (ULT) active woofer powered by a high-current 150W Class A/B amplifier (which is great in the under $750 subwoofer range). The active woofer is matched with a front-mounted passive radiator in a closed (sealed) system. The T3 conforms to REL's philosophy that you are not purchasing a subwoofer but a "sub-bass system" that integrates really well with your entire speaker setup. Even though the T3 is rated to go down to 30 Hz, you won't get the muddy, sloppy bass or boom that characterizes many subs in the under $750 price range. Excellent for audiophiles enjoying music and/or for home theater. What the REL T3 does, it does exceptionally well.
REL Acoustics is a British firm that specializes in only one product: subwoofers. They do it extremely well. REL subwoofers receive excellent reviews from audiophiles, The Absolute Sound, Stereophile magazine, and other professional reviewers for their musicality and nearly seamless integration with main speakers.
The T3 displays a classic feature of all REL subwoofers: independent volume control for both the main (high level) and the LFE inputs. REL recommends that you hook up the T3 using the high-level inputs on the back of the sub (connected to the same speaker terminals on the receiver or power amp that the main speakers are using) using the supplied Neutrik Speakon cable (about 8 m or 26 ft long). In this configuration the subwoofer accepts the identical signal as the main speakers. The input impedance of the sub is relatively high (150K ohms) so such a connection does not put any additional load on your amplifier. Alternatively, if you have an LFE output on the back of your receiver/amp, you can use the LFE input on the back of the T3.
REL recommends room corner placement of the T3 along the same wall as the front speakers. The front-mounted passive radiator provides greater output and textural detail. Because of the passive radiator's long-throw nature, the front grille is rounded outward. The front grille along with the rectangular high-gloss black rails on the left and right sides of the cabinet, gives the subs a look that is both modern and retro. The subwoofer comes with neoprene pads for placement on a wood floor but accommodates spikes for placement on carpet. 
SPECIFICATIONS: 
Roll Off: 30 Hz to 120 Hz
Amplifier Type: Class AB
Power Output: 150 Watts RMS
Phase: 0 and 180 degrees
Input Voltage: 115 Volts
Protection: Over temperature, Over Current, Under Voltage
Dimensions: 13.5 (H) x 11.8 (W) x 14 (D) inches (343 x 300 x 356 mm)
Net Weight: 27 lbs (12.5 kg)
Gross Weight: 35 lbs (16 kg)
This includes the original REL Neutrik Speakon high-level cable (about 10 m or 32 ft long), IEC power cable, and the owner's manual.
CONDITION: The front face and the amplifier controls (rear panel) are perfect. There is a superficial scratch less than 1 inch long on the top of the cabinet (see photo) but it does not penetrate the black finished veneer. There are a several tiny nicks and flaws in the high-gloss piano black metal frame but they are not visible when the sub is on the floor, even in a brightly lit room. The woofer itself (cone) is also in excellent condition. It has not been abused. From a smoke-free and pet-free home. There are no children in the home.
REASON FOR SALE: I switched to floor-standing speakers with a full range from stand-mounted LF-restricted bookshelf speakers.
REVIEWS: According to a Sound and Vision magazine review: 
image: http://www.soundandvision.com/images/archivesart/108Relt.3.jpg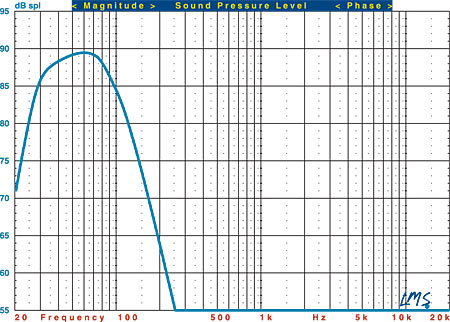 This graph shows the quasi-anechoic (employing close-miking of all woofers) frequency response of the T3 subwoofer (blue trace).
The T3's close-miked response, normalized to the level at 80 Hz, indicates that the lower –3-dB point is at 30 Hz and the –6-dB point is at 27 Hz. The upper –3-dB point is at 97 Hz using the LFE input.—MJP
REL T3 Subwoofer Summary:  
Build Quality: Build Quality 93 Good 
• Finished solid-maple side rails 
• Crossover and volume controls with detents
Value: 96 Excellent 
• High-end audio performance at a budget price 
• Stylish and compact design
Features: 93 Good 
• Separate volume controls for speaker-level and LFE inputs 
• Neutrik Speakon high-level connector
Performance: 94 Good 
• Established a bass underpinning for the system 
• Created bass output with texture and nuance
Ergonomics: 90 Good 
• Small cabinet size and forward-firing passive and down-firing active provide more placement options 
• Side cabinet rails are convenient for lifting
Overall Rating: 94 Good 
Although there are less expensive subwoofers available, it's very difficult to find one that blends so well with the main speakers and provides such a sense of space when playing back movies or music.  
Seller Information
| | | |
| --- | --- | --- |
| Last 12 months | 0 | 0.0% |
| All-time | 12 | 100.0% |
Member since August 2011
Items from this seller