Sorry, this listing has ended.
You may like one of these similar items:
---
Ars Sonum Filarmonia SJ Demo Class A EL34 Tube Integrated Amp W/Warranty [Expired]
---
---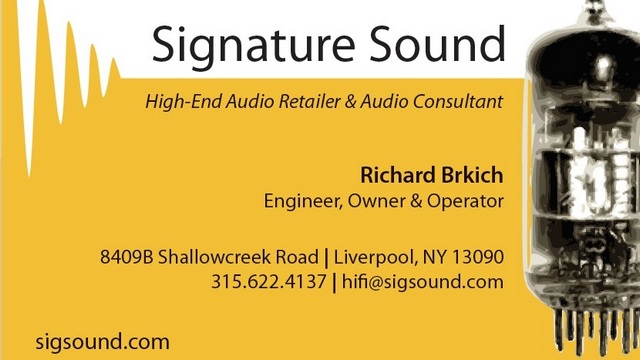 As of November 2015, Signature Sound High-End Audio is the exclusive dealer/distributor for Ars-Sonum products in the USA. In addition to selling Ars-Sonum gear, Signature Sound provides full repair and upgrade services & technical support for all Ars-Sonum products. For more information on Ars-Sonum gear, please visit our Ars-Sonum webpage on our website which has detailed specs: http://wp.sigsound.com/ars-sonum-filarmonia/

Beautiful DEMO Ars Sonum Filarmonia SJ integrated amp. Fantastic sounding 30W/Ch push-pull (E34L) class A design (it is NOT a push pull Ultralinear or Triode design) that is handcrafted in Madrid Spain. Previous version of the Filarmonia was reviewed by Stereophile (by John Marks) and received a Class A rating in their recommended components. The SJ version has improved parts layout, fewer capacitors in the signal path, hand wound transformers and more.

This particular unit has been in use as our demo for about 7 - 8 years and was a SE version which we updated to SJ less than 1 years ago (for details about how the upgrade was done by us and Ars Sonum, please call or e-mail us). Since I have anywhere from several to ten different amps on hand at any one time, though 7-8 years in age, this amp has seen only light use - considerably less than any customer/owner would over the same period of time. The E34Ls are a few years old and are in excellent condition - good for at least 1,000 hours more use. Signature Sound is the authorized USA Dealer/Distributor for Ars Sonum and we are offering this amp in what we are calling a "Ars-Sonum Certified Used/DEMO Amp". We test all the tubes, then run through three pages of factory spec'd measurements to guarantee the amp is working to spec and the tubes are good. We stand behind our Ars-Sonum Certified Used Amps which come with a 6 month warranty (parts and labor - 30 days on the tubes) and a 30 day satisfaction guarantee. USA Retail price on a new Filarmonia SJ was $3,995 and this demo amp is only $2,150 plus shipping (inside USA). Amp comes complete with factory packaging and manual.

Why are well selling it? Ars-Sonum has made a few updates (new input jack design with better quality RCA jacks and have added a previously option V-Cap upgrade as standard equipment - all this has resulted in a $500 price increase to $4,495 for a brand new Filarmonia SK) and we have recently received our new Filarmonia SK version demo unit.

NOTE: Filarmonia amplifiers previously came with Cardas Golden Reference or Clear Power cords from the previous distributor at a retail price of around $5,000. This amp as with new Filarmonia SK amplifiers we are selling comes with no Cardas power cord. If you wish to purchase a Cardas Audio power cord with this used amplifier, please contact us for a package price with a new Cardas Audio power cord of your choice. The Cardas Clear and Clear Beyond power cords work extremely well with the Ars-Sonum amplifiers - these are our recommended power cord for them. Signature Sound has been a authorized Cardas Audio dealer for 20 years!

Signature Sound is a small Hi-End HiFi shop located near Syracuse New York. We have been in business since 1990. Feel free to check out our website www.sigsound.com or call us at 315-622-4137 with any questions. We accept all major credit cards and PayPal. A note to my fellow New Yorkers.... New York state residents (i.e sales billed/shipped to a New York State address) will be charged applicable local New York state sales tax on the total sale amount.

Signature Sound is a authorized dealer for: Audience Cables, Atma-Sphere, Clearaudio, Cardas Cables, Benz Micro Cartridges, Fried Audio Speakers, DH Labs, Dynavector, EAR USA, Grado Labs, JPS Labs, Joule-Electra, iFi Audio, Merlin Music Systems, Musical Surroundings NOVA phono preamps, Power Modules (Belles), Rega Research, Rogue Audio (NEW!), Running Springs Audio, Spendor Audio, Sonos, and Wavelength Audio.

Follow us on Facebook to see our latest news, info, and sales/demo/used items for sale!

Seller Information
signaturesound
signaturesound Verified Dealer
| | | |
| --- | --- | --- |
| Last 12 months | 51 | 100.0% |
| All-time | 667 | 99.6% |
Member since November 2009
Items from this seller

Signature Sound High-End Audio E-STORE
View All Products For Sale