Sorry, this listing has ended.
You may like one of these similar items:
---
Backert Labs Rhumba 1.1 Stereo Preamplifier [Expired]
---
---
The 13th Annual Positive Feedback Writers' Choice Awards for 2016
 By ...Michael Wechsberg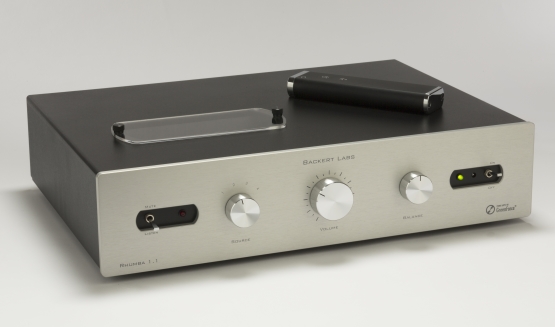 Backert Labs Rhumba 1.1 Line Stage
Introductory Retail: $2995
The most engaging piece of electronics I heard during the 2016 review period was the Backert Labs Rhumba 1.1 Line Stage. This little tube beauty achieves about 90% of the performance of its costlier brother, the Rhythm 1.1 reviewed in 2015, for less than half the price. Both line stages are standouts for their speed, dynamics, pace, and definition. Designer Bob Backert is brilliant and his preamps sport numerous innovative design features. The Rhumba is the perfect line stage for those who favor small scale music, like jazz, vocalists, small ensembles and so on, but it's no slouch on the big stuff either. Tonally true without the exaggerated warmth of some other tube line stage designs. The Rhumba has both single-ended and balanced inputs and outputs whereas the more expensive Rhythm is single-ended only. The tubes are accessible through a removable Plexiglas window on the top of the unit for easy tube rolling although I didn't bother as it sounded so good with the stock tubes. I did discover some improvements by adding a high-end power cord. By all means if you have the chance to audition the Rhumba 1.1 you should do so. I predict you will like what you hear.
Read more 
http://positive-feedback.com/reviews/hardware-reviews/backert-labs-rhumba-1-1-linestage/
The specifications
Rhumba 1.1 Tube preamp, from Backert Labs.  
Line stage tubed preamp, single-ended
4 inputs(3 inputs RCA, 1 input XLR)
3 outputs (2 outputs RCA, 1 output XLR)
1 "Rec Out", RCA
1 Home Theater Bypass input, RCA (activated by turning off the unit)
Balance control, mute switch, remote volume control
Tube complement:  2 X 12au7, accessible with no tools via tube access door on top panel
Phase:   phase inverting
THD+N: 0.032%
Gain: 9dB
Frequence response: 1.5Hz to 320kHz
S/N ratio: 98dB (90dB referenced to a 1V output)
Input impedance: 55,000Ω 
Output impedance: 200Ω 
Crosstalk: 78dB
Power consumption: idle: 23W, maximum output: 24W
Dimensions: 17 x 12 x 4 inches
Weight:  15 lbs
Shipping Weight 25lbs
The new model is single-ended. Built in the U.S.A, it features a silver-colored aluminum face plate and black aluminum body, both machined for Backert Labs in Pennsylvania.
The Sound
The new model sounds remarkably similar to the company's flagship. "Although it is less than half the Rhythm 1.1's price, we were able to bring the fun factor of the new model extremely close to the Rhythm 1.1," said company president Andy Tebbe. "So things like rhythm, dynamics, emotional impact – in these areas, you have to listen pretty carefully to hear a difference."
These sonic characteristics underlie all Backert Labs products, in accordance with its company mission. Mr. Backert noted, "When you enter a club or restaurant, it's usually easy to tell whether the music is live, or being played on a stereo. The mission I set was to make it impossible to tell the difference. To do that, we focus first on the accuracy of two things:  dynamics, and timing. Several of our technical innovations have brought out audible improvements in these areas. As a result, I believe we have made significant progress toward the goal of reproducing truly live sound."
The Power Supply
One innovation that improves timing and dynamic accuracy is the power supply.  Patented by Mr. Backert, GreenForce™ is the first completely new kind of power supply since switching supplies were invented in the 1950s.  "GreenForce allows the power supply to use far higher quality capacitors, yet still at a reasonable price point for listeners. Our Rhythm 1.1 uses an exotic capacitor that is literally unheard of in a power supply, and our new model uses polypropylene caps, still way ahead of most manufacturers," said Mr. Tebbe.
"The way it works is also key," said Mr. Backert.  "It's very different, because it actively pushes power into the amplifying circuit, instead of passively bleeding out power as the circuit demands it.  That 'push' makes GreenForce more nimble in responding to power demands from musical recordings.  This improves the accuracy of rhythm and dynamics."
GreenForce gets its green "cred" by shunning typical power supply parts (electrolytic capacitors) that contain environmentally unfriendly chemicals, instead using environmentally neutral "film" capacitors.
New Features
The new Rhumba 1.1 has several added features, including:
XLR input and output, in addition to 3 RCA inputs and 2 RCA outputs
Home theater bypass
Transparent tube cover, to enhance late-night listening sessions
Built in the U.S.
Like the Rhythm 1.1, the new model is designed by veteran circuit designer Bob Backert, and assembled in the U.S. under the close supervision of his son, Chief Operations Officer Gary Backert.
Tubes 
Two 12au7 tubes are utilized for the gain stage, accessible by a convenient transparent access door that highlights the warm glow of the tubes through the top panel. The unit comes with JJ Electronics tubes.
Gain Stage – "Dynamic Linearity" Circuit
As in the Rhythm 1.1, the gain stage features a unique tube support circuit that allows more accurate dynamics, lower distortion and low output impedance. These benefits are achieved without resorting to common tools that Mr. Backert feels are detrimental to sonic accuracy, such as negative feedback and cathode followers
Comments on the new preamp by Terry London
We received the following from reviewer Terry "Teajay" London:
"Just about a year ago I had the great pleasure of reviewing for hometheaterreview.com the Backert Labs reference Rhythm 1.1 preamplifier. The 1.1 rivaled the performance of my personal reference, the Concert Fidelity-080 which retails for $24,000, in all sonic parameters. I thought then the 1.1 was one of the great "unknown" bargains at its $7,500 retail price.
Well, a short while ago I got a phone call from Andy Tebbe who was very excited about their new "baby" preamp, which retails for $2,995, which he believed delivered a big whopping dosage of the sonic performance of the Rhythm 1.1. In the last few weeks, in three different systems, I compared the performance of the "baby" preamp to five solid state and tube based preamplifiers. The least expensive of these cost 7K and the most expensive was 24K. Not only did it hold its own in comparison to these highly regarded and much more costly line stages, it was quite better than three of them, and was on the same level as the best of the overall group. When I write the formal review for HTR I'll give all the details regarding the specifics of why this new Backert Labs preamp knocked my sonic socks off across the board. If the Rhythm 1.1 is one of the greatest bargains of high-end audio, it is not hyperbole to say the new "baby" preamp might be the best deal in high-end gear of the 21st century!"
new review
http://hometheaterreview.com/backert-labs-rhumba-11-stereo-preamplifier-reviewed/

Available from:
Quest For Sound
2307-R Bristol Pike
Bensalem Pa 19020
215-953-9099
www.questforsound.com
questforsound@aol.com

Seller Information
questforsound
Quest For Sound Verified Dealer
| | | |
| --- | --- | --- |
| Last 12 months | 45 | 100.0% |
| All-time | 2972 | 99.5% |
Member since January 2012