Sorry, this listing has ended.
You may like one of these similar items:
---
Joule Electra VZN-100 mkIII Marquis 100W OTL Mono blocks in Piano Black Music Wood Enclosure [Expired]
---
---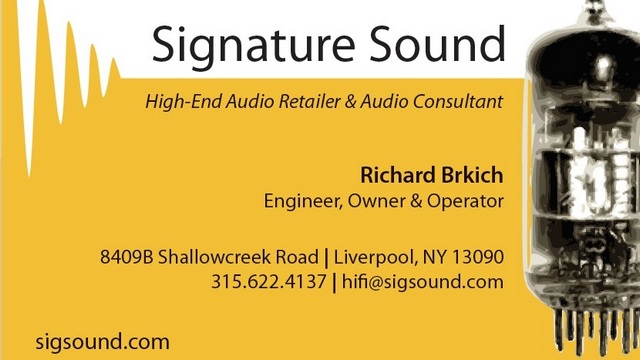 Joule-Electra VZN-100 MKIII 100W OTL Power Amplifiers in Optional Piano Black Music Wood Enclosures - USED - $5,950 Plus Ship
We are selling this used pair of Joule OTLs from a long time local customer and friend. They were made in August 2003 and my customer bought them about a year after that (they were store demo's from Sounds Real Audio - a copy of the original bill of sale can be provided with the amp). I've known the owner for many years, and he is very fastidious about the care of his gear. When not in regular use, the amps were fully covered which kept them clean and dust free internally. These amps also saw very little or no use during spring/summer/fall (owner runs/works his own lawn/property maint business which leaves no/little time to enjoy his system during those times), so at most these only saw about 50 hours of use each year - so maybe 800 hours at most total over 13 years of use. We also have performed any/all maintenance on the amps which has only amounted to the replacement of one flaky 6C33 tube socket over the years.
Take a look at the pictures, the amps are in superb shape for their age. I did spot one or two small imperfections (dings) in the enclosures which one  would only notice upon close inspection. The Music Wood Chassis  on this pair of OTLs have a character line (cut/or slot) about 2/3's the way down which was not present in later Music Wood enclosures (probably because the difficultly to finish/paint it) so they don't look as blocky. Overall cosmetic condition I rate at a 8/10. Also these Music Wood enclosures have aged very well given the shrinkage and expansion wood can go through even though the enclosures use dovetail joint work if I recall correctly.

The amps are in perfect working order, all tubes test and bias good. They are also fairly quiet (electrically) for a pair of MKIII Joule OTLs . They were always used with my customers Merlin VSM speakers and Joule preamp - never abused. They come complete with all the original packaging crates, manuals etc. I doubt you will ever fins a pair of Joule VZN-100 of this age/version in as good cosmetic and electrical condition as  these are in.

Why is my customer selling them??? We just got him a nice used pair of VZN-220's!!! and he does not need the VZN-100's anymore! In case it is not obvious, this ad is for the amplifiers alone, the speaker cables, interconnects, and JPS power cord going to the variac are NOT included with the amps!
I (Rich Brkich), have many years experience with Joule-Electra gear and provide support and service for most all Joule-Electra products since Jud Barber retired and closed Joule-Electra several years ago. Just search Audiogon's Joule-Electra discussions were you can find references from my customers.
For some good info on this version of the VZN-100, check out this Positive Feedback review from 2002: http://www.positive-feedback.com/Issue6/joule.htm

Signature Sound is a small Hi-End HiFi shop located near Syracuse New York. We have been in business since 1990. Feel free to check out our website www.sigsound.com or call us at 315-622-4137 with any questions. We accept all major credit cards and PayPal. A note to my fellow New Yorkers.... New York state residents (i.e sales billed/shipped to a New York State address) will be charged applicable local New York state sales tax on the total sale amount

Signature Sound is a authorized dealer for: Audience Cables, Atma-Sphere, Clearaudio, Cardas Cables, Benz Micro Cartridges, Fried Audio Speakers, DH Labs, Dynavector, EAR USA, Grado Labs, JPS Labs, Joule-Electra, iFi Audio, Merlin Music Systems, Musical Surroundings NOVA phono preamps, Power Modules (Belles), Rega Research, Rogue Audio (NEW!), Running Springs Audio, Spendor Audio, Sonos, and Wavelength Audio.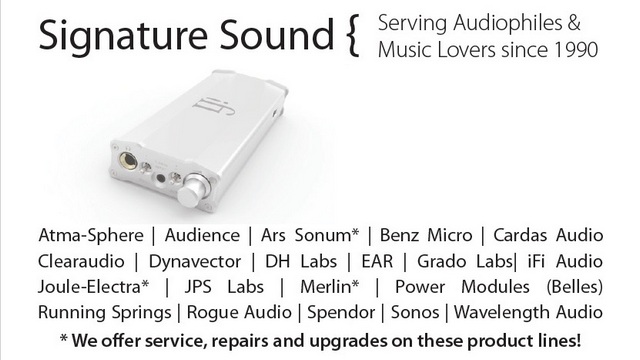 Seller Information
signaturesound
signaturesound Verified Dealer
| | | |
| --- | --- | --- |
| Last 12 months | 54 | 100.0% |
| All-time | 676 | 99.6% |
Member since November 2009
Items from this seller

Signature Sound High-End Audio E-STORE
View All Products For Sale