Interested?
Reach Out To Our Sales Team
Acess to millions of audiophiles.
Leverage Audiogon to increase your brand awareness and generate sales. As a Verified Dealer, we can partner with you to develop a custom advertising plan that works for your needs and budget. Our sophisticated targeting and audience segmentations ensure maximum efficiency. Whether you simply want to show ads to user sin a specific geographic region, or want to geofence a HiFi Convention to advertise to attendees after they go home... we can do that.
Advertising Options
What We Offer
Effective Results
Email Marketing
Reach all Audiogon members or only those who viewed a specific brand or product. We can segment our database into the most effective target audience to achieve your objective.
Audigon offers several different options to choose from—one-off, dedicated emails, automated behavioral emails, and ad inclusions in our popular Saturday Newsletter.
Using Audiogon to send e-mails through their database has been a great success — almost a 10x return, not counting residual sales. Doing so has likewise exposed our company to many new and targeted customers, not to mention the great communication and kindness of the Audiogon staff, especially Josh, who have made this all possible. Audiogon really cares about the success of their customers. Highly recommended!
▬ Mike Morrow, President & CEO, Morrow Audio
High Visibility
Homepage Ads
Sold in 7-Day increments, ads placed in this spot receive an average of 225,000 pageviews. There are three sizes available to fit every budget.
Two Large Rectangles
Three Small Rectangles
One Large Leaderboard
Homepage ads are an excellent opportunity to get seen by our broad audience of hi-fi enthusiasts.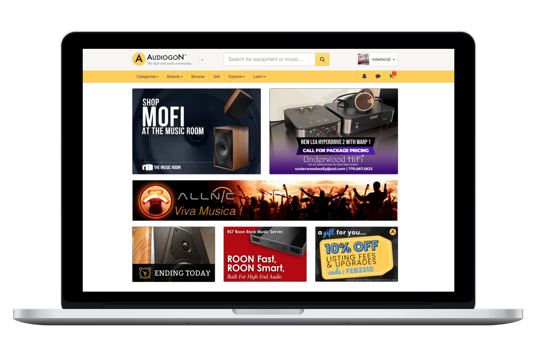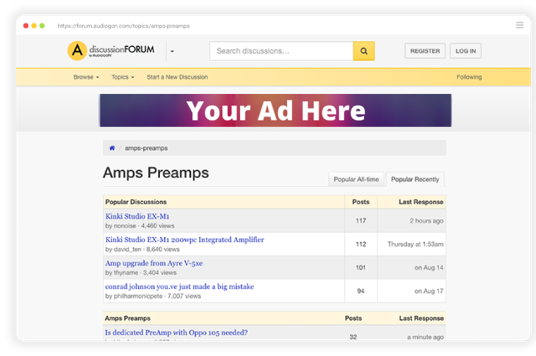 Flexible Advertising
Site Banners
Sponsor a category, search term, or product type on Audiogon and get 100% impression share for the duration your ad runs. Get your offering in front of users who are already searching and shopping for what you are selling.
Ads can show across all devices, and can be displayed on any or all of Audiogon's properties—Marketplace, Forums, and Systems.
Targeted Banners ensure you are advertising to qualified buyers.
Your Listings on Google
Google Shopping Support
Ensure 100% impression share when a buyer Googles products you have for sale. With a few steps we can set up a dedicated Google Shopping campaign that automatically syncs with your listings.
Ads Where Buyers Are
Paid Search
In addition to Google Shopping, we can also support your business through keyword searches, remarketing, interests, and demographic targeting on Google, Facebook, and Instagram.
Dealer-Exclusive
Active Banners
Our pay-as-you-go option is a completely automated, self-service platform. Banners rotate through New Today and in a selected category.
Cookie-Free Ads
IP Targeting
IP Targeting goes way beyond interests and cookies. Matching physical locations to IP addresses lets us advertise to potential customers as they walk around a Hi-Fi show, for example. After capturing Device IDs, we can advertise to those same people weeks later after they've returned home.
Audiogon offers IP Targeting, Venue Replay, and even Direct Mail initiatives. Identify and engage with potential customers seen at locations of interest.
Learn More With Our Media Kit
Advanced Media Buys
External
Reach your potential customers outside of Audiogon by delivering ads to your ideal audience (based on age, income, interestes, location, etc.) on premium websites through programmatic media buys.
Do you have a 15 or 30 second video ad? Then we can help you leverage platforms such as Hulu, Roku, and Pluto TV. OTT Video is unskippable inventory that can amplify your marketing reach on streaming platforms. Don't worry if it sounds complicated; we make it easy.
Learn More With Our Media Kit