Sorry, this listing has ended.
You may like one of these similar items:
---
AudioMachina Maestro GSE Serious Ref Full Range ! [Expired]
---
---

                                      see: http://audiomachina.com/

                          Maestro GSE: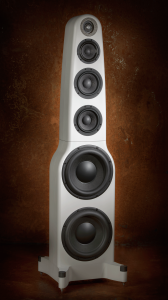 Serious family illness creates this opportunity to purchase one of the finest speakers made.

It should be noted, we have been a AudioMachina dealer and these are truly a "WORLD CLASS CURRENT SPEAKER" and offers the best yet from Dr. Karl Schumann one of my favorite speaker designers.

They can be auditioned here at Weinhart Design if you are a serious buyer /// please call for details.

                               As new factory boxed and complete.

From Audiomachina's web site:
The Maestro GSE
is the absolute pinnacle of the AudioMachina line, and quite possibly the finest and least compromised loudspeaker in the world, regardless of price. It incorporates everything we have learned in the past three decades devoted to advancing the science and the art of the high-performance loudspeaker, including many proprietary technologies which are world-exclusive to AudioMachina and far, far beyond conventional design principles.
As the ultimate expression of AudioMachina's unique and no-compromise approach to re-creating the passion, power, and glory of live music, the Maestro GSE is a loudspeaker of simply breathtaking musical realism. It stands as a shining example of advanced technology, simplicity, and balance in the service of art, in its highest and purest expression. In my long experience in high-end audio, the Maestro GSE is simply the most realistic, lifelike, and natural-sounding speaker I've ever heard, and fully deserving of the appellation "Greatest. Speaker. Ever."
Specifications:
Designation: Maestro GSE
Type: 4-way sealed-box floorstanding reference loudspeaker
Construction: Full SSA (Solid Slab Aluminum), Modular MAPS system
Frequency Response: 15-30kHz
Sensitivity: 89dB @ 4 Ohms, benign phase
Drivers: 2×10″ (26cm) bass, 2×6″ (15cm) midbass, 4″ (12cm) midrange, 1″ (2.5cm) tweeter
Crossover: Subwoofer 100Hz, Purist midrange/tweeter, Ti technology, 800/3kHz
Subwoofer: Active self-contained, MSX filter, 1000W ICEpower amplifier
Controls: Subwoofer frequency/level, midrange & tweeter level, precision stepped
Dimensions: 52″H x 14″W x 14″D (130 x 35 x 35 cm)
Weight:  170 lbs (76kg) each, assembled
Recommended Amplifier: 100-500 WPC @ 4 Ohms
                                      < =================== >

We have lots of other items new and used and if you're in Los Angeles or
visiting please accept my invitation to experience our Audio
Showroom by appointment and please visit our web site www.weinhartdesign.com
We are always interested in purchasing quality Audio items, LP
collections, specialists buying Audio Estates and most quality trades
are welcomed.
All sales out of California are State Sales Tax exempt. California State Sales Tax of 9% applies for items picked up or shipped to a California address.
We accept payments by Bank Wire Transfers without fees and is the only
form of payment on all sales out of the U.S. and Canada. We prefer this
method of payment and also makes shipping to addresses other than
billing OK.
VISA, MC and Papal are gladly accepted within the U.S. and Canada as long as the charge is approved and were shipping to the BILLING ADDRESS and shipping to the billing address on record and adds a 3% fee to cover costs.
Please call me directly in my world class showroom in Los Angeles weekdays
from 11-4PM @ 310-472-8880 or on my cell including weekends from 10-10PM
at 310-927-2260 and I can answer your questions and help you with all of your new and pre owned needs.


  Making better Sound
 One system at at a time,
David Weinhart
Weinhart Design, Inc.
President & CEO

The Audio and Video Expert
e: david@weinhartdesign.com
www.weinhartdesign.com
2337 Roscomare Road, Studio #1
Los Angeles, California 90077
Showroom) 310-472-8880
Cell) 310-927-2260
Seller Information
davidamb
Weinhart Design Verified Dealer
| | | |
| --- | --- | --- |
| Last 12 months | 237 | 100.0% |
| All-time | 2091 | 99.3% |
Member since February 2006