Sorry, this listing has ended.
You may like one of these similar items:
---
Anthem Statement D2V AV Processor [Expired]
---
---
Up for sale is my Anthem processor that has served me well.  Comes with ARC room correcting software and mic along with remote control and original box  Please feel free to email me any questions you may have. Unit is lightly used, has always been in a smoke free air conditioned environment.  Shipping/ packaging costs to be paid by buyer.




State-Of-The-Art Digital Audio Processing
The 24-Bit/192-kHz precision upsampler operates on all digital audio signals. The D2's DACs also incorporate 128X oversampling to increase the sample rate to 24.576 MHz, ensuring the best phase and frequency response possible. Measurable results reflect exceptionally flat frequency response and THD+N in the upper frequencies. This is up to twenty times lower than some of the best high-end outboard DACs, resulting in a much higher level of transparency for multichannel music and movies. Sonic performance is astounding. Smoother high-frequency response, superior detail, and better image focus—a far more transparent window on the original performance.
Anthem's Own Design! Two dual-core digital signal processing (DSP) engines, our own DSP design, offer a total of 800 MIPS to allow decoding of the new HD audio standards: Dolby Digital Plus, Dolby TrueHD, DTS-HD High-Resolution Audio and DTS-HD Master Audio. More than enough processing power to handle even the most complex program material with matchless precision.
Triple 4 Mbit 8ns external memory is large enough to ensure that the DSP engines never run out of resources.
4-layer hand-designed motherboard includes separate power and groundplanes.
Independent 6- and 8-layer DSP, A/D and D/A converter boards—A/D and D/A use separate analog and digital planes as well as separate power and groundplanes for remarkably low noise.
All critical signal paths are surrounded by groundplanes.
Fully buffered audio/video inputs for minimum crosstalk.
State-of-the-art video switching circuitry is laid out on isolated, independent 2-layer glass-epoxy circuit boards.
Highest-precision thru-hole passive components.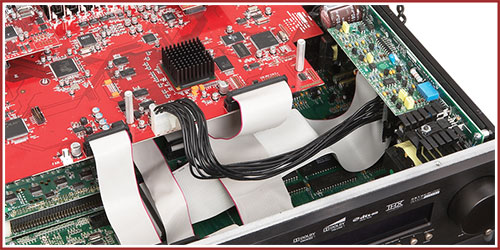 An impressive resumé of superior-quality component parts
Audio-grade film capacitors and operational amplifiers
Low-ESR electrolytic capacitors
Audio-grade signal-coupling capacitors
High-value (1,000 μF) ADC reference voltage decoupling capacitors for lowest possible THD+N below 1 kHz
Super-efficient switching power supply
Low-noise, low-emissions design
Multiple-synchronized dithered-frequency isolation stages ensure exceptionally quiet audio and video operation and excellent electromagnetic compatibility
Fourteen independently regulated output stages ensure optimal operating environment
Unparalleled analog-to-digital and digital-to-analog conversions
Eliminates noise in the 20 to 80-kHz frequency band thanks to the high quality of our ADC and DAC designs.
Analog-to-Digital Conversion (ADC)
Capable of up to 24-bit x 192-kHz resolution
Six stereo analog attenuators—one for each channel of the 6-channel input, promote greater dynamic range and an impressive reduction in distortion
Digital-to-Analog Conversion (DAC)
Converters operate at their full 24-bit x 192-kHz resolution
Switched-capacitor output filters significantly reduce the DAC's sensitivity to rapid fluctuations in bit rate
The built-in state-of-the-art upsampler allows the DACs to run at the highest speed (192 kHz) regardless of the incoming digital bitstream, and with extremely low back ground noise up to almost 100 kHz
High-accuracy clock generator (49.152 MHz, ±0.001%) eliminates the potential for errors in timing, thereby contributing to a significant reduction in the distortion common in D/A conversion
...And For The Audio Purist
Analog-Direct available on all inputs
Tone Bypass disables Bass/Treble adjustment
Balanced 2-channel XLR digital input for best digital signal
True-Balanced 2-channel analog input for best analog signal
True-Balanced analog outputs provide best noise rejection and purest signal transmission
motogp member since February 2010
| | | |
| --- | --- | --- |
| Last 12 months | 3 | 100.0% |
| All-time | 18 | 100.0% |
Items from this seller