Zanden Audio 6000 100 watt integrated amp with Pass thru
Listing ID: lis9afaf
Classified
Listed
·
1726 Views
| | |
| --- | --- |
| Condition | |
| Payment methods | |
| | Contact seller after sale to pay via VISA/Mastercard, American Express, Certified check or Wire Transfer |
| Ships from | New York, NY, 10001 |
| Ships to | United States |
| Package dimensions | unspecified |
| Shipping carriers | UPS or FedEx |
| Shipping cost | $125.00 |
| Original accessories | Remote Control, Box, Manual |
| Average | Research Pricing |
This integrated amp has exactly the same circuitry as the highly praised Zanden model 8200 power amp and with its direct input allows it to be used exactly that way.No one understand swhy the integrated was discoed since it remains one of the most asked about amp in their line.This one is a store demo  and sounds beautiful!


Integrated Amplifier
Model 6000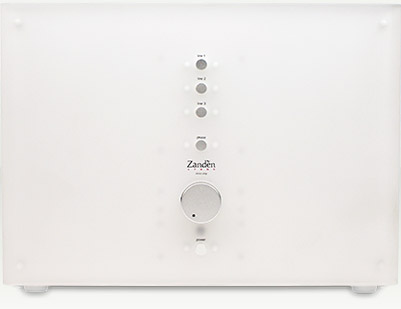 Features


- class A/B


- fully balanced operation


- KT-120 output tubes


- 2nd and 3rd stage are directly coupled


- unique circuitry


- fixed bias


- minimal negative feedback


- Asahi Kasei Fibers Pulshut high frequency noise absorption material


- optional balanced inputs w/input transformers


- full function remote control


- absolute polarity switch


Specification
Power output Nominal power output: 90 watts/channel Maximum power output: 100 watts/channel Input impedance 100kΩ (RCA-standard) 10kΩ (XLR 3rd input-optional) 7kΩ (XLR unity gain-optional) Output impedance 4Ω / 8Ω Analog inputs RCA including unity gain x4, (XLR-optional) Frequency response 7Hz-60kHz (-1db) Tube complement KT-120 x4 12AU7 x4 Power consumption 270W Dimensions W: 426mm / H: 308mm / D: 379mm Weight 46.2kg
Back to Top

C
Questions for the seller
What I am looking for is exactly what I asked. you showed the condition of the front and and only 1 side, but did not show anything on the back. The back clearly is where all the key connections are in and out. Not willing to just assume condition of the back And serial number lets me research it a bit more with Zanden. How old it is, and so forth. Always do my homework for $10k purchases. But if it is packed, and too big a hassle for you; understood. No worries. Thanks for responding.
---
Are you ready to purchase it if the serial numberand condition of back meets your approval. meets
photos of the back please. include more than one of the audio connectors in and out and the power connection. please show serial number. Thanks
---
The unit has been packed up.Please tell me what it is u are trying to find out and I will answer.All inputs and out puts are in perfect condition.
Return Policy
Return Window
Returns are not accepted on this item.
member since January 2002
Sound by Singer Verified Dealer
| | | |
| --- | --- | --- |
| Last 12 months | 0 | 0.0% |
| All-time | 45 | 100.0% |
2 Watchers
Items from this seller

SOUND BY SINGER, LTD. E-STORE
View All Products For Sale