Anthem AVM-50 Top AV Sur Processor !
Listing ID: lis9b8aa
Classified
Listed
·
2907 Views
Time Left: 15h 3m
Ending:
Asking Price: $1,295.00
New Retail Price: $6,499.00
Make Offer
| | |
| --- | --- |
| Condition | |
| Payment methods | |
| | Contact seller after sale to pay via VISA/Mastercard |
| Ships from | Los Angeles, CA, 90077 |
| Ships to | United States and Canada |
| Package dimensions | unspecified |
| Shipping carrier | UPS |
| Shipping cost | Specified after purchase |
| Original accessories | Remote Control, Box, Manual |
| Average | Research Pricing |
Anthem AVM 50 V2 Top Reference Surround Processor 7.1-channel Audio & Video Pre Processor with Anthem Room Correction (ARC).
This is the Non 3-D version.
Wes $6,499 now a steal at $1,295.

As new likely in better than 8/10 condition.

Double factory boxed, remote, calibration pieces and ready to be enjoyed by you !
Serial # 144695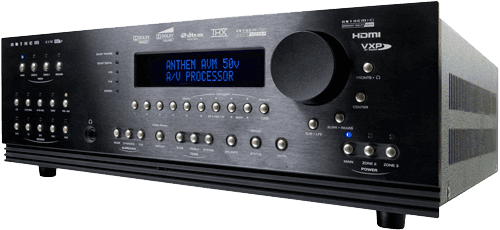 The most The most  affordable high-end multizone controller on the market puts the full A/V experience in your hands!
The same award-winning platform as its more expensive sibling,
the D2v. 7-channel A/V processor with 8 HDMI inputs and 2 parallel HDMI
outputs, Dolby TrueHD, DTS-HD Master Audio, PCM 24/192, highest quality
1080p upscaling, 1080p24 compatibility. Includes Anthem Room Correction
(ARC).
Anthem AV – a sister company of Paradigm is well known for their
high-end AV receivers, amplifiers and processors. Having not reviewed a
high-end dedicated AV processor solution in the recent past, I was eager
to see what the $6,499 MSRP AVM 50v 3D could do. Despite not being a
major player in the mainstream A/V receiver market Anthem has a
reputation for quality and innovation. Their ARC (Anthem Room
Correction) technology gets rave reviews from many enthusiasts who own
their products and is often touted as a viable alternative to Audyssey.



The AVM 50v 3D is actually a refresh of Anthem's AVM 50v – their first
iteration of the model with HDMI 1.3 and ARC. The 3D version adds HDMI
1.4 and 3D support, in addition to several firmware enhancements.
Existing owners of the AVM 50v can have their unit upgraded at the
dealer, where the HDMI mezzanine board can be replaced.



Features & Ergonomics:



In a processor costing this much, you expect a lot in the way of
connectivity; in the case of the AVM 50v 3D, Anthem delivers. It's hard
to imagine a rear panel any more densely packed than this one. With 8
HDMI inputs, 2 HDMI outputs, XLR and RCA pre-outs, in addition to all
the S-Video, Composite and Component video inputs you could ever need –
the AVM 50v 3D is a well-equipped unit.




Packaging, Fit & Finish:



The AVM 50v 3D arrived in a very dense double box and was totally
encased in closed cell foam. The box included the processor itself, a
manual, a power cord, the remote and a kit containing software, a boom
stand and microphone for ARC.





​


The AVM 50v 3D itself is good looking unit. Offered in standard black
and silver, the unit features a brushed aluminum faceplate full of inset
silver buttons with a rotary volume knob to the right of the LCD
display. The overall appearance of this product is more aggressive than
most processors, though somewhat less avant-garde than products from
competitors like Classė.




Specifications:


VIDEO SWITCHING Bandwidth from input jack to output jack Composite and
S-Video 70 MHz Component: Y 110 MHz Component: Pr 90 MHz Component: Pb
80 MHz All analog video inputs and outputs are 75 O, 1.5 Vp-p.
ANALOG AUDIO Input Impedance 20 kO Output Impedance Main–RCA 300 O XLR
600 O Zones 2/3 and Record 51 O Rated Input 2.0 Vrms Maximum Input 5.3
Vrms; 3.0 Vrms for 6-Ch input Minimum Load 5 kO Rated Output (100 kO
load) 2.0 Vrms Maximum Output RCA 6.3 Vrms XLR 12.6 Vrms Headphone
Output 100 mW into 32 O at 0.2% THD+N Volume Control Range Main -95.5 dB
to +31.5 dB (in 0.5 dB increments) Zones 2/3 and Headphone -62.5 dB to
+10.0 dB (in 1.25 dB increments) Crosstalk (at 1 kHz) 82 dB between
channels; 86 dB between inputs XLR Pin Configuration Pin 1: Ground, Pin
2: Positive, Pin 3: Negative DIGITAL AUDIO Crossover High-Pass Slope
(small speaker setting) 12 dB/octave (2nd order) Low-Pass Slope
(subwoofer) 24 dB/octave (4th order) Frequency (adjustable) 25 Hz to 160
Hz (in 5 Hz increments) Tone Control Filter Type Shelf Range ±12 dB
Bass Turnover Frequency 200 Hz Treble Turnover Frequency 2 kHz
Analog-to-Digital Conversion S/N Ratio(at digital Rec output) (IEC-A
Filter) 100 dB All digital inputs and outputs comply with HDMI , S/PDIF or AES/EBU standards.
MAIN PATH (RCA and XLR Outputs) Frequency Response and Bandwidth Analog
Direct Inputs 10 Hz to 20 kHz (+0 -0.2 dB), 1 Hz to 120 kHz (+0 -3 dB)
Analog-DSP Inputs at 24/96 10 Hz to 20 kHz (+0 -0.3 dB), 2 Hz to 37 kHz
(+0 -3 dB) Digital Inputs at 24/96 10 Hz to 20 kHz (+0 -0.2 dB), 1 Hz to
39 kHz (+0 -3 dB) THD+N (at Rated Input and Output) Analog Direct
Inputs 0.006% (80 kHz BW) Analog-DSP Inputs at 24/48 0.006% (AES17
Filter) Digital Inputs at 24/48

0.004% (AES17 Filter)

IMD (CCIF at 15 kHz and 16 kHz) Analog Direct Inputs 0.001% Analog-DSP
Inputs at 24/48 0.003% Digital Inputs at 24/48 0.001% S/N Ratio (ref.
2.0 Vrms, IEC-A filter) Analog Direct Inputs 106 dB Analog-DSP Inputs at
24/48 100 dB Digital Inputs at 24/96 104 dB ZONE 2 and ZONE 3 PATHS
Frequency Response and Bandwidth 20 Hz to 20 kHz (+0 -0.1 dB), 3 Hz to
140 kHz (+0, -3 dB) THD+N (at Rated Input and Output) 0.06% (80 kHz BW)
IMD (CCIF at 15 kHz and 16 kHz) 0.06% S/N Ratio (ref. 2.0 Vrms, IEC-A
Filter) 97 dB FM TUNER Sensitivity 50 dB S/N 13 dBµ typical, 25 dBµ max
IHF 10 dBµ typical, 20 dBµ max S/N Ratio Mono 75 dB typical, 65 dB min
Stereo 69 dB typical, 60 dB min Distortion Mono 0.2% typical, 1.0% max
Stereo 0.3% typical, 1.5% max Stereo Separation 40 dB typical, 25 dB min
Alternate Channel Selectivity (±400 kHz) 70 dB typical, 60 dB min
Frequency Response 25 Hz to 15 kHz (+0 -2 dB) AM TUNER Sensitivity (20
dB S/N) 49 dBµ typical, 56 dBµ max S/N Ratio 50 dB typical, 43 dB min
Distortion 0.7% typical, 2.0% max One-Signal Selectivity (±10 kHz) 24 dB
typical, 18 dB min CONTROL Infra Red Carrier Frequency 38 kHz Maximum
12 V Supply Current 150 mA Maximum Emitter Current 60 mA per output
RS-232 Interface Connection DB-9F, straight-wired Pinout (processor
side) Pin 2: Tx, Pin 3: Rx, Pin 5: Ground Baud Rate 1200, 2400, 4800,
9600, 19200, 38400, 57600, 115200 Configuration 8 data bits, 1 stop bit,
no parity bits, flow control (RTS/CTS, none) Trigger Outputs Polarity
tip positive, sleeve ground Maximum Current at 12 VDC 300 mA between all
three triggers Sequential Delay 250 ms POWER REQUIREMENT Power
Consumption Maximum 150 W DIMENSIONS (height includes feet) Height 5-7/8
inches (14.9 cm) including feet; rack-mounting: 3 rack units without
feet Width 17-1/4 inches (43.8 cm) Depth 14-1/2 inches (36.2 cm) Weight
(unpacked, not including 8 lb (3.5 kg) ARC microphone kit) 30.7 lb (14
kg)



The basic initial setup of the Anthem was a breeze, simply swapping all
connections 1:1 was a relative snap and didn't take more than 5 minutes.
Following that step and powering the unit on, I was greeted with a
somewhat more challenging task. The menu system on the Anthem is
extremely granular and looks deceptively "old school" – you'll see a
bright blue background and white blocky text reminiscent of a 1985 VCR.
Next to the modern AVR's and pre-pro's from the big manufacturers, the
menu system on the Anthem is downright sad - but that doesn't mean it
lacks functionality.



The Anthem allows up to four sources to be run by a single input – also
allowing a single source to be up to four different components. It also
has the ability to assign different settings for each. An example could
be "CD" using HDMI 1 from your Oppo player with all audio processing on
the Anthem. You could also assign HDMI 1 to DVD and use analog audio
outputs instead of HDMI audio. The options here are almost endless – and
I think something custom installers and picky consumers alike will
enjoy thoroughly.



After reading the sizeable manual (a step not to be skipped lightly!)
and spending a few minutes assigning inputs and settings as desired – it
was time to run ARC.




In the case of the AVM 50v 3D – there was only a single technical caveat
as it were, but it was a fairly substantial one in terms of annoyance.
Occasionally, and without warning when switching inputs, I would find
the Anthem making a pulsating digital hum. After a great deal of testing
and frustration, I determined that the problem wasn't the usual
transient issue that rebooting the source in question or removing and
reinserting HDMI cables
clears up. The only way to solve this problem somewhat consistently was
to reboot the Anthem itself. This wasn't always successful, but it did
resolve the problem 90% of the time.



While it's typical to alert the manufacturer to an issue like this
immediately, I chose to complete the review without bringing this to
Anthem's attention. In part – because I believe a buyer could go through
the same experience. When a processor of this caliber is purchased, the
buyer has the full backing of the dealer and manufacturer if a problem
is encountered, and I do believe that this would have been resolved in
the course of normal troubleshooting and support.



In the grand scheme of things, this is a minor complaint about an
otherwise stellar piece of equipment, yet I still feel it deserves
mentioning in the review due to the tier at which this product competes.
Any processor that retails for over $6000 should not have HDMI
handshake issues at this point in HDMI's lifecycle, irrespective of
firmware updates or other devices in the chain. Over the past two years I
have had many processors in my system with identical peripherals and
the Anthem was my first taste of persistent and annoying handshake
issues. Is this something Anthem could have fixed? Absolutely. Should a
product that costs $6499 even make it out the door without this being
discovered? I don't believe it should when you're paying this much.



Conclusion:



The Anthem AVM 50v 3D is a sonic and visual wonder. There is no question
that it sounds clearer and cleaner than anything I've had in my system,
and that the video performance is second to none. Anthem Room
Correction is a truly remarkable room correction technology that
enhances the performance of an audio system drastically. This is the
first competitor to Audyssey MultiEQ XT/XT32 I have encountered that
matches and perhaps outdoes it. The sheer flexibility of this device in
terms of options, signal routing and "tweakability" is staggering and
likewise deserves notice. On the downside, the OSD menus look dated,
ergonomically the Anthem remote and interface is clearly inferior to its
mainstream competition, and perhaps most importantly - this is an
incredibly expensive piece of equipment.



Value is a hard thing to quantify in the high end market, as a product
like this clearly faces the same issue of diminishing returns other
flagship products do. As incredibly well as this unit performs, I have a
verydifficult time calling it a good value. With the AVM 50v 3D priced
more competitively at $4000, I would not hesitate to praise its value
proposition. At its current MSRP of $6499, the AVM 50v 3D is in this
reviewer's opinion - overpriced.



Is the Anthem AVM 50V 3D perfect? No, and I doubt that any product truly
is. If your demand in a processor is for benchmark audio and video
performance, a level of control and configuration that you cannot get in
consumer class gear, and bulletproof build quality, I think this
product is about as close as you'll get. For a price.
==================================
Feel free to call with questions, I can be reached in my Los
Angeles Audio & Video showroom weekdays (11-4PM) 310-472-8880 or
after hours and weekends (10-10) on my cell 310-927-2260 or e-mail me
directly at: [email protected]

Contact:  David
Weinhart best to CALL with questions in Los Angeles Showroom from 11-4PM
@ 310-472-8880 or my cell after hours and weekends from 10-10PM @
310-927-2260 or e-mail me directly at [email protected]     

For more information, visit my NEW & IMPROVED web site @ www.weinhartdesign.com for great deals!

Weinhart Design has
lots of other items new and used and if you're in Los Angeles or
visiting please accept my invitation to experience our World Class Audio
Showroom (BY APPOINTMENT).

We are always
interested in purchasing quality Audio and Video items, ESTATES & LP
collections and most quality trades are welcome. 

All sales
out of California are California State Sales Tax exempt. California
9.5% State Sales Tax applies only for items picked up or shipped to a
California address. 

We accept payments by Bank Wire Transfers
without fees and is the only form of payment on all sales out of the
U.S. and Canada. We prefer this method of payment, which also makes
shipping to addresses other than billing agreeable. VISA, MasterCard and
Paypal are gladly accepted within the U.S. and Canada as long as the
charge is approved and shipping to the billing address on record and
adds 3% to cover costs. 

Please call me directly in my world
class showroom in Los Angeles weekdays 11-4PM @ 310-472-8880 or on my
cell including weekends from 10-10PM @ 310-927-2260 and I can answer
your questions and help you with all of your new and pre owned needs. 



         Making Audio Systems better 

                one system at a time,

                  David Weinhart 
             Weinhart Design, Inc. 
                 President & CEO 

       e: [email protected] 
          www.weinhartdesign.com 

      The Audio and Video Expert 
  2337 Roscomare Road, Studio #1 
    Los Angeles, California 90077 

     Showroom) 310-472-8880 
          Cell) 310-927-2260
No questions have been asked about this item.
Return Policy
Return Window
Returns are not accepted on this item.
davidamb member since February 2006
Weinhart Design
Verified Dealer
| | | |
| --- | --- | --- |
| Last 12 months | 147 | 100.0% |
| All-time | 2250 | 99.3% |
Items from this seller