Van Den Hul | Phono Cartridges -- Crimson XGW Stradivarius - In Stock Now -- Read the Reviews! | (45-day Trial and Free Shipping at JaguarAudioDesign.com)
Listing ID: lis9eej7
Classified
Listed
·
99 Views
Time Left: 4 Days
Ending:
Asking Price: $5,495.00
New Retail Price: $5,495.00
Buy It Now
| | |
| --- | --- |
| Condition | NEW |
| Payment methods | |
| | Contact seller after sale to pay via Express Checkout, Certified check, Personal check or Wire Transfer |
| Ships from | Bellevue, WA, 98004-6591 |
| Ships to | Worldwide |
| Package dimensions | unspecified |
| Shipping carrier | unspecified |
| Shipping cost | Free |
| Original accessories | Box, Manual |
| Average | Research Pricing |
Jaguar is an authorized retailer for all Van Den Hul products.  Van Den Hul's Crimson Stradivarius is a favorite in the Jaguar Reference System.  The Crimson is the entry model into the Stradivarius reference line of cartridges and the most popular.  The popularity is partly due to the fact that it's the most affordable, but also because it's the easiest to mate with a wide range of gear...bear in mind that the extreme levels of channel separation produced by the Colibri and Colibri Signature require the other equipment in the system to be matched very precisely.

The CRIMSON is a top performance, custom, hand-built, moving coil phono cartridge, developed from a crossbreed of the Van Den Hul CANARY and CONDOR models.  This cartridge is available in natural light wood color, dark wood and red-colored wood versions.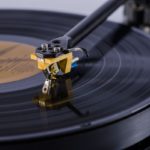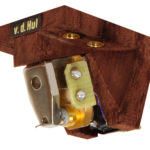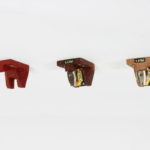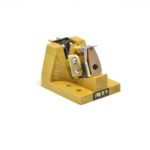 Specific characteristics for this great cartridge are a relatively high (0,65mV) output, gold coils, a Samarium-Cobalt magnet, extended channel separation and superb tracking ability.
As the popularity of vinyl was reviving again, many requests came in to develop a High-End phono cartridge for a more affordable price than The COLIBRI.  The CRIMSON is the result and probably one of the cartridges with the best value for money available.  It is completely hand build by the Master, AJ Van Den Hul and comes with a free 200 hour fine-tune adjustment, which will optimize the suspension after the initial break-in changes.
Special Edition CRIMSON XGA now available with Titanium & Amber Body & Gold Coils.
Check out the reviews!
http://www.theabsolutesound.com/articles/van-den-hul-crimson-xgw-stradivarius-and-colibri-xgw-signature-stradivarius/
https://positive-feedback.com/reviews/hardware-reviews/van-den-hul-crimson-xgw-stradivarius-moving-coil-cartridge/
http://www.enjoythemusic.com/magazine/equipment/0317/Van_den_Hul_Crimson_Stradivarius_MC_Phono_Cartridge_Review.htm
THE CRIMSON SPECS versionXGW: wooden body / XGP: polycarbonate bodystylus replacementstylus replacement and services available on requeststylus shapeVDH 1Sstylus radii2 x 85 Micronfrequency range5 – 55.000 Hztracking force1,4 – 1,6 Grstatic compliance35 Micron/mNtracking ability70 – 80 Micronoutput voltage0,65mVchannel unbalance< 0.3 dBchannel separation> 36 / > 30 dBstylus tip mass0.32 Milligramsystem weight8,75 Grload capacitanceNon criticalload impedance25 Ohm – 200 Ohmeff tone arm mass10 – 16 Grmoving coil resistance13,0 Ohm
See the Crimson in the Jaguar Online Store!
https://store.jaguaraudiodesign.com/van-den-hul-crimson-xgw-stradivarius-phono-cartridge/

Jaguar offers Free Priority Shipping and a 45-day free trial period; if The Crimson doesn't absolutely blow you away, send it back to us for a full refund (minus shipping and insurance).  Please allow a minimum of 100hrs of break-in time, as the sonic signature of the cartridge will change dramatically during the break-in. 
Check Out the 2018 Video of the Jaguar Listening Space!

Contact us now at JaguarAudioDesign.com with your questions.
* Toll Free: (844) GOAUDIO
* fork at jaguaraudiodesign.com


Jaguar is a registered Audiogon Dealer, since 2012!

AKIKO AUDIO, ALO AUDIO, AUDEZE, AUDIO MAGIC, AUDIOENGINE, BAKOON PRODUCTS, BURSON AUDIO, CALYX, CURIOUS CABLES, EAR, FURUTECH, GYROTENSION, HIFIMAN, KEMP ELEKTRONIKS, KONCEPT DESIGN, LAMM INDUSTRIES, LEHMANN, MUSIC HALL, MYTEK DIGITAL, NANOTEC SYSTEMS, ORTOFON, PS AUDIO, RPG ROOM TREATMENTS, SPIN CLEAN, TOWNSHEND AUDIO, TRACK AUDIO, TRIANGLE ART, VAN DEN HUL, VANATOO, VIBEX, WYWIRES, ZU AUDIO.

http://www.jaguaraudiodesign.com
Visit Jaguar on Facebook!
No questions have been asked about this item.
Return Policy
Return Window
Item can be returned within 14 days of receipt.
General Terms
Items must be returned in their original condition, with all included packing materials and no signs of use. Buyer assumes responsibility for all shipping return costs unless the item was not received as described.
Refunds
Buyer will receive a full refund in the original payment method less any shipping charges.
fork member since June 2006
Jaguar Audio Design
Verified Dealer
| | | |
| --- | --- | --- |
| Last 12 months | 30 | 100.0% |
| All-time | 276 | 100.0% |
Items from this seller